Maryland Electrician Training Schools
Last Updated
Maryland electrician training schools can open you up to a world full of incredible opportunities.
Prepare for a promising career as an electrician with help from one of the available Maryland electrician schools. You can develop a solid foundation of knowledge, based on electrical theory, building codes, the National Electric Code, and more. Plus, you can gain the practical skills needed to install, maintain, and repair a variety of electrical systems.
If you're interested in a career that will let you work in construction, home renovations, and factories—to name a few options—an electrician program is a great place to start. Check out the Maryland electrician schools below and find the program that's right for you!
Maryland Electrician Schools: Career Possibilities After Your Training
---
Maryland Electrician Schools
Sponsored Listing
---
---
Maryland Electrician Schools: Career Possibilities After Your Training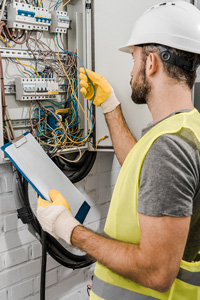 It might surprise you to learn that becoming an electrician is not your only professional option after you complete your training with one of the electrician schools in Maryland. The reality is that professionals who possess electrical skills can find jobs in a variety of fields. Sectors like agriculture, information technology, manufacturing, telecommunications, and even transportation require skilled electrical professionals.
If you choose to get your training through an electrician school, your credentials and comprehensive knowledge can make a big difference when it comes to getting hired. Trade schools will generally also help you find a suitable apprenticeship match when you reach the end of your program.
Take a moment to explore some of the career paths below. Look at the median salaries for the positions as of 2022, based on Occupational Employment and Wage Statistics program data. And check out the total number of projected job openings for the decade between 2020 and 2030, according to the Maryland Department of Labor:
Electrician
$61,850
21,984 projected job openings
Electrical and electronic repairers, commercial and industrial equipment
$75,370
607 projected job openings
Electrical power-line installers and repairers
$89,730
3,427 projected job openings
Radio, cellular, and tower equipment installers and repairers
$77,350
146 job projected job openings
Telecommunications equipment installers and repairers, except line installers
$62,700
3,180 projected job openings
Security and fire alarm systems installers
$60,360
3,071 projected job openings
---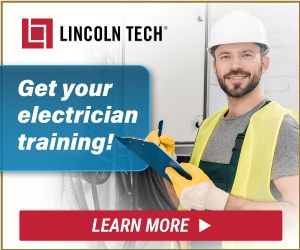 ---
Maryland Electrical Employers
Maryland is an economic hotbed for the aerospace, defense, high-tech, manufacturing, and medical industries. When you opt for electrician training in Maryland, you could be setting yourself up to pursue opportunities with companies that you may not have even considered until now. Some of the larger organizations that could potentially be searching for employees with electrical knowledge include:
Kolb Electric
Milton Electric Company
Baltimore Gas and Electric (BGE)
Choptank Electric Cooperative
Delmarva Power
Potomac Edison Company
Potomac Electric Power Company (PEPCO)
Southern Maryland Electric Cooperative, Inc. (SMECO)
Maryland Solar Solutions, Inc.
Sunrun
Black & Decker Corp.
IBM
Patton Electronics Co.
Verizon Inc.
Zentech Manufacturing Inc.
The above list provides only a few examples of the many places that you could begin your search for employment. You may also want to look at electrical job opportunities with colleges and universities, construction companies, government departments, green energy organizations, medical organizations, mining companies, public schools, and technology organizations. And since you are living in a neighboring region of Washington, D.C., you could even go after job opportunities with major organizations like AT&T, Bombardier Aerospace, Comcast, and Sprint.
---
Prepare Yourself for a World of New and Exciting Opportunities
Discover everything that Maryland electrician training schools have to offer. Simply enter your zip code below to see which programs are offered near you, and start preparing for the career that you know you deserve!
---