Electrician Apprenticeship - Pathway to a Rewarding Trades Career
By Publisher
| Last Updated September 15, 2023
Electricians are always in demand, and electrical work is one of the most popular trades.
Become an electrician, and you'll likely find yourself in a stable and good-paying career. According to the Bureau of Labor Statistics, the median pay for an electrician is $60,240 per year (2022).* All you need is a high school diploma and a desire to be an electrician, and you'll be on your way to your training and apprenticeship.
There are four specialty areas for you to choose from. They are:
Residential wiremen specialize in installing all the electrical systems in single-family and multi-family buildings.
Voice Data Video (VDV) installer technicians install circuits and equipment for computer networks, telephones, security systems, and other low-voltage systems.
Outside linemen install distribution and transmission lines that bring power from the electrical plant to your business or home.
Inside wiremen install the electrical equipment, wiring, power, lighting, and controls in industrial buildings and stores.
---
---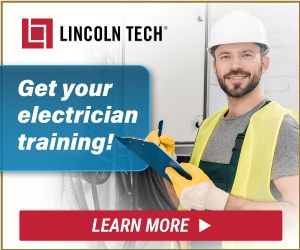 ---
What You Need to Know About an Electrician Apprenticeship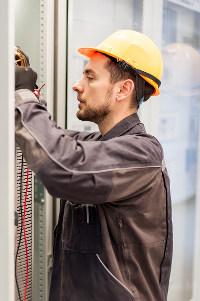 Becoming an apprentice electrician can open the door to a stable and satisfying career. You'll partner with a skilled professional who will work with you as you learn the basics of the trade and then help you master more complex tasks.
If you're interested in an electrician apprenticeship but not entirely sure the field is for you, the International Brotherhood of Electrical Workers (IBEW) offers pre-apprenticeship programs in most states. These introductory programs can last between a few weeks and a few months. If you decide to go on to an apprenticeship, you'll be ahead of the game with some extra knowledge some other apprentices may not have.
But the fastest track to becoming a skilled electrician is enrolling in a trade school that includes an apprenticeship.
How Does an Electrician Apprenticeship Program Work?
Do you have a high school degree, are good at math, and are interested in how electricity works? Then attending a trade school with an electrician apprenticeship is something you'll want to explore.
An electrician apprenticeship includes classroom study, live demonstrations by certified professionals, group lectures, and hands-on practice under the supervision of a journeyman or master electrician, and testing.
What Else Does an Electrician Apprentice Do?
As an apprentice electrician, you will learn this demanding trade by being mentored by a journeyman or master electrician over several years.
Following are some of the things you will learn to do:
Connect wires to transformers, circuit breakers, or other components.
Use various tools and equipment, including testing equipment like ammeters and oscilloscopes.
Test electrical circuits in electrical wiring, equipment, or fixtures, using ohmmeters and voltmeters to ensure the system's safety.
Inspect electrical components, systems, or equipment to comply with codes and to identify issues or the need for repairs.
Follow blueprints or prepares sketches to determine the location of wiring and to make sure the job conforms to building and safety codes.
Install conduit, pipes, or tubing inside designated areas and pull insulated cables or wires through the conduit to complete circuits.
Repair or replace equipment, wiring, or fixtures.
Install ground leads and connect power cables to equipment, such as motors.
Perform business management duties, such as maintaining records or files, preparing reports, or ordering supplies or equipment.
Perform physically demanding tasks, including digging trenches or lifting heavy objects.
Being an electrician is hard work, both physically and mentally. It can also be dangerous since you often must do your work outside on a cherry picker or similar lift. You risk getting shocked, so you must wear safety equipment, such as a hard hat, safety goggles, and gloves. Besides the hard skills you'll learn during your apprenticeship, there are some other skills an aspiring electrician must possess:
Good color vision: Electricians must identify electrical wires by color.
Critical-thinking: Electricians perform tests and use the results to diagnose problems.
Good math skills: Electricians should at least have gotten through high school algebra.
Customer-service skills: Electricians work with people regularly, including those who may be difficult to work with. An electrician should be agreeable and able to answer customers' questions.
Physical fitness and stamina: As an electrician, you'll often move around all day and do a lot of standing and climbing. You'll also have to move heavy components of up to 50 pounds.
Troubleshooting skills: Electricians find, diagnose and fix electrical problems.
Read more about how to become an electrician here.
Electrician Certifications
Different states have different requirements for both journeyman and master electricians. Most trade schools provide Occupational Safety and Health Administration (OSHA) and National Electric Code (NEC) certifications, which are highly recommended and may be required in certain states. At the conclusion of your apprenticeship and depending on your state's requirements, you will likely be eligible to test out as a journeyman or journeyperson electrician. As you continue your career, you can later apply to be a master electrician.
How Long Does an Electrician Apprenticeship Take?
An electrician apprenticeship is a commitment, taking four to five years for a total of 8,000 hours of training. That translates to a minimum of 2,000 hours each year. Being an apprentice is rigorous work. So are all the trades.
Certain states require a specific number of hours spent training, and others require a training period of months or years. The school you attend will explain your state's requirements.
Do Electrician Apprenticeships Pay?
Yes, electrician apprenticeships pay, although, in the early months, your wage will be lower than it will be a few years into your training. Typically, an electrician apprentice will earn significantly less than a master electrician. The good news is that if you're hired by the company where you apprenticed, you will likely start at a higher wage because of your skills and company experience.
That said, an electrician apprenticeship doesn't come with a guaranteed job waiting for you at the end of the apprenticeship.
---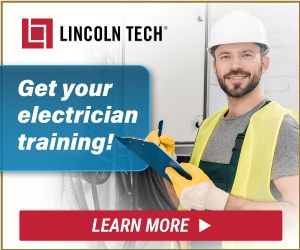 ---
How Do I Find an Electrician Apprenticeship?
First, find an apprenticeship program at Apprenticeship.gov. Type in "electrician," your zip code or city, and the site will populate with a number of opportunities. Or you can also search Career OneStop, part of the U.S. Department of Labor.
Finally, one of the best ways to get into an electrician apprenticeship program is by enrolling at a technical school or community college.
Is an Electrician Apprenticeship Right for You?
If you're seriously considering a career as an electrician, an apprenticeship could be the foundation for a bright future in the electrician trade.
Attending trade school can help you gain a focused, student-centered experience as a major part of your training. Trade school training can enhance your confidence when you begin working as an apprentice, and formal training can generate more employer interest. What's more, if you get the minimum of an associate degree, you're halfway to your bachelor's, which is often a requirement to become a master electrician.
What are the Next Steps to Getting an Electrical Apprenticeship?
Your best next step is to look for a suitable electrician program at a trade school near you.
---
* Bureau of Labor Statistics, U.S. Department of Labor, Occupational Outlook Handbook, https://www.bls.gov/ooh/ (visited September 7, 2023).