What You Need to Know About a Welding Apprenticeship
By Publisher
| Last Updated June 9, 2022
A welding apprenticeship can be your ticket to a satisfying career. You'll partner with a skilled professional who works with metal—heating it and fusing it together. The job includes using hand-held or remote-control equipment. It can also involve polishing the finished product or smoothing out a rough surface.
There's a real art to welding. Coupled with America's need for skilled workers, becoming a welder can be a satisfying career with decent wages. According to the Bureau of Labor Statistics, the median salary for a welder is currently $47,020 (2021).*
The American Welding Society projects a need for 336,000 welders by 2026. Several things fuel this high demand:
The retirement of baby boomers
An increase in industry demand
The need to repair and replace the country's crumbling infrastructure, like bridges and railroads
The fastest track to becoming a skilled, in-demand welder is by enrolling in a trade school that includes an apprenticeship.
---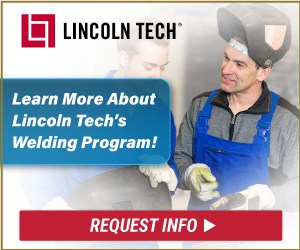 ---
How Does a Welding Apprenticeship Program Work?
Do you have a high school degree and an interest in welding? Then an apprenticeship could be the way to go.
Especially at a trade school, a welding apprenticeship includes classroom study, live demonstrations by certified professionals, group lectures, and hands-on practice welding and testing under the supervision of a journeyman.
What Else Does a Welding Apprentice Do?
Besides the hands-on and academic parts of your welding apprenticeship program, you'll be learning soft skills that are important to the job. Some of these include:
Physical fitness, strength, and stamina
Good hand-eye coordination
Sharp eyesight
Attention to detail
The ability to visualize 2D and 3D blueprints, schematics, and drawings
Dealing with customers
Dealing with potential emergencies
In terms of hard skills, most trade schools offer instruction in shielded metal arc welding, flux core arc welding, gas metal arc welding, and gas tungsten arc gas welding. You'll also complete a 10-hour safety training from the Occupational and Safety Health Administration (OSHA). After graduation, you can apply for a certification from the American Welding Institute to make yourself even more marketable.
Welding Certifications
After your apprenticeship, you can pursue certifications in welding. Having one will make you more marketable and help you get a job with a higher salary. Available certifications include:
Certified Welder (CW)
Certified Welding Inspector (CWI)
Senior Certified Welding Inspector (SCWI)
Certified Welding Educator (CWE)
Certified Welding Sales Representative (CWSR)
Certified Associate Welding Inspector (CAWI)
Certified Radiographic Interpreter (CRI)
Certified Robotic Arc Welding (CRAW)
Certified Welding Supervisor (CWS)
Certified Welding Engineer (CWE)
What If I Make a Mistake?
Everyone makes mistakes, especially when you're new at something. Apprenticeships are different because a mentor supervises each apprentice.
Apprenticeships teach you how to avoid mistakes, what to do if one happens, and how to learn from the experience. If you do make a mistake, someone—probably your mentor—will help you correct it.
How Long Is a Typical Welding Apprenticeship?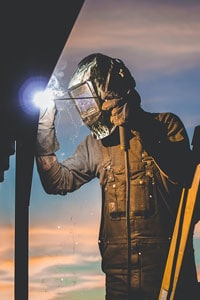 In general, a typical welding apprenticeship takes three to four years, for a total of 8,000 hours of training. That translates to a minimum of 2,000 hours each year. Being an apprentice is rigorous work. But then, so is welding.
Your state's laws determine the length of time required for welding apprentice training. Some states require a specific number of hours spent training, and others require a training period of months or years. The school you attend will explain your state's requirements.
Do Welding Apprenticeships Pay?
An apprenticeship is different than an internship because apprentices get paid, and interns generally don't. Remember, your pay in the early months of your apprenticeship will be much lower than your pay once you're a journeyman. The good news is when you're hired by the company where you apprenticed, you will likely start at a higher wage because of your skills and company experience.
Does a Welding Apprenticeship Guarantee You a Job?
An apprenticeship doesn't come with a job guarantee. However, most programs transition apprentices directly into full-time employment. Companies offering on-the-job training programs sometimes require a certain number of years of service as an employee after the apprenticeship is done.
Welding apprenticeships offered by large organizations may offer job placements out of state or even international, depending on your contract. Be sure you completely understand any agreements you sign before accepting a welding apprentice job.
How Do I Find a Welding Apprenticeship?
First, find an apprenticeship program at Apprenticeship.gov. Type in "welder" and your zip code or city, and the site will populate with a variety of opportunities. Second, you can also search Career OneStop, part of the U.S. Department of Labor. Or search for welding apprenticeships via many online job search sites.
Finally, one of the best ways to get into a welding apprenticeship program is enrolling at a technical school or community college.
---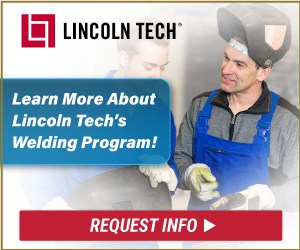 ---
Is a Welding Apprenticeship Right for You?
If you're seriously considering a career in welding, an apprenticeship could be the foundation for a bright future.
Think about this: Would you prefer the benefits of attending trade school and getting a very focused, student-centered experience as a major part of your training? This kind of training can enhance your confidence when you begin working as a welding apprentice. And your formal training will generate more employer interest.
Read more about welding careers and welder training programs near you and online.
---
* Unless otherwise noted, salary information is based on May 2021 data from the Occupational Employment and Wage Statistics (OEWS) program.