Full Sail University
Winter Park, Florida
Online
Last Updated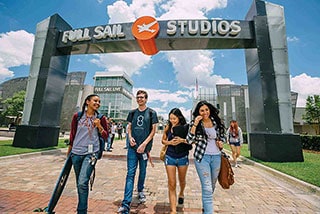 Since 1979, Full Sail University has been a quality source of education for some of the most thrilling career industries available, including music, film, video games, animation, entertainment, and digital marketing.
This accredited, private university offers both campus and online degree programs that combine art and technology, preparing you for a career you can be passionate about.
The school's unique approach to career training gives enthusiastic students like you the opportunity to meld their creativity with technical mastery. With guidance from industry veterans, you'll begin learning about what it takes to make your mark in fun industries that keep evolving in exciting new ways.
So direct your creative energy toward the future you actually want. Ask Full Sail University to get in touch with you right away!
---
Whether you choose online or on-campus training, you can have the opportunity to benefit from:
Programs taught by carefully selected faculty chosen for their real-world experience and educational background
The chance to work with current software, hardware, equipment, and technology used throughout the entertainment media field
Access to professionally designed facilities that emulate what is found in the real world, and have even been utilized by professionals from within the industry
Insight from entertainment legends and veterans who frequently visit the campus to share their experience and advice in person, and online through fascinating interviews
Full Sail University is committed to making your educational experience fantastic inside and outside of your classes, which is why it can provide support through:
The Financial Aid Department, which can guide you through the available grant and loan packages, and help you determine which ones you may qualify for
Career advisors who are available to help you develop a career plan and explore the opportunities in different facets and regions of your industry
Full Sail University graduates can be found in the credits for some of today's most popular films, albums, and video games. In 2020, 24 different Oscar-nominated projects included Full Sail alumni, seven of which were in the Best Picture category. And, if you've seen Joker, Star Wars: The Rise of the Skywalkers, or Avengers: Endgame, then you've seen some of these talented professionals at work in some of today's biggest film franchises. They've been involved in all kinds of different aspects—from animation and screenplay writing to film editing and sound mixing.
If you are ready to take the first step in becoming the next successful alumnus, begin today by requesting information about the programs currently available at Full Sail University!
---
Full Sail University Programs
Online Degrees
Art & Design
Bachelor's
Computer Animation
Game Art
Graphic Design
Business
Bachelor's
Digital Marketing
Music Business
Sports Marketing and Media
Master's
Business Intelligence
Digital Marketing
Entertainment Business
Innovation and Entrepreneurship
Film & Television
Bachelor's
Computer Animation
Creative Writing
Digital Cinematography
Media & Communications
Bachelor's
Creative Writing
Media Communications
Sports Marketing and Media
Sportscasting
Master's
Creative Writing
Instructional Design & Technology
New Media Journalism
Public Relations
Music & Recording
Bachelor's
Audio Production
Music Business
Music Production
Sports
Bachelor's
Sports Marketing and Media
Sportscasting
Technology
Bachelor's
Computer Science
Cybersecurity
Information Technology
Mobile Development
Web Development
---
Campus Degrees
Art & Design
Bachelor's
Computer Animation
Digital Arts & Design
Game Art
Graphic Design
Business
Bachelor's
Music Business
Sports Marketing and Media
Film & Television
Bachelor's
Computer Animation
Creative Writing
Film
Games
Bachelor's
Game Art
Simulation & Visualization
Media & Communications
Bachelor's
Creative Writing
Media Communications
Sports Marketing and Media
Sportscasting
Music & Recording
Bachelor's
Music Business
Music Production
Recording Arts
Show Production
Sports
Bachelor's
Sports Marketing and Media
Sportscasting
Technology
Bachelor's
Computer Science
Cybersecurity
Game Development
Information Technology
Simulation & Visualization
---
Full Sail University Locations
Winter Park, Florida
3300 University Blvd
Winter Park
FL
32792
Online
---