New Jersey Automotive Schools
Last Updated
Learn valuable skills for a growing and rewarding trade at New Jersey automotive schools.
Aspiring car, truck, diesel, and heavy equipment mechanics like you can get direct training that provides opportunities in fields with high demand. By including lots of hands-on practice, automotive programs enable students to start getting the practical abilities valued by repair shops, dealerships, and other auto-industry employers.
Plus, consider this: Automotive schools in NJ allow you to train in one of the highest-paying states for this skilled trade. New Jersey simply has a lot of great opportunities for qualified specialists in automotive and diesel technology. And that means your future could be even brighter than you thought possible.
So discover your own path forward right now. Enter your zip code to find out where you can start training to become the professional automotive mechanic you'd like to be!
3 Terrific Reasons to Get Automotive Training in New Jersey
---
---
New Jersey Automotive Schools
Sponsored Listings

Automotive Technology
Diesel Technology
Heavy Equipment
---
---
3 Terrific Reasons to Get Automotive Training in New Jersey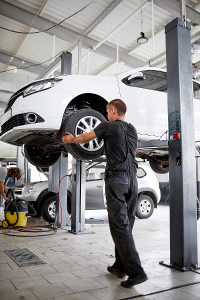 Motor vehicles are just about everywhere. Nearly all of us either drive or ride in them on a regular basis. And they all need to be maintained. That much is obvious. But did you know that New Jersey is an especially enticing place to develop practical expertise in automotive technology? Here's why:
1. The Demand Is Strong
Northern New Jersey—including areas like Bergen, Middlesex, and Union counties—is close to New York City, which is a major center of employment for many people in the Northeast. As a result, the region's highways are full of daily commuters who put a lot of wear and tear on their vehicles.
In fact, a number of statistics show why this state is one of America's best markets for automotive maintenance and repair. Just take a look at these facts:
According to the state's labor department, New Jersey is projected to have 1,680 openings for automotive service technicians each year between 2016 and 2026. And employment of bus, truck, and diesel mechanics is expected to grow by over eight percent during that same time period, which translates into almost 900 annual job openings.
The NAIC report also reveals that per-capita disposable income in this state is nearly 22 percent higher than the countrywide average, allowing many NJ car and truck owners to spend more money on regular vehicle maintenance and necessary repairs.
2. Wages Are Often Very Good
New Jersey is among America's top-paying states for this vocation. In fact, according to data from the Occupational Employment Statistics program, the average hourly wage for an auto technician in NJ was $23.38 (about $48,620 yearly) in 2018. That was 11 percent higher than the national average for the trade.
And diesel technicians can earn even more. The average New Jersey wage in that area of the trade was $26.68 per hour (about $55,500 annually), which was about 13 percent higher than the national average.
3. You Get to Learn More About What You Love
As a car or truck enthusiast, you may already know a lot about certain kinds of vehicles. But just imagine having professional-level knowledge that you can make a living from. New Jersey automotive schools frequently offer training programs that cover fascinating areas like:
Using special tools such as computerized diagnostic equipment
Assembling and disassembling vehicle engines, transmissions, and other systems
Understanding important differences between different vehicle makes and models
Maintaining the fuel, braking, and other advanced systems of large trucks, buses, trailers, and construction machines
---
How to Get Started
To get your start in this promising industry, find the New Jersey automotive schools that are nearest to you. Simply enter your zip code below to begin!
---