Nursing Schools in NJ
Last Updated
Take a look at nursing schools in NJ and explore the career possibilities that are waiting for you.
From Jersey City to Vineland, you can find nursing programs in NJ that can help you take your career to a new level. Before you know it, you could be offering compassionate care to sick or injured individuals who depend on your expertise.
Now is a great time to enter the profession because New Jersey is facing a major nursing shortage. You may find opportunities in hospital settings, along with doctors' offices, home healthcare agencies, nursing homes, outpatient care centers, and other medical facilities.
So get ready to go after your dreams today. Enter your zip code into the search tool below to see which nursing schools in New Jersey are offering programs in your area!
Nursing Colleges in NJ: Prepare for a Promising Career
---
---
Nursing Colleges in NJ: Prepare for a Promising Career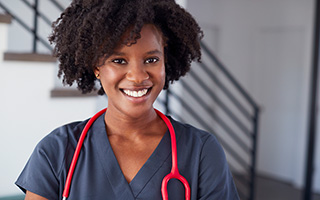 Like many other states across the country, New Jersey is experiencing a nursing shortage. Combined with a growing and aging population, factors like retirement, health insurance, and chronic disease rates are all driving the demand for nurses. As of 2019, New Jersey has over 8.8 million residents. And it is projected that the state's population will grow to over 9.6 million by 2030. During this same time, a large number of nurses are expected to retire since, as of 2013-14, the average age of registered nurses and advanced practice registered nurses was 50 years old, and the average age for licensed practical nurses was 48 years old.
In addition to a growing population and retirements within the nursing workforce, more people are obtaining insurance due to the Affordable Care Act. The uninsured rate went from 14.5 percent in 2013 to 11.7 percent in 2014. As more people continue to obtain insurance, the demand for medical services increases. Considering the poor health status of many New Jerseyans, that is very significant.
Kaiser Family Foundation data from 2011 indicates that almost one-quarter of children aged 10 to 17 years old are overweight or obese. And, according to 2014 figures, 63 percent of the adult population is overweight or obese. Additionally, 16.9 percent of adults report having fair or poor health status, 9.7 percent have been diagnosed with diabetes, and 6.6 percent have cardiovascular disease.
It is clear that the demand for healthcare in New Jersey is expected to remain strong in the coming years. And the short- and long-term nursing shortage could be exacerbated by the number of nurses expected to retire over the next two decades. So this is definitely a good time for you to consider attending nursing school in NJ. Not only might you find ample job opportunities after you complete your training, but you also might earn an excellent living. In fact, New Jersey nursing professionals tend to earn more than the national average.
As you navigate your training options, you may not realize that NJ nursing schools can start preparing you for several different career paths. For example, you can pick a nursing program that helps you go after a career as a nursing assistant, licensed practical nurse (LPN), or registered nurse (RN). And once you have reached RN status, you can advance your career even further by becoming an advanced practice registered nurse (APRN) or nursing instructor. Explore your career options further and decide what kind of nursing education you want to attain!
(Unless otherwise noted, salary information is based on 2018 data from the Bureau of Labor Statistics.6 And estimated job growth and openings are for the decade from 2012 to 2022.2)
Salary information is based on data from the Occupational Employment and Wage Statistics (OEWS) program unless indicated as being from (1) the New Jersey Department of Labor and Workforce Development (NJDOL) or (2) Salary.com. Estimated job growth and openings are for the decade between 2016 and 2026 and are based on data from NJDOL unless indicated as being from (3) O*Net OnLine.
Nursing Assistant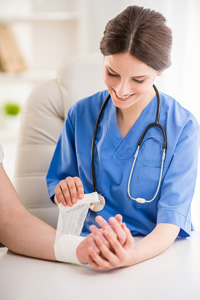 If you would like to get into the nursing profession quickly, then completing a nursing assistant program at one of the New Jersey nursing schools near you may be a good choice. Nursing assistants—which are also called nurse's aides and patient care technicians—help provide basic nursing care and assist patients with carrying out their daily activities. Depending on your employment setting, you could be responsible for any of the following tasks:
Helping patients eat, bathe, and get dressed
Assisting patients with moving between their beds and wheelchairs or walkers
Taking and recording vital signs
Administering medications
Tidying patients' rooms and changing bed linens
Assisting LPNs, RNs, and other medical team members as needed
Although it is not mandated by the state, a lot of nursing assistants opt to obtain certification because many employers require it. Once you have completed a state-approved program, you can apply to take the exam to become a certified nurse aide (CNA) through the New Jersey Department of Health. Your exam will consist of a clinical skills test followed by a knowledge test. You will also be subject to a criminal background check. Upon receiving your certification, you will be required to complete a simple renewal every two years.
Average annual salary: $30,380 (2.7 percent higher than the national average)
Top-end annual salary: $34,300 or more1
Estimated job growth: 12 percent; 7,790 openings annually
Licensed Practical Nurse (LPN)
There are quite a few LPN programs in NJ that can be completed in a short time. Just think, in a year or two from now, you could be providing quality nursing care to the sick, injured, or elderly. You will most likely perform your work under the supervision of a registered nurse or physician while tending to the basic care needs of your patients. That could include:
Updating and maintaining patients' records
Informing RNs and doctors of any changes in a patient's condition
Assisting with performing procedures and tests
Collecting specimens
Preparing and using medical equipment
Administering medication and IV drips
Changing dressings
Providing special care to patients with tubes or ventilators
Upon completing state-approved training at an LPN school in NJ, you will need to apply for the National Council Licensure Examination for Practical Nurses (NCLEX-PN) through the New Jersey Board of Nursing. Once you have achieved your license, you will need to renew it every two years. And prior to renewal, you will have to complete 30 hours of continuing education.
Average annual salary: $56,290 (19.6 percent higher than the national average)
Top-end annual salary: $61,900 or more1
Estimated job growth: 13 percent; 1,540 openings annually
Registered Nurse (RN)
You may have several choices when it comes to RN programs in NJ. The three most common options are associate degree, bachelor's degree, and bridging programs. A lot of associate degree programs can be completed in approximately two years, which is the fastest route to becoming an RN. But if you want a wider range of job opportunities and would like to pursue advanced nursing positions in the future, then attaining a bachelor's degree may be a better option. A typical bachelor's degree program can take three to four years to complete. However, if you are a currently practicing LPN, then you may be able to take one of the bridging (LPN-to-BSN or LPN-to-RN) programs in NJ instead.
Schools that offer bridging programs take your previous education and experience into consideration in order to reduce the amount of time that is required for you to attain a Bachelor of Science in Nursing (BSN) degree. So, depending on your current status within the nursing field, it may only take you a couple of years to advance from an LPN to RN position. And once you successfully pass the National Council Licensure Examination for Registered Nurses (NCLEX-RN), which is administered through the state's board of nursing, you will likely be prepared to offer more advanced healthcare services. (Note that, like LPNs, RNs are required to complete 30 hours of continuing education and renew their licenses every two years.)
Along with common employment settings like hospitals and doctors' offices, some RNs work at schools, serve in the military, or travel throughout their communities as public health nurses. So you could find a variety of great job opportunities. And, depending on the route that you take, you could be responsible for assisting doctors with treating patients, giving medications, developing care plans, coordinating care with other medical professionals, monitoring and evaluating patients, and educating patients and their families.
Average annual salary: $82,750 (9.6 percent higher than the national average)
Top-end annual salary: $96,300 or more1
Estimated job growth: 12 percent; 5,370 openings annually
Nursing Instructor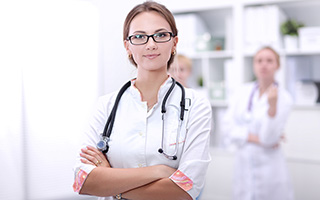 Can you picture yourself teaching at a school of nursing? With the right training and experience, you could make that happen. And it could be advantageous to do so since the projected demand for nursing instructors is substantial. To enter the field of teaching, you will need to attend one of the RN schools in NJ and attain your RN license. After that, you will need to gain clinical experience and continue your education to the master's or doctorate degree level. Most post-secondary institutions will require you to have a minimum of a master's degree for teaching positions. And you will likely need at least three to five years of clinical experience related to the area in which you want to teach.
Some employers also require their instructors to have their Certified Nurse Educator (CNE) credential, which is administered through the National League for Nursing (NLN). In order to become certified, you must be an active RN and have a master's or doctoral degree with a major in nursing education. You may also qualify if you have a post-master's certificate in nursing education or nine or more credit hours of graduate-level education. Alternatively, you may also meet the requirements for certification if you are an active RN who is practicing as a nurse educator, have a master's or doctoral degree, and possess two or more years of teaching experience.
Average annual salary: $89,950 (10.6 percent higher than the national average)
Top-end annual salary: $116,200 or more1
Estimated job growth: 28 percent; 50 openings annually
Advanced Practice Registered Nurse (APRN)
APRNs hold master's or doctorate degrees, have met specific clinical practice requirements, have achieved additional licensing, and provide some form of direct patient care. In order for you to get to that level, you will have to start by completing one of the BSN programs in NJ and then attain your RN license. From there, the additional education and experience that you strive toward will depend on the type of APRN that you want to become. Here are the four types:
Clinical Nurse Specialist (CNS): Offer advanced nursing care in clinical settings, including acute and chronic care. You could also be involved in medical consulting, educating, mentoring, and researching.



Average annual salary: $117,4352
Top-end annual salary in NJ: $138,834 or more2
National estimated job growth from 2018 to 2028: 11 percent or higher3
Nurse Practitioner (NP): Provide direct patient care services similar to those offered by physicians. The care that you offer could include completing physical exams, diagnosing and treating illnesses, prescribing medications, and ordering lab tests.



Average annual salary: $122,100 (11 percent higher than the national average)
Top-end annual salary: $130,600 or more1
Estimated job growth: 22.3 percent; 110 openings annually
Certified Nurse Midwife (CNM): Give primary care to low-risk pregnant women as well as to new mothers and their newborns. You could practice in hospitals, community clinics, birthing centers, and patients' homes.



Average annual salary: $113,980 (6.6 percent higher than the national average)
Top-end annual salary: $126,200 or more1
Estimated job growth: 16 percent; 20 openings annually
Certified Registered Nurse Anesthetist (CRNA): Administer anesthesia and provide pre- and post-anesthesia care to patients. You could find career opportunities with hospitals, outpatient surgical centers, and even dental offices.



Average annual salary: $189,150 (8.2 percent higher than the national average)
Top-end annual salary: $203,700 or more1
Estimated job growth: 9 percent; 20 annual openings
---
Start Preparing for a Career That Makes a Difference
The nursing field is in need of caring individuals like you. And you deserve a promising career that offers exciting opportunities for earnings and growth. So don't delay any longer. Make your first move by finding out which nursing schools in NJ are offering programs near you. All you have to do is enter your zip code below. Then, you could be on your way to a brighter future!
---