Florida Medical Billing Schools
Last Updated
Florida medical billing schools can teach you in-demand skills for an important and gratifying career in a thriving industry.
It's true: Florida's healthcare sector offers many opportunities for ambitious and caring people like you. And not all of those opportunities involve hands-on work with patients. Medical billing and coding specialists often work behind the scenes. They help ensure that patient information is recorded correctly and that medical providers get paid.
These healthcare professionals act as important links between patients, healthcare providers, and insurance companies. As a result, the skills of medical coding and billing specialists are highly sought after, and people in this field have many opportunities to specialize and advance. Many Florida medical coding schools can give you a streamlined education for this vital career, making it possible to join the state's large healthcare workforce in two years or less.
So check out some nearby medical billing schools in Florida. Just enter your zip code into the search tool below to discover medical coding and billing programs in your area!
Common Questions About Medical Billing and Coding Careers in Florida
---
---
Florida Medical Billing Schools
Sponsored Listings
DeLand
Kissimmee
Lakeland
Orlando
Pembroke Pines
South Miami
Tampa
Medical Billing and Coding Specialist
Daytona Beach
Fort Lauderdale
Fort Myers
Jacksonville
Lakeland
Melbourne
Naples
New Port Richey
Orlando
Pembroke Pines
Port St. Lucie
Tallahassee
Tampa
Medical Administrative Billing and Coding
---
---
5 Common Questions About Medical Billing and Coding Careers in Florida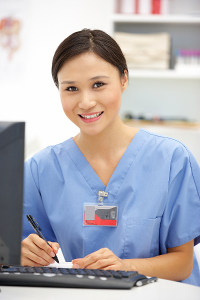 Medical coding and billing specialists have been called the "invisible engines" behind the healthcare industry and the translators of the medical world. Without these healthcare professionals, physicians and other treatment providers might not get paid, and patients could receive inappropriate care or experience added frustration when trying to process their medical claims.
Coding specialists also play a key role in identifying healthcare trends. After all, one of the first recorded instances of medical coding was in 17th-century London, where medical practitioners devised a way to track the spread of the bubonic plague in a city in which residents spoke many different languages and there was no centralized treatment system. Today, medical coding continues to provide consistent standards for monitoring healthcare information.
1. What Are the Job Duties?
Medical coding and billing specialists often focus on either billing or coding, but in smaller offices or practices, one person might have both duties. Although the duties are quite different, it's important to understand how coding and billing fit together.
Medical coders "translate" a doctor's or other healthcare provider's notes about medical diagnoses and/or treatments into numerical or alphanumerical codes that are part of one or more of the three main coding systems:
Current Procedural Terminology (CPT)
Healthcare Common Procedure Coding System (HCPCS)
International Classification of Diseases (ICD)
Within each system, there are thousands of codes, reflecting the complexity of today's medical care. For example, if you went to the doctor for a simple procedure like removing wax from your ear, a unique code would indicate exactly how the doctor removed it since each removal method has a separate code.
Medical billers coordinate financial transactions between patients, healthcare providers, and insurance companies or other payers (for example, Medicare or Medicaid). Medical billing specialists use the codes assigned by medical coders to create invoices for patients. Often, they are also responsible for following up to make sure invoices get paid.
How does this all happen? Consider a typical doctor's visit:
A patient visits a doctor who makes notes about the patient's symptoms, the diagnosis, and the prescribed treatment.
A medical coder assigns specific codes to each aspect of the visit, including the type of visit, the reported symptoms, the doctor's diagnosis, and the prescribed treatment. These codes must be written in a specific order.
A medical biller uses the codes to create a claim to send to the patient's insurance company (or to another third-party payer such as Medicaid). To do this, he or she must know which codes are covered by the patient's healthcare plan.
The insurance company or other payer checks over the claim, processes it if the services are covered, and returns it to the healthcare provider's office. If any money is still owed, the medical biller then creates an invoice for the patient.
2. How Can I Become a Billing and Coding Specialist in Florida?
You have a few different options if you want to qualify for a career as a medical coding and billing specialist in Florida:
Certificate or diploma programs range from four to 12 months of study. Online and on-campus programs are both available. Just beware of certain online promotions claiming that you can set up a home-based coding business after a much shorter time period. And watch out for online scammers that make false promises of high paychecks without any training.
Associate degree programs are usually two years of study. Some schools offer the choice of completing your degree online or in person.
Bachelor's degree programs generally take about four years, tend to focus more on the broader field of health informatics, and often aim to prepare students for management roles.
Certification preparation courses are short online courses that prepare students to take a professional certification exam through an organization such as AAPC. (It's possible to work as a medical billing and coding specialist—without attending a school—if you take and pass a certification exam after completing one of these courses.)
3. Should I Become Certified?
Certification is not mandatory in Florida. But becoming certified could improve your job prospects. After all, it's a great way to demonstrate your commitment to the occupation. And if you need more incentive, know this: Certified coding and billing specialists make an average of 30 percent more than non-certified specialists.
You have many certification options. The best one for you depends on your professional goals. Two of the biggest certifying bodies are AAPC and the American Health Information Management Association (AHIMA).
Popular AAPC certifications include:
CPC—Certified Professional Coder
COC—Certified Outpatient Coder
CPB—Certified Professional Biller
Popular AHIMA certifications include:
CCA—Certified Coding Associate
CCS—Certified Coding Specialist
RHIA—Registered Health Information Administrator
Earning certification typically involves taking and passing an exam. Exams tend to be rigorous, so a good training program is essential before taking one. To maintain your certification, you'll need to take continuing education courses and pay membership fees.
4. How Much Money Will I Make?
After a fairly short training period, medical billing and coding specialists can earn a good salary. The median salary in Florida was $44,554 in 2022, according to the Occupational Employment and Wage Statistics (OEWS) program.*
Your salary can increase as you earn certifications or specialize in specific areas. For example, take a look at these average salaries from a 2022 nationwide salary survey:
Medical coders with CPC (Certified Professional Coder) certification—$56,290
Medical coders with three or more certifications—$71,361
Medical coding instructors—$76,804
5. What Are the Job Prospects Like in Florida?
Medical coding and billing specialists are included in the broader category of medical records and specialists. From 2021 to 2031, almost 1,626 jobs are expected to be added in Florida for this occupational category, based on data from the OEWS program.*
One big factor in the demand for medical coding and billing specialists in Florida is that the state has the second highest population of citizens over the age of 65 (only California has more senior citizens). As we age, we tend to need more medical treatment, resulting in more medical visits—and more procedures to code and bill.
In addition, new medical research is making the coding process more complex as researchers discover more about our health and how to treat disease. For example, a new version of the International Classification of Diseases (ICD), known as ICD-11, went into effect in 2022. This version contains about 55,000 codes (compared to about 13,000 codes in ICD-9), including codes for conditions that did not appear previously, such as gaming addiction. The introduction of new codes will make it easier for providers to track the number of people affected by these conditions. Simply put, providers will be able to gather more data about our health and medical needs.
Nationwide, employment in the medical records specialists category is expected to increase by eight percent from 2022 to 2032.**
---
Turn Your Goals Into Reality
Can you imagine a future for yourself in medical billing and coding? You can make it happen. Find Florida medical billing schools near you by using the program finder below. Simply enter your zip code to see a list of possibilities!
Featured Florida Programs
---
---
* Bureau of Labor Statistics, U.S. Department of Labor, Occupational Employment and Wage Statistics, https://www.bls.gov/oes/ (visited September 8, 2023).
** Bureau of Labor Statistics, U.S. Department of Labor, Occupational Outlook Handbook, https://www.bls.gov/ooh/ (visited September 8, 2023).