How to Become a Mechanic
By Publisher
| Last Updated November 22, 2021
Skilled and trustworthy automotive technicians are essential to our daily lives. From passenger vehicles for personal transportation to fleets of vehicles carrying goods and supplies throughout the continent, auto mechanics play an important role in keeping society functioning efficiently. This means the demand for these professionals is ongoing. Trade school programs that specialize in teaching you how to become a mechanic can help you take a confident step toward opportunities for growth and success in an evolving field.

Auto mechanics work on all types of vehicles, including commuter cars, fleet trucks, and even recreational vehicles. While mechanics once worked almost exclusively with hand tools, today's automotive professionals use advanced computer technology to investigate, diagnose, and solve complex mechanical and electrical issues. These professionals also work with cutting-edge electric vehicle technology to improve the driver experience and help keep the environment clean.

If you've got a spark of interest for working in the automotive industry and want a straightforward, thorough summary of how to become a mechanic, check out the following FAQs.
---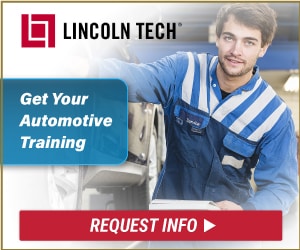 ---
What Does an Automotive Mechanic Do?
What you do each day as an auto mechanic depends on where you work and what type of vehicles you service. A mechanic who works at a dealership may help solve customer problems using the latest diagnostic and repair tools. Mechanics who work for vehicle manufacturers may partner with research and development professionals to evaluate new engine designs during pre-production. You might also find yourself working alongside fleet managers for touring production companies and live event service managers who need mobile mechanics to travel with them.
If you have an entrepreneurial mindset, you may also choose to go into business for yourself. Many mechanics are self-employed or are small business owners themselves. Running an automotive repair shop can be a lucrative way to follow your passion for technology and customer service. Best of all, you get to decide how to keep customers happy through customized service.
For most automotive mechanics, daily tasks include:
Greeting customers
Discussing vehicle concerns
Inspecting, evaluating, and diagnosing problems
Completing repairs and installations
Testing completed projects for accuracy
Additionally, automotive mechanics may help develop new technologies and techniques for greater efficiency around a shop or manufacturing facility.
Where Do Automotive Mechanics Work?
Auto mechanics work in many places, including dealerships, independent repair shops, manufacturing and repair facilities, and research and development facilities. If you choose to work for yourself and begin a business, you may work at a shop or even on the road providing mobile diagnostic and repair services.
Mechanics may also work in the civil sector through local, state, and federal government positions. Even the military provides opportunities for auto and diesel mechanics to help keep the country safe by providing diagnostic and repair services at home and abroad. A diesel technology program might be your best fit if you're especially interested in working on large, heavy-duty equipment like military vehicles and tractor-trailers.
What Education Is Required to Become a Mechanic?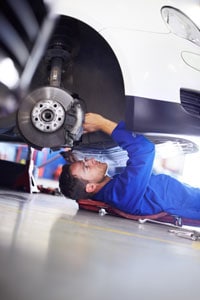 The education level needed to become an automotive mechanic varies widely depending on the type of work. For most careers, a high school diploma or GED is the minimum requirement.
Trade schools are the most popular and efficient route for pursuing a career as an automotive mechanic. Automotive trade schools typically provide a mix of classroom learning with hands-on training using practical challenges that mechanics face in the workplace. In addition, these schools often pair students with experienced mechanics who understand a variety of vehicles and complex mechanical subjects.
Financial assistance may be available for you to attend an automotive trade school, with funding provided via the school or through public or private loans. In some cases, an employer may even help pay for a mechanic or apprentice to attend a trade school.
Automotive service technician and mechanic training offered at trade schools can often be completed in less time than it takes to pursue a traditional college degree. Many programs take one year or less, although some will require at least two years to complete.
Many trade schools offer in-person training where students work hands-on with professional equipment. Some mechanic schools offer hybrid or online training.
While there may be no formal education requirements for opening your own automotive repair shop, having some formal training on how to be a mechanic can be helpful.
Competition in the automotive services industry is fairly high in many areas—particularly in large cities. While you can build a great reputation by providing excellent customer service, you need to get a foot in the door from the start if you want to be a business owner. Formal education from a trade school can provide an edge in knowledge and marketing or advertising services as you build your reputation.
---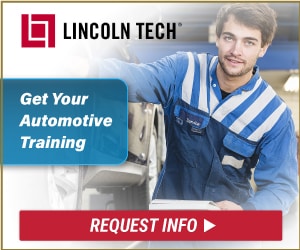 ---
Do You Need to Become an Apprentice First?
An apprenticeship is not a requirement for most auto mechanic career paths but serving as an apprentice can often open doors for career growth. Many professionals in the automotive industry start their journeys through an apprenticeship because it allows them to learn on the job. While classroom learning can be very important in the automotive industry, many mechanically inclined people learn best through hands-on experience. As an apprentice, you have the chance to work in a practical setting alongside experienced automotive professionals who can supervise your work and offer advice and guidance.
If you decide to pursue an automotive apprenticeship, you may need to go through an application process. An automotive mechanic apprenticeship program application may require a written expression of interest and a personal summary that lays out why you are the best candidate. Some programs will also require an in-person interview as part of the selection process.
Apprenticeship programs typically have a defined length and many last around one year. If an apprenticeship does not mention a specific length of time, it may require a certain number of hours instead.
You can usually expect some payment if you are accepted into an apprenticeship program. However, your salary may not match that of an employed, experienced mechanic.
What Licenses Are Required to Become a Mechanic?
Like many industries, automotive service professionals may require licenses to complete specific aspects of work. For example, in states where vehicle inspections are required, you may need an inspector's license to provide official inspection services. Licensing can also vary depending on the types of vehicles you service. You may need specific licenses to work on more advanced types of vehicles. For example, heavy-duty trucks and 18-wheeler vehicles have different regulations regarding repairs and maintenance. Luxury brand vehicles also often require more extensive and specialized training; BMW, Mercedes Benz, and Porsche are just a few examples.
You will likely need to obtain a business license from your local county or city government if you want to open your own automotive shop. Your state may also have regulations regarding business licensing. Your shop will need to meet the zoning requirements for a commercial property.
Is an Automotive Technician the Same as a Mechanic?
Although the titles "automotive technician" and "automotive mechanic" are often used interchangeably, they have different requirements in most cases. An automotive technician may work as a mechanic, but a technician typically has specialized certification. For example, a BMW mechanic or technician has special certification that allows them to work on BMWs, in addition to standard vehicles. But not just any mechanic can work on BMWs.
While your employer may use these terms interchangeably, the legal definition for each designation may vary depending on your state laws. As such, it's essential to be aware of state laws for what you can legally advertise yourself as while on the job.
What Certifications Are Required to Become an Automotive Mechanic or Technician?
In most cases, you can earn certifications while you work as a mechanic. Some trade schools will also provide certification opportunities while you are earning a degree. If you're already employed, your employer may offer these opportunities to ensure that their entire workforce can meet the same standards.
Some examples of standard certifications found in the field of automotive service include:
Automotive Service Excellence (ASE)
The National Institute for Automotive Service Excellence provides an ASE certification. This non-profit organization offers the ASE certification to mechanics who complete a series of eight different tests and demonstrate mastery of various light vehicle components. Testing requirements include the demonstration of both knowledge and practical abilities.
Manufacturer-Specific Certification
Many automotive manufacturers also offer their own certification programs. As with ASE certification, manufacturer-specific certification typically involves a combination of knowledge and practical testing regarding servicing specific makes and models from a manufacturer's line of vehicles. Many auto mechanics who work for dealerships will seek out manufacturer-specific certification in addition to ASE certification to provide specialized service for a particular brand.
What Does the Typical Career Path Look Like for an Automotive Mechanic?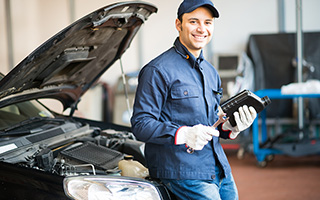 Your career path as an automotive mechanic can begin by attending a trade school or college. While some successful mechanics start with on-the-job learning at an automotive repair shop or dealership apprentice program, the majority will first get some degree of formal education.
Trade schools generally offer some type of assistance after graduation to help you with job placement. Many mechanics begin their professional journeys working for dealerships or vehicle manufacturers. If you work for a manufacturer, your place of employment could depend on where the nearest manufacturing or repair facility is located. Some manufacturers may offer relocation assistance if you need to move to accept a contract of employment.
When starting, your first position will likely have you working on vehicles daily. As you gain experience, you may be promoted to a supervisory role where you oversee a team of mechanics. From there, you can move up to a managerial position to provide guidance related to a team's processes, equipment usage, training, hiring, and other tasks.
Mechanics who open their own shops have additional responsibilities beyond providing automotive services. They will also need to handle tasks such as:
Scheduling
Payroll, taxes, and financial management
Inventory management
Vendor contracts
Parts procurement
Customer service
---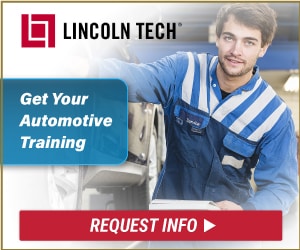 ---
How Much Does a Mechanic Make?
How much you earn as an automotive mechanic will depend on how specialized your line of work is and where you are located. According to a 2021 Bureau of Labor Statistics (BLS) report, the median salary for an auto mechanic working an hourly position is $22.54 per hour.* This equates to $46,880 annually. The lowest 10 percent of earners make $29,010 or less annually, and the highest 10 percent make $75,100 or more each year.
As you get into more specialized and technical mechanical work, you may see higher salary ranges. Higher salaries can be expected when working on technical projects that require more experience and a higher level of formal education. You will also be more likely to command higher wages if you have specialized auto mechanic schooling and certifications related to the types of vehicles you service.
Self-employed automotive mechanics have more flexibility to set rates. You may choose to charge customers by the hour, but you can also price things out by the job. Keep in mind that your rate as an entrepreneur will largely depend on the region you're in and your competition's rates. Being qualified to offer specialized service or service for rare, foreign, or exotic vehicles will usually give you more room to charge higher rates.
What Does the Future Hold for Automotive Professionals?
According to the Bureau of Labor Statistics, the outlook for automotive mechanics is good. In the next decade, the outlook for career opportunities in automotive mechanic services is expected to remain stable. Individuals with a trade school education are more likely to find consistent employment. Those with a higher level of specialization are more likely to find higher-paying opportunities.
It's worth noting that the automotive industry is increasing the use of digital technology for all vehicle types and includes onboard computers to monitor, diagnose, and report vehicle problems. As such, automotive mechanics are encouraged to seek educational opportunities that incorporate digital connectivity, electrical engineering, and some computer science.
---
Make Your Passion Your Career
There's never been a better time to begin the journey to become an automotive mechanic. With so many exciting opportunities available, the sky is the limit for those passionate about automotive technology. Start your training to become an automotive mechanic at a trade or vocational school if this sounds like you.
Even if you plan to go into business for yourself, having the backing of formal education will serve you well in the future. Not only does a trade school provide the education needed to work on modern vehicles, but it helps you attract customers and grow your earning potential.
---
* Unless otherwise noted, salary information is based on May 2021 data from the Occupational Employment and Wage Statistics (OEWS) program.