Pennsylvania Automotive Schools
Last Updated
Pennsylvania automotive schools help people like you accelerate into satisfying careers.
Are you eager to develop job-ready skills that can prepare you for a diverse range of opportunities in the auto sector? At automotive schools in Pennsylvania, you can learn about anything from vehicle maintenance and service management to collision repair and safety inspection. You can receive valuable guidance from experienced instructors while getting hands-on training using modern equipment and tools. And you can graduate with the confidence to go after your long-term goals. So make this the day you start advancing your ambitions. Automotive schools across Pennsylvania are ready to help you begin your career journey.
Check out the programs below or type your zip code into the school finder to discover training options close to you!
Common Questions About Automotive Careers in Pennsylvania
---
---
Pennsylvania Automotive Schools
Sponsored Listings
---
---
---
4 Common Questions About Automotive Careers in Pennsylvania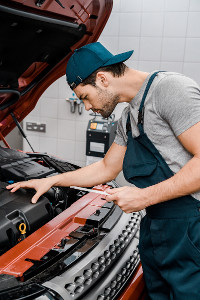 With more than 11 million vehicles on Pennsylvania roads, there are tons of opportunities for skilled professionals who can operate, maintain, and repair cars and trucks. In a 2021 survey, over three-quarters of contractors in the state said they were having trouble finding enough qualified people for available trades positions, and truck drivers and mechanics were among the jobs that were hardest to fill. Pennsylvania automotive schools can help you gain a competitive edge in this ever-evolving field.
Here are answers to four popular questions about automotive careers in this state:
1. How Can I Get Into the Automotive Field?
Some automotive positions are open to candidates with a high school diploma, but most employers favor those who have completed post-secondary training programs.
Trade and technical schools across Pennsylvania offer a variety of automotive technology programs. You can learn how to diagnose, repair, and service anything from cars and trucks to boats and motorcycles. You may also receive instruction in areas like cost estimating or shop management.
Automotive technology programs include a mix of classroom learning and hands-on practical training. Many offer courses related to vehicles from a specific manufacturer. Some even include paid internships that allow students to learn on the job from an experienced technician.
It generally takes anywhere from a few months to two years to complete a training program. Graduates can pursue positions in dealerships, service centers, repair shops, and other settings.
2. What Licenses or Certifications Do I Need?
Automotive technicians do not necessarily need to be state-certified to work in Pennsylvania. However, the state does require most vehicles to undergo an annual safety inspection that is performed by a certified inspection mechanic, and many employers look for candidates with this credential. To qualify as an inspector, you must be at least 18, hold a valid driver's license for the type of vehicle you want to inspect, complete a state-approved certification course, and pass an exam. Inspectors must recertify every five years.
Pennsylvania also requires vehicle emissions inspections. Requirements for emissions inspectors are similar to those for safety inspectors, except that emissions inspectors must recertify every two years.
In addition, the National Institute for Automotive Service Excellence (ASE) offers industry-recognized credentials that can boost your employment prospects. Over 50 exams are available, covering areas like automotive service, collision repair, diesel engine maintenance, and more. On top of passing the exam, you must have a certain amount of practical experience in order to be certified; the actual amount varies depending on which test you take. Many Pennsylvania vocational programs prepare their students for ASE certification.
If you're aiming to operate big trucks, you will need a commercial driver's license (CDL). To qualify, you need to be at least 18 (or 21 if you want to drive over state lines or operate vehicles carrying hazardous materials). You also need to pass medical screening and background checks before you can take the written and road skills tests required for the CDL. Formal CDL training courses are available throughout Pennsylvania and are recommended, but not required.
3. How Much Can I Earn?
In Pennsylvania, median annual wages in the automotive industry range from about $36,870 to nearly $48,190.* The amount you make depends on the specific type of work you do as well as your level of education and experience. Check out the statewide salary medians for the following automotive careers as of May 2021, according to data from the Occupational Employment and Wage Statistics program:
Bus and truck mechanics and diesel engine specialists: $48,190
Commercial truck drivers: $48,180
Auto body and related repairers: $47,400
Auto mechanics and service technicians: $46,490
Automotive glass installers and repairers: $38,280
Motorboat mechanics and service technicians: $37,360
Motorcycle mechanics: $36,870
Keep in mind that the numbers above represent median salaries. It's possible to earn much more. For example, the Occupational Employment and Wage Statistics Query System tool reveals that the top 10 percent of auto body repairers in Pennsylvania made $74,050 or more in 2021.*
4. What Is the Job Outlook for Automotive Careers in Pennsylvania?
There are plenty of opportunities for automotive professionals in this state. Pennsylvania ranks among the top five states in the country for employment of auto mechanics, diesel mechanics, and heavy truck drivers. And future prospects are bright: More than 2,800 new automotive-related jobs are expected to become available in Pennsylvania between 2020 and 2030, according to the Center for Workforce Information & Analysis.
---
Get on the Move With an Automotive School in Pennsylvania
A more fulfilling future awaits you. The training you get at a Pennsylvania automotive school can open the door to a wide range of career possibilities. Why not begin by exploring the CDL and automotive schools listed above? Or put your zip code into our school finder to discover convenient programs in your area!
Featured Pennsylvania Programs
Featured Automotive School Locations
---
---
* Unless otherwise noted, salary information is based on May 2021 data from the Occupational Employment and Wage Statistics (OEWS) program. Job growth and average yearly openings estimates are from the Bureau of Labor Statistics and are for the 2021 to 2031 period.