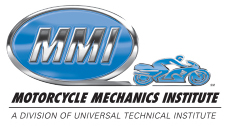 Motorcycle Mechanics Institute
Phoenix, Arizona
Orlando, Florida
Last Updated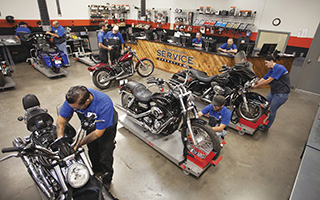 Are motorcycles your passion? Do you love spending spare time repairing and maintaining bikes? If you want to take your motorcycle hobby and turn it into an exciting career, Motorcycle Mechanics Institute (MMI) should be a top consideration for your post-secondary education.
What MMI Can Offer You
From two campus locations in Florida and Arizona, MMI offers an education in general motorcycle repair and maintenance as well as specialized training on bikes from some of the world's best motorcycle manufacturers. This is made possible through MMI's longstanding alliances with the following six top manufacturers:
Harley-Davidson
Suzuki
Yamaha
Kawasaki
BMW Motorrad
Honda
There are many benefits that MMI can offer students due to these close partnerships. In many cases, the manufacturer reviews and endorses the instructors, facilities and curricula on an annual basis. Other manufacturers donate brand new motorcycles in order to help MMI provide you with the latest technologies and diagnostics. And, for some specialized electives, unique manufacturer relationships allow MMI to provide training aligned directly with dealer programs.
---
Helping You Succeed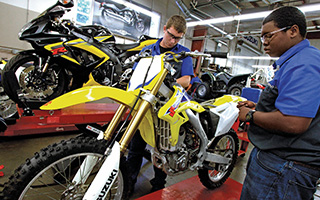 Additional benefits of becoming an MMI student include:
Personalized attention: Class sizes are limited to 30 in order to allow the expert instructors to work with students individually. In rare cases when more than 30 students are in a class, additional instructors are brought in.
Quality student services: Whether you want academic advising, personal counseling, help finding appropriate housing, or assistance with class scheduling, MMI's Student Service staff members are ready to help in any way they can.
Financial aid: MMI is eligible to participate in federal student financial assistance programs. The Financial Aid department can explain the application process.*
Employment assistance: All students and graduates can take advantage of employment assistant services, including access to online job boards, résumé writing training, interview coaching and on-campus interview opportunities.**
---
Get Started
MMI classes start every six weeks, meaning if you decide to pursue an education in motorcycle repair, you won't have to wait for traditional annual or biannual start dates. If you're ready for more information about becoming an MMI student, simply fill out the short information request form to hear directly from Motorcycle Mechanics Institute!
---
Motorcycle Technician Specialist Program
Are you wondering what you can learn by taking the Motorcycle Technician Specialist program at Motorcycle Mechanics Institute? The program starts by preparing students with core industry knowledge, such as:
Motorcycle theory
Drivability
Performance testing
Engine diagnosis/troubleshooting
Soft skills (including dealer operations, scheduling procedures, legalities and upselling)
After obtaining this solid foundation, you can choose a manufacturer-specific elective in order to customize your knowledge and abilities. The elective choices include:
Harley-Davidson
Suzuki/FAST
Yamaha/YamaPro®
Kawasaki/K-TECH Specialist
BMW Motorrad
Honda/HonTech
Each elective is the result of a close partnership with the specific manufacturer. In some cases the relationships between MMI and the manufacturers go back over 20 years.
Are you ready to enroll? Find out how by submitting the information request form today!
---
Motorcycle Mechanics Institute Locations
Phoenix, Arizona
2844 W Deer Valley Rd
Phoenix
AZ
85027
Orlando, Florida
9751 Delegates Dr
Orlando
FL
32837
---
Accreditation
MMI is accredited by the Accrediting Commission of Career Schools and Colleges (ACCSC), a national agency recognized by the U.S. Department of Education.
---