Automotive Schools in California
By Publisher
| Last Updated
Automotive schools in California can put you on the path to success in a reliable and challenging trade. By learning how to keep cars, trucks, and other vehicles running safely and efficiently, you can take advantage of numerous opportunities all over the state.
---
Education & Training
Mechanic trade schools in California help thousands of students throughout the state gain the technical skills and hands-on experience that today's repair shops look for.
What You Need to Learn*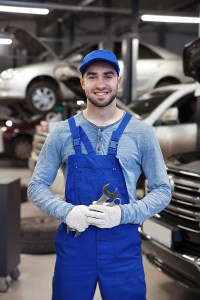 To find success in the automotive field, you have to learn how to:
Interpret repair manuals
Work on makes and models from different manufacturers
Use specialized diagnostic tools and equipment
Inspect, test, repair, and maintain a variety of components and systems, such as:

Engines
Transmissions
Fuel and emissions systems
Braking systems
Steering and suspension systems
Climate control systems

Follow safety protocols
Write repair estimates and communicate with customers
Training Options
Trade schools, technical institutes, and vocational colleges across California offer certificate, diploma, and associate degree programs in areas like automotive technology, collision repair, and diesel technology.
Certificate or diploma programs are generally six to 12 months long, while associate degree programs can take up to two years to complete.*
Some programs are fairly general, while others focus on specific areas like engine performance or transmission repair. Some even focus exclusively on the vehicles of a particular manufacturer.
Most programs feature a blend of classroom lessons and hands-on training in a shop setting. Many also allow students to complete entry-level industry certifications.
Most Common Length of School*
(range in months)
Motorcycle repair

Automotive technology

Auto body & collision repair

Diesel technology
Licensing & Certification
In California, automotive technicians generally don't need to be licensed if they are employees rather than business owners. (Automotive repair dealers must register with the state.) However, brake adjusters, lamp adjusters, and Smog Check inspectors and repair technicians must obtain licenses from the California Bureau of Automotive Repair (BAR).
Brake and lamp adjusters
Anyone who works on vehicle lighting systems needs to get a Class A license, which is the only one that exists. It covers all vehicle types.
For technicians who work on braking systems, there are three classes of license:
Class A: Can work on all vehicles
Class B: Can work on all trailers as well as trucks with a gross vehicle weight rating (GVWR) over 10,000 pounds
Class C: Can work on trucks with a GVWR under 10,000 pounds, motorcycles, and trailers that do not have air brakes
For all types of brake and lamp adjuster licenses, you must pass an exam. There are no educational or experience requirements to take the exams.
Brake and lamp adjusters must reapply every four years.
Smog Check technicians
Technicians who repair emissions control systems as part of the Smog Check Program must pass a multiple-choice licensing exam.
In order to take the licensing exam, you must:
Be ASE-certified in all three of these areas:

Electrical/electronic systems (A6)
Engine performance (A8)
Advanced engine performance (L1)
OR
Have completed one of the following:

An associate degree in automotive technology PLUS one year of experience in automotive engine repair
A certificate in automotive technology that included at least 720 hours of coursework and a minimum of 280 hours devoted to engine performance PLUS one year of experience in automotive engine repair
Two years of experience in automotive engine repair plus BAR-specified diagnostic and repair training within the last five years
Two years of equivalent military education or experience in automotive engine repair
Smog Check technician licenses must be renewed every two years.
Smog Check inspectors
You can qualify for the licensing exam if you meet the above requirements for technicians AND have completed BAR-specified Smog Check training within the last two years. Alternatively, you can also sit for the exam if you have completed BAR-specified Smog Check training as well as BAR-specified engine and emission control training.
Inspector licenses must be renewed every two years.
Certification
Certification is not legally required to work as an automotive technician in California. However, many employers like to hire technicians who have been certified by the National Institute for Automotive Service Excellence (ASE).
Many training programs include entry-level ASE certifications. You must have anywhere from one to three years of work experience to qualify for professional-level ASE certification. You also have the option to substitute formal training for part of the experience requirement.
Technicians who work on air conditioning systems in vehicles must be certified by the Environmental Protection Agency (EPA). Earning certification requires completing an approved training program and passing what's known as a Section 609 exam.
---
---
FAQs About California Automotive Technician Training
Do I have to go to school to become a mechanic in California?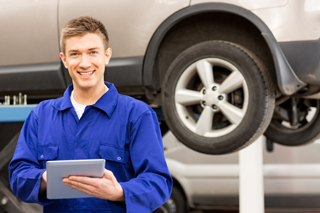 Formal training is not legally required. However, most employers look for technicians who have taken relevant training at the post-secondary level. And some require their techs to get ASE certifications. Completing a trade school program can boost your odds of landing a job in the automotive field.
How much do the various licenses cost?
Initially, it costs $10 to apply for a brake or lamp adjuster license. When you reapply after four years has passed, you only have to pay $5 for each license. There are no extra fees to take the exams.
It costs $20 to apply for a Smog Check inspector or technician license (both initially and upon renewal). In addition, there is a separate exam fee of $44.25.
Are there continuing education requirements?
No continuing education is required for brake or lamp adjusters.
Smog Check inspectors must complete four hours of BAR-certified training during every two-year renewal period.
Smog Check technicians who hold current ASE certifications in A6, A8, and L1 must complete 16 hours of BAR-approved training sometime in the two years prior to renewal.
Technicians who are not ASE-certified can either become certified and follow the procedure above OR complete BAR-specified diagnostic and repair training within five years prior to renewal.
---
California Automotive Schools
Sponsored Listings
Bakersfield
Chula Vista
Garden Grove
Gardena
Oceanside
Sacramento
West Covina
Long Beach
Rancho Cucamonga
Sacramento
Automotive Technology
Collision Repair & Refinish Technology
Diesel & Industrial Technology
---
---
Career Information
Keeping the millions of vehicles on California roads in good operating condition requires the talents of many highly skilled automotive technicians. This is a dynamic trade that offers plenty of interesting opportunities.
California Automotive Techs Snapshot
Career Outlook
3.9% job growth from 2020-2030
Median Salary

Job Openings
Yearly Average
Length of Training
Most Common Length
Work Settings
Sources**
U.S. Bureau of Labor Statistics
California Employment Development Department
California Bureau of Automotive Repair
Earnings
Data from the Bureau of Labor Statistics (BLS) shows that in California, automotive technicians earn a median yearly wage of $50,740.** The top earners make $76,790 or more.
Median Annual Wage Comparison**
California Wages
Source: Bureau of Labor Statistics
Job Openings & Outlook
According to the California Employment Development Department (EDD), automotive service technicians' employment is expected to increase by 3.9 percent between 2020 and 2030.
An estimated 6,905 jobs for auto technicians should become available each year, on average, over that time frame. Here's where those opportunities are expected to come from:
Newly created positions: 260
Openings due to retirements: 2,024
Openings due to workers transferring out of the occupation: 4,621
---
Mechanic Training Helps Many Californians Succeed
With hands-on education from automotive schools in California, aspiring tradespeople can expand their mechanical skills and benefit from this essential vocation. Use our school finder tool to find a convenient location for your training or browse our complete listing of California trade schools.
Featured California Programs
Featured Automotive School Locations
---
---
* What you need to learn and length of training information is based on a combination of information from the Occupational Outlook Handbook, the U.S. Department of Education, and a wide sampling of relevant programs from about 30 individual school websites. They are a mix of public, private non-profit, and private for-profit institutions.
** Unless otherwise noted, salary information is based on May 2021 data from the Occupational Employment and Wage Statistics (OEWS) program.