---
---
Top 3 Benefits of Completing Your Automotive Training in Texas
Pursuing an auto technology career can result in some truly appealing advantages, particularly in the Lone Star State. After all, Texans love to drive. According to the Texas Department of Transportation, the state is home to more than 24.8 million registered vehicles. And every day, those vehicles travel a total of over 540 million miles.
Plus, consider these benefits:
1. A Growing Number of Job Opportunities
When it comes to the automotive service trade, this state already has some of the highest levels of employment in America. In fact, according to the Occupational Employment Statistics (OES) program, Texas had more employed diesel mechanics than any other state in 2018. And it ranked number two in the nation for the number of employed auto mechanics and auto body repairers.
And check this out: The projected rates of growth for auto-related technicians in Texas are a lot higher than the nationwide expansion rates for this occupation. According to the Texas Workforce Commission, between 2016 and 2026, the number of jobs in this trade is expected to increase by:
14.2 percent for automotive mechanics in Texas (compared to six percent nationwide)
15.6 percent for Texas auto body and refinishing technicians (compared to eight percent)
20 percent for diesel engine specialists in Texas (compared to nine percent)
2. Excellent Wage Potential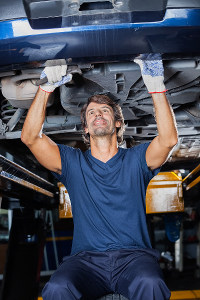 Many Texans in the automotive trade earn good wages. That's particularly true for those who work in some of the state's largest metropolitan areas. In regions such as San Antonio, Houston, and Dallas, the average wages for people in this trade tend to be higher than the nationwide averages for it. But even the statewide averages are enticing. Look at these OES program numbers from 2018:
Auto mechanics in TX earned $21.28 per hour, on average. But the highest earners made over $33.04.
Auto body repairers in the state made an hourly wage of $22.07, on average. And the top earners made more than $35.30.
On average, diesel engine mechanics in TX made $23.29 per hour. The top-end earners made over $33.50.
3. A Great Head Start
Your chances of securing reliable and good-paying employment in the state's automotive service sector are likely to be significantly improved by getting formal training. That's because most programs combine some classroom learning with a lot of opportunities for hands-on practice. You can then approach potential employers with greater confidence in your ability to troubleshoot, maintain, and repair a variety of motor vehicle types.
---
How to Get Your Future Underway
Begin by checking out the Texas automotive schools close to where you live. They're easy to find by entering your zip code into the simple search tool provided below. Try it right now!
---