Texas Automotive Schools
Last Updated
Texas automotive schools offer the chance to begin learning job-ready skills for a trade that's stable and enjoyable.
Just think what that could mean: Very soon, you might be working directly on a variety of cars and trucks while using advanced technology and specialized tools. Plus, you can even find diesel mechanic schools in Texas. So maybe your future will involve getting to fix and maintain heavy vehicles like buses or mobile industrial equipment. Either way, you're likely to get a lot out of your new career.
That's the beauty of discovering good automotive schools. In Texas, especially, their fast training programs often enable aspiring mechanics like you to begin getting paid to do what they love. And the options are compelling. For instance, you can train to become an auto technician, diesel technician, or even a collision repair specialist.
So start exceeding your own expectations right now. Explore the various mechanic schools in Texas, and find one close to you by typing in your zip code!
Top 3 Benefits of Completing Your Automotive Training in Texas
---
---
Texas Automotive Schools
Sponsored Listings


Automotive Technology
Collision Repair and Refinishing
Diesel Technology
---
---
---
Top 3 Benefits of Completing Your Automotive Training in Texas
Pursuing an auto technology career can result in some truly appealing advantages, particularly in the Lone Star State. After all, Texans love to drive. According to the Texas Department of Transportation, the state is home to more than 25.6 million registered vehicles. And every day, those vehicles travel a total of almost 574 million miles.
Plus, consider these benefits:
1. A Growing Number of Job Opportunities
When it comes to the automotive service trade, this state already has some of the highest levels of employment in America. In fact, according to the Occupational Employment and Wage Statistics (OEWS) program, Texas had more employed diesel mechanics and auto mechanics than any other state in 2022.* And it ranked number two in the nation for the number of employed auto body repairers.
According to the Texas Workforce Commission, between 2020 and 2030, the number of jobs in this trade is expected to increase by:
10.42 percent for automotive mechanics in Texas
14.15 percent for Texas auto body and refinishing technicians
18.72 percent for diesel engine specialists in Texas
2. Excellent Wage Potential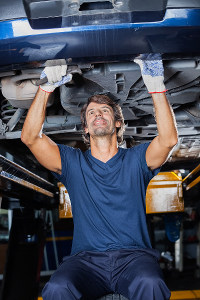 Many Texans in the automotive trade earn good wages. That's particularly true for those who work in some of the state's largest metropolitan areas. In regions such as San Antonio, Houston, and Dallas, the median wages for people in this trade tend to be higher than the nationwide medians for it. But even the statewide medians are enticing. Look at these OEWS program numbers from 2021:*
Auto mechanics in TX earned a median of $22.44 per hour. But the highest earners made over $36.86.
Auto body repairers in the state made a median hourly wage of $22.31. And the top earners made more than $37.59.
Diesel engine mechanics in TX made a median wage of $23.01 per hour. The top-end earners made over $36.06.
3. A Great Head Start
Your chances of securing reliable and good-paying employment in the state's automotive service sector are likely to be significantly improved by getting formal training. That's because most programs combine some classroom learning with a lot of opportunities for hands-on practice. You can then approach potential employers with greater confidence in your ability to troubleshoot, maintain, and repair a variety of motor vehicle types.
---
How to Get Your Future Underway
Begin by checking out the Texas automotive schools close to where you live. They're easy to find by entering your zip code into the simple search tool provided below.
Featured Automotive School Locations
---
---
* Unless otherwise noted, salary information is based on May 2021 data from the Occupational Employment and Wage Statistics (OEWS) program. Job growth and average yearly openings estimates are from the Bureau of Labor Statistics and are for the 2021 to 2031 period.