---
---
3 Reasons to Pursue a Skilled Trade in Texas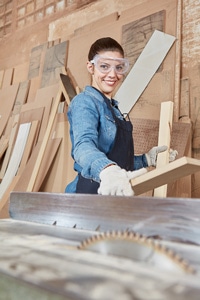 Few places offer as many opportunities for skilled tradespeople as Texas. In fact, the state's building industry is booming and employers can't find enough qualified personnel for all the available jobs. In a 2017 survey, almost 70 percent of Texas contractors said they were struggling to fill craft positions. Electricians, carpenters, plumbers, truck drivers, and mechanics were all in short supply.
With that in mind, here are three compelling reasons to get skilled trades training in the Lone Star State:
1. Rapidly Expanding Job Opportunities
There are tons of skilled trades jobs in this part of the country. According to Occupational Employment Statistics (OES) program data, Texas already employs more welders and heavy truck drivers than any other state, and it's among the top three states for employing electricians, automotive technicians, and HVAC mechanics. Looking ahead, the Texas Workforce Commission (TWC) expects the state's construction industry to grow almost 28 percent between 2014 and 2024. That means there should be more than 177,000 new jobs for tradespeople with the right skills and qualifications.
Have a look at the projected rates of job growth for each of the following trades in Texas, according to TWC:
Brickmasons and blockmasons—33.8 percent
HVAC installers and mechanics—29.4 percent
Electricians—28 percent
Plumbers, pipefitters, and steamfitters—24.7 percent
Carpenters—22.6 percent
Heavy truck drivers—20.8 percent
CNC machine tool operators—20.7 percent
Auto service technicians—18.6 percent
Welders—13.4 percent
2. Reliable Incomes
You can make decent money as a tradesperson in Texas. In fact, in 2018, median salaries for welders in the Lone Star State were higher than the national median (based on data from TWC and the OES program). And some wages are on the rise: According to the 2017 survey mentioned above, 57 percent of Texas contractors said that labor shortages had caused them to boost base pay for hourly craft positions.
To get an idea of the earning potential for skilled trades careers in Texas, check out this list of median salaries (all data from TWC):
Plumbers, pipefitters, and steamfitters—$44,936
Electricians—$44,018
HVAC installers and mechanics—$41,816
Welders—$41,354
Heavy truck drivers—$39,230
Auto service technicians—$38,452
Earnings can be even higher in certain areas of the state. For example, auto service technicians in Austin made a median salary of $44,287 in 2016, which was significantly higher than both the state and national medians. Welders in Beaumont, Odessa, and Longview all had median salaries above $50,000, as did HVAC mechanics and electricians in Amarillo. And those are median salaries, which means half of the people in those jobs actually earned more.
3. Plentiful Training Options
It's easy to find skilled trades training in Texas. Programs are widely available, not only in major centers like Dallas, Houston, and San Antonio, but also in smaller communities like Pharr, Longview, and Harlingen. Whether your career interests lie in welding, automotive technology, HVAC repair, or some other trade, you can find relevant training options that can bring you closer to your goal.
---
Begin Your Journey to Success
You have the power to take your life in a new direction. Why not begin by exploring the skilled trade schools in Texas listed above? Or discover even more convenient options by putting your zip code into the following school finder!
---