Ohio Skilled Trade Schools
Last Updated
Ohio skilled trade schools give you the chance to develop work-ready abilities for in-demand industries.
Do you have a knack for fixing things around the house? Do you enjoy taking on do-it-yourself projects? If so, a career in the trades could be a smart choice. With the hands-on training you can get from skilled trade schools in Ohio, you can gain the abilities you need to work as an electrician, HVAC technician, welder, or other kind of tradesperson.
Tradespeople keep many aspects of modern society running smoothly. Without these skilled professionals, schools, hospitals, businesses, homes, and vehicles wouldn't get built or maintained. So, if job security is high on your list of career requirements, you're in the right place. From construction and welding schools to HVAC and energy training, schooling can open the door to opportunities within a variety of industries.
So start laying the groundwork for your new career. Explore the Ohio skilled trade schools listed below or put your zip code into the school finder to discover programs close to you!
---
Ohio Skilled Trades Schools
Sponsored Listings
Construction Administration - Online
Heating, Ventilation, Air Conditioning and Refrigeration
---
---
3 Advantages of Pursuing a Skilled Trade in Ohio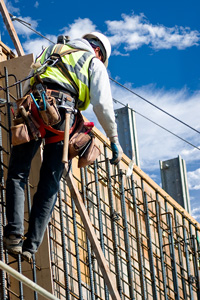 Now is a fantastic time to get into the skilled trades, particularly in Ohio. The construction industry is on an upswing and employers all over the state are struggling to find qualified workers. A survey by the Associated General Contractors of America found that 88 percent of Ohio contractors who were surveyed in 2019 noted problems with filling craft positions. Carpenters, heavy equipment operators, cement masons, and iron workers were all in demand but hard to find.
Here are three major advantages to getting skilled trades training in this state:
1. Growing Job Opportunities
Did you know that according to the Occupational Employment and Wage Statistics (OEWS) program, Ohio employs more welders than any other state except Texas and California?* The trades are big business in this part of the country. And the future looks bright: The construction industry alone is expected to expand by 10 percent in the state between 2016 and 2026, according to the Ohio Department of Job and Family Services (ODJFS). That means tradespeople with the right qualifications should enjoy stable and enjoyable careers.
Check out the projected rates of job growth—based on ODJFS data—for the following trade occupations in Ohio:
CNC machine tool operators: 16.8 percent
Mechanical insulation workers: 10.4 percent
HVAC mechanics and installers: 15 percent
Plumbers: 14.8 percent
Millwrights: 11.5 percent
Electricians: 8.1 percent
2. Good Incomes
The trades offer excellent earning potential in Ohio. In fact, OEWS data shows that in 2021, median wages for plumbers, brickmasons, and structural iron and steel workers in this part of the Midwest were higher than the national median.* And keep in mind that those are median salaries, meaning half of the workers in those fields actually made more.
To get an idea of what you could earn, consider this list of median salaries from the OEWS program for various trades careers in Ohio:*
Structural iron and steel workers: $61,240
Brickmasons: $61,130
Plumbers, pipefitters, and steamfitters: $61,670
Electricians: $59,380
CNC machine tool programmers: $57,580
HVAC mechanics and installers: $48,810
Carpenters: $48,190
Welders: $45,010
3. Abundant Training Options
You don't have to look very far to find institutions offering trades training in Ohio. Relevant programs are available right across the state, from Cincinnati to Cleveland. Whether you want to focus on electrical work, welding technology, HVAC repair, or another trade, you can find convenient training options to help you get started.
---
Make Your Move
Are you ready to start building a brighter future? Exploring the programs listed above is a good way to begin. Or type your zip code into the following school finder to discover skilled trades schools in your part of Ohio!
---
---
* Unless otherwise noted, salary information is based on May 2021 data from the Occupational Employment and Wage Statistics (OEWS) program.