Virginia Skilled Trade Schools
Last Updated
Virginia trade schools offer great opportunities to develop job-ready skills for a satisfying career in the skilled trades.
It's true: Training in a skilled trade can lead to many rewards, such as good wages and steady employment. Plus, when you become a tradesperson, you get to see visible results from your work while knowing that you're helping others by providing essential services. That's why trade schools in Virginia are worth looking into, especially if you like to work with your hands and solve problems.
Your training could be a great first step toward a better life and a more secure future. So take a little time right now to explore some vocational schools in Virginia. Start by checking out the programs below. Or discover even more options by putting your zip code into the following search tool!
Compelling Reasons to Pursue a Skilled Trade in Virginia
---
Virginia Skilled Trades Schools
Sponsored Listing
Automotive Technology
Automotive Technology with Service Management
Diesel/Heavy Vehicle Technology
Diesel/Heavy Vehicle Technology with Service Management
HVAC and Refrigeration
HVAC and Refrigeration with Service Management
Welding Technology
Welding Technology with Service Management
---
---
3 Compelling Reasons to Pursue a Skilled Trade in Virginia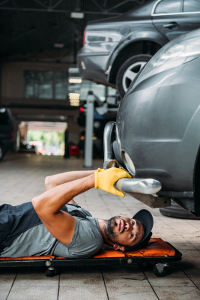 Virginia is a great place to live and work. In fact, it has been ranked as one of the best states in the U.S. for doing business. But Virginia's skilled trade employers say they can't find enough trained workers to fill available job openings. According to one survey by the Associated General Contractors (AGC) of America, 92 percent of Virginia contractors anticipate problems filling craft positions, a category which includes jobs for mechanics and carpenters. That means a lot of opportunities exist for skilled tradespeople with the right training.
Ready to learn more? Check out these great reasons to train for a skilled trade in Virginia:
1. Lots of Job Openings
Skilled trade employers in Virginia expect to hire a lot more workers. The Virginia Employment Commission says that between 2016 and 2026, job openings for construction trades workers are expected to increase by almost 8.3 percent.
Similarly, the repair and maintenance sector is expected to see an increase in job openings of almost 10 percent for the same time frame. That increase will probably lead to more jobs for workers such as auto mechanics and appliance repairers.
Take a look at the number of predicted yearly job openings between 2016 and 2026 for these trades (all data from the Virginia Employment Commission):
Carpenters: 2,483
Automotive service technicians and mechanics: 2,358
Electricians: 2,146
Plumbers: 1,699
HVAC mechanics and installers: 1,326
Welders, cutters, and welder fitters: 874
Auto body repairers: 510
Sheet metal workers: 441
2. Good Paychecks
You can make a good living as a skilled tradesperson in Virginia. In fact, in the AGC survey, employers said that the shortage of qualified workers is leading them to increase wages in the hopes of filling job vacancies.
Check out the median yearly earnings for the following skilled trades (all data from the Occupational Employment and Wage Estimates program):
Electricians: $57,850
Sheet metal workers: $56,320
Heavy equipment mechanics: $52,020
Welders, cutters, solderers, and brazers: $49,200
HVAC mechanics and installers: $49,050
Plumbers, pipefitters, and steamfitters: $48,510
Carpenters: $46,760
3. A Beautiful, Tradesperson-Friendly Place to Live and Work
Majestic mountains. Beautiful beaches. Bustling cities. You'll find all of that and more in Virginia. It adds up to a great place to call home and pursue career opportunities. So it's no surprise that Virginia has been ranked as one of the top 15 places in the U.S. for people to make a living. In particular, the state has been recognized for its high wages, low unemployment, and central location. Take a look at the stats:
Median household income: Data USA says that in Virginia, it is $71,535 annually, compared to $60,336 nationwide.
Unemployment rate: Bureau of Labor Statistics data indicates that in Virginia, it tends to be significantly lower than the nationwide rate.
Central location: Virginians are within a day's drive to almost 50 percent of the U.S. population, according to the Virginia Economic Development Partnership.
---
Take a More Direct Path to a Steady Career
Virginia trade schools can help open up opportunities in the skilled trades for people like you. And you can probably get started very quickly by finding a career-focused program in your area. So enter your zip code in the search tool below!
---