Skilled Trade Schools in Atlanta
Last Updated
Skilled trade schools in Atlanta offer practical programs that can help change your life for the better.
Imagine preparing for a reliable career that involves doing hands-on work in a trade like welding or HVAC. You can learn marketable skills that lead to great opportunities related to services that are essential to our lives. Just picture the satisfaction you could feel from seeing solid results on the job and knowing that you're doing useful work. The skilled trades are simply a great option for people who want to make a tangible difference without sitting at a desk all day.
So start creating the kind of future you want for yourself. Atlanta trade schools can help you make it all happen. Check out the programs below. Or to discover even more options, enter your zip code in the following search tool!
---
---
Atlanta Skilled Trades Schools
Sponsored Listings


Electrical/Electronics
Heating, Ventilation, and Air Conditioning (HVAC)
---
Electrical/Electronics
Heating, Ventilation, and Air Conditioning (HVAC)
Automotive Technician
Electrician Technician
Heating, Ventilation, and Air Conditioning
---
---
3 Great Reasons to Learn a Skilled Trade in Atlanta
Atlanta is an excellent place to enter the skilled trades. After all, as the city's population continues to increase, more workers will be needed to build, repair, and maintain the buildings and systems that people in this region rely on. Here's why pursuing a skilled trade in Atlanta can help you build a bright future for yourself:
1. Plenty of Anticipated Job Openings
Atlanta is growing quickly, a trend that is expected to continue. Just consider the numbers: In 2020, the Atlanta metro area had a population of over six million. By 2050, the population is predicted to reach more than 8.6 million, an increase of nearly 38 percent over 2020.
This growth creates a lot of work for people in the skilled trades. After all, someone needs to maintain the electrical systems, build the houses, fix the plumbing problems, and perform the countless other jobs that people in Atlanta depend on for comfortable lives. But employers are having trouble finding workers with the right training. Take a look at these stats:
From October 2021 to October 2022, the construction sector in Atlanta lost 600 jobs, according to the U.S. Bureau of Labor Statistics.* That's a decline of 0.4 percent, which is below the national average of 3.3 percent.
In 2018, 83 percent of surveyed Georgia contractors said they were having problems hiring workers for craft positions.
In another survey, 63 percent of surveyed construction professionals in the state said that a shortage of skilled workers has kept them from bidding on projects.
So, which trades are most in demand? WorkSource Atlanta compiled a list based on careers with the highest anticipated job openings in Atlanta over the next five years. To make the list, a career also had to require less than a four-year bachelor's degree and pay more than $10 an hour. The list includes the following skilled trades. (Unless otherwise noted, the average annual wages are from the Georgia Department of Labor for the Atlanta-Sandy Springs-Roswell metropolitan area in 2017.)
Aircraft mechanics and service technicians: $79,633
Industrial machinery mechanics: $51,990
Electricians: $50,386
Carpenters: $49,763
Heating, air conditioning, and refrigeration mechanics: $45,056
Automotive service technicians and mechanics: $40,967
Maintenance and repair workers: $38,829
2. Job Satisfaction in a Happy City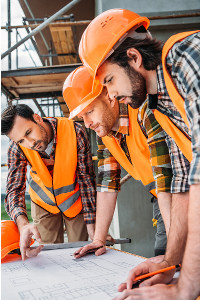 It's always good to have a career with a strong job outlook, but it's also important to be happy when you go to work. Pursuing a skilled trade in Atlanta can help you achieve this vital goal. That's because the results-oriented work you'll do in the skilled trades is linked to job happiness.
Atlanta also ranks as one of America's happiest cities. In fact, Gallup conducted a survey to determine how much income it takes for residents to reach "peak happiness" in major U.S. cities. (The lower the income, the happier the city.) The winner was Atlanta with a "peak happiness" income of $42,000.
It all adds up: Working in a job sector with high happiness levels—in a city where it's easy to feel happy—can be a winning combination.
3. Proven Training Opportunities
Atlanta is home to conveniently located trade schools that can help you realize your ambitions for a satisfying career. And thanks to all of the construction and repair activity taking place in the city, you could have plenty of opportunities to get some on-the-job work experience in addition to classroom time.
---
Discover a Practical Route to a Great Career
As you can see, there are plenty of opportunities for those with training in the skilled trades. Are you ready to find out how skilled trade schools in Atlanta can help you start taking advantage of them? Enter your zip code into the search tool below to find a career-focused program in your area!
---
---
* Unless otherwise noted, job growth and average yearly openings estimates are from the Bureau of Labor Statistics and are for the 2021 to 2031 period.