Military Tuition Assistance
By Publisher
| Last Updated
Qualifying active-duty service members can get help paying for up to the full cost of college or university tuition through the Air Force, Navy, Marine Corps, or Army Tuition Assistance (TA) program. Many reservists, Coast Guardsmen, and Air or Army National Guardsmen can also qualify. In addition, several other programs are available through the U.S. Department of Veterans Affairs (VA) that can help eligible veterans (or their dependents) afford post-secondary education or training. This page features several schools where you may be able to use certain military education benefits.
What you'll find in this article:
---
Featured Schools
Sponsored Listings
---
---
Department of Defense Tuition Assistance (TA)
This program makes getting a college education more affordable for eligible active-duty service members, including some active reservists and National Guard members. It provides funding for approved online or on-campus courses that you take voluntarily when you are off duty.
Each military branch manages its own funds and establishes its own rules, procedures, and criteria for eligibility (which are always subject to change). Navy TA, for example, requires following a strict, multi-step command approval process.
Here are some examples of the general commonalities, according to the Department of Defense (DoD) and websites for the individual branches.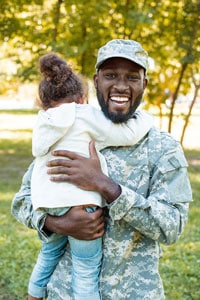 What TA may cover:
Up to 100% of the tuition and course-related fees (not exceeding $250 per semester credit hour, up to a service-specific annual limit) for:



Approved courses that lead to a post-secondary certificate, associate degree, bachelor's degree, or master's degree
An approved high school completion program
What TA may not cover:
Fees that are not course-specific
Books and other learning materials
Repeat enrollment in the same course
Courses that lead to a degree at the same or lower level of a degree that you already have
Courses that you don't complete with a minimum grade (generally C or better for undergraduate courses and B or better for master's-level courses)
How to get TA:
Consult with an education counselor through your service.
Develop an education plan.
Get approval from your commanding officer or relevant supervisor, if necessary.
Apply for TA through your service (most commonly through an online portal).
Work with your chosen school to complete your enrollment.
One of the advantages of using the Tuition Assistance program is that you can take college courses without dipping into your GI Bill funds. Or, if you need to, you can use your GI Bill benefits and TA at the same time.
In addition, you might qualify for other forms of federal, state, or private student aid programs to help cover any remaining costs after your TA has been applied.
Keep in mind that TA can only be used at authorized schools that are nationally or regionally accredited by an organization that the U.S. Department of Education recognizes. Also, you may need to have completed a minimum amount of active-duty service in order to qualify. And officers may need to agree to an extended service obligation in order to use TA.
Here are the annual TA usage limits for each service branch (according to their own websites, unless otherwise noted), as well as where to go online in order to see if you're eligible and begin the process:
Army
Soldiers seeking to take advantage of the Army Tuition Assistance program need to create a ArmyIgnitED account.
Usage limit per fiscal year: Up to $4,000
Navy
Sailors who want to use the Navy Tuition Assistance program should visit the Navy College Program website to learn about eligibility and what's required.
Usage limit per fiscal year: Up to $3,000
Air Force
Airmen looking to benefit from the Air Force Military Tuition Assistance Program can register and apply online through the Air Force Virtual Education Center.
Usage limit per fiscal year: Up to $4,500
Other Education Benefits for Veterans or Active-Duty Members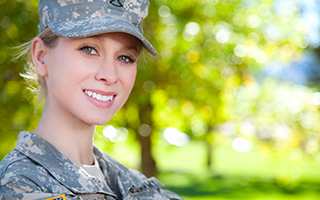 The U.S. Department of Veterans Affairs (VA) oversees several programs that can help active-duty or honorably discharged service members pay for post-secondary education or training. Eligibility requirements vary from program to program.
In most cases, you can only receive education benefits from one VA program at a time. However, if you're on active duty, you may be able to use the DoD Tuition Assistance program at the same time as GI Bill benefits from the VA.
Here are the VA programs you should know about:
Post-9/11 GI Bill (Chapter 33)
With Post-9/11 GI Bill benefits, you can get up to 36 months of financial help that covers:
Up to the full cost of tuition and fees at an in-state public college or university
Up to $25,162.14 per academic year for tuition and fees at a private or foreign school
In order to receive the full benefit amount, you need to have served on active duty for at least three years since September 10, 2001. Otherwise, you can receive a percentage of your benefits if you've been on active service for at least 90 days since that time. (Before August 1, 2020, you can receive 40 percent of the maximum benefit for 90 days of service. After that date, you can receive 50 percent.)
You can also receive these benefits if you served after September 10, 2001, were honorably discharged, and:
Have a disability connected to your time in the military after serving for a minimum of 30 days continuously
Were awarded a Purple Heart after serving any amount of time
Your benefits under this program will not expire unless your military service ended prior to January 1, 2013. If it did, then you have 15 years from your final separation date to use up all of your benefits.
If you qualify under this program, you can also transfer some or all of your benefits to a spouse or child.
Montgomery GI Bill Active Duty (MGIB-AD)
Under the MGIB-AD program, you might qualify for up to 36 months of educational benefits if you were on active duty for at least two years and have been honorably discharged. Eligibility depends on many additional factors like:
Your prior education
When you entered and served on active duty
Whether your military pay was ever reduced
Whether you were ever voluntarily or involuntarily separated
The amount of your benefits also depends on several factors. In most situations, you have 10 years to use up your benefits under this program.
Montgomery GI Bill Selected Reserve (MGIB-SR)
You may qualify for up to 36 months of MGIB-SR benefits if you are an Army or Air National Guardsman or a reservist in the Army, Air Force, Navy, Marine Corps, or Coast Guard. Eligibility depends on factors such as:
Having agreed to a 6-year service obligation
Having a high school diploma (or equivalent)
Completing your initial training
Maintaining your good standing in the service
The maximum monthly benefit amount under this program is $392 for full-time students.
Yellow Ribbon Program
In cases where Post-9/11 GI Bill benefits don't cover the full tuition of attending a private, graduate, or out-of-state college or university, Yellow Ribbon benefits can help qualifying service members pay for the higher costs. To be eligible, you need to qualify for the Post-9/11 GI Bill's maximum benefit. Your chosen school also must be a participant in this program and meet some other requirements.
Under this program, the VA matches the amount that your school contributes for financial assistance toward the extra cost of your tuition and fees.
Tuition Assistance Top-Up
You might be eligible for up to 36 months of Top-Up benefits if your tuition and course-related fees cost more than the DoD TA program covers and you qualify for Post-9/11 GI Bill or MGIB-AD benefits. The amount will help cover the difference.
Benefits for Spouses and Dependents
Eligible service members can transfer a partial or full amount of their Post-9/11 GI Bill benefits to a child or spouse. In addition, if you are an eligible family member of a veteran, you might qualify for other programs that can help you afford college, university, or post-secondary vocational training. Here are three you should know about:
My Career Advancement Account (MyCAA) Scholarship Program
You may qualify for up to $4,000 of MyCAA funds if you have finished high school and are the spouse of an active-duty service member in the E-1 to E-5, W-1 to W-2, or O-1 to O-2 pay grades who is on Title 10 military orders.
You can use MyCAA funds to help pay tuition for programs at participating schools that lead to an associate degree or occupation-relevant license or certification.
Survivors' and Dependents' Educational Assistance (DEA)
Under the DEA program, you may be eligible for monthly payments that help cover the cost of post-secondary training or an apprenticeship if you are the spouse or young adult child of a service member who:
Died while serving on active duty
Had a service-connected disability that led to his or her death
Was captured or detained by an enemy force or went missing in action while on duty
Is receiving treatment for a total and permanent disability connected to his or her service and will probably be discharged because of the disability
As of August 1, 2018, new users of this program can receive up to 36 months of benefits. The maximum monthly rate is $1,248.
Fry Scholarship
Named for Marine Gunnery Sergeant John David Fry, the Fry Scholarship benefit is designed to help eligible children or spouses of service members who died on or after September 11, 2001, while in the line of duty. Qualifying dependents can receive up to 36 months of financial assistance for tuition, housing, books, and supplies.