Diesel Mechanic Salary Leads the Automotive Industry for Earnings: How Much Could You Make?
By Publisher
| Last Updated August 11, 2022
If you're already thinking about a career in motor vehicle repair but aren't sure yet what area you want to work in, this is worth your attention: the median diesel mechanic salary* and job outlook outpaces other careers in the vehicle servicing industry. For those who prioritize good pay and job security, diesel technology could be a promising future career field.
Learning diesel technology at a trade school can be the simplest way for an aspiring mechanic to learn specialized skills for the automotive field, with options for working on passenger vehicles, buses, trucks, heavy machinery, and more. And if you master those skills, you can start to find your place in a sector that pays well and offers a promising job outlook.
*Salary details within this article come from the U.S. Bureau of Labor Statistics, Occupational Outlook Handbook May 2021 data.
---
How much do diesel mechanics make per year and per hour?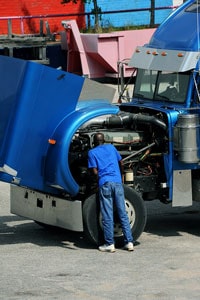 There's a short answer and a longer answer to this question. So, let's look at both:
Short answer: The primary job category for diesel service technicians and mechanics reported a median annual wage of $48,690 ($23.41/hr), according to May 2021 data from the U.S. Bureau of Labor Statistics. The lowest 10 percent was paid less than $35,730 ($17.18/hr), and the highest 10 percent was paid more than $76,150 ($36.61/hr). However, this data doesn't cover other specialties within the diesel technology field.
And now the longer answer: The median diesel technician salary can vary significantly depending on where you live, what specialty and industry you work in, and your experience level.
To get a better idea of how much you might be able to make as a diesel mechanic, ask yourself the following:
What type of vehicle do I want to specialize in?
Large trucks and buses

Median annual salary: $48,690 ($23.41/hr)
Heavy machinery

Median annual salary: $53,770 ($25.85/hr)
Some of the highest-paying mechanic jobs focus on heavy equipment.
Small engines

Median annual salary: $39,050 ($18.77/hr)
What industry do I want to work in?
Following are the top 4 industries in which diesel service technicians work, along with their median wages.
Local government, excluding education and hospitals: $60,670 annually ($29.17/hr)
Wholesale trade: $55,940 annually ($26.89/hr)
Automotive repair and maintenance: $47,630 annually ($22.90/hr)
Truck transportation: $47,120 annually ($22.65/hr)
Where in the U.S. do I plan on working?
A diesel mechanic's salary can vary quite a bit depending on the state they work in. Washington, California, Hawaii, Massachusetts, Alaska, and Connecticut all reported median pay of over $60,000 per year ($28.85/hr).
In Washington, even the lowest 10% of earners make up to $44,190 per year ($21.25/hr).
The top 10% of yearly diesel mechanic pay started at nearly $100k in a few states:

Massachusetts: $97,140 per year ($46.70/hr)
Washington: $96,290 per year ($46.29/hr)
Connecticut: $93,300 per year ($44.86/hr)

Here you can find diesel mechanic salary data for your state:
| State | Median Salary | Median Hourly | 10th Percentile | 90th Percentile |
| --- | --- | --- | --- | --- |
| Alabama | 46,420 | 22.32 | 30,280 | 60,800 |
| Alaska | 60,270 | 28.98 | 46,390 | 79,730 |
| Arizona | 48,480 | 23.31 | 36,760 | 66,450 |
| Arkansas | 42,700 | 20.53 | 29,530 | 60,150 |
| California | 60,550 | 29.11 | 37,650 | 80,980 |
| Colorado | 59,770 | 28.73 | 38,250 | 78,260 |
| Connecticut | 60,270 | 28.97 | 37,500 | 93,300 |
| Delaware | 48,390 | 23.27 | 35,720 | 66,960 |
| Florida | 48,340 | 23.24 | 36,750 | 75,750 |
| Georgia | 47,310 | 22.75 | 29,830 | 62,720 |
| Hawaii | 60,550 | 29.11 | 38,210 | 76,910 |
| Idaho | 47,200 | 22.69 | 35,830 | 63,620 |
| Illinois | 58,150 | 27.96 | 30,260 | 77,710 |
| Indiana | 47,400 | 22.79 | 36,790 | 61,970 |
| Iowa | 48,050 | 23.10 | 37,010 | 64,020 |
| Kansas | 47,870 | 23.01 | 36,290 | 74,520 |
| Kentucky | 47,120 | 22.66 | 31,720 | 63,120 |
| Louisiana | 48,210 | 23.18 | 33,470 | 72,840 |
| Maine | 47,160 | 22.67 | 36,810 | 62,390 |
| Maryland | 59,190 | 28.46 | 37,500 | 76,540 |
| Massachusetts | 60,550 | 29.11 | 38,270 | 97,140 |
| Michigan | 47,850 | 23.01 | 35,810 | 62,850 |
| Minnesota | 59,250 | 28.49 | 38,420 | 77,230 |
| Mississippi | 46,420 | 22.32 | 29,230 | 62,600 |
| Missouri | 47,120 | 22.66 | 32,580 | 62,000 |
| Montana | 47,410 | 22.79 | 22,680 | 62,530 |
| Nebraska | 47,120 | 22.66 | 31,510 | 62,800 |
| Nevada | 59,130 | 28.43 | 37,650 | 76,220 |
| New Hampshire | 54,140 | 26.03 | 37,430 | 75,050 |
| New Jersey | 59,770 | 28.73 | 39,270 | 77,590 |
| New Mexico | 47,310 | 22.75 | 30,430 | 76,220 |
| New York | 59,770 | 28.74 | 37,650 | 80,280 |
| North Carolina | 47,600 | 22.89 | 35,430 | 63,010 |
| North Dakota | 59,770 | 28.73 | 44,880 | 75,050 |
| Ohio | 47,840 | 23.00 | 33,910 | 63,690 |
| Oklahoma | 47,120 | 22.66 | 29,860 | 62,000 |
| Oregon | 48,720 | 23.42 | 37,070 | 65,180 |
| Pennsylvania | 48,190 | 23.17 | 32,610 | 68,290 |
| Rhode Island | 59,770 | 28.73 | 40,840 | 75,940 |
| South Carolina | 40,220 | 19.34 | 18,010 | 61,830 |
| South Dakota | 47,990 | 23.07 | 37,650 | 61,810 |
| Tennessee | 47,310 | 22.75 | 31,970 | 66,310 |
| Texas | 47,850 | 23.01 | 30,260 | 75,000 |
| Utah | 49,240 | 23.68 | 36,750 | 75,940 |
| Vermont | 47,400 | 22.79 | 37,120 | 62,730 |
| Virginia | 48,630 | 23.38 | 36,700 | 73,000 |
| Washington | 60,780 | 29.22 | 44,190 | 96,290 |