California Business Schools
Last Updated
California business schools can help you take charge of your career future.
Whether you want to become part of a team or chart your own course as an entrepreneur, a business education can help you learn vital skills for success. It can also help you acquire the confidence to go after some of your biggest goals.
Think of the incredible occupational variety: Accounting, administration, business development, human resources, management, and marketing are just some of the program options you can pursue. You can even specialize in cool sectors like new media or technology.
Maybe you're an established professional who wants to advance in your career. Maybe you're just starting your professional journey. Or maybe you want to be your own boss one day. No matter what your plans are, a California business school can prepare you for positions across many industries in a state known for exciting business innovation.
So it's time to take the next step. Discover nearby business schools in California by entering your zip code into the search tool below!
Inspiring Reasons to Attend a California Business School
---
---
California Business Schools
Sponsored Listings
Bakersfield
Garden Grove
Gardena
Huntington Park
Oceanside
Ontario
Riverside
Stockton
West Covina
Business Office Administration
Atascadero
Chula Vista
Oxnard
San Luis Obispo
Santa Maria
Business Administration
Business Systems Management
---
---
3 Inspiring Reasons to Attend a California Business School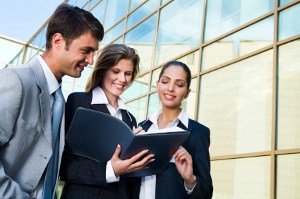 Completing a program at a California business school can enhance your career in many ways. A wide variety of certificate, diploma, and degree programs are designed to help students like you acquire the credentials and knowledge necessary to stand out in today's rapidly changing economy.
Here are three of the most compelling reasons to study business in California:
1. A Huge Variety of Career Options
One important advantage of a California business education is its versatility. After all, the state offers many types of business programs, and a lot of them can lead to multiple kinds of careers. For example, take a look at the following types of programs, some of the careers they can lead to, and how much you can earn.
(The salaries below are the average annual wages in California as of May 2018.)
2. Excellent Employment Opportunities
Opportunities abound in California. In fact, the state faces a labor shortage that will increase the number of job openings for many categories of workers. For example, by 2025, the state is predicted to have a shortage of 1.5 million "middle skills" workers (i.e., workers whose jobs require more than a high school diploma but less than a bachelor's degree).
One reason for the projected shortage is the simple fact that the average age of Californians is increasing. That means more workers will retire soon. In fact, the number of Californians who are over 65 years of age is expected to increase 87 percent between 2012 and 2030.
The anticipated worker shortage encompasses many careers in the business and financial services sector. Check out the anticipated percentage increase in job openings from 2016 to 2026—as well as the number of new job openings expected during that period—for these careers:
Market research analysts—28.3 percent; 27,100 job openings
Financial managers—21.7 percent; 16,000 job openings
Financial analysts—14.2 percent; 5,000 job openings
Public relations managers—13.5 percent; 1,000 job openings
Human resources managers—13.2 percent, 2,200 job openings
Administrative services managers—12.5 percent; 5,200 job openings
Benefits managers—12.5 percent; 200 job openings
Public relations specialists—11.3 percent; 3,000 job openings
Financial advisors—10.9 percent; 3,600 job openings
Technical sales reps—10.4 percent; 5,000 job openings
Sales managers—9.6 percent; 7,000 job openings
Reception and information clerks—9.4 percent; 10,300 job openings
3. A Great Place for Business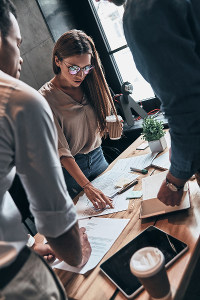 California's official nickname is the Golden State, a name reflecting the legacy of its 19th-century Gold Rush. And today's California still offers a gold mine of opportunities. You're probably already aware of the booming film, tourism, and technology sectors in California. And according to WorldAtlas, the state has the largest income across the nation from agricultural activities.
All of those booming industries require professionals with the right training to manage key aspects of business that help companies stay profitable. As a result, the state of California maintains one of the largest workforces in the U.S.
California also has a lot to offer future entrepreneurs. From creative movie studios to groundbreaking tech companies like Google and Apple, the state has a history of innovation. That innovative spirit has paid off: California is home to 53 Fortune 500 companies. And six California cities have been named as some of the best cities in the U.S. for entrepreneurs.
It all adds up to the fifth-largest economy in the world, ahead of entire countries like the United Kingdom and France. And if you need more incentive beyond a bustling economy and beautiful views to start a business career in California, consider this: 19 of the 50 businesses ranked with the happiest employees in the U.S. are based in California.
---
Move Toward the Future You Want
Now is the time to take control of your career. A California business school can help you gain the expertise you need for professional success. Just enter your zip code into our search tool to find a school near you!
Featured California Programs
---