---
---
5 Frequently Asked Questions About Dental Assistant Careers in California
1. What Are the Job Responsibilities of a Dental Assistant?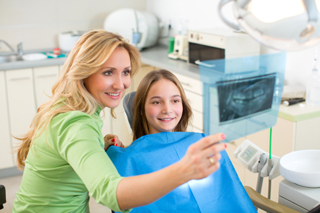 Dental assistants keep dentists' offices organized, clean, and operating efficiently. They also act as dentists' extra hands. In fact, the term "four-handed dentistry" is frequently used in the dental field and refers to procedures performed by a dentist with the help of a dental assistant. During such procedures, the assistant hands the dentist the necessary tools so that the dentist stays focused on the patient without looking away. This careful teamwork requires good coordination and manual dexterity.
Compassion is also an important trait for dental assistants to possess. After all, one study revealed that 36 percent of the population experiences anxiety about dental appointments. And 12 percent of people have dental phobia, in which anxiety is so strong that it turns into intense fear and avoidance.
A dental assistant makes sure that patients are comfortable and (relatively) relaxed. That might include explaining what a dentist is doing so that a patient feels informed and in control of his or her care.
A dental assistant can also:
Prepare an exam room for patients and set up trays so that dentists have the required equipment
Keep track of the inventory in a dental office and order supplies when needed
Take patients' medical histories and record other relevant info
Process payments and work with insurance companies to bill patients
Maintain patient records
Take impressions of patients' teeth, which means making exact molds of their mouths to ensure that things like dental appliances fit properly
Assist dentists with oral surgery
Explain the fundamentals of dental care to patients
Make sure all dental equipment is clean and sterile
Schedule appointments
With additional training, a dental assistant can qualify to perform even more tasks, such as taking x-rays or applying local anesthetic to a patient's mouth.
Dental assistants report that a typical day looks something like this:
Helping dentists do procedures—Over 32 percent of their time
Cleaning and sterilizing dental equipment—Over 16 percent of their time
Maintaining charts—Over 10 percent of their time
Advising patients on dental health—Over 10 percent of their time
The remaining time is spent on the various other tasks a dental assistant is responsible for.
2. How Can I Become an RDA in California?
In California, you can be an unlicensed dental assistant or a registered dental assistant (RDA). It's also possible to be a registered dental assistant in extended functions (RDAEF).
Unlicensed dental assistants are allowed to help dentists with basic tasks. Because they have fewer responsibilities than RDAs, they typically earn less. You don't need a diploma or certificate, but to become an unlicensed dental assistant in California, you must complete the following:
A basic life support course that is approved by the American Heart Association or the American Red Cross
A course in the California Dental Practice Act, which must be a course approved by the Dental Board of California (DBC)
A course in infection control, which must be a course approved by the DBC
To become a registered dental assistant in California, you must complete these steps:
1. Graduate from a program approved by the DBC. These programs are often nine to 12 months of study, and they lead to a diploma or certificate. You can also graduate from a two-year program with an associate degree.

OR

Complete 15 months of supervised work experience as a dental assistant. If you've completed a program that is not approved by the DBC, you can apply to have this program counted as part of your work experience.

2. Complete a basic life support course that is approved by the American Heart Association or the American Red Cross.

3. Pass DBC-approved courses in radiation safety and coronal polishing (i.e., removing plaque and stains from tooth enamel).

4. Complete courses about the California Dental Practice Act and infection control that have been approved by the DBC. You must take these classes within five years of applying so that the information you learn is not out of date.

5. Pass a written exam administered by the DBC. You must have completed all of the previous steps in order to qualify to take the exam, and you will have to pay a fee. As of May 2018, the exam includes questions on law and ethics in the profession.

6. Apply for licensure. This step includes undergoing a criminal record check and submitting fingerprints. You also have to pay a non-refundable fee in order to become registered.
To become a registered dental assistant in extended functions (RDAEF), you need to already be an RDA or have completed all of the requirements to become one. You must also complete these steps:
Finish a DBC-approved course in the application of pit and fissure sealants (i.e., protective coatings for the small hollows and grooves in teeth).
Finish a DBC-approved course on extended functions.
Pass an exam administered by the DBC.
Apply to the DBC to be licensed as an RDAEF.
Reciprocity (i.e., the process through which credentials earned in one state are recognized in another state) does not apply in California. So, to work as a dental assistant in California, you must follow the steps outlined above.
3. How Much Does a Dental Assistant Make in California?
According to Employment Development Department (EDD) data, on average, a dental assistant makes $20.35 per hour in California. That works out to an average annual salary of $42,347.
Your wages can increase as you complete more training and take on more responsibilities. How much you earn can also vary by location. For example, in Napa County, the average annual salary is $53,493.
4. What Is the Job Outlook for Dental Assistants?
For the decade from 2016 to 2026, the number of job openings is expected to increase by 16.5 percent in California, says the EDD. That's a much faster rate than both the national average for dental assistants and the national rate for all occupations overall.
Several factors contribute to this predicted high demand for dental assistants, including: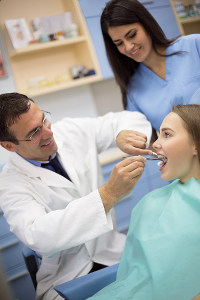 More people are keeping their original teeth as they age instead of getting dentures. This trend creates more work for dentists since they need to ensure that those teeth stay healthy.
Older dentists are retiring, and younger dentists are more likely to use dental assistants in order to free up time for the tasks that only dentists can do.
Health researchers are discovering connections between oral health and our overall health. Their findings encourage people to pay more attention to their dental health.
5. How Much Does It Cost to Go to Dental Assistant School?
The cost of becoming a dental assistant varies a lot by school and what stage of training you are completing. So it costs from $1,000 to over $10,000 to go to dental assistant school.
When you are researching programs, make sure you know what is included in the tuition. For example, at some schools, the following items are included, but at other schools, you may have to pay for them separately:
Books
Lab fees
Equipment
Registration fees
Schools with higher tuition rates typically include many of these expenses in their tuition. Financial aid is often available to students who qualify for it.
---
It's Time to Jump-Start Your Plans
Dental assistant schools in California can help you take the next steps toward a reliable career. So find a convenient program near you by entering your zip code into the school finder below!
---