California LVN Programs Near You
Last Updated
You're not alone in wondering, "Are there LVN programs near me?" Like other caring people, you're probably eager to train for a satisfying career that allows you to have a positive impact on people's lives. Thankfully, the answer to your question is most likely yes.
LVN schools in California focus on preparing people like you for one of the most meaningful and widely needed occupations in health care. They are where your drive for a better life can be matched with the highly prized skills that make your goals more achievable.
Vocational nursing schools offer a proven path into a profession that's great for people who want the chance to provide direct care to those in need while generating more stability in their own lives. And they are set up to help you take advantage of California's diverse employment opportunities, which arise from the state having one of the largest populations of health care patients in the country.
So explore how vocational nursing training can help you grow your potential and nurture your self-confidence. Enter your zip code in the search tool below to find LVN schools in your area of California!
---
California LVN Programs
Sponsored Listing
---
---
Career and Training Information for LVNs in California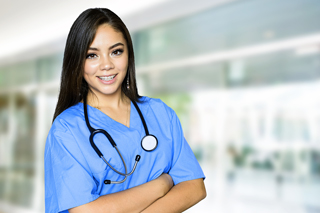 You may be asking yourself, "What can LVN schools near me do for my career?" The fact is that a vocational nursing program can give you the job-focused training you'll need to start making a difference in patients' lives sooner. In less than two years, you can be ready to take your place as an essential member of a health care team in a nursing home, hospital, or other clinical setting.
Want to find out more? Read on to learn about the type of work you could do, the money you could earn, and the training you will need to get started in this satisfying profession!
What Do LVNs Do?
Licensed vocational nurses (LVNs) are health professionals who provide basic medical care under the supervision of a doctor or registered nurse. As an LVN, you could:
Administer medications
Check vital signs
Collect urine samples
Change bandages
Insert catheters
Help patients dress and bathe
Update patient records
With additional training, you could also draw blood and give IV fluids.
Many LVNs work in long-term care facilities, but opportunities are also available in hospitals, clinics, doctors' offices, home care agencies, blood banks, and correctional facilities.
What Training Is Required?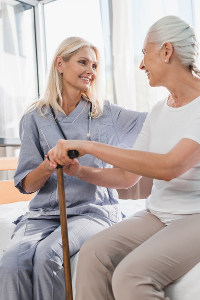 You'll need to complete a state-approved training program through an LVN trade school, career college, or vocational institute. So you may ask, "Is there an LVN school near me?" The good news is that vocational nursing programs can be found all across California. Each state-approved program consists of at least 576 hours of theory and 954 hours of hands-on clinical practice. According to the Board of Vocational Nursing and Psychiatric Technicians, depending on whether you attend full- or part-time, it can take anywhere from 12 to 20 months to complete all requirements.
Programs typically include courses in nursing fundamentals, pharmacology, anatomy, nutrition, and psychology. You may also cover specific topics related to surgical, maternity, pediatric, and gerontological care.
Once you complete your training program, you must pass the National Council Licensure Examination (NCLEX-PN) in order to get your nursing license and be legally qualified to work as an LVN in California. The NCLEX-PN covers topics like health promotion, care management, infection control, and pharmacological therapies.
How Much Do LVNs Earn?
Vocational nurses (known as practical nurses or LPNs outside of California and Texas) typically earn more in the Golden State than in many other areas of the U.S. According to the State of California Employment Development Department, the median annual salary for LVNs in California is $54,439. Compare that to the Occupational Employment and Wage Statistics (OEWS) program's national median wage of $48,070 for LVNs/LPNs.*
According to the OEWS, in 2021, eight of the 10 metropolitan areas with the highest average LVN/LPN wages were in California.*
What Is the Outlook for This Field?
Vocational nurses have a promising future. California already employs the highest number of LVNs/LPNs in the country, according to the OEWS.* And the opportunities will continue to expand: The Employment Development Department predicts that employment of vocational nurses in the state will grow 17 percent between 2016 and 2026. About 11,800 jobs for LVNs are expected to open up in that 10-year period.
---
Find a California Vocational Nursing School
Enter your zip code in our school finder tool to generate a list of LVN schools in your area!
Featured California Programs
---
---
* Unless otherwise noted, salary information is based on May 2021 data from the Occupational Employment and Wage Statistics (OEWS) program. Job growth estimates are from the Bureau of Labor Statistics and are for the 2021 to 2031 period.