---
---
3 Frequently Asked Questions About Business Careers in Texas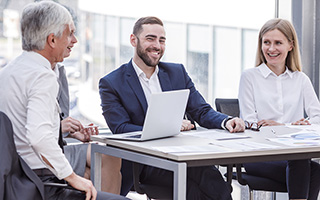 Texas is thriving. In fact, one out of seven jobs created in the U.S. between July 2017 and July 2018 was based in Texas, for a total of 350,000 new jobs.1 A business education can help you gain success in this busy economy—whether you're seeking to start a new career, upgrade your existing credentials, or launch a business of your own. Ready to learn more? Check out the answers to these common questions:
1. What Kind of Business Jobs Pay Well in Texas?
The list of good-paying business careers in the Lone Star State is, well, Texas-sized. Companies within every industry in Texas rely on business professionals to manage their accounting, take care of their human resource needs, create their sales plans, and handle many other aspects of their operations. That's why gaining versatile business expertise can be a great way to start reaping the rewards of booming Texas industries—even if you don't necessarily have industry-specific knowledge. Here are a few examples of industries in which your business skills can really pay off.
The salaries below are the average annual wages in Texas as of May 2018.2
Healthcare administration careers support the vast Texas healthcare industry. In 2016, over 1.5 million Texans worked in this sector. And that number is expected to grow to over 1.9 million by 2026, an increase of about 26 percent.3 Those numbers add up to a lot of business-related opportunities within healthcare organizations. In fact, the Houston-based Texas Medical Center is the 8th-largest business district in the country, with a GDP of $25 billion.4 Some careers in this sector include:
Medical and health services managers—$105,450
Payroll clerks—$44,390
Insurance claims processors—$39,950
Medical administrative assistants—$34,150
Construction is one of the state's biggest industries, employing over 681,000 people.3 And jobs are expected to increase in number by over 21 percent between 2016 and 2026.3 The rapid growth in the number of people living in Texas is a big reason behind the construction industry's bright forecast. Between 2010 and 2017, the population of Texas grew by 12.6 percent. In contrast, the overall U.S. population grew by five percent over that same period.5 All of those new Texans need homes, repairs and upgrades to those homes, and ways to get around.
What kinds of business professionals help support the active construction industry? Check out these careers:
Construction managers—$98,420
Property managers—$78,420
Labor relations specialists— $69,310
Human resources specialists—$67,190
The transportation and warehousing industry ensures that valuable materials get where they need to go. In 2017, Texas exported an incredible $264 billion worth of goods globally—more than any other state in the nation.6 It's all made possible by the state's 382 airports, 10,539 miles of rail, and 16 seaports.6 But don't forget the businesspeople who coordinate and manage the flow of goods across the state and around the world. People in these careers work behind the scenes to help the industry run smoothly:
Transportation, storage, and distribution managers—$105,320
Logisticians—$86,500
Business operations specialists—$80,140
Bookkeeping clerks—$41,390
2. What Is the Job Market Like for Business Professionals in Texas?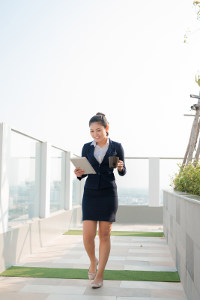 One word: promising. Overall, almost 1.4 million new jobs are expected to be added in the state between 2017 and 2022.7 Which business-related occupational areas will see strong job growth? Check out the expected growth of the following examples for the decade between 2016 and 2026:3
Office administrative services—20.2 percent
Business support services—19.3 percent
Accounting, tax preparation, bookkeeping, and payroll services—18.1 percent
Securities, commodity contracts, and other financial investment and related activities—15 percent
Advertising, public relations, and related services—12.2 percent
3. Is Texas a Good Place to Become an Entrepreneur?
Yes. Texas is a great place to start a business. With one of the largest civilian workforces in the nation and favorable tax laws, Texas has a lot to offer potential entrepreneurs. And there's a strong history of innovation in the state. Among Texas business owners, over 72 percent founded their own companies. And for over 66 percent of Texas business owners, the company they currently own is their first one. In contrast, the U.S. average for first-time business owners is about 62 percent.8 Major companies that started in Texas include Dell, 7-Eleven, and Whole Foods Market.
Plus, Texas business owners and their employees can enjoy a surprisingly low overall cost of living: The average house price in Texas is $161,500, which is much lower than the overall U.S. average of $205,000.9 In addition, the state has no personal income tax.
---
Take the Next Steps Toward Business Success
Texas business schools can help you prepare for the satisfying career you want. So get started today! Just enter your zip code into the following search tool to find schools near you.
---
---
1 CNBC, "Texas is CNBC's Top State for Business in America this year," website last visited on October 17, 2018.
2 Bureau of Labor Statistics, U.S. Department of Labor, Occupational Employment Statistics, website last visited on July 16, 2019.
3 Texas Workforce Commission, Labor Market Information, website last visited on October 17, 2018.
4 Texas Medical Center, website last visited on February 10, 2020.
5 Forbes, "Texas Laps California In Job And Population Growth," website last visited on October 17, 2018.
6 Texas Economic Development Corporation, website last visited on October 17, 2018.
7 The Perryman Group, "The Texas Economic Forest," website last visited on October 17, 2018.
8 Houston Chronicle, "Texas entrepreneurs are just different. Here's how.," website last visited on October 17, 2018.
9 Data USA, "Texas," website last visited on October 17, 2018.