Visual Arts Schools
Last Updated
Visual arts schools near you offer the chance to hone your artistic talents and channel your creativity into a fulfilling career.
An incredible range of options could be open to you at a visual arts university or college. Illustration, design, and digital concept art are just a few areas you might want to explore. This type of training can lead to a career in fields like graphic design, arts management, multimedia illustration, and more.
Plus, a visual arts program can give you access to a professional studio or computer lab where your own style and techniques can start taking shape. You can use that time to craft a unique, visually compelling portfolio that will intrigue potential employers.
So take a few moments to explore all the different ways you can grow your talents. Discover visual arts schools near you by looking at the listings below, or type your zip code into the school finder!
---
Visual Arts Schools
Sponsored Listing
---
---
Frequently Asked Questions About Careers in the Visual Arts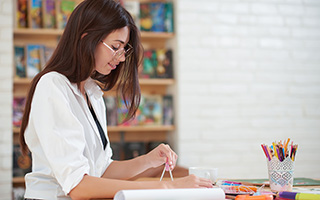 An image can be a powerful means of expression. Skilled artists and designers who can convey concepts, emotions, or messages through visual media can find fulfilling opportunities in a range of fields. Whether you are interested in a career as an illustrator, painter, graphic designer, or digital artist, the training offered by visual arts schools can help bring your goals within reach. With enough experience, you could even take on a leadership role as an art director.
Here are answers to some of the most common questions about careers in the visual arts:
How Can I Get Into This Type of Work?
It's essential to have a strong portfolio that showcases your artistic abilities. A website or digital portfolio can easily be shared with potential clients or employers. You can develop this through self-study, but a lot of artists choose to do it as part of a post-secondary educational program.
Many colleges, universities, vocational schools, and technical institutes offer programs in visual arts. Formal training can help you broaden your skills and introduce you to techniques and technologies you may not otherwise get to experience. You can get hands-on practice in a studio setting and develop confidence in your creative abilities. Plus, the feedback you get from knowledgeable instructors can help you refine your talents and shape your style.
Programs vary, but they may include courses in:
Design principles
Color theory
Painting and drawing
Page layout
Typography
Digital imaging
Conceptual art
Illustration
Photography
Motion graphics
Video editing
Some programs also give students an opportunity to complete internships in real-world businesses.
What Are the Typical Earnings in This Field?
Earnings can vary widely depending on how much experience you have, the specific type of work you do, the industry you work in, and even where you live. Many artists are self-employed, so their earnings fluctuate with their workload. Others find salaried positions with advertising agencies, publishing companies, design firms, and other types of businesses.
Below are the median and top-end earnings for different visual arts careers. You can also see which areas of the country tend to have the highest rates of pay for each occupation.
All salary information is based on 2020 data from the Occupational Employment and Wage Statistics program. Figures are rounded to the nearest thousand.
Art directors
Low-end pay: $55K
Median pay: $97K
Top pay: $199K and up
Highest-paying regions: New York, California, New Jersey, Oregon, and Washington
Multimedia artists and animators
Low-end pay: $42K
Median pay: $78K
Top pay: $143K and up
Highest-paying regions: Connecticut, California, New York, Oregon, and Washington
Painters, sculptors, and illustrators
Low-end pay: $20K
Median pay: $52K
Top pay: $123K and up
Highest-paying regions: California, Connecticut, New Jersey, Massachusetts, and Minnesota
Graphic designers
Low-end pay: $32K
Median pay: $53K
Top pay: $93K and up
Highest-paying regions: The District of Columbia, Washington, Massachusetts, New York, and Virginia
What Is the Long-Term Job Outlook?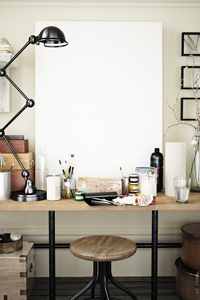 The demand for art can fluctuate with economic conditions. However, there should be steady demand for artists who create graphics, illustrations, and animations for online publications, websites, movies, video games, and mobile apps. Those who strive to keep their skills current and stay abreast of the latest trends will find the best prospects.
Have a look at the average number of yearly job openings that are projected for the decade between 2020 and 2030, according to the Bureau of Labor Statistics:
Graphic designers: 23,900
Art directors: 11,500
Multimedia artists and animators: 7,800
Painters, sculptors, and illustrators: 3,300
---
Reach for Your Goals
Are you ready to advance your artistic aspirations? Formal training can open up an extraordinary array of possibilities for your future. And it's easy to search for visual arts schools near you. Just put your zip code into the school finder at the top of the page to get started!
---