15 of the Best Jobs for Students That Offer High Pay and Flexibility
By Publisher
| Last Updated June 24, 2021
What do you consider the best jobs for students? "The ones that pay the most" is an obvious answer. (Fortunately, as you will see, high-paying jobs for college students do exist.) But earning potential is not the only factor to think about. After all, it's important to look for a job that fits around your study schedule. And if it can move your career aspirations forward, that's valuable too. Therefore, the best jobs for college students are those that provide good pay, come with flexible schedules, or have the potential to advance your future career in some way.
Of course, "good pay" is subjective. To determine what jobs would make the list, we looked at what you could expect to earn once you have completed your schooling. College students graduating with a bachelor's degree in 2016 earned an average annual starting salary of $49,525, which amounts to $23.81 an hour. We also looked at the current federal minimum wage, which is set at $7.25. So for the purposes of this article, a job that requires limited experience and pays more than $10 an hour could be included as one of the best jobs for college students.
Another important consideration is scheduling. A full-time Monday-through-Friday job may not be an ideal option for a typical college student. Good jobs to have while in college are ones where you can either set your own hours or work evenings and weekends. After all, you need to be able to fit your work commitments around your classes. So something with a lot of flexibility is likely to be the best job.
Gaining experience that can enhance your resume is another key factor. Some of the best part-time jobs for college students are those that allow you to acquire relevant skills for your chosen career field.
According to a Georgetown University study, most college students work (and put in an average of about 30 hours per week at their jobs). That's partly because working while going to school is a viable way to help pay your tuition and other bills. Depending on the position, you can make anywhere from $10 to $30 an hour or more working part-time in college.
So check out the jobs listed below. There could be a position that is cut out for you!
Unless otherwise noted, earnings information is based on data from the Occupational Employment Statistics (OES) program.
---
1. Freelance Writer or Editor
The highest-paying part-time jobs are often creative positions that allow you to work from home. Skilled writers and editors can find great opportunities to earn money as a side gig and are usually provided the flexibility to complete assignments around their own schedule. Plus, if you're specifically interested in at-home jobs for college students, this one is an easy choice. There are many online websites dedicated to freelance work where you can register and get started for free. Although it might be a little competitive or challenging to secure work when you first start out, it can be done. And the earnings can be worth it.
According to a 2012 industry report, 12.6 percent of freelance writers earned under $20 per hour, 25.5 percent earned $29 to $49 per hour, and 60.9 percent earned $50 per hour and higher. In regards to freelance editors, seven percent earned under $20 per hour, 63 percent earned $20 to $49 per hour, and 30 percent earned $50 per hour or higher.
---
2. Bookkeeper
Are you a whiz with numbers? Bookkeeping is the best part-time job for students who are pursuing a career in business or accounting. Bookkeepers usually use software to keep track of organizations' transactions and accounts. They can take care of accounts payable, accounts receivable, payroll, and more.
Many small businesses only require part-time bookkeepers, which would be ideal for a college student like you who needs to balance school with work. Depending on your current skills and experience, you could expect to make anywhere from $12.44 to $30.01 per hour according to 2019 data.
---
3. Administrative Assistant
Administrative assistants take care of the day-to-day tasks within an office. These can include managing files, responding to phone and email inquiries, scheduling appointments, and supporting managers and staff members as needed. If you are considering any kind of administration career in the business, legal, health, or dental sectors, then working as an administrative assistant while in college could help you build your resume while putting some money in your pocket. In 2019, the wage range for administrative assistants was $11.66 to $27.68 per hour.
---
4. Server or Bartender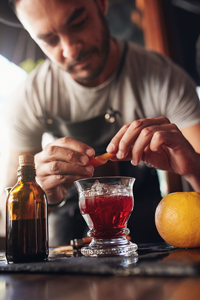 Serving and bartending have been among the most common job choices for college students for many years. One reason is flexible scheduling. Many establishments offer part-time jobs with hours available in the evenings and on weekends, which could allow you to work around your classes. Another reason is the potential to earn good money.
Even though the hourly wages for servers and bartenders in 2019 ranged from $8.37 to $20.65 and from $8.55 to $22.18, respectively, the best earnings often come in the form of tips. For most restaurant patrons, tipping 15 to 20 percent is considered the standard and was the average noted by respondents to an iTipping.com survey. So if your total sales on a shift amounted to $500, then your average take-home pay from tips could total $75 to $100 on top of your hourly wage.
The tips that bartenders receive can be more variable depending on the type of establishment as well as the time of day and day of the week. Whether working as a bartender or server, it is likely that the higher-end the establishment, the more money you can expect to make.
---
5. Teacher's Assistant
Many institutions and faculty members hire students to work as teacher assistants once they have completed at least their first year of school. Teacher assistants, or TAs, assist instructors with marking papers and exams, answering student questions, preparing class materials, and more. Working as a TA can help you reinforce principles that you have already learned. And you don't even have to leave campus to get to work. Just remember that organization is critical since the busiest times for TAs are also the busiest times for students.
As for pay, the average annual wage of teacher assistants working for colleges, universities, and professional schools was $29,640 in 2019. Plus, many teaching assistant positions are part-time, which can allow you to complete assigned tasks on your own time so that you can work completely around your own schedule.
---
6. Professional Cleaner
Professional cleaners can make decent cash, and you could choose from a couple of different avenues within the field. As one example, you could work as a private house cleaner where you pick your clients and set your own hours and rates. Many private house cleaners charge $20 to $30 per hour. However, you would be responsible for finding your own clients and paying your own expenses since some clients may want you to provide the cleaning products or produce a clean criminal record check.
Another option would be to find a position within a hotel, medical establishment, or professional cleaning company. Housekeepers and maids who work for organizations such as hotels, hospitals, and care facilities earned an hourly wage ranging from $8.98 to $18.22 in 2019. Janitors and cleaners working for companies that secure contracts to clean schools and office buildings earned $9.43 to $21.58 an hour.
Many cleaning positions require nothing more than attention to detail, a good attitude, and a strong work ethic. And much of the cleaning work for places like hospitals, schools, and offices takes place after hours, making it one of the ideal jobs for students in college.
---
7. Dog Walker or Pet Sitter
Imagine being paid to hang out with dogs. Sounds like a good job, doesn't it? And although it does require a little more flexibility in scheduling, the overall time commitment is relatively small. According to PayScale a dog walker typically charges anywhere from $9.76 to $29.34 per dog, per hour. So if you are walking five dogs per day, five days a week, and charging the average of $14.98 per dog, then you could bring in $374.50 per week. Just remember that you need to check your city's regulations regarding permit or insurance requirements.
Another possibility similar to a dog walker is a pet sitter. Dog walkers tend to have a more reliable, regular schedule, whereas pet sitting is usually short-term while an animal's owner is out of town. And like dog walkers, pet sitters can also charge $15 to $30 per visit. When pet sitting, it is common to visit the animal up to three times a day. So at the median of $22.50 per visit, three visits a day over a five-day period could bring you $337.50.
---
8. Tutor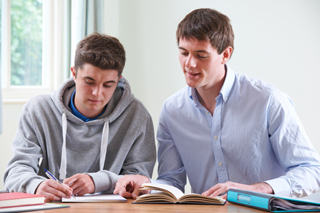 Tutoring can definitely be classified as one of the good part-time jobs for college students. If you excel in certain subjects and enjoy teaching others, tutoring could be an especially good fit. You could tutor younger students in elementary, middle, or high school, or you could tutor other college students. The school you attend may offer a tutoring program, or you can advertise privately through public notice boards and websites.
When looking at job boards, it is common to find college tutors charging in the $15- to $20-an-hour range. However, that amount can climb up to $50 per hour and higher depending on the nature and complexity of the subject. If you are interested in becoming a tutor, it is best to find out what other comparable tutors are charging in your area and price your rates competitively.
---
9. Princess/Superhero Party Entertainer
You're reading this thinking, "They're joking, right?" Well, not at all. Princess- and superhero-themed children's parties are becoming increasingly popular. And with a costume or two, some props and games, and a fun-loving personality, you could be on your way.
Themed children's parties are commonly priced in the range of $200 for an hour with additional charges for extended travel to get to the location or for extras such as a piñata. You might even take it a step further by offering dress-up or tea-party packages, which can range from $300 to $600.
You could see if there are professional party companies in your city that are hiring, or you could venture out on your own. If going out on your own, you would have to cover all of your own expenses and take care of your own advertising to find clients. When you work for a professional party company, you simply need to show up and play the character.
---
10. Uber Driver
Uber is an innovative rideshare company that connects drivers with riders through a smartphone app or website. Riders and drivers create profiles where they can see each other beforehand, and the transfer of money takes place wirelessly prior to the ride so that no money exchanges hands. As long as drivers are over the age of 21 and meet Uber's insurance, criminal record check, and vehicle requirements, they can qualify to work as rideshare drivers.
A 2014 report noted that 44 percent of Uber drivers work less than 20 hours per week, and the peak times to drive are early mornings, evenings, Friday nights, and weekends, making it one of today's easy jobs for college students. And, it's also one of the most flexible jobs for college students, thanks to plenty of scheduling options. The 2014 report found that 56 percent of drivers earned up to $10,000 per year, and 22 percent earned $10,001 to $25,000 per year. So if you are working 10 to 15 hours a week earning $10,000 a year, that amounts to $12.80 to $19.23 per hour.
---
11. Salesperson
Many businesses rely on salespeople to sell their products or services, so working in sales could provide you with both the earnings and flexibility you desire. And if you are working toward any kind of career in business, then experience as a salesperson could prove to be a valuable asset in the future.
If you are confident in your sales abilities, then going after a commissioned position would likely be a good option for you. A commissioned position provides the opportunity to be in control of your earnings since the more products or services you sell, the more money you make. In 2019, the hourly wage for salespeople ranged from $9.41 to $38.95 and higher.
---
12. Translator
If you are able to fluently speak, read, and write in another language, you may want to consider finding work as a translator. You could find work independently, or you could pursue a job within an organization or government agency. According to 2019 employment data, translators earned an hourly wage ranging from $13.54 to $45.37.
The job requirements for translators vary, but it is recommended that you become certified with the American Translators Association (ATA) by successfully passing the organization's three-hour exam. You could also take a Defense Language Proficiency Test (DLPT) through the Defense Language Institute Foreign Language Center (DLIFLC).
---
13. Customer Service Representative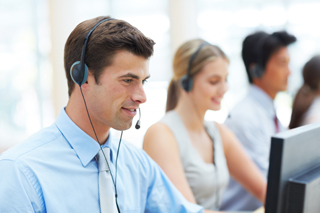 Customer service reps are usually a first point of contact for customers—over the phone, in person, or even online. They can be responsible for offering information, taking orders, or handling complaints. Customer service jobs can be found within call centers, retail stores, insurance agencies, banks, and more.
Working as a customer service rep is a great way for you to gain solid communication skills that could help you succeed throughout your career. And you could expect to earn anywhere from $11.05 to $27.11 an hour according to 2019 employment statistics.
---
14. Nanny
Most parents require childcare, whether part-time or full-time. If you have some experience with kids and enjoy caring for them and being in their company, then a nanny position may work well for you. It qualifies as a job that's often suitable for college students since it can offer flexible hours and opportunities to complete homework during children's rest times. You could even find a live-in position where the parents provide you with room and board as well as an hourly wage or monthly salary.
In 2019, in-home care providers made an hourly average wage of $11.65. However, hourly wages can go up to $17.21 or higher when there are multiple children or extra responsibilities involved (like housekeeping, pet care, or running errands). And the hourly wage can run much higher in areas where childcare demand outweighs availability, so this has good potential to be one of the high paying part-time jobs for college students. Check out the job postings in your city to get an idea of the current pay rate.
---
15. Starbucks Barista
Most people don't think of a barista as a high-paying job, and technically it's not. According to PayScale data, a Starbucks barista makes an average of $8.96 to $16.96 an hour, and a shift supervisor makes $11.00 to $16.33 an hour. So why would a barista make this list of well-paying jobs for college students? Because of the perks.
Starbucks offers impressive perks, even to part-time employees, that can be helpful to college students. The company tailors a benefits package for qualified employees called "Your Special Blend." It can include health coverage, bonuses, retirement savings plans, and achievement and recognition plans. And don't forget the employee discounts. So although the wages may not be considered high, there are other benefits to working at Starbucks that could make it worthwhile for a college student.
---
Turn Your Ambition Into Action
Now that you've learned about the best jobs for students, you could be inspired to get out there and secure a position that helps reduce the financial commitment of going to school.
And if you are still contemplating which educational path to choose, you may find it helpful to explore this comprehensive program guide. Or enter your zip code below to get an idea of what kinds of programs are offered in your area. Take this time to position yourself for a future filled with opportunity!
---