Barber School Program & Career Information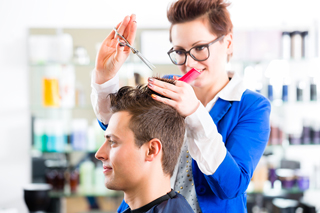 Barbers are making a comeback as more people opt for classic cuts and close shaves. And with a growing interest in undercut designs, more women are turning to the professional services offered by barbers. Furthermore, barbershops tend to offer unique customer experiences that are very different from those of salons.
Many barbershops are social hubs where customers can pop in for a coffee, engage in lively conversation, and even get a shoeshine. Most shops are equipped with comfortable spaces that have oversized couches, TVs, current magazines and newspapers, coffee makers, and fridges.
A lot of shops are also careful to keep a nostalgic atmosphere, which can include porcelain chairs, hot towel machines, ceiling fans, and cherrywood detailing. The retro style is often important to male customers who take their sons to the barbershop as a rite of passage—something they fondly remember doing as kids with their own dads and grandfathers.
So as you consider attending barber school, you may be wondering what to expect as far as program content, licensing requirements, and job outlook is concerned. These details and more are covered below in an effort to help answer your questions.
Program Details and Length
Although program content and length varies from school to school, a typical barber program can be completed in approximately 15 months. You can expect to spend much of that time learning about personal care services such as:
Shaving
Shampooing
Hair cutting, coloring, styling, and straightening
Scalp and hair treatments
Perms
Wigs and hairpieces
Facial massages
You will also learn about health and safety practices like sanitation and infection-control procedures. And most programs cover the essentials of business management and sales for aspiring barbers who would like to manage or open their own shops. You can also expect to get a lot of practice during your training. You will likely start out on mannequins and then move into salon clinics, many of which are open to the public.
License Requirements
It is important to note that barber-licensing requirements vary by state, so it is recommended that you check with your state's licensing department prior to beginning your training. Typically, once you have completed a state-approved program, you can then apply for your state license. To give you a better idea of what to expect, check out the specific licensing requirements for barbers in California and Pennsylvania:
California—After completing 1,500 hours of study and practice, you can apply to the California Board of Barbering and Cosmetology to take your exam, which requires the submission of a $125 fee. You will be issued a license once you have successfully passed the exam, which has both theoretical and practical components. After you become a licensed barber, you must renew your license during odd-numbered years for a fee of $50.
Pennsylvania—The Pennsylvania State Board of Barber Examiners issues state licenses. Once you have completed 1,250 hours of study and practice, you can apply to take the licensing exams. The fee is $150. Upon passing both the theoretical and practical exams, you will be issued a license that must be renewed in even-numbered years for a fee of $109.
Employment Opportunities
Although many barbers choose to work independently and open their own shops, you may also be able to secure employment opportunities in the following settings:
Barbershops
Hotels
Resorts
Salons
With the recent resurgence of the barbershop, there are a growing number of franchise opportunities available. Companies such as Tommy Gun's and V's Barbershop provide people like you with opportunities to open shops under established and successful brands.
Career Outlook and Potential Earnings
The Occupational Outlook Handbook predicts that from 2016 to 2026, employment of barbers will grow by 13 percent. That amounts to approximately 7,600 new jobs across the country. And according to Occupational Employment Statistics data as of 2018, the average salary paid to barbers was $33,220 per year with the top 10 percent of earners bringing in $52,600 or more. You also have the potential to generate a higher income by opening your own shop.
---
What's My Next Step?
Locating a barbering school near you is as simple as entering your zip code into the search tool below. You can quickly generate a list of schools that are offering programs in your area!
---