Barber Schools & Colleges
Last Updated
A barber school near you can equip you for a career creating fun, sleek, and professional looks for men, boys, and all people who prefer shorter hairstyles.
Barber schools offer classes focusing on haircutting, skincare, facial hair grooming, business management, and more. These courses form the foundation of skills you can build on to establish your own clientele or even your own barbershop.
As a barbering school student, you could have the chance to practice in barbershop or salon settings. Gaining experience working and communicating with actual clients will help you learn to consistently get results they (and you) can feel good about.
Learning to become a professional barber is an excellent opportunity to set yourself up for a career that's fun, versatile, and in-demand.
---
---
Barber School Education & Career Information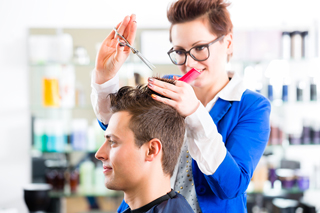 Even though this profession has thousands of years of history, barbering is far from becoming obsolete—it's making a fresh comeback.
Male grooming is quickly becoming more widely accepted. This paradigm shift means the diversity of services provided by barbers should continue to expand. Many barbershops even provide nail and skincare services like facials, manicures, and waxing so customers can get the extra care they want in a comfortable setting.
Barbering education covers a fun and comprehensive list of topics and techniques to learn. Trade school barber programs are especially well-suited for those who want quick, efficient, flexible, and relevant training. Read on to learn more about what to expect when it comes to barbering classes, program content, licensing requirements, job outlook, and more.
What Do You Learn in Barbering School?
Barber programs' content and length vary by school, but 10-15 months is the approximate length for most barbering training. You can expect to spend much of that time learning about personal care services such as:
Shaving
Shampooing
Hair cutting, coloring, styling, and straightening
Scalp and hair treatments
Perms
Wigs and hairpieces
Facial massage
Scalp massage
Facial hair design
Skincare
Your barbering education will likely also include health and safety practices like sanitation and infection-control procedures. You'll learn about hair and scalp disorders, and bacteriology relating to skin and hair.
Most programs cover the essentials of business management and sales for aspiring barbers who would like to manage or open their own shops. This includes learning the customer service skills and ethics that are essential for building a clientele.
Hands-on practice should be a significant component of your training. You will likely start working on mannequins and then move into school-run salon clinics, many of which are open to the public.
Barber License Requirements
It is important to note that barber licensing requirements vary by state, so check with your state's licensing department before beginning your training. Typically, once you have completed a state-approved program, like the ones typically offered at beauty and trade schools, you can apply for your state license.
Employment Settings for Barbers
Although many barbers choose to work independently and open their own shops, you may also be able to secure employment in the following settings:
Barbershops
Hotels
Resorts
Salons
With the recent resurgence of the barbershop, there are a growing number of franchise opportunities available. Companies such as SportClips, Roosters Men's Grooming Centers, and V's Barbershop provide people like you with opportunities to open shops under the security of established and successful brands.
Job Outlook for Barbers
The Occupational Outlook Handbook (OOH) predicts that from 2021 to 2031, barbers' employment will increase by 11 percent, which is classified as "much faster than average" by the OOH.* In that same period, jobs for cosmetologists and hairdressers are projected to increase by 11 percent. Barbering is becoming a more distinct and in-demand service among a bigger demographic than ever.
Barber Salary and Hourly Pay
Occupational Employment and Wage Statistics data from 2021 shows the median barber salary was $29,970 per year ($14.41/hour).* Earnings start around $22,430, with the top 10 percent of earners bringing in up to $53,260 or more. You can also increase your income by opening your own barbershop, though that will take time and investment.
Tips and gratuities are an additional source of income for barbers. And better service and performance generally equals better tips. All the more reason to make sure you find a program with classes covering the full spectrum of barbering services, including customer care and communication skills.
---
How Do I Find a Barber School Near Me?
Locating a barber college near you is as simple as using our school finding tool below. You can quickly generate a list of schools that are offering programs in your area!
---
---
* Unless otherwise noted, salary information is based on May 2021 data from the Occupational Employment and Wage Statistics (OEWS) program. Job growth estimates are from the Bureau of Labor Statistics and are for the 2021 to 2031 period.