---
---
Choosing a Baking Career
Are you considering pursuing a baking career? If the smell of rising bread or baking cookies makes you weak in the knees, and your favorite pastime involves whipping up a culinary creation in the kitchen, the baking industry could be a perfect choice for your future. This fast-paced career field requires a passion for food, and a fascination with the mix of science and creativity involved in mastering baked goods.
In order to reach your career objectives in this industry, a post-secondary education is generally the first step. However, before you start firing off applications, there are some considerations that you should take into account. Here are seven factors to think about before pursuing a career in baking.
1. Is a Baking Career For You?
There's a difference between spending a leisurely afternoon in the kitchen, whipping up the family's cherished cookie recipe, and spending an eight-hour shift in a fast-paced commercial kitchen. Not to say you can't enjoy both, but there are some prerequisites that can help ensure success and personal satisfaction in the baking industry.
A love and passion for baking and working with pastry.
Physical strength - You will be required to lift heavy pots, operate industrial-sized equipment, and handle large bags of ingredients.
Stamina - You will spend many hours on your feet in a fast-paced environment.
Attention to detail - Although baking is considered by many to be an art form, it is also part science. Accurate measuring can make or break a creation, and a forgotten ingredient can result in sub-par quality.
2. What Kind of Baking Career Do You Want?
There are many different career paths and environments within the baking industry. By narrowing down the type of job you want and the atmosphere you want to be a part of, you can make it easier to choose the type of baking school that matches your goals. Common careers within this field include baker, pastry chef, and commercial baker, while job settings range from hotels, restaurants and bakeries to grocery stores and baking manufacturing companies.
For pastry chefs that want to go the extra mile, the American Culinary Federation is now offering Executive Pastry Chef certification. This type of certification is a good way to show current or potential employers that you're skilled, and serious about your work.
3. What Types of Programs are Available?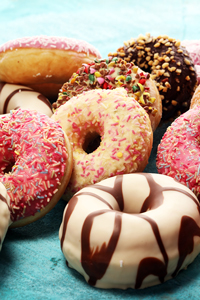 Now that you have thought about what type of baking career that interests you, the next step is to figure out which program would be the best match. From certificates to diplomas to degrees, there is no shortage of available options. Choosing the right program will depend on your career goals.
If you are looking to complete your training quickly and start your career at the entry-level, a certificate or diploma program could be your best option. These types of programs tend to be career-oriented, focusing on the hands-on skills you need to pursue entry-level positions.
On the other side of the spectrum, degree programs tend to be longer in length, and cover a wider range of theoretical and background knowledge, in addition to hands-on training. Although earning a degree requires more time to be invested toward your education, a higher-level program can allow you to graduate qualified for a broader range of baking positions.
4. What Types of Baking Schools are Available?
After determining the best program route, you also need to take into consideration the type of school that best fits your career goals. If you are leaning toward a certificate or diploma program, and wish to graduate quickly with on-the-job skills, a vocational school is probably your best bet. In addition, many private culinary institutes are available, and also tend to provide job-focused training. However, if your goal is to obtain a degree, a college or university might be the better choice.
5. How Much Does Baking School Cost?
The cost of tuition is an important consideration for any student. However, as with any type of program, the price of tuition depends entirely upon the length and type of program, as well as the location of the school, the state of the local market, and many other factors. Your best bet is to narrow down the list of schools you are considering, and contact them for further information.
When talking about tuition, it is also worth mentioning that many schools offer in-house, private, or federal financial aid through payment plans, scholarships, grants, loans, etc. It is definitely in your best interest to check out what forms of funding you could qualify for.
6. What Is the Average Salary for a Baking Career?
It's extremely important to investigate the average salary statistics within the baking field. No one wants to invest time and money into an education only to graduate and discover their salary expectations are way off the mark. While salaries vary depending on the type of position and geographical area, according to the Occupational Outlooks Statistics program the average annual wage for bakers in May 2018 was $28,660, and the top 10 percent of bakers earned $40,350 and higher.
7. What Is the Current Job Outlook for Baking Careers?
Your final, and probably most vital, consideration is the job outlook for the baking industry. If you are going to pursue baking as a career, it's helpful to know how competitive the industry is so that you can gain a realistic idea of your odds of finding a job that fits your personal and professional goals. According to national projections, employment in this field is expected to grow six percent from 2018 to 2028.
---