Laser Technician Schools
Last Updated
Laser technician schools can lead you to a bright career in beauty and wellness where you help others achieve and maintain healthy, radiant skin.
Take this opportunity to learn more about cosmetic laser training. And discover how you could enhance your employment prospects with a beauty school that includes laser technician training as part of a broader esthetics curriculum.
You can learn how to provide laser hair removal and cosmetic laser treatments along with other esthetic and skincare services. And some laser technician schools can even prepare you to achieve certification.
Ready to set out on a path toward the beauty career you dream of? Explore the training options below or enter your zip code to search for programs in your area!
---
---
Why Attend Laser Technician School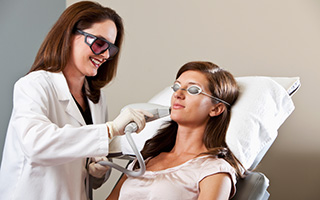 Laser technicians help beautify and care for skin. Along with laser treatments, they sometimes offer other skincare services, including electrolysis. Plus, they are part of a relatively new and growing field. After only a short period of training, you could be working in a gratifying career where you help improve people's appearance, health, and self-esteem. So if you are still pondering whether this is the path for you, then check out these five reasons why people like you often choose to attend a laser technician school:
1. Short Training Programs
Many of the beauty colleges and schools offering laser technician training include an esthetics component since most laser technicians are also licensed estheticians. Although programs vary, most are in the range of 600 hours of combined instruction and practice, which can be completed within six months to a year. In just a short amount of time, you could be ready to pursue a desirable new career.
2. Multiple Certification Options
Most laser technician programs include esthetics training so that you can be equipped to provide a variety of skincare treatments. If you want to work as an esthetician, you will need to achieve licensing within your state (with the exception of Connecticut). So prior to beginning your program, it is important to check with your state's licensing board to ensure that you will meet the requirements.
Along with esthetician licensing, you can also pursue certification from the National Council on Laser Certification (NCLC). With the NCLC, you can become certified as a:
Aesthetic Laser Operator (which includes certification as a Hair Removal Specialist)
Laser Hair Removal Specialist
Laser Hair Removal Supervisor
Some programs also include an electrology or electrolysis component, which is the use of electricity to remove hair. If your program includes this option, you could become a Certified Professional Electrologist (CPE) through the American Electrology Association (AEA).
It is important to note that the requirements for electrolysis and laser technician licensing vary from state to state. So you will want to be sure to check on your state's requirements in order to ensure that the program you choose fits with your vocational goals.
3. Exceptional Job Outlook
It could be said that now is the right time to pursue a skincare specialist career. The Occupational Outlook Handbook estimates that the number of skincare specialist jobs will grow by 17 percent during the 2021-2031 period.* That translates to the addition of approximately 13,500 jobs nationwide.
The job growth is largely due to a growing middle-age and elderly population that is interested in reducing the effects of aging through esthetic and cosmetic laser treatments. According to AARP, 108.7 million Americans were aged 50-plus in 2014. That was 34 percent of the population. And it's estimated that the 50-plus age group will grow by 19 million people by the year 2024, making it the largest-growing age group in the U.S. That represents a substantial number of people who could be looking for skincare services.
4. Good Earning Potential
When working as a laser technician, salary expectations can vary depending on the setting and location where you work. Occupational Employment and Wage Statistics program data shows that in 2021, the median annual salary of skincare specialists was $37,300.* Earnings start around $23,100, and the top 10 percent of workers in the field earned $65,680 and higher. However, those working in medical settings—such as doctors' offices, hospitals, and outpatient care centers—earned higher average salaries ranging from $44,190 to $45,670. And skincare specialists working in the states of the District of Columbia, Connecticut, Washington, Illinois, and New Mexico brought in average annual salaries of $52,660 to $77,560.
5. Diverse Work Settings and Job Duties
Laser technicians can enjoy diverse job responsibilities and work settings, especially if they offer additional esthetic services. With a variety of clients having different needs, laser technicians rarely become bored on the job.
Here are some of the treatments you could perform as a laser technician:
Hair reduction and removal
Skin rejuvenation
Wrinkle reduction
Scar removal
Spider vein removal
Tattoo removal
Acne treatment
And if you are also a licensed esthetician offering skincare services, your day could include any of the following treatments:
Facials
Body wraps
Eyelash extensions
Makeup application
Manicures and pedicures
Stone therapy
Waxing
Electrolysis
Skincare specialists and laser technicians can go after career opportunities within a number of medical and spa settings. Some of the places you could look for employment include:
Spas
Salons
Resorts
Cruise lines
Wellness centers
Doctor's offices
Hospitals
Nursing homes
Outpatient care centers
---
Start Exploring the Possibilities
Prepare to unlock your potential and start moving toward a more promising future by discovering the laser technician schools in your area. Simply enter your zip code below and you'll be on your way!
---
---
* Unless otherwise noted, salary information is based on May 2021 data from the Occupational Employment and Wage Statistics (OEWS) program. Job growth and average yearly openings estimates are from the Bureau of Labor Statistics and are for the 2021 to 2031 period.