Nail Technician School
Last Updated
A nail technician school can give you new reasons to look forward to a career that will allow you to feel pride and satisfaction in what you do.
In only a short time from now, you could be working as a qualified nail tech, meeting fun new people, and enjoying the gratitude you receive for lifting their confidence.
Countless people enjoy pedicures and manicures because they love feeling more beautiful and put together. Training at a nail technician school can provide the training you can use to become a professional who performs these services and helps people feel great.
If you are interested in entering this niche of the cosmetology industry, then keep reading below to find out about training, qualifications, average salary rates, job outlook, certification requirements, and much more.
Nail Tech Job and Training FAQs
---
---
Nail Technician Schools
Sponsored Listings
Las Vegas (Summerlin), Nevada
---
Cosmetology (includes manicure and pedicure training in the program)
Brownsville, Texas
Corpus Christi, Texas
San Antonio, Texas
Cosmetology Operator (includes manicure and pedicure training in the program)
---
---
Nail Technician Career and Training Information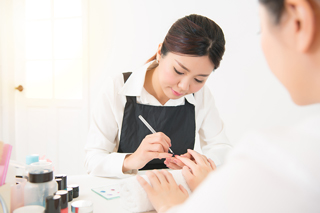 A nail technician is a specialized cosmetology professional who is responsible for keeping clients' nails, hands, and feet looking and feeling their best.
They are generally creative people who enjoy treating nails as an artist's canvas but also have a strong knowledge of related health issues.
What Does a Nail Technician Do?
A nail technician, or manicurist, is a specialist who focuses on providing care for nails. They often perform services on the skin of feet and hands as well.
What's included in a typical job description can vary depending on specific employers and working environments, but common responsibilities tend to include the following:
Manicures and Pedicures
Inspecting clients for nail or skin disorders
Removing existing nail polishes, treatments, or artificial nails
Soaking hands and/or feet in warm water (which can have a mixture of moisturizing, soothing, or rejuvenating ingredients added)
Performing hand and/or foot massages
Performing hot stone treatments
Applying treatments and moisturizers to hands and/or feet
Cleaning nails
Trimming, shaping, and filing nails
Polishing and buffing nails
Applying any requested treatments (such as a silk wrap)
Applying polishes or designs at the client's request (can include a single solid color, classic applications like a French manicure, or new trends such as airbrush designs, geometric patterns, textured designs, etc.)
Applying acrylic or other types of artificial nails
Creating and applying nail art
Advising clients on proper care of nails, hands, and feet
Cleaning and properly disinfecting all work areas and tools between each client
Business/Retail
Greeting clients and discussing available treatments and services
Promoting and selling products and tools to clients
Processing payments for services and products
Booking appointments
In addition, those who are also entrepreneurs running their own salons often need to take on additional responsibilities such as:
Hiring, training, and managing staff
Creating staff schedules
Managing accounting and finance-related tasks (or working with a professional accountant)
Handling promotion, marketing, and advertising
Ordering supplies and managing inventory
How to Become a Nail Technician
In the past, requirements tended to be more informal, and it was common to simply obtain training on the job. Today, however, most employers prefer hiring nail techs with a formal education.
In addition, it's important to keep in mind that all states except Connecticut require certification. This requires completing a state-approved (i.e., accredited) program and passing a state licensing exam. Licensing exams and requirements vary by state, but requirements tend to include being at least 18 years of age and having a high school diploma (or GED equivalent).
After successfully passing the exam, you will be awarded nail technician certification and will be eligible to work in your state.
What Can You Learn in a Nail Technician Training Program?
When it comes to nail tech training, there are many different options. Specialized cosmetology and beauty school options exist, but many other vocational schools, trade schools, and colleges also offer specialized programs.
If you are interested in learning how to become a nail technician online, there are schools that provide distance learning options, allowing you to train from the comfort of your home.
Depending on the type of nail technician school and program you choose, the curricula for programs can vary quite widely. However, some of the common topics you can expect to learn about include:
Theory
Nail structure and growth
Hand and feet anatomy
Nail and skin diseases and disorders
Industry laws and regulations
Client education
Practical Applications
Manicure and pedicure procedures
Nail repair (i.e., fixing broken or split nails)
Maintenance and enhancements
Wraps and specialized treatments
Hand, arm, and foot massage techniques
Nail art design and application
Artificial nail applications (i.e., acrylic, fiberglass, gel, and silk nails)
Safety and sanitation practices
Tools, Equipment, and Supplies
Portable hand and foot baths
Hand-held and electronic manicure and pedicure tools
LED and UV manicure lights and nail dryers
Airbrush machines
Polishes, base coats, and top coats
Strengthening and repairing serums
Lotions and oils
Polish removers and chemicals
Business and General Education
Business ethics
Customer service
Product promotion and sales
Appointment scheduling
Business computer applications
Salon management
Entrepreneurship
Marketing and promotion
Many nail technician training schools will include practical experience through externship or practicum components within local salons. Some schools may even have an on‐site, student‐run salon allowing students to provide supervised services to clients. Most accredited programs will also include preparation for nail technician licensing examinations.
How Long is Nail Technician Training?
Program length can vary by school and location. It can also depend on whether you choose to study part-time or full-time.
The most common education credentials are diplomas and certificates, which generally take a year or less to complete. However, the length of the program tends to vary depending on the state in which you attend school. This difference is because education hours are part of the prerequisites for state licensing. Some states only require 200 hours of classroom training, while others may ask for up to 750 hours.
If you choose an online program, you may be able to complete a program more quickly, since you could have the opportunity to set your own pace. By putting in more hours per week than in a traditional on‐campus program, you could complete courses sooner than if you were following a structured timetable.
How Much Does Nail Technician School Cost?
The cost of nail tech school depends on various factors, including the type of school and program you choose, the length of the program, and even the school's location.
You can expect to pay anywhere from $650 to over $10,000 for a nail technician program. Most nail tech programs average around $5,000.**
When looking into the cost of tuition for specific programs, it can be helpful to determine what is included within the tuition fee. Some schools combine the cost of tuition with books and supplies for a single fee, while others will charge separately. Knowing what is included in tuition and what is extra can help you determine the total cost of your nail technician training.
Most schools can offer some sort of financial support to students. It's helpful to find out if a school has a financial aid department because it could help you determine what funding sources you may be eligible for, such as federal loans and grants, private loans, scholarships, or veterans' benefits. Some schools may offer alternative options such as payment plans or work-study programs.
Obtaining Licensure
The first step is to check with your state board of cosmetology. It will be able to direct you to the specific criteria for your area.
Although licensing requirements do vary by state (Connecticut is the only state that doesn't require nail technicians to obtain licensure or certification), common prerequisites and processes include the following: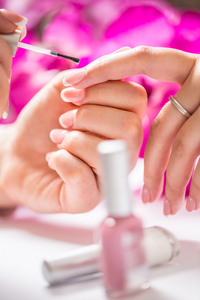 Graduating from a program accredited by the state board of cosmetology and includes a minimum number of training hours (usually between 250 and 450).
Submitting a nail specialty registration application to the state board of cosmetology for approval, along with payment for applicable fees. Once you have been approved, official nail specialist registration or licensure will be issued. However, some states will also require that you successfully take an examination before licensing is issued.
In some states, while your license is pending, you are still eligible to work under the supervision of a registered nail technician within a licensed salon or spa if you provide the salon owner with a copy of your completed licensing application as well as your school transcripts.
Once you have received official registration, you will be responsible for keeping it valid by paying renewal fees and completing continuing education credits as necessary. Renewal periods, fees, and minimum continuing education hours vary by state.
Nail Technician Work Environment
Most manicurists work within a salon or spa; however, Occupational Outlook Handbook (OOH) estimates from 2021 showed that 24 percent were self-employed, running their own salon or providing a mobile service in which they travel to their clients' homes.
Alternative work environments can include spas or salons within cruise ships, resorts, and hotels. Plus, some work within the fashion or entertainment industries. However, these positions tend to be rare and extremely competitive.
When it comes to hours, nail technicians who work in salons tend to work full-time, but those employed within spas that provide many different services are often only needed for part-time hours. Since many clients prefer evening and weekend appointments, these tend to be the busiest times for nail technicians.
Employment Outlook for Nail Technicians
The job prospects appear to be very good according to national projections for the period from 2021 to 2031.* The OOH estimates show that job opportunities for nail professionals are projected to grow by 22 percent, which is much faster than the estimated average for all occupations.
Some of the factors that are expected to stimulate growth in the industry include:
A rise in popularity and demand for "mini sessions," which are manicures that are performed quickly and at a lower cost than regular full-scale treatments
A rise in the popularity and demand for mobile services (i.e., house calls)
A growing number of women (and even men) who are dedicated to healthy lifestyles that include better grooming practices
In addition, because manicures and pedicures tend to be lower cost than many other cosmetology services, they remain popular as "low-cost luxury services" and are, therefore, less likely to be cut out during tight financial times.
How Much Does a Nail Tech Make?
Like restaurant and hospitality workers, nail care professionals often receive tips from clients for their services. Some salons also offer the opportunity to earn a commission or receive perks for selling products. Common forms of retail incentives include:
Sales commission either added to salary or paid out separately as a bonus
A discount on receiving salon services or buying products
A points or awards system
A rental rebate for those who rent a nail booth from a salon
OOH salary estimates from 2021 showed that wages for manicurists and pedicurists (including tips and commissions) break down this way:*
The entry-level hourly wage was $10.72 per hour (approximately $22,298 annually)
The median hourly wage was $14.05 per hour (approximately $29,224 annually)
The highest-earning 10 percent made more than $18.67 per hour (approximately $38,834 annually)
Another factor to keep in mind is that those who are self-employed will have the opportunity to earn a higher salary than the average. Nails Magazine reported that many professionals rent their own booth in a salon. In these situations, they are basically entrepreneurs who keep 100 percent of their earnings, and simply pay rent to have their booth located within an existing salon.
Manicurist salary rates also tend to be higher for those employed in the fashion or entertainment industries.
Helpful Qualities for the Job
Successful nail technicians tend to be:
Artistic: In the cosmetology world, nails can literally be an artist's canvas. The top manicurists in the world are artists who turn nails into beautiful, eye-catching masterpieces.
Friendly and Professional: For many people, manicures and pedicures aren't just about the actual appearance of nails; they are a cherished small luxury providing the chance to take time out of a busy schedule to wind down and relax. This means that many clients aren't just paying for the actual work being done to their nails; they are paying for the atmosphere and experience as well.
Trendy: The cosmetology industry is driven by change. Trends for hair, makeup, and nails are always evolving, which means that you need to stay on top of what's new and popular and what's old and out of fashion. Clients want to go to nail technicians who understand the current trends and are capable of pulling them off.
Dexterous: From using a sharp tool to remedy an ingrown nail to using an airbrush to create an intricate nail design, nail technicians need to perform precise techniques on a very tiny area of the body. Therefore, excellent hand-eye coordination, manual dexterity, and steady hands are a must.
Upsides of the Work
You can enjoy exploring your creativity and artistic talent on a daily basis.
You get to meet and interact with new people regularly. Plus, you often have the chance to form friendly professional relationships with repeat clients.
Compared to other industries, a relatively high percentage of nail technicians get to enjoy being self-employed, either running their own nail salons or creating mobile businesses and traveling to clients' homes.
It's possible to run a nail salon business within your own home, which comes with many perks and freedoms, including the chance to avoid long commutes and be more flexible in setting work hours.
Cosmetology is a diverse industry, so it's possible to find training and certification that covers multiple areas, allowing you to pursue a dynamic career that involves providing a range of services in addition to nail technology, such as hairstyling, makeup application, and skin care.
How to Get Started in the Nail Tech Field
To help decide whether a career in this field is right for you, it's a good idea to talk to experienced pros and get a feel for the realities of the job. Offer to take one out to lunch or book a manicure and pick the technician's brain during your appointment.
And if you're ready to start right now, find a nail technician school near you by using our easy-to-use search tool.
---
---
* Bureau of Labor Statistics, U.S. Department of Labor, Occupational Outlook Handbook, https://www.bls.gov/ooh/. Some careers listed may be part of a combined occupation profile (visited June 1, 2023).
** Based on a sampling of websites from 30 private post-secondary schools in the U.S. (visited June 1, 2023).