18 Awesome Careers With Animals
Last Updated October 11, 2022
Many people just like you choose to pursue careers with animals because they simply can't picture doing anything else. After all, animals can be incredibly fun, loving, loyal, and appreciative. Who wouldn't want to work with that every day? And even if some animals are a little wild and scary at times, you can still experience a pride and satisfaction knowing that you are helping or caring for them.
Jobs working with animals, and pet ownership, can also come with health benefits. According to the Centers for Disease Control and Prevention, those benefits include lower blood pressure, decreased cholesterol levels, and fewer feelings of loneliness. Some of that may be because pets like dogs often encourage their owners and caretakers to get out and exercise and socialize. It's easy to see why animals hold the hearts of so many Americans.
According to the American Pet Products Association (APPA), Americans love animals so much that a 2021-2022 survey found that 70 percent of the country's households own at least one pet. Dogs and cats top the list as the most popular, with 69 million households owning a dog, and over 45 million owning a cat. It makes sense that pet spending hit its highest level in the U.S. in 2021, ringing in at an estimated $123.6 billion.
That spending growth is largely attributed to the fact that pets are becoming more humanized by their owners. And as pets, and animals in general, become more valued by society, it only makes sense that the opportunities to find jobs with animals will grow.
The field of veterinary medicine is expecting strong job growth.* When many people think of careers with animals, they often picture working at a veterinary clinic. But keep in mind that there are many other career options out there. In addition to the most common veterinary careers listed below, you may also want to explore 15 other jobs working with animals that you may not have thought of.
---
Veterinary and Animal Health Careers
1. Veterinary Assistant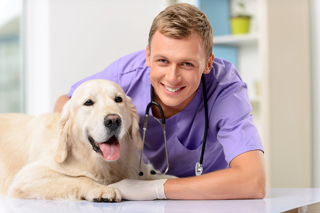 Veterinary assistant positions are appealing for those interested in jobs with animals in veterinary settings because short training programs make it relatively simple to get started. Although post-secondary training is not always required, job candidates with at least a certificate are often preferred over those without specific education. And many certificate programs can be completed in as little as six months to one year, so it is a worthwhile investment.
You can start pursuing veterinary assistant positions with animal clinics, hospitals, and shelters by developing basic skills in office administration, clinical procedures, and surgical preparation. You could spend your days taking care of tasks like feeding animals, providing pre- and post-surgical care, giving medication, assisting with collecting lab samples, and taking care of a variety of additional responsibilities that help keep the clinic running smoothly.
Veterinary assisting is also one of the animal careers that can offer good job prospects. It is estimated that jobs will grow in number by 19 percent from 2021 to 2031. And, in that same period, yearly job openings could total 23,900, on average. So, with short training programs and good job prospects, becoming a veterinary assistant could be a great way to achieve your desire to work with animals.
2. Veterinary Technician/Technologist
Veterinary technology is a popular choice for those who want to pursue careers working with animals. People working as vet techs have likely recognized the benefits of working in a field in which their love and compassion for creatures of all types and sizes is a valued trait. And it won't take you long to join their ranks.
Veterinary technology programs can be completed in approximately two to four years, depending on the type of degree program that you choose. Once you have earned your degree, you will likely need to become certified. Every state is different, but most people who want to practice veterinary technology must pass the national exam offered by the American Association of Veterinary State Boards.
As a veterinary technician, you will assist veterinarians with important work related to diagnosing, treating, and caring for animals. You could be responsible for tasks like providing emergency first aid, bathing animals, administering anesthesia and medication, collecting lab samples, and performing tests, and observing and recording animals' behaviors and conditions.
You get to enjoy working with other animal lovers and helping pets, creatures, and critters every day. You may also find good job opportunities. So, right now is a good time to start preparing for careers involving animals, specifically those in the field of veterinary technology.
3. Veterinarian
When it comes to jobs that work with animals, veterinarian likely tops the list. After all, it is considered one of the best careers for animal lovers. You get to dedicate yourself to promoting the health and well-being of animals every day. As a veterinarian, you will have a respected role in your community, and you will experience the gratitude that people give when you have cared for or healed their pets.
Becoming a veterinarian does require a lot of hard work and commitment. You will have to spend many years in school to earn a doctorate degree and obtain licensing. And you will have to be committed to a lifetime of learning because continuing education is required to maintain your license. But with all that hard work can come a substantial payoff. You can engage in work that you are deeply passionate about, and, in doing so, you can be paid very well and enjoy great job opportunities.
From 2021 to 2031, veterinarian jobs are expected to increase by about 19 percent. You may be able to find jobs within existing clinics or hospitals, or you may decide to open your own practice. Veterinarians can also advance their careers further by focusing on specialty areas. Many choose to specialize in alternative medicine, dentistry, emergency care, or surgery. You could come across many different and interesting possibilities when choosing a veterinary medicine career.
---
15 Additional Great Jobs Working With Animals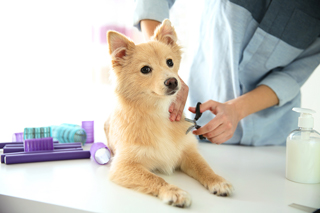 Although working in veterinary medicine is a common career choice for animal lovers, there are many other options for jobs involving animals. Some require little to no experience and could even be pursued as side jobs. Some of them have more extensive education and experience requirements. And others are a little unusual. (You may not have even heard of them until now.)
1. Dog Walker
Becoming a dog walker could be a great choice for people interested in jobs with dogs. You don't need special training, and finding clients can be as simple as posting an online classified ad or reaching out in a community Facebook group. You just need a love for dogs and the motivation to go out for walks every day (or multiple times a day).
The reality is that many pet owners have limited time to spend walking their dogs. Long working hours and other life and family commitments often result in not being able to get Fido out for a walk every day. But a lot of dogs need those daily excursions to burn off excessive amounts of energy. So, their owners often hire dog walkers to help keep their dogs healthy and happy. You will need to decide how many dogs you can handle at one time and how many walks you can go on each day. That will largely determine how much money you earn since most dog walkers charge per dog and per walk.
2. Pet Sitter
Pet sitting is a great option for jobs that involve animals because you can be paid to spend time with loveable pets without having to complete a lot of training. It can also be done on the side so that you can keep your current job. When pet owners go out of town, they don't necessarily want to kennel their animals. Or they may have pets that don't handle being kenneled well. So, pet owners seek out the services of pet sitters instead.
Some websites are dedicated to helping pet owners find pet sitters. You could register with one of those sites or advertise through local online and printed classifieds to connect with potential clients. Some owners may request that you stop into their home a certain number of times each day, whereas others may request that their pets stay with you or that you stay with them. Depending on the arrangements, you may charge per visit, hour, or day.
3. Animal Caretaker
If you are interested in animal shelter jobs, becoming an animal caretaker could be ideal. You may also find positions at kennels, pet stores, and veterinary clinics. Along with having some experience with caring for animals, you could also benefit from taking a short animal care program. Although a lot of organizations do not require post-secondary training, many do prefer it and are more likely to offer positions to those who have obtained some animal training.
Animal caretakers often have responsibilities like observing, examining, feeding, bathing, and training animals. You could also be responsible for cleaning and sterilizing kennels, living and care spaces, and tools and equipment. Animal caretaking is one of the truly hands-on jobs dealing with animals. The field allows you to provide compassionate and loving care to animals daily.
4. Animal Cruelty Investigator
Harming animals is an unthinkable act for most people. Unfortunately, animal cruelty does happen. When it does, animal cruelty investigators are needed to respond to and investigate complaints and collect evidence for trials and convictions. It is certainly one of the more emotionally trying jobs that deal with animals. It is also one of the most important and meaningful.
You will come to their rescue when animals are abandoned, abused, diseased, injured, neglected, or otherwise left in unhealthy or dangerous conditions.
When you conduct an animal cruelty investigation, you may need to carry out actions like:
Obtaining search and seizure warrants
Catching and removing animals from homes and properties
Transporting animals
Working with law enforcement officials
You could find jobs at animal shelters, government agencies, or humane societies like the ASPCA (American Society for the Prevention of Cruelty to Animals). Most organizations prefer that job candidates have knowledge of or education in law enforcement or criminal justice processes, along with experience working with animals. Obtaining a post-secondary education can help you stand out from other job applicants, and lead you to a fulfilling job helping animals who need it the most.
5. Animal Groomer
When it comes to animal care jobs, grooming is an important one. Although some animals, like cats and horses, require grooming, the field is most often associated with dogs. Certain breeds of dogs require ongoing maintenance that pet owners cannot do themselves, or don't want to do. After all, it is easier for people to take their dogs to professional groomers than to wrestle with them to cut their nails or give them baths.
Getting some animal care or pet grooming training is ideal to become a professional groomer. You need to have a calm demeanor and be confident in your abilities to handle dogs and other animals of all sizes and temperaments. Not all animals like having their nails trimmed or hair washed and cut, and you need to be able to safely complete those tasks without hurting a pet. That is why most groomers will require you to work in an assisting capacity and gain experience before allowing you to groom on your own. But it likely won't take long before you can take on pet jobs that involve helping to keep dogs and other animals clean and healthy.
6. Animal Photographer
When you think of careers that involve animals, photography probably doesn't cross your mind. But there are two different kinds of animal photographers. The first are wildlife photographers who photograph wild animals in their natural habitats. Some photographers take pictures of whatever wildlife they happen to come across. Others focus on photographing only specific kinds of animals. Either way, you can expect to travel extensively and spend a lot of time outdoors — sometimes in extreme terrain or conditions — to get the best pictures of your subjects.
The other kinds of animal photographers are pet photographers. They usually work on a freelance basis and often take photos on the side (i.e., in addition to their regular jobs). Or they may be professional photographers who offer all types of services. Either way, they are providing a valued service since a growing number of pet owners want professional photos that capture their beloved pets.
Whether you want to work in wildlife or pet photography, obtaining some professional photography training. By enhancing your skills, you can learn how to take better-quality pictures. And that could be beneficial since the best photographers are typically in the highest demand and earn the most money.
7. Pet Detective
"Pet Detective" may bring you visions of a slapstick comedy from 1994, but pet detective work is one of the jobs with animals that pay well. That's because losing a pet is tragic and traumatic, and some pet owners are willing to pay large rewards to those who can safely find and return their lost pets.
Although having private investigator training and experience can be quite helpful when getting started in the field, you must consider other important factors.
You should have solid experience with tracking animals, not just humans.
The most successful pet detectives have well-trained tracking dogs that assist them with locating lost animals.
Some people find it helpful to work in animal control before becoming a pet detective.
You may even consider gaining experience by working on a volunteer basis or assisting other pet detectives in your area.
Check your state's licensing requirements because some states may mandate that you have a private investigator license.
8. K9 Police Officer
K9 police officers enjoy careers with dogs that are meaningful, fulfilling, and serve the greater good of society. K9 officers perform a lot of the same tasks as other police officers, but they have a trusted, four-legged companion by their side. As a result, K9 officers are often assigned to cases that utilize the skills of their canine partners. Those could include searching for drugs, tracking suspects, or finding bombs.
Becoming a K9 police officer will require quite a bit of experience and education. You will need to become a police officer first and would likely need to spend one to two years on the force, at minimum, before being considered for a K9 position. Some departments may also require you to have an associate or bachelor's degree in a criminal justice discipline. Once you have met the basic requirements, you will likely have to complete required dog handling courses and specialized training programs.
Becoming a K9 police officer will require hard work and patience. After meeting the requirements for the position, you may have to wait until a job becomes available within your department. But, once that happens, you will likely find it worth the wait and the work. K9 police officers often develop a special bond with their dogs and take a lot of pride in conducting important work that helps keep their communities safe.
9. Animal Trainer
Animal training is considered an important animal-related job because trainers can help owners feel more connected, and even protected, by their pets or animals. The most common types of trainers are dog trainers. They work with owners and their dogs to help them develop positive behaviors, such as following commands, not pulling on leashes, or chasing other dogs and animals. A short dog training program and some direct experience are all that you will likely need to get started.
Other types of animal trainers include guide dog trainers and horse trainers. Guide dogs are service animals and play an important role in helping to keep their owners safe. Extensive education and experience are typically required to become a guide dog trainer. Along with earning a bachelor's degree, you may also need to complete an apprenticeship and obtain a license, depending on the state where you work.
If you are more interested in working with horses, you might consider becoming a horse trainer. Doing so requires a lot of direct experience and on-the-job training. You need to be comfortable with horses of all different sizes and demeanors, and you need to develop a variety of training techniques. Every owner and horse will have different needs. You must be prepared to handle anything from working with a horse that has suffered trauma or abuse to helping a horse adapt to having a rider.
10. Wildlife Rehabilitator
Sometimes wild animals get sick, injured, orphaned, or illegally captured. A wildlife rehabilitator's job is to help those animals return to their natural habitats. If you are interested in animal health careers, wildlife rehabilitation could be what you are looking for. You could play an important role in preserving wildlife while helping to keep the public safe.
Wildlife rehabilitators typically work in unison with veterinarians and handle the daily care needs of the animals. You will need extensive knowledge of different species, nutrition requirements, and safe handling and restraint techniques. You could be responsible for feeding and cleaning the animals and providing medicinal and therapeutic treatments to help them recover.
In addition to wildlife rehabilitation centers, you may be able to find job opportunities with government agencies, humane societies, and other non-profit organizations. The education requirements can vary based on the position. Some organizations may require you to have a college degree in a field related to biology, ecology, or veterinary medicine. If you want to pursue one of the wildlife rehabilitation jobs that help animals, then you may want to do some research in advance and make sure that you are taking the right educational path.
11. Conservation Officer
Conservation officers often enjoy satisfying careers with animals that pay well. They are law enforcement officers who help protect animals and their habitats. They spend a lot of their time patrolling wildlife areas — like parks, forests, and lakes — to ensure that the people accessing those areas follow regulations and laws. As a conservation officer, you could also be responsible for conducting wildlife research, relocating animals that have entered populated areas, and investigating criminal activity.
Unfortunately, some people engage in illegal hunting and fishing activities. It is a conservation officer's responsibility to investigate those situations and any other illegal acts carried out in his or her jurisdiction. At times, you will have to work with other law enforcement professionals, and you can also expect to spend some time in an office setting to complete paperwork.
The requirements to become a conservation officer vary between states, so it is important to check your state's specific regulations. You may need to have post-secondary training in areas like conservation, wildlife biology, or wildlife or resource management. Criminal justice training can also be beneficial. And experience in the outdoors is essential for this field. The most successful candidates usually have a solid combination of education and experience, often achieved through internships or volunteer opportunities.
12. Zoologist
Becoming a zoologist may be a good path for you if you are interested in engaging and interesting high-paying jobs with animals. Zoology is a large field of study that includes many specialty areas. For people who are interested in jobs working with animals, marine biology and wildlife biology are some of the most common fields to enter.
Zoologist is a broad term that refers to people who study animals. (Despite what the name suggests, it doesn't only refer to those scientists who take on zoo jobs.) And, because there are so many different species and habitats, zoologists usually pick a specific focus. For example, marine biologists study the ocean and sea creatures. They may even specialize in a certain area of marine biology, such as studying a specific species or type of habitat. Like marine biologists, wildlife biologists study animals and habitats as well, focusing on the land rather than the water.
Regardless of your area of expertise in zoology, you could expect to spend time researching issues like genetics, nutrition, and pollution. And you may even research concerns like how climate change and human development impact an animal population. The field certainly offers no shortage of options.
13. Veterinary Acupuncturist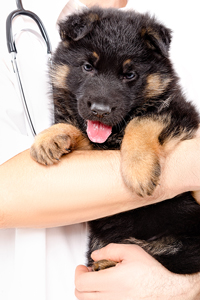 Although veterinarians enjoy some of the best high-paying animal jobs, you can advance your career even further in the field by specializing in an area like acupuncture. Animal acupuncture is a newer field of study, but it is growing as more people search for ways to treat their pets and animals more naturally. Acupuncture is an ancient Chinese treatment, and it is no surprise that animal acupuncture has been practiced for just as long.
The process involves carefully inserting needles into specific points on the animal's body to promote healing. Things that can be treated include gastrointestinal, musculoskeletal, respiratory, and skin problems. To offer those treatments, you must be a licensed veterinarian and have completed a postdoctoral program in animal acupuncture. Since acupuncture is a relatively new development in veterinary medicine, you will likely need to be prepared to travel and learn away from home. But doing so can help you take your career in animal health to the next level.
14. Veterinary Pathologist
Once you have become a licensed veterinarian, you can elevate your career even further by specializing in the field of pathology. Although veterinary pathologists do not work directly with animals, they take on vital jobs helping animals by researching and diagnosing diseases. They work in lab settings where they analyze samples and inform veterinarians of their findings so that the animals that have been tested can be treated accordingly. Veterinary pathologists may also conduct important research on preventing and treating animal diseases.
To work in the field of veterinary pathology, you will need to earn a related postdoctoral degree. Once you have completed your program, you will also need to become certified by the American College of Veterinary Pathologists. It is not the easiest path, but those motivated to follow it can enjoy excellent pay, good job prospects, and strong feelings of personal fulfillment, knowing that they are helping to detect, diagnose, and even prevent animal diseases.
15. Animal-Assisted Therapist
You might consider pursuing a career in animal-assisted therapy if you enjoy helping people as much as you love animals. Therapists treating patients for cognitive, emotional, or social condition can use animals as part of their patients' treatment. Animals can help patients feel more inspired and motivated. Using them in therapy can help promote a stronger bond between patients and their therapists.
To become an animal-assisted therapist, you typically start by choosing a specific field of education like counseling, nursing, psychology, or social work. Once you have completed your training, you would develop the additional skills needed for including animal therapy in your practice.
Your education and experience requirements — as well as your salary expectations — largely depend on your position. You will want to research your chosen career field to ensure that you select the right training program.
---
Start Working Toward a Career That You Will Love
When someone loves animals as much as you do, it makes sense to prepare for one of the careers with animals that can lead you toward being able to enjoy fulfilling and gratifying work. And depending on the career that you have in mind, you may need to take a certificate, diploma, or degree program to begin achieving your dreams. Finding schools near you is as simple as entering your zip code into our school finder tool. That's all you need to do right now to take your first step toward the career that you deserve!
---
---
* Unless otherwise noted, job growth and average yearly openings estimates are from the Bureau of Labor Statistics and are for the 2021 to 2031 period.