Hair Stylist Schools
Last Updated
Hair stylist schools can help you turn your enthusiasm for hair design into a professional beauty career.
After all, you're probably passionate about beauty culture. So it makes sense for you to pursue a hairdressing career. Whether you've been dreaming of becoming a hair stylist since childhood or have just discovered your love for the field, a hair styling school can help you join the cosmetology industry.
Depending on where you live, you may even be able to find cosmetology or hairstyling schools that focus exclusively on hair design training. You can develop the wide-ranging skills that are needed for becoming a beauty professional whom your clients will rely on. They'll turn to you to help them feel more confident, which can be highly rewarding.
So if you're ready to express your vision and creativity as a hair professional, then take this opportunity to find hair stylist schools near you. Your dream job could be right around the corner!
6 Awesome Reasons Why People Choose Hair Styling Schools
---
---
Hair Stylist Schools
Sponsored Listings
Las Vegas (Summerlin), Nevada
Cosmetology (includes hair styling in the program)
---
---
---
6 Awesome Reasons Why People Choose Hair Styling Schools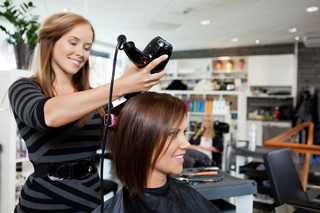 By completing hairdressing training, you're preparing to join a massive, growing industry. In fact, one report found that in 2017, the total annual revenue of the global hair care services industry was around $129 billion. And, by 2024, total annual revenue could exceed $190 billion. So the hair care services sector is showing no signs of slowing down in the near future.
A lot of potential students get excited about hair stylist training because they know that they may enjoy abundant opportunities. But that's just one of the many great reasons to become a hair stylist. Check out all six of the biggest reasons why people like you choose to attend hair stylist colleges and beauty schools.
1. Fast Hairdresser Training Programs
A traditional cosmetology program—which includes hairdresser training—can be completed in approximately one year. However, if you can attend a hair stylist school in a state that offers hair-only licensing, then you can usually finish your training more quickly. It might be possible for you to complete the education needed for hair stylist licensing in as little as six to nine months. That's a small commitment that can lead to an amazing beauty career.
2. The Wide Selection of Hair Stylist Schools
If you're wondering how to become a hair stylist, then your first step is to find a beauty or hair styling school. Luckily, there are many excellent schools to choose from. The types of programs you'll find will depend on your state of residence. Some states offer hair-only licensing, which means that you can take a program that focuses exclusively on hair. However, many states will require you to complete full cosmetology training in order to be a hair stylist.
Regardless of whether you take a complete cosmetology or hair-only program, you can expect to learn about the following subjects:
Cutting
Coloring
Design
Texture
Business management
Retailing
After you've met your state's training requirements, you can apply for your license. Then, once your licensed is approved, you can start pursuing a professional beauty career.
3. Fun & Social Work Environments
The typical hair stylist job description is probably everything that you think it would be. It often includes tasks and responsibilities such as the following:
Shampooing and conditioning hair
Giving scalp treatments
Cutting, coloring, and styling hair
Offering other hair services like perms, weaves, and deep-conditioning treatments
Advising and educating clients and recommending courses of action
Selling beauty- and hair-care-related products
Scheduling and managing appointments
Keeping current on new trends and styles
Stocking shelves and ordering inventory
Cleaning up your workstation and other areas of the salon
That said, some of the best parts of hair styling careers have little to do with job descriptions. For example, think about what happens when you're performing your work. You get to meet new people and have interesting conversations every day. And that could lead to making new friends, joining new social circles, and staying current on what's happening around your community.
An added benefit of being a hairdresser is that you get to be creative on a regular basis. Some of your clients will know exactly what they want, but many others will ask you to give them a look that suits them. So, you could have lots of opportunities to tap into your vast knowledge and use your artistic skills. And many of your clients will be grateful for that. Often, having a visit with you can brighten your client's day and put them in a better mood.
Additionally, a lot of hair stylists practice their skills on each other after hours or when they don't have clients. Those can be great times to have fun trying out new styles, cuts, and colors. You can also expand your skills by attending hair shows, seminars, and other educational events. And some of those events take place in fun locations like Las Vegas, Los Angeles, and New York City.
Getting to interact with all kinds of people, using your creativity regularly, and staying on top of evolving styles and emerging trends helps keep the job fun, fresh, and exciting.
4. Good Earning Potential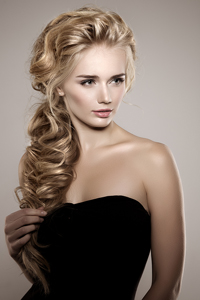 When thinking about becoming a hair stylist, salary is usually one of the top considerations for potential students. Well, you may be happy to find out that hair stylists often enjoy good earning potential. According to the Occupational Employment and Wage Statistics program, in 2021, cosmetologists, hairdressers, and hairstylists earned a median annual wage of $29,670.* However, the highest earners made over $59,070 per year.
When looking at those numbers, it's important to note that they are base earnings. Many hairdressers also earn tips and commissions. Tips can range anywhere from 10 to 25 percent or higher per service. And, along with earning commissions from the products you sell to your customers, you may also have access to free or discounted products. Additionally, some salons and spas offer bonuses to the hair stylists and cosmetologists who continually bring in regular customers and help grow the business. So you definitely have a lot of opportunities to boost your base earnings.
5. Strong Job Opportunities
The demand for professional hair care services has been growing, which may lead to a growing number of job opportunities. In fact, the Occupational Outlook Handbook (OOH) predicts that during the decade from 2021 to 2031, new cosmetology jobs could grow in number by 11 percent.* When you factor in things like existing cosmetology workers retiring or changing careers, about 93,800 total job openings could become available each year over that period.
Salons and spas are the most traditional settings for hair stylists, but many other options exist as well. For example, some people set up their own home-based shops. Others offer mobile services and travel for weddings, fashion shows, and movie and TV productions. And, if you complete a full cosmetology program, you can offer additional services related to skin and nail care, which can lead to even more employment options.
Whatever you choose to do, you could enjoy a great deal of job security since there's a high demand for cosmetologists and hair stylists across the country.
6. Great Potential for Self-Employment
A lot of cosmetologists choose to open their own businesses. In fact, according to the OOH, over 40 percent of all cosmetologists, hair stylists, and hairdressers were self-employed in 2021. So it's a great field to get into if you have an entrepreneurial spirit. You could own and operate your own salon, start a home-based business, or offer professional mobile services. And you could hire additional cosmetology professionals to assist you by offering complementary beauty services to your customers. There are many exciting possibilities to consider.
---
Get Ready for a Beautiful Future
Are you feeling motivated to go after the career of your dreams? Then act today and discover the hair stylist schools that are offering programs near you. Simply enter your zip code into the program finder below to take the first step toward a brilliant future!
---
---
* Unless otherwise noted, salary information is based on May 2021 data from the Occupational Employment and Wage Statistics (OEWS) program. Job growth and average yearly openings estimates are from the Bureau of Labor Statistics and are for the 2021 to 2031 period.