20 Fun Jobs That Pay Well
Last Updated October 27, 2022
Say goodbye to doing boring work! Fun jobs that pay well do exist, and many of them even pay well over $40K. You can find them in a huge variety of career sectors, making it easy to match your preferred fun factors to your unique personality. Plus, there are plenty of fun careers that you can train for at a vocational or trade school, which can provide streamlined, focused, and flexible program options near you and online.
Work does not have to be tedious. There are fun and fulfilling careers that can help you avoid the stress resulting from job dissatisfaction and find truly enjoyable work.
Check out the complete list of 20 fun, high-paying jobs. Many of the fun jobs featured below are practical, and some expect high job growth. That makes it more realistic for you to land a job that you will love.
---
Salary estimates are based on data from the Occupational Employment and Wage Statistics (OEWS) program.*
---
Top 20 Fun Jobs That Pay Well
---
Advertising & Marketing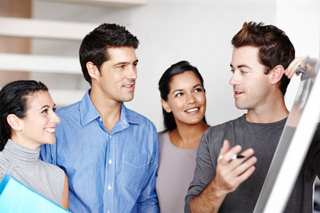 Align your business and creative skills with a career in advertising and marketing. Businesses rely on advertising and marketing professionals to help sell their products and services through numerous avenues. You could be doing just about anything from managing promotional campaigns to running social media accounts.
1. Advertising or Marketing Manager
As an advertising or marketing manager, you could be handling the many aspects of a company's advertising and promotional campaigns. Marketing managers tend to have a broader focus on branding and public relations, which can mean fun brainstorming, networking, and more. Career opportunities exist in many settings, from advertising agencies to construction firms.
Fun factors: Interact with interesting people, brainstorm creative ideas, and manage fun campaigns.
Median annual salary: $133,380 (for advertising, promotions, and marketing managers)
2. Search Marketing (SEO) & Social Media Professional
The Internet's explosive growth has created a wide range of search marketing and social media jobs over recent years. Three of the more common titles you could come across are search marketing strategist, social media specialist, and social media strategist. Each position comes with a varying degree of responsibility for a company's online presence. Depending on your role, you could be responsible for promoting websites, taking care of social media accounts, or developing online marketing strategies.
Fun factors: Spend your days online and on social media, and earn a good living doing it.
Median annual salary: $63,920 (for marketing specialists)
---
Animal Sciences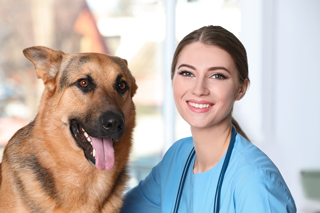 If you are a lover of animals, then you may enjoy a career in this field. From assisting veterinarians to providing direct care for animals in need, you can likely find a career in line with your interests.
3. Veterinary Technician
A veterinary technician provides essential support services to veterinarians. It can be ideal for animal lovers who want a short education to quickly get back into the workforce. As a vet tech, you could spend your time giving medications, assisting with surgeries, providing emergency care, collecting samples, performing lab tests, and much more.
Fun factors: Care for and bond with all kinds of different animals every day and pick from various great places to work, like shelters, animal hospitals, and private clinics.
Median annual salary: $36,850
---
Automotive Technology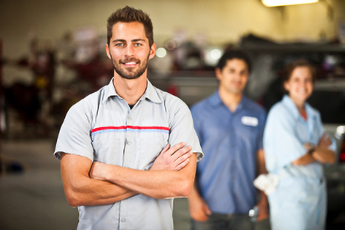 There are a number of high-paying, fun careers available in the automotive sector. Here are some you might want to consider:
4. NASCAR Mechanic
If you're into a more high-paced work environment, you could train to become an essential member of a racer's pit crew, taking care of many things, including engine mechanics, fabrication, and welding.
Since every NASCAR race car and truck has a full-time professional team behind it, there could be multiple opportunities for determined mechanics.
Fun factors: Join the thrilling racing industry, attend events at some of the best racetracks in the country, and work with professional NASCAR drivers.
Median annual salary: $59,758 (for auto mechanics in the spectator sports industry)
5. Street Rod and Custom Fabricator
Street rod fabricators don't just build vehicles; they create high-performance pieces of custom art. Using a combination of hand tools and specialized equipment, you will fabricate sheet metal, construct bodies, and work with various components like chop tops and suicide doors. You also finish with custom paint and special effects to create beautiful hot rods. You could find career opportunities within existing shops or establish your own custom hot rod shop.
Fun factors: Use your hands and custom tools and machinery to build some of the coolest and most eye-catching street rods out there.
Median annual salary: $60,694 (for auto body and related repairers in the spectator sports industry)
---
Aviation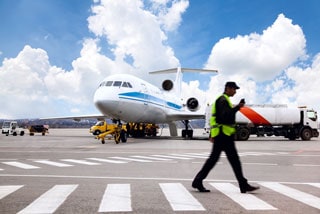 Many people who work in aviation have known that it was the vocational field for them from an early age. Well, you can transform your fascination into a fun career that pays well. Here are two aviation occupations that may interest you:
6. Aircraft Mechanic
Airplane mechanics help thousands, if not millions, of travelers arrive at their destinations safely. Depending on your education level, you could be inspecting, supervising, and performing airplane maintenance on both private and commercial aircraft. And some mechanics even have opportunities to travel to foreign countries to oversee the mechanical work completed at international shops.
Fun factors: Potential for travel to cool locations for work and free or discounted travel benefits for you and your family and friends.
Median annual salary: $65,380
---
Beauty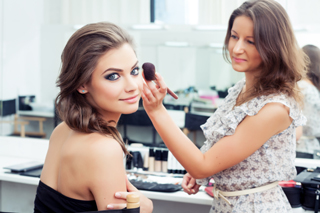 Those interested in fun, well-paying jobs in beauty are usually quite passionate about the field. They enjoy interacting with people of all different backgrounds and enjoy hands-on work where they can immediately see the results. If this sounds like you, then consider a fun beauty career such as the following:
7. Makeup Artist
A makeup artist can work in many settings. You could be employed at a salon or beauty shop where you apply makeup to brides, wedding parties, and others preparing for big events. Or you could work in theatrical and performing arts establishments where you get actors and actresses ready for their shows. You may even be able to find opportunities to apply makeup to models and celebrities. There are a lot of possibilities as a professional makeup artist.
Fun factors: Play and experiment with makeup every day, get incredible makeup discounts, travel to awesome places, gain access to glamorous events and venues, and meet a variety of interesting, and possibly famous, people.
Median annual salary: $134,750 (for those in the theatrical industry)
---
Business Management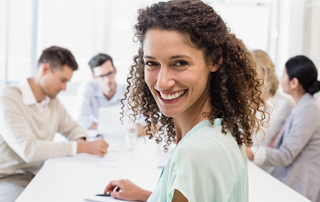 If you possess a strong business sense and are highly motivated and organized, you may want to consider a fun, high-paying career in business management. Check out one of the interesting options that you could pursue:
8. Event Planner
The life of an event planner is never dull. You can quickly go from one event to the next or even plan multiple events at one time. You could work as a private consultant or secure a position within a business like a hotel or convention center. One day you could be handling every fine detail of a lavish wedding, and the next day you could be setting up a professional business conference. Event planning can be a creative, stimulating, and rewarding career field.
Fun factors: Be in charge of setting up all kinds of events, some of which could be well-known or prestigious, like rock concerts or fashion galas. And you might have the opportunity to travel and even meet famous people.
Median annual salary: $49,470
---
Communications & Media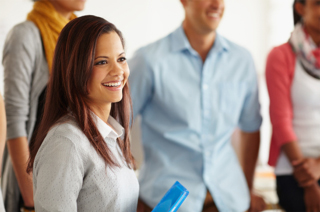 A communications career is an ideal choice for those who are natural writers and storytellers. You actually might find that the communications field offers interesting, easy jobs. We say easy because you could secure a position that depends upon your natural-born talents. If you can picture yourself working in radio, TV, or online and print media, then consider these fun, well-paying careers:
9. Writer
Writers often enjoy having a variety of opportunities to do what they love most. With a knack for the written word, you could find yourself writing for advertisements, scripts, stories, articles, books, and other fun projects. You may even want to pursue a more creative career in freelancing, where there are opportunities in journalism, blogging, copywriting, travel writing, and many other specialty areas.
Fun factors: Freedom. Create a flexible work schedule, pursue writing jobs that truly appeal to you, express your stories in interesting and creative ways. You can also travel to cool locations if you work in journalism or travel writing.
Median annual salary: $69,510
10. Radio and Television Announcer
Radio and TV announcers research, prepare, and present information on a wide variety of topics. You get to stay in tune with current events related to news, music, entertainment, sports, and other aspects of modern culture. You may have a broad position covering multiple topics, or you could work in a position where you focus on a specific area like politics or entertainment. You could be interviewing guests, providing commentary, operating studio equipment, updating social media accounts, creating and selecting program content, and lots more.
Fun factors: Experience the adrenaline rush from being live on-air, meet celebrities and politicians, and enjoy perks like free food and event tickets.
Median annual salary: $37,502
---
Computers & Technology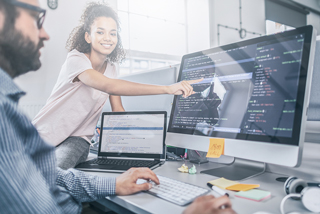 Not everyone would consider an IT career fun. But then again, not everyone is as fascinated with computers and technology as you are. You probably can't picture yourself working in any other field. And that's why one of these fun jobs that pay well might be what you're looking for.
11. Ethical Hacker
Do people really get paid to hack? Well, yes, they do. As technology grows and society becomes increasingly reliant on it, the field of ethical hacking is growing significantly. Ethical hackers are hired to test computer and network systems to identify security vulnerabilities. Many people love the thrill that comes from staying a step ahead of computer criminals. And positions exist in all kinds of settings, from government departments and banks to vehicle manufacturers and home security companies.
Fun factors: Get paid good money to legally hack into computer systems and gain the upper hand over unethical hackers.
Median annual salary: $102,600 (for information security analysts)
---
Creative Design & Media Arts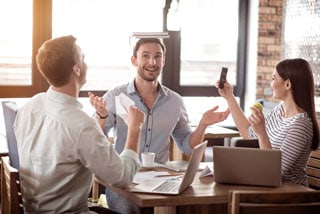 Maybe you consider yourself a creative visionary. Can you picture using modern technology in an enjoyable artistic field? Think of the possibilities: designing graphics, creating appealing indoor spaces, generating animations, building video games, developing websites, capturing moments in time, composing narratives, or creating soundtracks. Many fun, good-paying jobs exist in this category.
12. Film and Video Editor
Film and video editors take on critical, behind-the-scenes roles in video production. They edit raw footage with their artistic and creative eye to capture on-screen personalities and tell a story. Editors work with directors, producers, and other film staff to ensure that production goals are achieved. With the use of computer software and digital equipment, you can produce a high-quality finished product.
Fun factors: Be the artistic and creative brain behind professional video productions, work with well-known professionals and celebrities, and enjoy admiration and respect from the people around you.
Median annual salary: $62,680
13. Multimedia Artist and Animator
Multimedia artistry/animation is another field where technology and creative art come together. As a multimedia artist and animator, you could find yourself creating computer animation and special effects to be used in TV shows, commercials, movies, music videos, websites, video games, and other media projects.
Fun factors: Immerse yourself in the imaginative and constantly-evolving world of animation. And earn a great paycheck doing it.
Median annual salary: $78,790 (for special effects artists and animators)
14. Video Game Designer
This field is where your creativity can align with your design and computer programming abilities. A great deal of artistry goes into creating today's video games. You essentially create a fantasy world with a storyline, characters, music, and different scenes. And many video game companies are known for their laid-back, fun work environments. Plus, you may even have the opportunity to specialize in a specific area such as coding, creating sound effects, designing graphics, or writing narratives.
Fun factors: Design fun and enthralling games that bring fantasy to life and help people relax, unwind, and be entertained.
Median annual salary: $78,790 (for special effects artists and animators)
15. Interior Designer
An interior designer has a flair for creative design backed with a strong business sense. You do much more than make spaces attractive to the eye. You also make sure they are safe, functional, and comfortable. Work with your clients, whether homeowners or businesses, to create appealing rooms and spaces that meet their unique needs.
Fun factors: Spend other people's money to bring your best, brightest, and boldest decorating ideas to life. Work with people, products, and spaces that you never imagined possible.
Median annual salary: $60,340
16. Photographer
Photographers can capture memories and make them last for generations. Although job opportunities exist in several sectors, many photographers prefer the flexibility and creativity of freelance work or self-employment. You can find opportunities in private and corporate settings. You may even choose to focus on a specialty where you strictly photograph people, events, landscapes, or products.
Fun factors: Take photographs of incredible people and places, fulfill your creative dreams, edit your images as far as your imagination will take you, work alongside other artistic professionals and, if you go into business for yourself, enjoy the freedom of building your business into whatever you want it to be.
Median annual salary: $38,950
---
Criminal Justice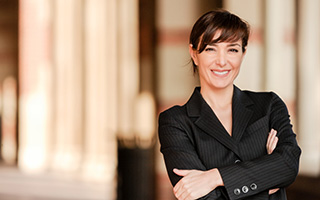 Do you find the legal field fascinating? Can you picture yourself working in a career where you help solve crimes, catch criminals, or stop terrorists? Sounds exciting, doesn't it?
17. Forensic Science Technician
A career in forensic science or criminal investigations is an exciting option for those intrigued by the law and who want to engage in work that helps catch criminals. You could be one of the first people called to a crime scene to collect evidence, which is taken back to a lab for analysis. You would likely focus on either crime scene investigation or lab analysis rather than being involved in both. At the conclusion of your investigation, you would typically prepare a written report. You may be required to testify at a trial.
Fun factors: Enjoy the thrill of working crime scenes and play a relatively low-risk role in catching criminals.
Median annual salary: $61,930
18. Private Detective
A private detective is also referred to as a private eye, PI, or private investigator. Individuals and organizations like corporations, insurance agencies, and law firms hire private detectives. As a PI, you could be responsible for fact-finding and analyzing information about financial, legal, and personal matters. On any given day, your actions could involve interviewing people, tracking a missing person, investigating a computer crime or fraudulent insurance claim, or checking a person's background. Simply put, you could carry out many activities that make your days interesting and varied.
Fun factors: Use your natural investigative skills every day to help catch criminals, liars, and cheaters. You also get to work independently and follow your hunches.
Median annual salary: $59,380
---
Environmental Sciences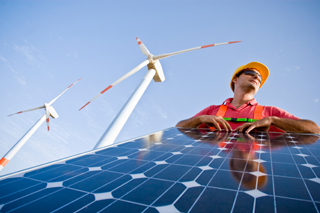 Are you passionate about protecting the environment and the planet's resources? There are several high-paying, exhilarating, and fun jobs available for people just like you.
19. Wind Energy Technician
Becoming a wind energy or wind turbine technician can enable you to play an important role in the growing renewable energy industry. Enjoy the fulfillment that comes from a green career where you work with electrical and mechanical wind equipment to turn the wind's energy into power.
Fun factors: Work with massive structures and leading-edge green energy technology every day. Enjoy some of the best views imaginable if you are working high-up on a turbine.
Median annual salary: $56,260
---
Food & Beverage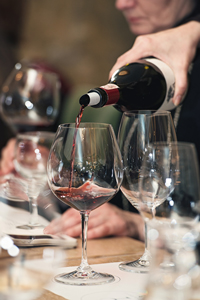 Are you passionate about the culinary and/or wine industries? There are plenty of fun opportunities conceptualizing, creating, critiquing, and serving high-quality food and drinks to people looking for an entertaining, social, or relaxing time.
20. Wine Specialist
Many fun, well-paying jobs are available in the wine industry. Here are two of the most appealing career possibilities:
Winemaker: Winemaking is the ultimate career for a wine lover. Just imagine being a key player in the entire wine production process where you can create a beautifully crafted bottle of wine.
Fun factors: Immerse yourself in vineyards and wine cellars, and create exquisite wines. You might also attend posh events and get to know famous people who love your products.
Median annual salary: $46,030
Sommelier: Imagine being an expert at judging and selecting wines. Begin developing your talents with a sommelier training program, and discover where it might lead.
Fun factors: Get paid to taste wine! Work in upscale restaurants, attend prestigious events, and have people seek your opinion about whether a wine is worthy of drinking.
Median annual salary: $26,000
---
4 Frequently Asked Questions About Fun Jobs
1. What Is the Best Profession in the World for Having Fun?
In terms of what's most enjoyable, the best profession in the world is whatever lets you make a living by doing at least one of your favorite activities. So the answer is different for everyone. Simply put, everybody has different interests and, therefore, different opinions on what constitutes the ultimate fun career. However, there are some common factors in what makes a job fun: diverse work and achievable challenges.
So, what are your biggest interests? Chances are, you can pursue a career that incorporates one or more of them in some way. For example, as mentioned above, marketing, software development, and video game design are fun jobs that pay well if you have a strong interest in using your creativity to promote or produce things that are useful or entertaining. And veterinary technology and aviation maintenance are good careers if you love caring for animals or doing fascinating mechanical work.
2. Do College Majors Matter When It Comes to Getting a Fun Job?
It depends. College majors do matter if the career you want has very specific educational requirements. For instance, to get a fun job as an architect, you will first need to major in architecture. (Otherwise, you can't get a license to practice that profession.) However, for most careers, you have a lot more leeway in choosing your college major. You may simply need an associate or bachelor's degree—in anything. That said, individual employers will always have their own preferences when it comes to college majors. Because many occupations have licensing or certification requirements, you may need to take specific courses, even if they aren't part of your major.
Some of today's most enjoyable occupations only need two years or less of college or trade school education. The highest-paying jobs that don't require a degree at the bachelor's level include occupations like dental hygiene, medical ultrasound technology, web development, computer animation, and the electrical trade.
3. The Wine Industry Looks Fun, But Is It Really a Good Option?
Yes, it certainly can be, especially if you're one of the professionals in charge of growing the grapes or making the wine. Wine specialists often reap a lot of enjoyment from their jobs. After all, think about what they do: A viticulturist does highly satisfying work by using science to oversee soil preparation and the planting, growing, and harvesting of high-quality grapes. And winemakers (often called enologists) get to use science to transform ripe grapes into great-tasting wine. In some wineries, those two roles even overlap.
4. Creating Art Is Fun. What Are the Best Jobs for Artists?
Making a good living as an artist is possible. Whether you are a self-employed artist or work for an employer, your options may only be limited by your creativity and imagination. Illustration, painting, sculpture, ceramics, tattoo design, glassblowing, and jewelry making are some art careers that most people know about. But if you have artistic talent, you can pursue all kinds of other career paths.
For example, art directing, college-level teaching, multimedia artistry, and graphic design are good jobs that pay well if you have the right creative skills. Check out the median salaries to see why these are some of the best jobs for artists:
Art directors: $100,890
Multimedia artists and animators: $78,790
Post-secondary art teachers: $75,940
Graphic designers: $50,710
---
How to Start Building on Your Talents
Are you feeling inspired after learning about the possibilities for fun jobs that pay well? Vocational and trade school programs can provide a direct and focused path to learning the career you want. Education for rewarding and fun jobs can also be found in colleges and through life experience or mentorship.
---
---
* Unless otherwise noted, salary information is based on May 2021 data from the Occupational Employment and Wage Statistics (OEWS) program.