Esthetics and Skin Care Schools
Last Updated
Transform your love of beauty into a career with advantages.
Skin care schools offer educational paths that can move you toward a professional life that's full of fun and surprising benefits. And their programs are often fast, focused, and hands-on so that you attain as many marketable abilities as possible before you graduate.
Just picture what it might feel like to be a skilled esthetician as you help people achieve beautiful, clear, more youthful-looking skin. By getting formal skin care training, you'll open up new kinds of opportunities that could have a large and positive impact on your future well-being and satisfaction. Plus, you'll get the chance to learn alongside other aspiring estheticians who share your passion for adding more confidence and vibrancy to people's lives through revitalizing beauty treatments.
So explore the skin care school options below, or find a program offered in your area by putting your zip code into the simple school locator right now!
5 Great Reasons to Get Skin Care Training
---
---
Skin Care Schools
Sponsored Listings
Brownsville, Texas
San Antonio, Texas
Cosmetology Operator (includes skin care in the program)
---
---
5 Great Reasons to Get Skin Care Training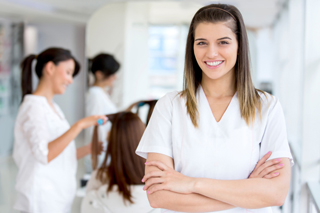 Becoming a fully trained beauty professional can bring all kinds of rewards. So, whether you go after a certificate, diploma, or degree, the potential benefits of being a credentialed skin care specialist are worth keeping in mind. Here are five good reasons to consider college-level training in this field:
1. Estheticians are in demand.
As an esthetician, your services could be in big demand. Employment of skin care specialists is expected to grow significantly—14 percent between 2016 and 2026, which is above the national average for all occupations. Simply put, the future looks very bright for those with the right qualifications.
2. You can become your own boss.
Many estheticians run their own businesses. So you may get the opportunity to set your own personalized hours of operation and work when it's convenient for you. Plus, some people in this field run mini spas or salons right from the comfort of their own homes.
3. The pay can be very good.
Skin care professionals are often paid well. So, in the right situation, it's possible to make a comfortable living even if you only choose to work part-time hours. In 2018, the average hourly wage of a skin care specialist in the U.S. was $17.48. And some estheticians made more than $59,790 a year.
4. You love everything to do with beauty.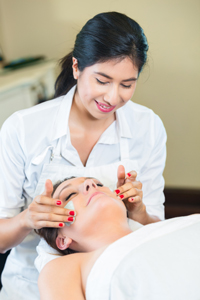 You may already consider yourself a beauty expert, so why not make it official? It can allow you to prosper from doing what you truly love. Think about it: As an esthetician, you'll get to assess the skin conditions of clients, discuss treatment options, and provide interesting and helpful services that, depending on your qualifications, can range from wax treatments to chemical peels to laser treatments and more.
Plus, if you choose to take a program at a cosmetology school, you can learn about skin care, plus a wide variety of other topics related to the beauty industry.
5. People will appreciate your skills.
When you make people look and feel amazing, they often reward you with genuine gratitude and respect. Can you picture being able to wake up each day knowing that you get to transform the looks and lives of appreciative men and women as a highly qualified esthetician?
Begin Your Future in Skin Care Today
Why wait to move forward? You can find a skin care school very easily by entering your zip code into the search tool on this page. Start your journey in esthetics right now!
---