---
---
4 of the Best Reasons to Work in Hospitality Management
1. Career Security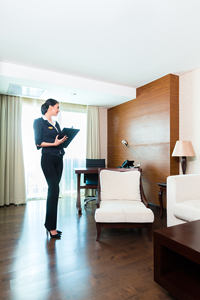 Even during slow economies, accommodations and food service managers are often in demand. People love dining out and staying overnight in other places—both close to home and far away. And the numbers prove it. For instance, the U.S. restaurant industry generates over $782 billion in sales each year. Plus, according to the American Hotel & Lodging Association, America's hotel and lodging industry generates more than $160 billion while employing nearly 1.9 million people. And did you know that the U.S. receives the most spending by international travelers—more than double what second-ranked Spain receives? It's true. In addition, the U.S. resort and timeshare industry accounts for many billions of dollars in annual revenue at home and around the world.
2. Financial Rewards
In 2017, lodging managers within the U.S. earned a median salary of $51,800, and food service managers earned $52,030. But many hospitality management pros made a lot more than that. In fact, the top earners in both categories made more than $90,000. So, depending on your location and the experience you accumulate, your training could empower you to establish a career with a very lucrative future.
3. Creative Outlets
People who work in areas like restaurant management, cruise ship management, and hotel management often appreciate the opportunity to use their imaginations to create memorable experiences for their guests. That's why a career in hospitality management might be well-suited to you if you enjoy coming up with creative solutions and inventive ways to add joy to the lives of others.
4. Opportunities to Meet Fascinating People
Professionals in this industry often have the chance to interact with people from different backgrounds and countries every day. From international travelers to celebrities, the interesting guests you might serve come from all walks of life.
Look Into Hospitality Management Training Today
Move ahead with your goal of working in this diverse and fulfilling industry right now. By asking one of these hospitality management schools to send you detailed information, you can get a lot closer to realizing some of your most important goals!
---