27 Student Discounts That Can Save You Money in 2020
By Crystal Lee
| Last Updated June 23, 2020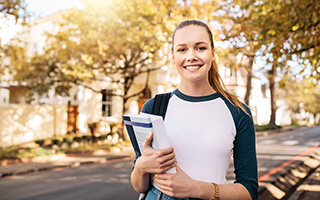 College student discounts are one of the privileges that come with spending thousands of dollars on higher education. You may not have much cash to throw around, but at least you won't have to pay full price for a lot of the stuff you need or want to buy.
Collectively, college students (and their families) have a lot of consumer-spending power. According to the National Retail Federation, yearly back-to-college spending totals over $54 billion. Plenty of companies tap into that market by offering special deals to help you stretch your budget (and turn you into a loyal customer).
So your student status can definitely be an advantage, but you have to know how to use it. A good way to start is by checking your college website—many schools post lists of student discounts in their area. And keep in mind that many places will offer student discounts that aren't widely advertised but are available if you ask. For example, many national restaurant chains let franchise owners decide on student deals, so it doesn't hurt to check.
We've identified a few discount cards and websites that can save you money in multiple places in 2020. We've also compiled a list of student discounts broken down by category, so you can easily find discounts that apply to the stuff you really need (or just really want).
This article contains affiliate links. We are compensated with a small commission, at no extra cost to you, for sales made through the links.
---
General Discount Cards and Websites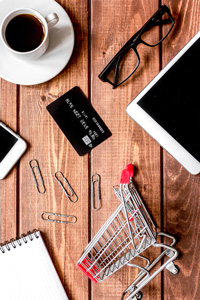 Getting a student discount can be as simple as flashing a card or entering an online code. Some of these discount cards and websites have a fee, but one is free, and all of them offer savings that can help you keep more cash in your pocket.
If you sign up with Amazon Student using a valid ".edu" email address, you get a free six-month trial of Prime that includes two-day shipping (at no extra charge), unlimited photo storage, unlimited streaming of movies and TV shows, and 20 percent off new-release or pre-order video games. (That's a good deal, especially since there is no student discount for Netflix.) Note, though, that you don't have access to unlimited music streaming during that free trial. Once the trial period ends, you get a 50-percent discount on a Prime membership with full streaming benefits.
Students can take advantage of Prime shipping on college-related items in a huge variety of categories. Here are a few examples:
For an annual fee of $30, students over the age of 16 can purchase a Student Advantage card that offers savings on travel, books, clothing, food, and more. Dozens of companies offer discounts through the card. Here are a few examples of the savings you could get:
Target.com: $7 off a purchase of $70 or more
Dormify: 15 percent off
Lyft: your first ride free (up to $20)
AMC Theatres: up to 40 percent off pre-paid tickets
Choice Hotels International: 15 percent off participating hotels
eBags.com: 20 percent off plus free shipping on orders over $49
FootLocker.com: 15 percent off purchases over $75
Greyhound: 10 percent off fares
Cinemark Cinemas: 25 percent off pre-paid tickets
UNiDAYS is an online service that verifies your student status so participating retailers can generate a unique coupon code that gives you an online discount. Companies like Dell, Vimeo, Ray-Ban, and ASOS all offer discounts through the service. To get a student discount at ASOS, for instance, you simply enter your UNiDAYS code into the "Promo Code or Student Code" box at the ASOS online checkout, and you will save 10 percent.
UNiDAYS is free to join and easy to use; they have a free app that gives you instant access to student discounts, and once you sign up for the newsletter you get deals sent directly to your inbox.
The following are some examples of discounts available with a UNiDAYS code:
Under Armour: 10 percent off
Express: 15 percent off
PUMA: 10 percent off
UNIF: 15 percent off
Lorna Jane: 10 percent off
ModCloth: 25 percent off
Shopbop: 10 percent off
The ISIC is an internationally recognized student identity card that gives you access to discounts on food, accommodation, travel, and more. It costs $20 per year and is available to full-time students; you'll need a digital photo, a scanned copy of something that proves your full-time student status (such as an enrollment letter or student card), as well as a scanned copy of your ID (such as a driver's license or passport). You can purchase the card online or at an STA Travel store.
Check out these examples of available discounts:
Museum of Contemporary Art in Chicago: Two-for-one admission
SuperShuttle: 10 percent off shared-ride airport shuttle services
Big Bus Tours San Francisco: Up to 13 percent off
Columbia Sportswear: 15 percent off
Newseum in Washington, D.C.: Up to 19 percent off admission
Advantage Rent a Car: 15 percent off rentals
Apple: Up to 10 percent off MacBooks and iPads
---
Student Discounts on Clothing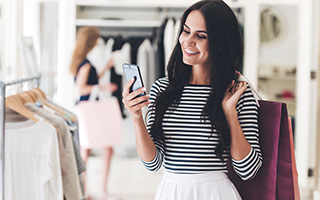 Being fashionable doesn't have to mean paying full price for new threads. A number of clothing retailers offer special deals for students to help them get the outfits they need for less. In addition to the retailers who offer discounts through the UNiDAYS service, you can find deals for the following:
1. Goodwill
At some locations, your student ID will get you 10 to 20 percent off all purchases on a designated day of the week.
College students can get a one-time promo code to get 10 percent off online orders. (You can apply for a new promo code every 30 days.)
Present your student ID in store to receive a 15-percent discount on full-price items at Banana Republic locations across the U.S. The discount does not apply to bags or shoes and cannot be redeemed online.
You get 15 percent off online and in-store purchases when you present your school ID.
Students are eligible for a 10-percent discount.
---
Student Discounts on Technology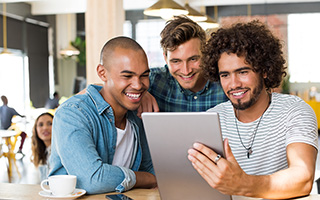 One report found that, collectively, college students spend $18 billion on this category.1 Fortunately, there are plenty of ways to get discounted prices on technology.
If you create a My Best Buy account and sign up for student deals, you will receive emails with coupon codes that can be redeemed either online or in store. Some Best Buy student discounts even apply to sale prices. You don't have to be a full-time student to get the discounts, but you do have to be enrolled in at least one course at the post-secondary level.
Full- and part-time students can save 10 percent on select devices such as Surface. Students with a valid school email address can also get a free subscription to Office 365 for Education, which includes Word, Excel, PowerPoint, OneNote, and Microsoft Teams.
Apple offers special pricing to higher education students and their parents, but there are limits on the number of devices that can be purchased at those rates in a single year.
Computer science and engineering students can take advantage of free software tools from Intel, including Parallel Studio XE, Distribution for Python, and System Studio. You have to be enrolled at a degree-granting institution and have a school email address to qualify for this offer. As well, the free products are for educational use only. (You must not be paid for software development work done with these tools.)
Get 5 percent off select notebooks and tablet PCs ordered by phone.
This password management service offers college students six months of Premium membership (which includes two-factor authentication and fingerprint ID) for free. You need to submit a valid ".edu" email address to get the discount.
Students can get 5 percent off. To receive the discount, you must verify your identity through ID.me when you check out online.
Students can save 60 percent on the monthly rate for the Creative Cloud apps package (though you must commit to a full year), which gives you access to the latest versions of every Adobe tool, including Photoshop CC and Illustrator CC. You need to provide proof of eligibility to get the discount; if you purchase the package online and enter a valid school-issued email address, you will be instantly verified.
A 40-percent discount on Ableton's music production software is available to full- and part-time students in any discipline.
---
Student Discounts on Entertainment
All work and no play makes for a dull college experience, so it's a good thing lots of discounts are available for the kind of fun experiences students crave. In addition to the entertainment-related discounts available with an ISIC card, you can score deals on the following:
The Spotify Premium student discount allows qualifying students to have a free three-month trial. When the trial ends, students can get a combined subscription to Spotify Premium, Hulu, and SHOWTIME for just $4.99 a month (which is a savings of up to $21.98). You can reapply three times, meaning you can get a total of four years of Spotify Premium at the discounted rate. Note that if you don't reapply for the student discount, and you don't cancel, you will be automatically subscribed at the full price.
Students in degree-granting colleges or universities can enjoy Apple Music (together with Apple TV+) for $4.99 per month (a 50-percent discount) for up to 48 months; those months don't have to be all in a row. Apple uses UNiDAYS to verify that you are a student, so you will have to provide a ".edu" email address for validation. If your 48 months are up or if UNiDAYS finds that you are no longer a student, you will automatically be enrolled as an individual member at the regular price.
At select Cinemark theatres across the U.S., showing a valid student ID at the box office will get you special discounts. Days, times, and other restrictions vary by location.
Many teams offer special pricing for students. For instance, the Chicago Cubs have a select number of college discount games that allow students to get reduced-price tickets to home games at Wrigley Field. Boston also has a special program where students with a valid college ID get tickets for games at Fenway Park for only $9.
5. Museums and cultural centers
Plenty of museums across the country offer discounted admission for students. At the Museum of Modern Art in Manhattan, for example, full-time students from some New York-area colleges and universities actually get in for free. Here are some other museums and cultural centers that offer special rates for students:
---
Student Discounts on Travel and Transportation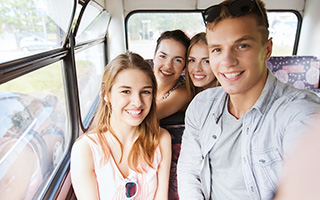 Getting from point A to point B doesn't have to be an expensive hassle. Whether you're traveling by car, bus, or train, you can find student discounts to make the ride a little cheaper.
1. Public transit
Many cities (such as San Diego, Minneapolis, Miami, and Atlanta) offer discounted transit passes to college students, so it pays to find out if that's the case where you are.
College students can get 20 percent off local moves and 15 percent off one-way moves by booking online using the discount code TRUKU. Note that taxes are extra, and there may be a surcharge for renters under age 24.
The GM College Discount program offers discounts and financing deals to current students and those who have graduated within the last two years. You can purchase or lease up to two vehicles per calendar year under the program. However, not all dealers participate.
Students get 10 percent off all truck rentals. Penske also offers free unlimited miles on one-way rentals and does not have a surcharge for renters between 18 and 23 years old. You'll need to provide student ID or proof of enrollment when you pick up the truck in order to get the discount.
---
Student Discounts on Insurance
Maintaining a set of wheels can be a huge expense for students. The good news is that most auto insurance providers offer discounts to full-time students with solid academic records. AllState, State Farm, and Travelers Insurance all offer discounts to students who meet certain standards.
---