34+ of the Best Apps for College Students in 2023
By Publisher
| Last Updated February 16, 2023
The best apps for college students are the ones that can simplify your life and make your time in school more enjoyable. Your mobile device could become one of your most-used school supplies. There are apps that can help you meet your deadlines, study more efficiently, stay connected to the people who matter most, and manage many aspects of your college experience.
Many college apps are free or affordable, which is great news for a student on a budget. When considering which apps to add to your mobile device, check first to see if your college, university, or trade school has its own app. Depending on the capabilities of your school's app, you may be able to access calendars, courses, events, and other important information that keeps you more connected to your campus or online program.
Like most college students, you've probably already downloaded quite a few popular apps. They might include social networking and entertainment apps, but apps are also available to help you elevate your college game.
Check out apps that can help you with:
The apps and prices listed below are current as of February 2023. Pricing and availability are subject to change at any time. We also recommend reading the user agreements before downloading any apps.
This article contains affiliate links. We are compensated with a small commission, at no extra cost to you, for sales made through the links.
---
College Apps for Studying and Completing Assignments
Apps have changed the way college students learn, study, and complete their homework. You can find incredible apps that may revolutionize your learning experience. Creating your own custom flashcards, renting textbooks, and finding study guides for almost any subject you can imagine are just a few things you can do with the apps below.
Easily store and organize your class schedule, study assignments, exam times, and more. This digital planner makes it simple to set reminders for important tasks and upcoming events.
Price: Free
Available on: Android and iOS
Save money with one of the best college student apps that lets you rent or buy textbooks for a fraction of the price. You can also get assistance completing your homework, and access live tutors, textbook guides, flashcards, and more.
Price: Free to download, but requires in-app purchases
Available on: Android and iOS
Never be left searching for the perfect word or wondering what a certain word means. Now you can have access to an entire dictionary on your hand-held device. Several different dictionary apps are available, so compare them and find the one that offers the best user interface and features that you prefer.
Price: Free (upgrades and in-app purchases available)
Available on: Android and iOS
Learning another language has never been easier. You can learn how to speak, read, and write other languages through a fun and easy-to-use app that turns learning into a game.
Price: Free (in-app purchases available)
Available on: Android and iOS
Notability allows users to take notes, draw sketches, annotate PDFs, and record audio. It is an excellent tool for creating, organizing, and sharing digital documents. It has become popular among students, teachers, and professionals. You can use your keyboard or your apple pencil.
Price: Free (upgraded plans available)
Available on: iOS
Gain mobile access to popular software programs like Word, Excel, PowerPoint, and other Microsoft Office products that you use. With a 365 subscription, you can store your documents in the cloud and access them from any device.
Price: Free to download; requires Office 365 subscription
Available on: Android and iOS
Ditch the stand-alone scientific calculator and complete any work from your mobile device. This app looks and operates like the real thing. And you can take screenshots of your calculations for quick reference at a later date.
Price: Free
Available on: Android and iOS
Use this app to strengthen your writing and communication skills. Grammarly is easy to navigate and uses cutting-edge technology to help you identify repetitive language, spelling mistakes, punctuation, and more. It even suggests replacements for you to use.
Price: Free (subscriptions available)
Available on: Android and iOS
Work to become a master in what you are studying with Quizlet. This app is easy to use and can help you memorize facts faster with flashcard tests. You can use this app to create flashcards or browse a library of more than 500 million sets created by teachers and students.
Price: Free (in-app purchases available)
Available on: Android and iOS
Otter is an AI-powered app that assists in transcribing audio and video recordings. It provides accuracy and convenience, allowing users to easily search and share their recordings without needing to transcribe them manually.
Price: Free (in-app purchases available)
Available on: Android and iOS
---
College Apps for Managing Your Time and Staying Organized
Keeping track of life's day-to-day details can be a tall order for anybody. But when you throw time into the mix, things get extra challenging, especially for busy college students. Thankfully, many great apps are available to make everything a little more manageable.
1Password is a password manager designed to help individuals securely manage their passwords and personal data. It provides a single place to store and access your confidential information, including usernames, passwords, credit cards, notes, and more.
Price: $2.99 per month billed annually
Available on: Android and iOS
Start using one of the convenient website bookmarking apps to keep track of the many articles you want to read later. You can read items online or offline in a mobile-optimized view. Your content is easy to organize and sort, and you can access it from any device. Plus, text-to-speech technology means you can simply listen to it if you prefer.
Price: Free
Available on: Android and iOS
myHomework Student Planner helps students keep track of assignments, exams, classes, and more. It also has a feature that can be used to create and manage a study schedule. Additionally, it syncs with Google Calendar, making it easy to stay on top of due dates and upcoming events.
Price: Free (offers in-app purchases)
Available on: Android and iOS
Google Drive is a cloud storage and file synchronization service. It allows users to store files and folders in the cloud, and share and synchronize files across multiple devices.
Price: 15 GB free (upgrades available)
Available on: Android and iOS
Freedom is designed to help college students focus on their studies by blocking time-wasting websites, apps, and notifications to increase productivity and reduce distractions.
Price: $2.50 per month
Available on: Android and iOS
Turn your mobile device into a portable scanner. You can take a picture of anything and turn it into a shareable PDF that you can email or send to other storage apps like Dropbox or Google Drive. Plus, it even recognizes text automatically.
Price: Free to download (in-app purchases available)
Available on: Android and iOS
Use the ultimate to-do list app to keep your busy life on track. You can manage all your tasks, even if you're offline. You can schedule deadlines and create sub-tasks and sub-projects to keep everything flowing smoothly. The app even lets you share tasks and projects with others and track your productivity.
Price: Free to download (in-app purchases available)
Available on: Android and iOS
---
Best Apps for Handling Your Finances
For many college students, managing their finances is a top concern. Various safe and secure apps can help you plan a budget, pay your bills, and live within your means. Check out the following favorites of many students just like you.
Use one of the simplest budgeting apps on the market to view a snapshot of how much money you have available for spending. With PocketGuard, you can easily see what's left over (by the day, week, or month) after addressing necessities like bills and savings contributions.
Price: Free
Available on: Android and iOS
Easily manage your finances, bank accounts, bills, credit cards, and investments from just one app. Along with staying on top of your bills and keeping track of your credit score, you can review your spending habits and see where you can save money.
Price: Free
Available on: Android and iOS
Download this app so that you can conveniently and securely manage your cash. It's like a combination of a wallet and online banking. You can send and receive payments, make purchases, and conduct other financial transactions.
Price: Free
Available on: Android and iOS
Take your money-saving goals and put them to work with Acorn. This app can take your spare change and turn it into savings. Acorn helps users track small investments and save for their financial goals. It also offers advice and guidance to help users make informed decisions about their money.
Price: Free
Available on: Android and iOS
---
Top Apps for Caring for Your Health, Safety, and Fitness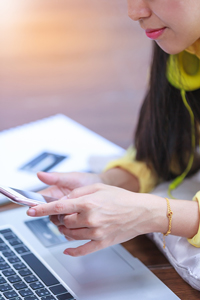 College life is busy. With so much studying and socializing, it can be easy to forget to take care of yourself. Check out these health and fitness apps that can help you stay safe and in shape while on campus.
Keep expert health and medical emergency advice at your fingertips with this awesome app from the American Red Cross. You can find out how to handle any first aid situation instantly with advice that you can count on.
Price: Free
Available on: Android and iOS
Discover the amazing power of meditation and take control of every area of your life. You can work through easy-to-follow, step-by-step meditation practices, track your progress, and share with your friends. This app helps you take some of the unnecessary stress out of your life.
Price: Free introductory period (offers subscription options)
Available on: Android and iOS
This handy app can easily track what you eat and how many calories you consume. You can input your daily exercise, track your steps, and even scan barcodes. Managing your health has never been this simple.
Price: Free (offers in-app purchases)
Available on: Android and iOS
Take your yoga practice with you wherever you go. Along with access to a number of instructional guides, illustrations, and a dictionary of poses, you can also track your progress.
Price: $3.99 for Android; $2.99 for iOS
Available on: Android and iOS
Gain access to personalized video workouts. You can choose from pre-built workouts for specific types of exercise—like strength training, yoga, or Pilates—or parts of your body and keep track of your progress as you go.
Price: Free (offers in-app purchases)
Available on: Android and iOS
When choosing what to eat or what cosmetics brands to buy, Yuka can help you make healthier choices. Use this app to scan the label of a food item or cosmetic you are planning to buy, and it will provide an info sheet about why the product could be good or bad for you. Plus, it'll provide recommendations to take you on a healthier path.
Price: Free (offers in-app purchases)
Available on: Android and iOS
This self-care app gets rave reviews in support of positive benefits for mental health. Try a new version of self-care with Finch, which provides help with setting goals, meditation, and even journaling. Strengthening your mental health has never been so adorable.
Price: Free (offers in-app purchases)
Available on: Android and iOS
---
Best Apps for Socializing and Staying Connected
A big part of college life is staying connected to the social scene. You'll likely be making new friends and trying out new activities. Many apps can help you stay connected to your friends and groups. Take a look at several of them below.
29. Group and Individual Messaging Apps
So many messaging apps are available that we've grouped them instead of listing them separately. They tend to offer the same basic features. These are all free college apps for Android, iPhone, and other devices. Most of them will connect through WiFi, so they don't use up your data or make you limit your contact with your family or friends. You can often make phone calls, send text, audio, or video messages, and share photos, videos, and emojis. Aside from popular apps like Facebook's Messenger, some of the other top social apps for college students include:
---
Best Apps for Finding Entertainment and Staying Current
College is all about balance, and it's important to plan some downtime. Whether you want to kick back and relax in your dorm room or go out on the town, here are some apps that can help you do exactly that.
Get access to your favorite publications, podcasts, videos, and blogs—all in one app. You can easily stay up to date on the news that matters most to you and share it throughout your social media channels.
Price: Free
Available on: Android and iOS
Foursquare is a location-based social networking app that allows users to check in and share their locations with friends, and discover new places based on their preferences. It also offers reviews and recommendations for businesses and restaurants.
Price: Free
Available on: Android and iOS
Expand your mind, explore your curiosities, and listen to inspiring talks from experts in almost any field.
Price: Free
Available on: Android and iOS
---
Top Apps for Finding Jobs
Whether you're preparing for summer break or approaching graduation, finding a job may be on your mind. Luckily, apps are available that can help you land the kind of job you're after. Check out the possibilities.
33. Resume-Building Apps
Great apps are now available that provide all the tools you need to create a winning resume on any mobile device. They can help you highlight your knowledge, skills, and job and educational history in a way that promotes your best attributes and attracts employers. Consider apps available on both Android and iOS, such as:
34. Job Search Apps
Instead of scouring the Internet for hours, you can download some exceptional apps that search for jobs and deliver potential opportunities directly to your hand-held device. Some even provide the option to upload your resume and apply directly for advertised positions. Check out a few of the most popular job search apps below. They're all available on Android and iOS devices.
---
Need Help Finding a New School?
Sometimes, it becomes necessary to explore new educational options. Whether you want a change or just need an easy way to discover some practical training programs in your area, we've got you covered. Use the following search tool to easily find vocational colleges, career-oriented universities, and trade schools near you. Start by entering your zip code.
---