Student Loan Debt & Postgraduate Finances in America
Last Updated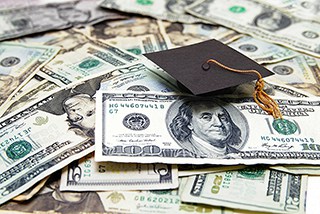 More often than not, colleges and universities are great at teaching students by the book—textbooks, that is. But when it comes to real life, a large percentage of students are left after graduation with thousands of dollars of debt. The struggle to maintain payments can lead to bad credit, or worse.
Stifling car payments, mortgage and loan default, eviction and foreclosure: Do any of these sound familiar? Don't worry. Chances are, you're not alone.
We asked survey respondents which common financial mistakes plague them, and the price they've paid for higher education.
---
When College Debt Catches Up to You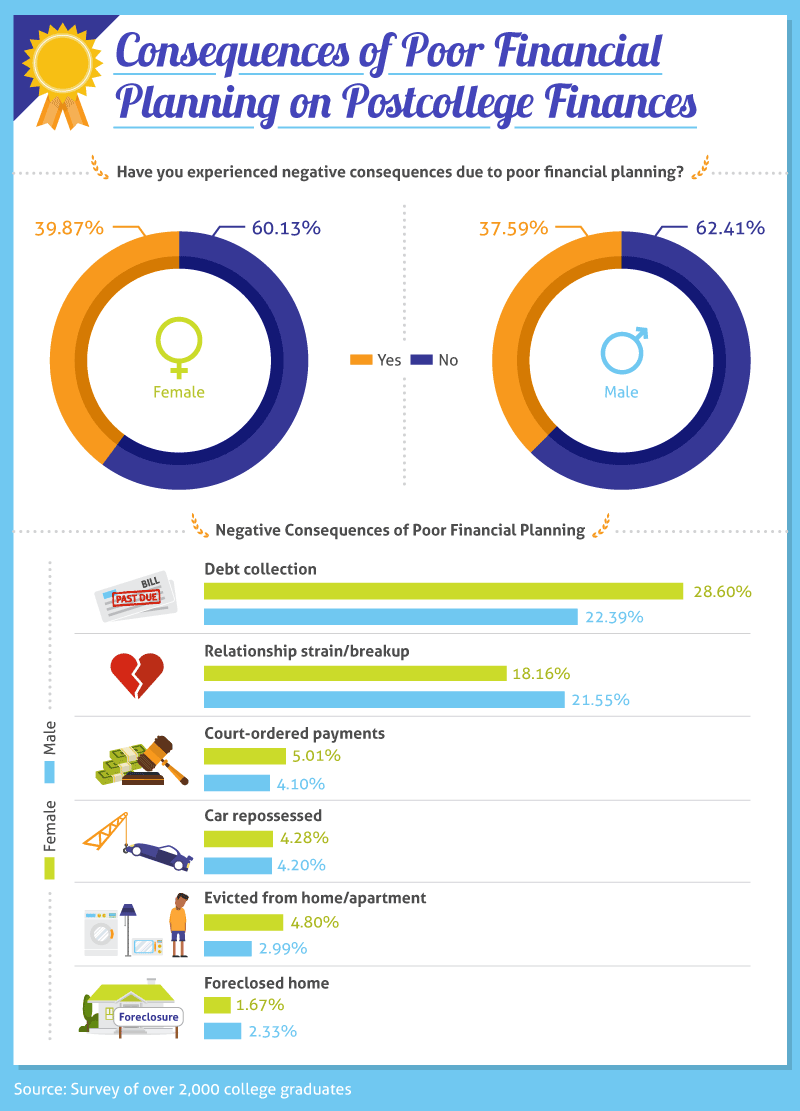 It may feel like men and women are vastly different, but their experiences with financial planning—particularly the negative ones—are right on par.
Overall, about 38 percent of men and 40 percent of women know what it's like to sweat over money, but the specific hardships for each gender are very different.
Women reported more difficulty managing their debt, with nearly 29 percent experiencing a taste of the debt collection process, whereas more than 22 percent of men struggled with debt themselves. Roughly five and four percent of women and men respectively, know what it's like to receive a court-ordered payment, and about four percent of both men and women have had their cars repossessed.
For men, however, the struggle also significantly affected their relationships. Financial problems can put a strain on even the strongest couples—even more so than an affair—and has affected 21.5 percent of men and 18 percent of women polled.
The most tempting declaration of freedom after graduation is moving out on one's own—perhaps even buying a house—and proved to be a mistake for a percentage of those polled. Nearly five percent of female survey respondents have been evicted from their home, and nearly two percent faced foreclosure, as compared to three and two percent of men respectively.
A Helping Hand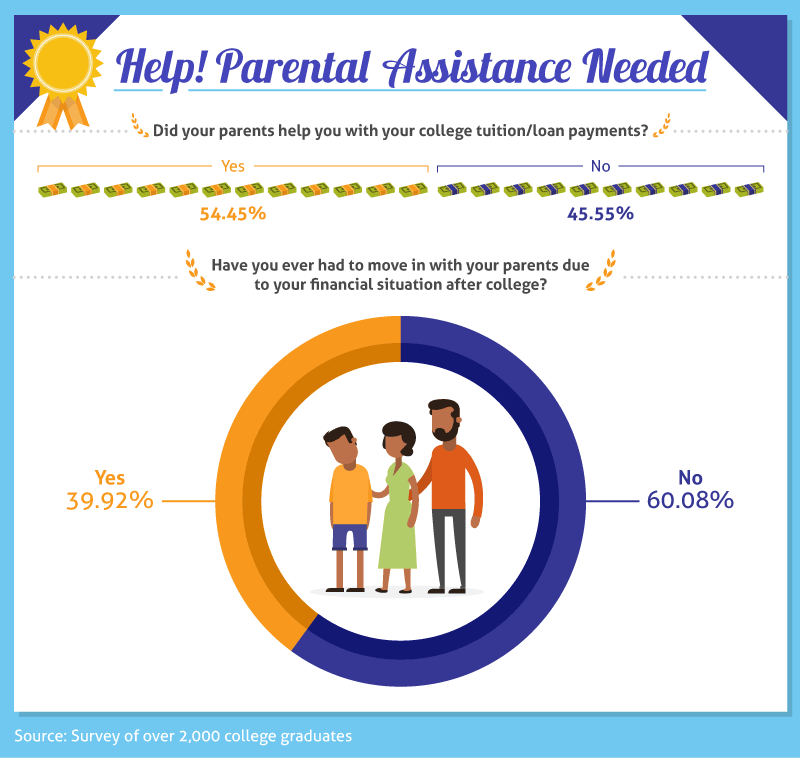 Evictions and foreclosures aren't the only reasons some graduates elect to move home after four years of freedom. A depressed job market coupled with debt payments are also to blame.
Nearly 40 percent of those polled have found themselves living with their parents after dealing with a tough financial situation post-graduation, which falls in line with 46 percent of respondents not receiving financial help from their parents regarding college tuition or loan payments.
While more than 54 percent of graduates polled leaned on their parents for financial help, 60 percent did not move back home with their families, according to our survey.
---
The State of Parental Assistance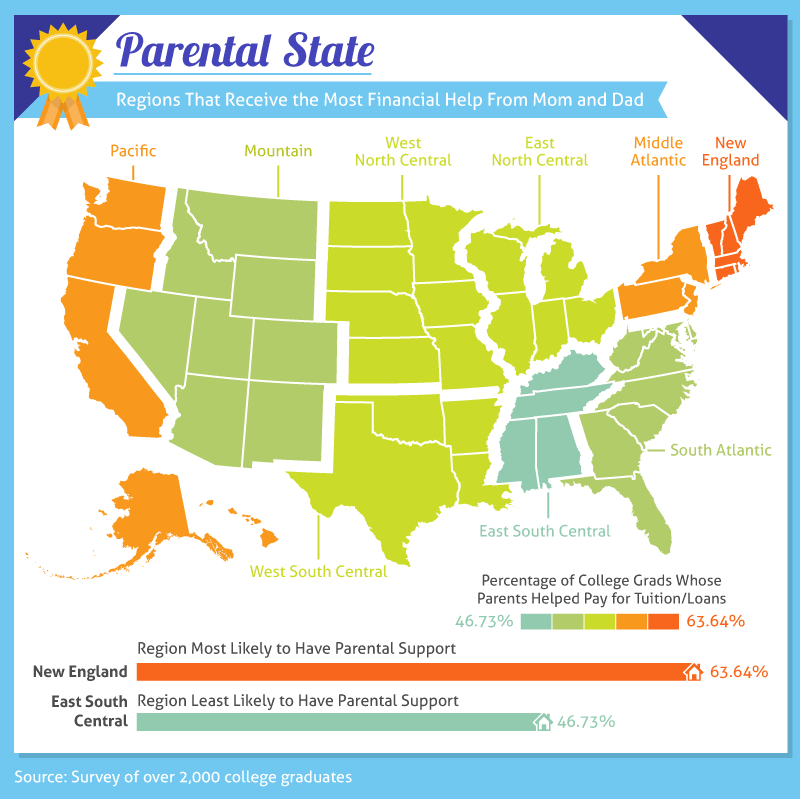 For students in New England, Mom and Dad are more lax with their purse strings than all other parents in the United States, according to our survey.
Nearly 64 percent of New England college grads' parents helped pay for tuition or loans, whereas roughly 47 percent of graduates who live in Kentucky, Tennessee, Mississippi, and Alabama leaned on their folks for financial help.
High percentages of parental support can also be found on the Pacific Coast and the Middle Atlantic; low percentages are apparent in the Mountain area and South Atlantic Coast.
Getting Back to Your Roots—Literally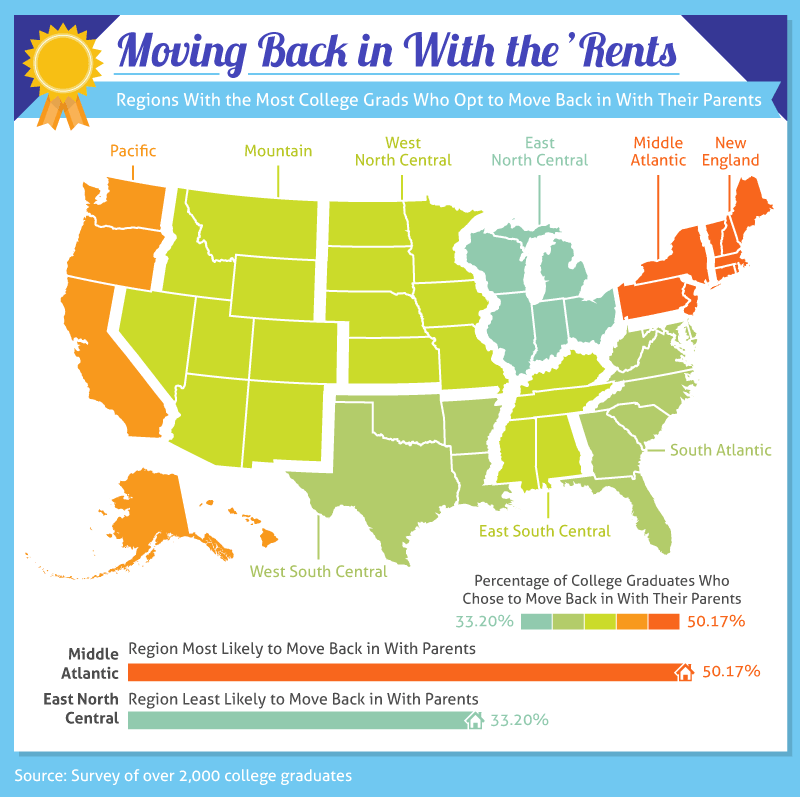 Financial assistance is one thing. Moving back home is another. And a whopping 50 percent of college graduates from the Middle Atlantic region moved back home—with New England and the Pacific not far behind.
This is likely due in part to the cost of living gap between the North and West coasts, and the rest of the country. In states like Illinois, Indiana, Michigan, Ohio, and Wisconsin, the percentage of those students who move back home is just 33 percent, according to our survey.
Ultimately, the cost of living boils down to the rental costs for housing. A single person can spend $1,218 (studio); $1,248 (one-bedroom) per month to live in New York, $1,573 (studio); $1,607 (one-bedroom) per month in Washington, D.C., or $1,248 (studio); $1,379 (one-bedroom) per month in California. Or you could move to Alabama and expect to pay $562 (studio); $651 (one-bedroom) per month.
Looking Back on Loans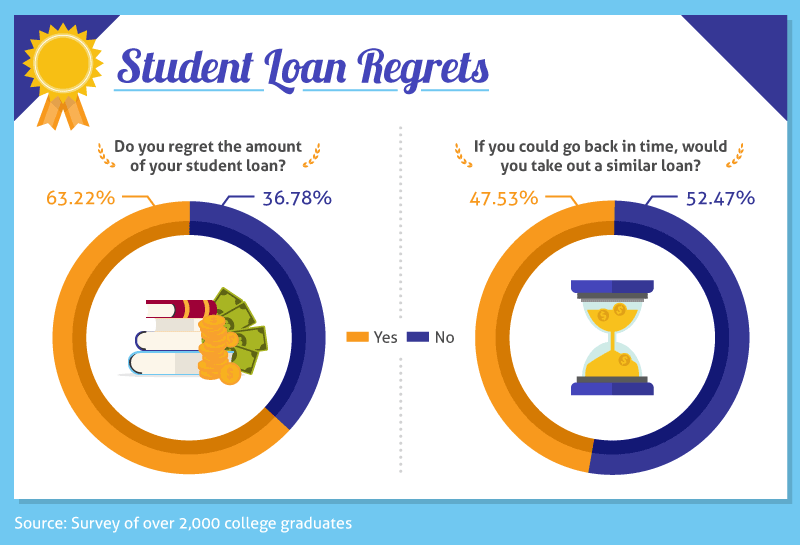 If they could go back and pass up their student loan, more than half of college grads would.
To be precise, more than 63 percent of those polled regret the amounts of their student loan, and more than 47 percent would take out a different loan—not to mention handle their college finances a tad more responsibly.
The biggest do-over wishes include working while in school, living more frugally, deciding on a major earlier, setting career goals, and staying far, far away from credit card debt.
---
Financial Mismanagement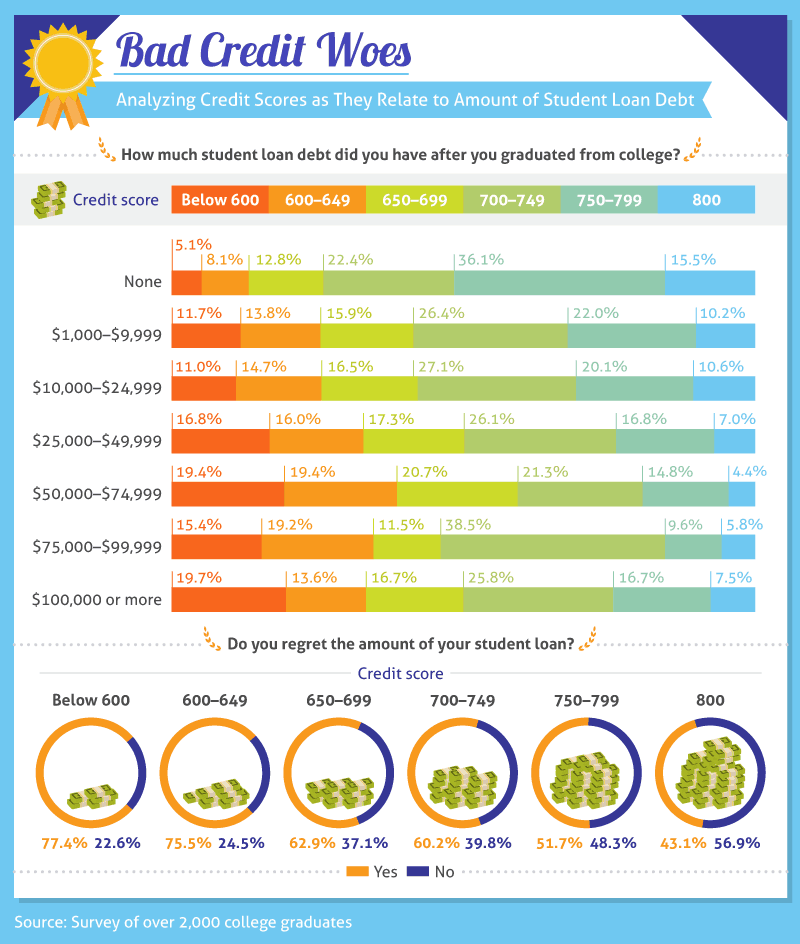 Those who exercised caution in the credit card department reported little to zero student loans and the best credit scores across the board. The worst credit scores could be found among the grads with student loan debt in the six-figure range.
And those are the students who regret their loans the most. More than 77 percent of graduates with a credit score of less than 600 regret the amount of their student loans, and the percentage decreases as the credit scores rise, with nearly 57 percent of graduates with a perfect credit score not regretting their student loans.
According to Bloomberg, many graduates said they had "no idea" when they would be able to pay off all of their student loans.
The Cost of Zero Financial Guidance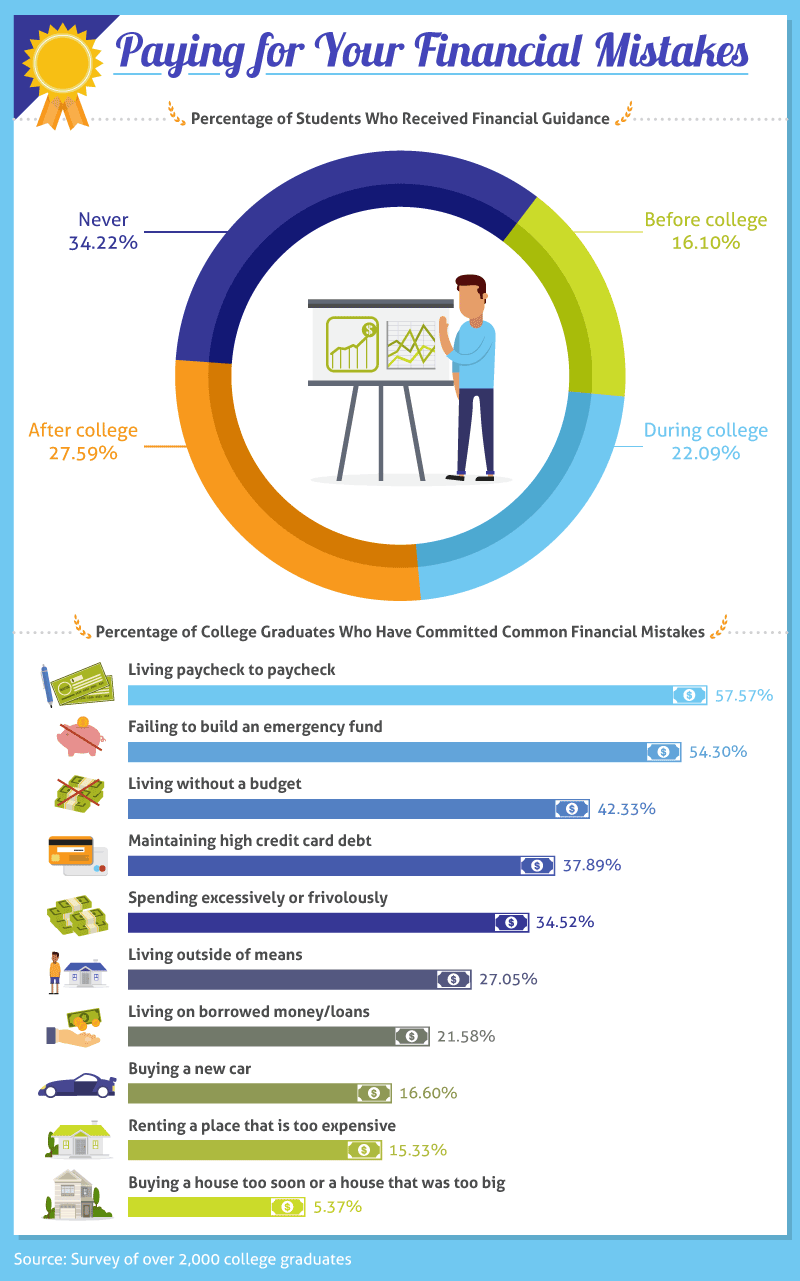 Failing to learn how to plan your finances as an adult comes at a hefty price—as felt by 34 percent of those polled. A combined 38 percent of college graduates received some guidance either before or during college, but the vast majority began financial planning after college, or never at all.
More than half of those polled know what it's like to live paycheck to paycheck, and never built an emergency fund. More than 42 percent of college graduates polled live without a budget, and nearly 38 percent experience high credit card debt. More than 34 percent find themselves spending excessively and roughly 27 percent live outside of their means.
Buying a new car, renting an expensive home or closing on a house too soon are also common mistakes felt by 16, 15, and five percent of polled college grads respectively.
Conclusion
You can protect your financial future by making good decisions while you're still a student. First, do your research. Find out what new professionals typically earn in the occupation that you're most likely to begin after college. And thoroughly explore your financial aid options. Pay special attention to the differences between private and federal student loans when it comes to their interest rates and terms of repayment. Will you be able to comfortably afford your loan payments and living expenses on your new salary?
Finally, minimize how much you spend while getting your education. The less you pay now, the easier your finances will be to manage later. Create a realistic budget for your time as a student as well as for your first few years after graduation. For a more detailed look at your potential debt, consider using a student loan calculator.
---
Methodology
We surveyed more than 2,000 college graduates about the financial mistakes and debt they have experienced since graduating from a four-year college or university.
Additional Sources
Fair Use Statement
You can use the images above freely. But please be kind and link back to this page so the authors receive credit.