33 Good Jobs for Pregnant Women (And How to Get Hired)
By Publisher
| Last Updated January 19, 2022
In this article:
What are good jobs for pregnant women? Most jobs, really. The modern workforce and labor laws have advanced in ways that try to ensure pregnant women have equal rights and opportunities. However, some women still face extra obstacles unique to expectant mothers.
Getting a job while pregnant may present some specific challenges, but it is possible. According to Pew Research Center, more than 65 percent of American mothers work during their first pregnancies. And, of those, about 80 percent keep working until within a month of giving birth. Many of them even work from home.
So if you are pregnant and need a job, or want to find a new job that is more family-friendly, you're in good company. Many women consider changing jobs if their current positions are not suitable for pregnancy or do not offer the benefits and flexibility they'll soon need.
Generally, pregnancy-friendly jobs meet some or all of the following criteria:
They don't require physical exertion beyond what you are already used to or types of exertion not considered safe for pregnancy.
They don't cause excessive emotional stress.
They offer flexible work hours, personal time for appointments, and time off as needed.
They provide good medical benefits.
They don't require a long commute.
They don't require excessive exposure to toxins, contagious illnesses, or other physical hazards.
They offer private space to nurse or pump milk if needed.
Hourly wage information is current as of December 7, 2021 and is based on data from the U.S. Bureau of Labor Statistics.
---
14 Jobs for Women Looking for Work While Pregnant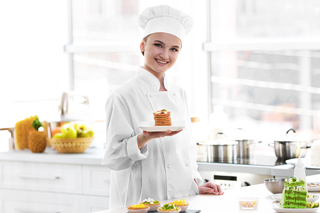 Many expectant mothers need to find employment quickly and work during their pregnancies. They also don't have time to go to school for a year or more to get training for a new career. As a result, the best jobs for pregnant women in this situation often utilize their existing talents or only require a small amount of continuing education or on-the-job training.
Keep in mind, however, that getting hired while pregnant will likely mean you won't be eligible for maternity leave after giving birth, even if your new employer is one of the few that offers it as a benefit. (Generally, you need to be with an employer for at least a year to qualify for maternity leave.) As a result, many pregnant women opt for temporary, part-time, or fixed-term jobs that don't require any long-term commitments. Here are some examples:
1. Freelance writer
Taking on freelance writing projects can be a good way to earn money if you're already a skilled communicator. Publishers, organizations, and even individual professionals of all types seek writers for temporary projects as diverse as marketing materials, grant proposals, articles, blog posts, advertising copy, website content, technical documents, and books. Plus, writing is something that you can do from home.
Median hourly pay: $32.27
2. Sales representative
As far as part-time jobs for pregnant women go, selling products or services continues to be a good option. After all, this field usually offers flexible work hours, so you can work as much or as little as you need to—even full-time if you want to earn the largest commissions. And effective sales techniques can frequently be learned quickly, especially if you find an experienced mentor.
Median hourly pay (for selling wholesale products): $29.84
Median hourly pay (for selling services): $28.25
3. Private tutor
Did you excel in any academic subjects when you were in school? Are you an expert in anything? Many students benefit from one-on-one tutoring outside of class in the subjects they struggle with. Plus, these days, many tutors offer their services online and conduct sessions with their clients through video-chatting technologies like Skype and Facetime.
Median hourly pay: $19.51
4. Online community manager
Since Americans are spending more and more time online, many companies need friendly professionals who can interact with clients and customers across various digital platforms. You could become a point of contact for an organization while promoting its brand, answering questions, and growing followers over social media channels like Facebook, Twitter, and Instagram.
5. Virtual assistant
Do you already have some office or computer-related skills? If so, you may be able to find work as someone who performs basic administrative or supportive tasks for a small company or entrepreneur over the Internet. Agencies even exist that help match virtual assistants with appropriate clients.
Median hourly pay: $18.68
6. Virtual customer service representative
A lot of organizations now hire people to handle online inquiries or take customer phone calls from home. That's why being a customer service rep is among the most suitable online jobs for pregnant women. You'll need a reliable computer and Internet connection, but you may get to choose your hours.
Median hourly pay: $17.23
7. Office clerk
Many companies need people to take care of basic office and clerical tasks such as filing, typing documents, answering phones, taking notes during meetings, performing simple bookkeeping duties, and sending and retrieving mail. Clerical positions are among the most common temporary jobs for pregnant women. And they sometimes turn into good long-term employment with advancement opportunities.
Median hourly pay: $16.98
8. Wedding consultant or event planner
Did you plan your own wedding or help friends or family members plan theirs? You may be able to offer advice and recommendations that other people will pay for if you've already been through the experience. That's especially true if you are familiar with event venues in your region. It is also valuable to have good working relationships with reliable vendors for flower arrangements, catering, photography, entertainment, and other specialty items and services.
Median hourly pay: $24.79
9. Floral designer
Who doesn't enjoy the fragrance and cheer of fresh-cut flowers? Grocery stores and independent flower shops sometimes have openings for new floral designers. Floral designers are often in part-time positions or have flexible hours. This flexibility helps floral design rank among the best jobs for pregnant moms who want to work in a usually low-stress setting.
Median hourly pay: $14.01
10. Library assistant
Local and regional libraries sometimes need additional workers to help sort and shelve books and other materials. This type of job also sometimes involves compiling records, retrieving materials for loan, and registering new library materials. Plus, libraries are calm and quiet work environments, which means that they tend to offer pregnant-friendly jobs.
Median hourly pay: $19.98
11. Cake decorator or baker
Are you into arts and crafts? Do you have any experience decorating cakes for special occasions? You may not have world-class skills yet, but that doesn't mean you can't start refining your talents on the job. Many stores and bakeries hire people who show potential in this culinary craft.
Median hourly pay: $14.13
12. Dog trainer or pet sitter
If you love dogs or other animals, then you may enjoy looking after neighborhood dogs or other pets while their guardians are out of town. It's possible to develop a good reputation fairly quickly, which could mean that new clients start seeking you out instead of the other way around. Many people also need help learning how to train their puppy or adult dog.
Median hourly pay: $15.16
13. Retail salesperson
Some retail jobs are more pregnancy-friendly than others. Some retail jobs are more pregnancy-friendly than others. For example, many maternity stores like to hire pregnant women since their primary customers can relate to them. Plus, other stores that sell pregnancy or baby products also sometimes offer suitable jobs that don't necessarily require you to be on your feet all day.
Median hourly pay: $13.02
14. Infant care aide
Having this kind of job during your pregnancy may help you prepare for life after giving birth. You'll get to practice feeding babies, putting them to sleep, changing their diapers, and more. Many childcare centers offer this type of employment for pregnant women. And it sometimes leads to more advanced careers in early childhood education.
Median hourly pay: $12.24
---
19 Jobs Well-Suited for Pregnancy and Parenting Young Children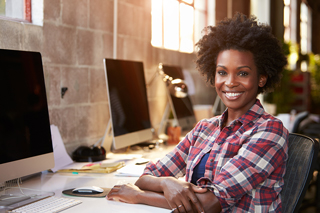 Women who plan to start a family in the future have more options to pursue college or vocational training and find employment before they get pregnant.
Pew Research Center found that almost 90 percent of American women holding at least a bachelor's degree work during their first pregnancies. In contrast, less than 30 percent of women without a high school diploma have jobs while pregnant with their first child.
Getting an education before having a child makes it more likely that you'll be able to find an employer that offers up to 12 weeks of paid maternity leave. And by spending at least one year on the job and waiting to become pregnant, you'll stand a much greater chance of qualifying for that leave. (Currently, only about 16 percent of American workers in the private sector have the chance to take paid family leave.)
Progressive employers in career sectors such as financial services, technology, business, and professional services tend to offer some of the best employee benefits. They also offer some of the most suitable jobs for pregnant moms, working mothers, and women who want to have children. That's why a lot of the following career options are worth investigating. Depending on your background, you may or may not need additional education to qualify for them. In some cases, you may be able to transfer a few of your existing skills into a new occupation that is more family-friendly than what you have now.
1. Database administrator
More and more women are thriving in the computer technology sector. And this occupation is one of the best-paying options you can find within it. Managing, testing, and safeguarding computer databases is interesting work. Plus, depending on your employer, it may turn into a job that you can do at least partially from home.
Median hourly pay: $47.53
2. Computer programmer
Programming skills are incredibly valuable to have, especially if you want a family-friendly job and the chance to work part-time or at home while you're pregnant. Specializing in mobile app development can be a particularly good path to explore given the ongoing popularity of Android and iOS devices such as smartphones and tablets.
Median hourly pay: $42.88
3. Accountant
From tax preparation to financial operations assessment, accounting professionals can frequently carry out their duties anywhere they have access to a secure computer and Internet connection. Plus, the demand for accounting professionals stays strong since every organization needs to maintain accurate and legal financial records.
Median hourly pay: $35.37
4. Web designer or developer
Websites continue to get more sophisticated and complex in response to factors like security issues, online shopping trends, entertainment habits, and the use of mobile devices. As a result, professionals in this field continue to be needed by organizations of every type and size. And web development jobs frequently represent some of the best opportunities for pregnant women since they can be done at home or during customized work hours.
Median hourly pay: $37.12
5. Multimedia artist or animator
Creative women with drawing talent and active imaginations can do well in the computer animation and special effects industries. The work requires a lot of focus, but it isn't physically demanding. And, outside of periodic deadline pressures, it is also frequently low-stress.
Median hourly wage: $37.36
6. Market research analyst
As new trends emerge and others fade away, market conditions change and create fresh opportunities and risks. So companies always need marketing professionals who are skilled at researching and evaluating competitors as well as current and future market conditions.
Median hourly wage: $31.64
7. Video editor
Digital film and media projects are more popular than ever, leading many companies to hire creative freelance or in-house video specialists. Video editing may emerge as one of the most popular online jobs for pregnant women at home. Especially for those who have a knack for learning and using professional software such as Final Cut Pro X.
Median hourly wage: $32.33
8. Public relations specialist
In most ventures, it's hard to achieve sustained success without a good reputation. As a result, nearly all companies, non-profit organizations, governments, celebrities, and politicians engage in the art of public relations (PR). Specialists in this field often enjoy flexible schedules and work arrangements, which is ideal when you're expecting a child.
Median hourly wage: $30.20
9. Retail or wholesale buyer
This occupation is great for people who love shopping and digging into all of the details to find good deals and negotiate win-win agreements with suppliers and manufacturers. Stores and wholesale distributors rely on professional buyers to research buying trends and purchase merchandise at good prices. Much of the job can be done online and by phone. Limited travel is also a requirement for some positions.
Median hourly wage: $32.06
10. Interior designer
Professionals in this creative role often enjoy a lot of flexibility when it comes to arranging their schedules. And many of them work partially at home when they aren't meeting with clients or performing on-site project tasks. Interior design can be a good job for pregnant women who enjoy having variety in their work settings.
Median hourly wage: $27.43
11. Paralegal or legal assistant
Lawyers of every type hire people who have the skills and basic legal training to help with research, document preparation, and factual investigation. Beyond law firms, some government agencies and large companies also hire people to assist with legal tasks. So work arrangements vary. But it's possible to find legal assisting jobs that are suitable for pregnant women.
Median hourly wage: $25.44
12. Graphic designer
This creative job can provide flexibility in terms of where and when you work, especially if you operate as a freelancer. Plus, the work itself is often fun and full of variety. Your projects may range from web graphics and digital interface designs to new logos, brochures, book covers, and product packaging. The possibilities are more extensive than many people realize.
Median hourly pay: $25.66
13. Financial planner
Few people have the expertise to consistently choose wise investments, minimize their taxes, plan their estates, and create budgets to achieve their long-term financial goals. As a result, financial planners and advisors can make a meaningful difference in other people's lives. And they can often work for themselves or find employment that comes with outstanding medical insurance and family leave benefits.
Median hourly pay: $42.95
14. Bookkeeping or accounting clerk
In this office role, you may get the chance to work flexible or part-time hours when you need to. After all, most organizations have a lot of financial records to organize and keep track of. So it's possible to find employers that provide job opportunities for pregnant women in this field who will work hard but need the freedom to take time off as necessary.
Median hourly pay: $20.39
15. Medical transcriptionist
Many healthcare practitioners (especially doctors) make audio recordings about the details of their patient interactions, diagnoses, treatments, and potential plans of action going forward. But those recordings need to be transcribed into accurate and readable medical reports that can be easily understood and kept with each patient's records. Medical transcriptionists fill that need, and many of them get to work from home and set their own hours.
Median hourly pay: $16.96
16. Dispensing optician
This job is often good for expectant mothers who feel energized by meeting and helping different people each day. It involves assisting customers with selecting eyeglass frames or contact lenses and ensuring that they are ordered and produced according to the proper measurements and prescription specifications.
Median hourly pay: $18.53
17. Administrative assistant
Almost every professional office has at least one person in this important role. And large organizations and government agencies often employ several administrative assistants. It's a role that doesn't require much physical effort since it usually involves tasks such as coordinating schedules, making appointments, organizing files, handling phone calls, entering information into various computerized records, and writing letters and emails.
Median hourly pay: $18.68
18. Search engine optimization (SEO) specialist
Most people use search engines to find what they're looking for online. As a result, companies that appear in the first few search results receive more visitors to their websites than those that appear further down. As an SEO specialist, you may get to work flexible hours while devising and implementing online content and marketing strategies.
Median hourly pay: $31.64
19. Website manager
Every large website requires professional oversight to ensure that it gets updated with relevant content and remains functional for visitors. And since websites are hosted online, being a website manager can often be counted among other great jobs for pregnant moms who want to work at home.
Median hourly pay: $37.12
---
8 Essential Tips for Getting a Job While Pregnant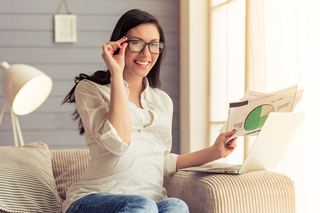 Finding a job while pregnant can feel like a big challenge. After all, many employers see pregnancy as an inconvenience or even as a disability. It may not be right, but that is a common perception. Just remember this: You have value to offer. And by following some of the advice below about how to get a job while pregnant, you can create a more even playing field and prove that expectant mothers are frequently worth hiring.
1. Know your rights
It is illegal in America for employers not to hire women just because they are pregnant. It is also illegal for employers to ask you if you are pregnant. In addition, you are not legally obligated to disclose your pregnancy. However, proving that your pregnancy is the reason for an employer's rejection is usually difficult to do unless you've already received a job offer.
Sometimes, expectant mothers receive job offers based on their qualifications without the employers knowing that they are pregnant. Then, when the employers find out about the pregnancies, they rescind their job offers. In situations like those, the reason for rejection is generally obvious and easy to prove.
2. Understand the concerns that employers commonly have
As a recent job seeker, you may have encountered some of the following attitudes and objections already. Research has consistently shown that mothers and pregnant women tend to experience a significant amount of discrimination throughout the hiring process. A study in the American Journal of Sociology found that, when family status was disclosed, women without children received 2.1 times more callbacks and 1.8 times more hiring recommendations than mothers with equal qualifications.
The study cited similar research that showed mothers are perceived as less competent than women who don't have children. Visibly pregnant women have been perceived by research participants as more emotional and irrational as well as less dependable, authoritative, and committed to their jobs.
So a lot of employers share similar concerns. They may worry that you'll have to take too much time off for medical appointments or sick days. Or they may fear that you won't have the energy or mental sharpness to stay productive throughout your pregnancy, especially during your final trimester. And, of course, they may not want to deal with the problem of trying to find a replacement for you if you quit the job or take an extended leave after giving birth.
That said, some employers have compassion for pregnant job seekers and realize the long-term benefits of hiring somebody qualified for the job. So be careful not to paint all employers with a broad brush. Some of them may pleasantly surprise you.
3. Create a detailed plan that addresses employers' fears
This step is all about going on the offensive. By presenting a clear plan of action to address common concerns, you can demonstrate that hiring you may not be as risky as they might think. It may even help you stand apart from competing job seekers—in a positive way.
Start figuring out exactly how you will manage your various commitments. How much time will you need outside of the workplace based on conservative and worst-case scenarios? Who will help you, and when will they help? How flexible are you willing to be in terms of the hours you work? Will you work longer hours on some days to make up for the time off that you may need? Have you determined what you will do after having your baby? Do you have childcare plans?
It is certainly a lot to think about. But it's also the kind of stuff that can ease employers' concerns about your reliability. Creating a plan or a work proposal shows employers that you care about their concerns and have the smarts to solve complex problems. It also takes away a lot of their potential burden of figuring out contingencies on their own.
You want a plan that helps employers recognize that you can provide long-term value to their organizations. Help them see that your pregnancy will be a temporary situation in a long and fruitful partnership.
4. Begin your job search as soon as possible
Searching and applying for jobs while pregnant often requires a lot of time and energy, so the earlier you start, the better. Your pregnancy will become more visible the longer you wait, which can put you at an extra disadvantage since employers will begin to notice at some point.
5. Look for employers that have urgent hiring needs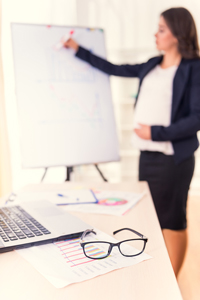 It may be easy to convince yourself that no one will hire you because you're pregnant. It's important to remember that some employers urgently need workers. If you've had limited success applying for jobs with popular employers, try shifting your focus to organizations that are not as popular but have critical openings and urgently need people to fill them.
Just make sure that whatever jobs you apply for will be suitable for your physical needs and won't involve working in high-stress environments. Do as much research on each potential employer as you can before applying. It might even be worth it to find current or former employees to talk to, especially if an organization has a lot of staff turnover.
6. Enlist the help of people in your existing network
You probably have at least a few people in your life who can verify your reliability and worth ethic. Ask them to provide references, especially if they are former bosses or work colleagues. Also, don't be afraid to tell friends and acquaintances that you are searching for a new job. Just be cautious about who you tell, particularly if switching jobs while pregnant is your goal. (You may want to hang on to the security of your current job in case you're unable to find a better one.)
7. Decide whether or not to reveal your pregnancy
There's no sugar-coating it; this decision is tricky. You'll probably hear advice that goes both ways. So you'll need to weigh the potential advantages and risks associated with each side.
On the one hand, you may be early enough in your pregnancy that nobody would be able to tell. And you may not even want to disclose it to your friends or family until you feel assured that you and the developing baby are healthy. Plus, why create an obstacle that doesn't need to be there (at least until you start showing)?
On the other hand, any employer that hires you may feel betrayed when they finally learn of your pregnancy. Or they may not. It's impossible to know. So you may want to be upfront about everything and present the detailed plan of action that you created in step three. A lot of employers respond well to honesty.
Of course, if your baby bump is already visible, then trying to hide it can make you come across as dishonest, which is never good. That's why many career experts suggest waiting to disclose your pregnancy to potential employers until it becomes obvious. Then, if you still aren't showing and an employer presents an offer or makes you a finalist for the job, be forthcoming about your pregnancy.
Ultimately, how you handle this dilemma is a personal choice. But it's good to decide one way or the other before you get to the interview stage so that you have time to become comfortable with it and can focus on selling your strengths.
8. Handle your job interviews like a pro
Interviewing while pregnant doesn't have to be all that different from interviewing when you aren't expecting. Either way, your mission is to present yourself as a friendly, attentive, enthusiastic, and capable professional. So it helps to brush up on some time-tested interview tips well ahead of getting invited for these opportunities. Have confidence in your abilities, your plan, and the decisions you've made up to this point. Then, try to relax and enjoy the process of meeting new people and showing them why you would make such a terrific long-term addition to their teams.
---
Feel Secure About Your Future
You don't need to feel held back by pregnancy. Jobs for pregnant women exist in numerous industries. And if you're looking at getting pregnant in the future and want to get training now for a family-friendly career, search by zip code for a program online or at nearby vocational schools!
---