Best Careers for Women: Unconventional Jobs That Pay Well
Last Updated July 24, 2023
Some of the best careers for women are in the fields of health and dental care, education, animal care, law, and business. In fact, a survey by the U.S. Census Bureau found that, in 2021, the top five female-dominated jobs in the U.S. were registered nurses, elementary and middle school teachers, secretaries and administrative assistants, managers, and customer service representatives.
But the times are changing. Although there are many women that truly enjoy the traditional career fields mentioned above, a growing number of women would rather not settle for traditional careers. They would like to break out into fields that have largely been male-oriented in the past—fields that offer high-paying jobs for women that are outside of the norm. They can be found in sectors like:
You may have never considered pursuing a career in one of the above-mentioned fields. Maybe you have been encouraged to assume a more traditional career. Or maybe you hear people talk about things like the glass ceiling and the gender gap and feel like traditional careers are your only option. The reality is that as a determined woman in the 21st century, you could achieve success in any occupational field that you choose, traditional or not.
---
The Non-Traditional Career Paths Worth Considering
Some of the best careers for women are not the most traditional. There are plenty of sectors and professions for women that you could pursue. And as cultures and attitudes shift and a growing number of companies seek gender diversity, women pursuing unconventional careers may be able to secure positions and achieve success a little more easily. In the meantime, be prepared to step into new territory, defy gender stereotypes, and enjoy the empowerment that can come from working in a non-traditional career like the ones discussed below.
Salary information is based on data from the Bureau of Labor Statistics Occupational Outlook Handbook (OOH) unless otherwise indicated.*
Architecture & Engineering Services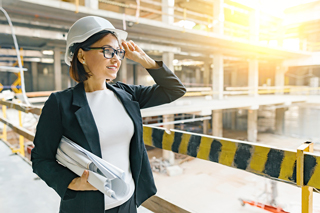 A growing number of women are joining the architecture and engineering fields. In fact, a study by the National Council of Architectural Registration Boards found that, in 2021, 45 percent of Architectural Experience Program (AXP) completions and 41 percent of Architect Registration Examination (ARE) completions were by women. Among the architects that have scooped A+Awards over the past 5 years, there are dozens of women, each of whom has brought unique qualities to the built environment.
Although the female presence in architecture is improving, there are strides to be made in the field of engineering. In 2021, women earned 23.6 percent of bachelor's degrees in engineering. And even fewer women are entering the workforce. Job numbers from 2019 showed that less than 16 percent of the engineering workforce was comprised of women.
So if you are ready to break ground into non-traditional, good careers for women, then the fields of architecture and engineering could be a great option for you. With growing emphasis being placed on gender diversity and more companies recognizing the professional talents of women, you could get started on becoming a leader in the field. Here are a few career choices you might want to consider:
Architectural or Civil Drafter: Tap into your technical and creative talents to create maps and drawings that guide major construction projects, such as the building of roadways, bridges, and buildings. And you could expect to make a good living in this field in which the median annual salary is $60,340.
Electrical Engineer: Begin a career in a position that could have you working on electronics of all sizes. You could be involved in anything from design and development to testing and repairs. Electrical engineering also ranks as one of the good-paying jobs for women; the median annual salary is $100,420.
Industrial Designer: Put your artistic, business, and technical skills to good use as an industrial designer. You could be responsible for developing designs for just about any kind of manufactured product, from toys to furniture to cars. And with a median yearly salary of $77,030, you could expect good compensation for your work.
Computer Numerical Control (CNC) Machinist: As automation advances in the machining industry, there's a growing need for skilled professionals to design and operate increasingly versatile equipment and technology. You can prepare for this rewarding career in less than two years through a specialized CNC program, an apprenticeship, or on-the-job training. With a median annual salary of $47,730 – potentially higher depending on your chosen industry – this role offers a solid financial future.
Mechanical Engineer: Prepare for an engineering career that focuses on power production equipment. Mechanical engineers earn a median salary of $95,300 annually for their contributions to designing and developing machines like engines, generators, and turbines.
Automotive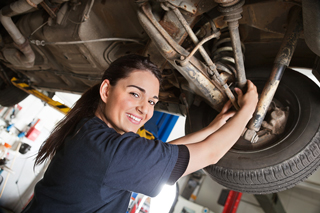 The automotive industry is largely male-oriented. In fact, according to the Women's Bureau of the U.S. Department of Labor, only 1.6 percent of the auto service technician and mechanic workforce is comprised of women. There is definitely room for strong, confident women to start making some headway in the automotive industry. And it is happening.
Most notably, Mary Barra was appointed CEO of General Motors in the U.S. in 2014, marking the first time that a woman has ever been in charge of a major automotive company. Mary is just one of many women who have found success within the automotive sector. If you'd rather bust out a torque wrench and talk about horsepower than sit at a computer all day, then you may want to think about making your way into one of these automotive careers.
Automotive or Diesel Mechanic: Use your hands along with sophisticated technology to diagnose, repair, and maintain gas and diesel engines. Becoming an auto mechanic could lead to a median salary of $46,880 yearly, while training in diesel technology can lead to median wages of $48,690 per year.
Motorcycle Mechanic: Transform your passion for motorbikes into an epic career. Learn how to build, repair, and maintain motorcycle engines and prepare for a vocational field that pays an annual median salary of $38,170.
Commercial Truck Driver: Get ready to hit the road. If a career that offers freedom, flexibility, and travel sounds like an option for you, then consider becoming a commercial truck driver. And with median yearly earnings of $48,310, truck drivers have the opportunity to earn a good living for the essential work that they do.
Green Energy
The renewable resource sector is in its developing stages across the country, so it is a great time for women to make their impression on the industry. And it is a career path that can bring you a feeling of pride and satisfaction knowing that you are contributing to a healthier and more sustainable world for generations to come.
Solar energy is currently the shining star of the green energy sector. Take a moment to consider these promising facts from the Solar Energy Industries Association: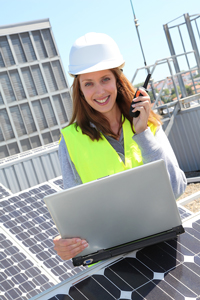 In 2021, the solar energy industry added nearly $33 billion to the U.S. economy.
Over 255,000 people in the U.S. are employed by the solar energy industry.
Between 2019 and 2024, the installed solar capacity throughout the U.S. is expected to more than double.
According to American Clean Power, wind turbine technician jobs are expected to increase by 44% over the next ten years. In fact, wind turbine technician is one of the fastest growing jobs in the United States. It could be an advantageous time for you to put your scientific and technical skills to use and prepare to become a forerunner in the green energy industry. Check out these two career possibilities:
Solar Energy Technician: Turn the sun's rays into electricity by learning how to install, repair, and maintain solar electricity systems. It is anticipated that the earning potential in the field will grow as the demand for solar power increases. A solar energy school can prepare you to pursue work as a solar energy technician, solar design engineer, solar panel installer, or various other careers in this important renewable energy sector.
Wind Energy Technician: Learn how to work with the equipment that captures the wind and turns it into power. And you could expect good pay for your part in helping create clean and renewable energy; the median annual salary for wind energy technicians is $56,260.
Media Arts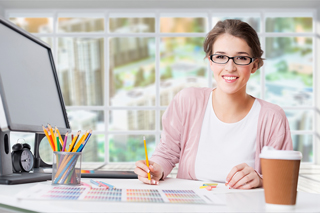 The media arts field offers several possibilities for high-paying and fun jobs for women who possess a good mix of creative, artistic, and technical skills. And women are needed in the sector considering that most media arts positions are held by men.
Women have a lot to bring to the design table, so maybe this is your time to forge a career in the media arts sector. Here are a couple career options you could consider for making your mark:
Graphic Designer: Help companies share their messages through print and electronic media. As a graphic designer, you could produce designs for advertisements, brochures, web pages, and other forms of media. And you will likely enjoy a good salary considering that the yearly median salary in the field is $50,710.
Multimedia Artist: Create art, animation, and special effects for movies, TV, video games, and other types of electronic media. You could capitalize on your technical and artistic talents in an occupation that is among some of the highest-paid jobs for women; the median salary is $78,790 a year.
Video Game Designer: Make a statement in the game industry by acquiring expertise in the game development cycle and fine-tuning your skills in graphics creation, coding, and level development. And prepare to be rewarded for your knowledge and passion in one of the highest-paying jobs for women; the median annual salary for game designers is $78,790.
Technology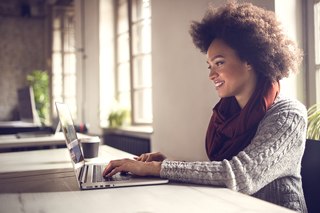 Women are largely underrepresented in the tech sector, and some recent surveys have found that the number of women pursuing tech careers has been declining. The most common answer as to why this is happening is simply one of culture and history. Historically and culturally, boys and men have been pushed to pursue STEM (science, technology, engineering, and mathematics) fields while girls and women simply have not. But that is changing.
Changes are being made at the elementary and high school levels. Many schools have programs in place that encourage and support young girls who are interested in STEM subjects. The goal is to engage them and keep their interest going so that young women are more often choosing to enroll in STEM college programs and subsequently pursuing related careers. And tech companies are starting to get on board as well.
According to the Women's Bureau, women comprise less than 18 percent of computer programmers and just 27 percent of information technology managers. Tech companies are actively striving to address this gender disparity. Prominent role models like Meta's CFO Susan Li, former YouTube CEO Susan Wojcicki, and former Facebook COO Sheryl Sandberg serve as inspiring examples.
For women who are interested in finding some of the best jobs for women, the tech sector could be the answer. With a growing number of companies looking to diversify their workforce, a career in technology could lead you to a successful and promising future. Discover a few of the positions you could pursue:
Computer Programmer: Gain an understanding of computer languages so that you can develop computer software programs. Your position would likely entail writing code, testing programs, and repairing bugs and glitches so that an organization's software programs run seamlessly. And with a median salary of $93,000 yearly, you can expect to be paid well for your hard work.
Database Administrator: Protect an organization's critical, confidential data as a database administrator. Along with ensuring data integrity, you also make sure that the data is organized and accessible to those people who are authorized to access it. Learning how to install, configure, upgrade, secure, backup, and recover data can lead you to a position in which the annual median salary is $101,000.
Applications Software Developer: Get on to a career path that is expecting 26-percent job growth and pays a median annual salary of $120,730, making it one of the top-paying jobs for women. Software developers can take on a number of essential roles. But those who develop mobile apps for Android, iOS, and other types of portable devices frequently enjoy careers that are especially satisfying. CNN Money even named mobile app developer as the best job in America.
Web Developer: Train for an occupation that is expecting a 30-percent growth in jobs. Make your way to success by acquiring the skills needed to write code, create scripts, develop user interfaces, and work with programming tools and languages to ensure that websites are efficient and functional. Website developers receive good compensation for their work; the median salary is $77,030 annually.
Skilled Trades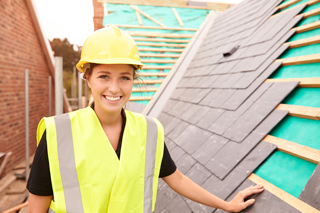 In a field that has been largely led by men, is it possible that the skilled trades shortage gap could be narrowed with one or two simple actions? For example, what if more was done to focus on the training and hiring of female workers while also promoting the skilled trades for women? Maybe there should even be dedicated trade schools for women. Regardless, now could certainly be an ideal time for women to start wading into uncharted territory to secure promising careers in the skilled trades sector.
Even though over 46 percent of women are active in the labor force, very few are choosing skilled trades careers. Take a look at numbers from the Women's Bureau that show the percentage of female workers occupying specific trade jobs for women:
Welders: 4.6 percent
Construction laborers: 3.3 percent
Electricians: 2.0 percent
Carpenters: 2.0 percent
Traditionally, men have been pushed toward careers that are more physically intensive and involve the use of tools and technology. But this dated ideology creates barriers that confident women just like you can start breaking down. Skilled trades careers can offer variety, flexibility, and an opportunity for excellent pay and benefits. If you like the sound of a short vocational program that can lead to a solid, in-demand career, and you're prepared to prove yourself in an industry that lacks female workers, then consider heading down one of the paths below. Some of them are the best trades for women to get into:
Aircraft Mechanic: Embark on a career in which you help maintain aircraft to ensure the safety of the plane's passengers and those on the ground below. The median yearly salary paid to airplane mechanics is $65,380.
Construction Manager: Become the boss and have a hand in building landscapes as a construction manager. You could be responsible for managing all aspects of commercial, industrial, and residential projects. And with managing workers, schedules, timelines, supplies, finances, quality, and safety, comes good compensation. A construction manager earns a median salary of $98,890 per year.
Electrician: Join a vocation that can offer variety, potential for growth, and excellent earnings. The median annual salary paid to electricians is $60,040, and it is anticipated that job availability will grow by seven percent in the coming years. Additionally, depending on how fast the solar and wind energy sectors grow, the demand for electricians may be even higher than what is currently estimated.
Oil and Gas Worker: Take advantage of the many opportunities available in the oil and gas sector by training to become a worker, operator, repairer, technician, or one of the countless other professionals needed to extract oil and gas from the ground. Depending on the type of occupation you pursue, you could find median annual salaries ranging from $38,920 for roustabouts to $130,850 for petroleum engineers.
---
The Glass Ceiling
Did you know that women make up the majority of the country's college graduates? In 2022, 50.3 percent of women graduated with a college degree—this includes everything from an associate degree to a doctorate. A large portion of the country's college-educated labor pool is comprised of women. They have a wealth of talent to bring to the table, and having gender diversity in upper management brings many benefits to organizations.
Corporations with women in upper management outperform those companies that do not have—or have only one or two—female board members or directors. Yet in 2022, women held only 31 percent of the board seats within Fortune 500 companies.
So if studies have shown that companies perform better in many areas when they have gender diversity in corporate management, why does the glass ceiling exist? Why are women underrepresented in corporate America? Well, that answer is not quite clear and likely has a lot to do with history and culture. But regardless of the answers, the glass ceiling is certainly an issue that needs attention for several reasons, including the fact that many experts agree that the lack of women in corporate leadership positions furthers the gender pay gap in America.
---
The Gender Gap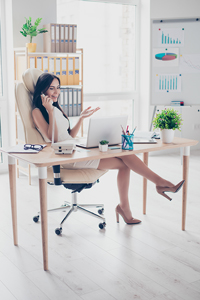 What is the gender gap? Is it really a "thing?" Unfortunately, for many women in America, the gender gap is very real. The AAUW found that women working full-time in the U.S. in 2022 earned only 83.7 percent of what their male counterparts did. Yet, although most women are subject to the pay gap, it does vary widely by state. Additionally, the pay gap becomes even wider for women of color and women with children.
Some experts will point out that part of the pay gap comes down to choice. There are times that women will choose lower-paying occupations than men. Often, women seek positions that will enable them to balance their family lives and care for their children while maintaining a career, and a lot of those types of positions also happen to be lower-paying. In fact, building a career while raising a family is one of the biggest challenges working women can face.
According to the U.S. Bureau of Labor Statistics, about 73 percent of women with children were in the labor force in 2022. However, those women often face a "motherhood penalty." This happens when employers choose not to hire a woman because she has children or offer her a position at lower pay than they would give to a woman without children. In contrast, men quite often receive a wage increase once they have children. As a result, on average, mothers earn about 84 percent as much as fathers.
So you can see that only a part of the pay gap can be explained by the career and family choices that some women make. The reality is that in almost every occupational field, men earn more than women do even in the same positions with similar education and experience levels simply due to ingrained and often subconscious belief systems.
This probably leads you to the question, "What do I need to do to try and overcome the gender gap?" Well, a good start is obtaining a quality education. It could be even more beneficial if you train for a career in a fast-growing field because if there is a high demand for qualified workers, you are less likely to face bias due to your gender. You could also benefit from learning the art of negotiation so that you can skillfully negotiate a higher pay level. And finally, seek out companies that express the importance of diversity and currently have women working at all levels. These strategies may not close the pay gap, but they could certainly help you narrow it.
---
Forge a New Path and Change Your Future
Pursuing one of the non-conventional best-paying jobs for women is not just about shaping your future. You're also clearing the way for the other ambitious women behind you that want to follow your path. You can show young girls and women that they can break away from tradition and truly pursue whatever it is that fuels their passion no matter how unconventional it may be.
So take your first step today and find the program that can help you set out in the right direction. Simply enter your zip code into the search box below to generate a list of programs that are offered in your area. Find the school that can help you achieve one of the best careers for women!
---
* Bureau of Labor Statistics, U.S. Department of Labor, Occupational Outlook Handbook, https://www.bls.gov/ooh/. Some careers listed may be part of a combined occupation profile (visited July 11, 2023).