Legitimate Work From Home Jobs: 31 That Actually Pay
By Publisher
| Last Updated July 2, 2020
Finding legitimate work from home jobs can be difficult unless you know the best places to look and the best ways to search for them. After all, scam artists are abundant, and many of them claim to offer "the easiest" or "the best" work from home jobs that don't require any training or previous experience. Unfortunately, many people fall for their scams and lose time and money in the process. But you don't have to be one of them.
Plenty of legit work from home jobs can be found in career sectors that offer good pay and employment prospects. A simple change in the terminology you use might help you discover them more easily. For example, using terms like telecommuting jobs and remote work for online searches is often a faster way to separate the jobs that can truly allow you to work at home from those that may only offer disappointment.
According to a report from Global Workplace Analytics, nearly 3.7 million people in the U.S. telecommuted at least 50 percent of the time in 2014. That is, they did their jobs from home using their phones, computers, and Internet connections instead of going into their normal places of work. It's something that about half of all workers in America would be able to do on at least a part-time basis if their employers allowed it. And it's something that more people would like to try. (Up to 90 percent of the nation's workforce would like to try doing their jobs remotely at least two or three days each week.)
But here's an important factor to keep in mind: A lot of the most legitimate telecommuting jobs require some form of college-level education or vocational training. In fact, in a Gallup survey from 2015, about 55 percent of college graduates said that they had telecommuted before (compared to only 26 percent of people who never graduated from college) That's why getting a formal education can greatly improve your chances of being able to work at home. And it can often qualify you to earn a bigger, more reliable paycheck as well.
In some jobs, working from home is already the norm. And in many others, telecommuting is growing in popularity as employers look to save money, attract talent, retain their best employees, and become more environmentally friendly. So, are you ready to discover better possibilities than you might have encountered before? Check out the following sections:
(Note: The wage and salary estimates below are based on nationwide averages from the Occupational Employment and Wage Statistics program for 2019, unless otherwise indicated as being from (1) PayScale. They represent the pay of employed workers. People who are self-employed sometimes earn significantly more than the amounts being cited. Employment projections are based on total job openings—including newly created positions and openings due to replacement hiring—for the decade between 2014 and 2024.)
---
Medical, Health, and Wellness Telecommuting Jobs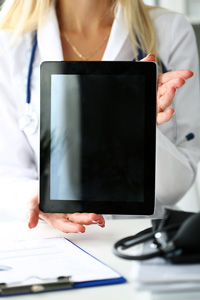 With demand for health services expected to keep rising for decades to come, this sector already has some of America's best opportunities. And it is increasingly becoming one of the top work from home jobs sectors because of the need to reduce healthcare costs and provide services to people who live in areas where it is inconvenient to travel for things like basic consultations.
Plus, overall interest in wellness and healthy living continues to grow. As a result, all kinds of professionals in this sector are finding ways to work from home. Medical jobs aren't the only options. With a reliable online connection, a dedicated home office, plenty of self-direction, and the right credentials, your potential to perform health-related telework could become very realistic. Consider these occupational examples:
Medical transcriptionist: Putting the voice recordings of doctors into accurate written form is something that naturally lends itself to telework. After all, it doesn't require any face-to-face interaction. And it is already one of the most common jobs that allow you to work from home.
Average hourly wage: $16.93 ($35,210 yearly)
Expected job openings: 14,600
Medical coding specialist: Like transcribing doctors' memos, assigning proper codes to medical diagnoses and procedures is often a good match for a telecommuting lifestyle. And it's meaningful work since accurate medical records are important for billing and payment purposes as well as proper patient care.
Average hourly wage: $22.40 ($46,590 yearly)
Expected job openings (for all health information technicians): 71,200
Online fitness coach or trainer: Many people prefer to exercise at home instead of at gyms or fitness clubs. But a lot of them still want professional guidance. So online fitness coaching is part of a new trend in which people can receive training over video conferencing services like Skype. That means fitness trainers can often provide their coaching from the comfort of their own homes.
Average hourly wage: $21.69 ($45,110 yearly)
Expected job openings (for all fitness instructors and trainers): 74,900
Telephone or virtual registered nurse (RN): A lot of healthcare providers, insurers, and other companies are increasingly hiring RNs to provide services like basic triage, remote patient monitoring, treatment authorization, case management, and patient education over the phone or online. So work from home nursing jobs are becoming more commonplace than you might expect.
Average hourly wage: $37.24 ($77,460 yearly)
Expected job openings (for all RNs): 1,088,400
Pharmacist: It might sound strange at first, but many work from home pharmacist jobs exist. In some cases, the jobs only involve part-time telecommuting for entering or reviewing prescription orders. In other cases, full-time telecommuting positions are available for handling all types of tasks that don't have to be done in a physical pharmacy location. Mostly, such jobs go to licensed pharmacists. But opportunities are sometimes also available for work from home pharmacy technicians who want to perform basic administrative tasks.
Average hourly wage: $60.34 ($125,510 yearly)
Expected job openings (for all licensed pharmacists): 78,400
Virtual physician: Like work from home nurse jobs, many other telework positions in professional medicine now exist. As a result, a lot of doctors now get to consult with their patients through video conferencing. Some of them even get to work at home full-time, or close to it. That's especially true of some general practitioners who provide basic diagnoses, prescriptions, and treatment plans to patients who live in remote regions.
Average hourly wage (for general practitioners): $102.53 ($213,270 yearly)
Expected job openings (for all general practitioners): 51,900
---
Customer Service Remote-Work Jobs
This sector is a major source of both full- and part-time work from home jobs, which is not surprising. Great client and customer care is usually essential for the long-term growth and success of any company, regardless of what it sells. As a result, many businesses that once hired cheaper overseas workers to handle customer service calls are now bringing those jobs back to America. They've discovered that U.S. workers are more likely to provide good service to their fellow countrymen and women than people in other parts of the world. Two examples of popular work from home customer service jobs include:
Customer service representative: With a reliable telephone line, computer, and Internet connection, it's possible to field customer calls wherever you reside. Of course, professionally handling customers' orders, requests, questions, and concerns takes good communication skills and an understanding of how this role affects a company's bottom line. That's why many people take business courses before going after the work from home call center jobs offered by respected and profitable companies.
Average hourly wage: $17.94 ($37,320 yearly)
Expected job openings: 888,700
Travel agent: Although many people today self-book their travel online, a lot of travelers still need expert and personalized assistance, especially for choosing appropriate destinations or arranging complicated itineraries. So professional travel agents continue to serve a vital role. And many of them have the option of working at home.
Average hourly wage: $21.49 ($44,690 yearly)
Expected job openings: 11,500
---
Sales and Marketing Telecommuting Jobs
Like most other white-collar careers, the occupational paths in this category often lend themselves to regular telecommuting. Of course, they also sometimes involve travel for face-to-face meetings or in-person research. But many sales and marketing professionals are able to spend a high percentage of their time at home. Plus, this category is known for providing high-paying work from home jobs to people who are qualified, enthusiastic, and highly motivated. With a relevant marketing education and the right experience, you may be able to attain jobs like:
Sales representative: Finding potential clients or customers, introducing them to a company's products or services, and negotiating prices and sales terms are all tasks that can often be handled over the phone or online. In some cases, even video conferencing can be used instead of travel as a way to establish personal rapport and carry out face-to-face interactions. So work from home sales jobs tend to be fairly plentiful.
Average yearly pay: $43,060 plus commissions and/or bonuses
Expected job openings (for sales reps without technical or scientific knowledge): 252,400
Market research analyst: Studying market trends and identifying the habits, preferences, and demographics of potential customers or clients can frequently be carried out in a home office. That's because a lot of the job involves coming up with ways to gather data and then analyzing that data and preparing reports.
Average hourly wage: $34.41 ($71,570 yearly)
Expected job openings (for market research analysts and marketing specialists): 151,400
Purchasing manager: Some sales professionals eventually decide to work on the buying side of things since they have such a good understanding of the negotiating process. And once they've gotten some experience as buyers or purchasing agents for retailers, wholesalers, or other types of companies, they often get opportunities to help lead and coordinate the purchasing activities of organizations. Although travel is sometimes required, most of their time is usually spent in an office, which means that telecommuting is frequently an option.
Average hourly wage: $61.73 ($128,400 yearly)
Expected job openings: 17,900
Sales manager: After enough successful experience as a sales rep, it's possible to find positions that involve leading and coordinating an entire sales team. And, in many cases, sales teams are made up of regional representatives from across the nation or around the world. So they don't all work out of the same office. As a result, sales managers can often work from any location where they have good phone service and online access, including from home.
Average hourly wage: $68.12 ($141,690 yearly)
Expected job openings: 108,000
---
Communications-Related Jobs That Offer the Chance to Work at Home
Many career paths within the wide-ranging field of communications lend themselves to working remotely. After all, it's a sector that relies heavily on the written word, which can be worked on from almost anywhere. In fact, many professionals in this category are most productive when they work at home since they can often control their routines more easily and limit distractions. By getting an education in writing, communications, language arts, or a related area, it's often possible to qualify for remote-work jobs such as:
Document translator: Companies, governments, and other organizations that do business or conduct affairs around the world often need to produce written materials in multiple languages or translate the foreign documents that they receive. So if you are fluent in a foreign language (or can learn one), then this career option may allow you to work remotely.
Average hourly wage: $27.40 ($57,000 yearly)
Expected job openings (for all interpreters and translators): 27,200
Public relations specialist: Every organization and public figure needs a good reputation. By crafting press releases, writing speeches, handling media requests, and tracking opinions on social media, you could help individuals and organizations create and maintain favorable reputations. And most of the job duties are a good match for telecommuting.
Average hourly wage: $33.75 ($70,190 yearly)
Expected job openings: 43,600
Writer or editor: Creating or editing written content is easily one of the most telecommuting-friendly work options that a person can choose. And sources of employment span multiple industries, not just top-of-mind ones like advertising, publishing, and entertainment. Plus, writing and editing are among the best work from home jobs for moms since they are often deadline-oriented instead of requiring you to work set hours every day. With deadline-driven work, you may get to choose your own hours, which provides extra flexibility.
Average hourly wage for writers and authors: $35.51 ($73,860 yearly)
Average hourly wage for editors: $34.57 ($71,910 yearly)
Expected job openings (for writers, authors, and editors): 68,600
---
Information Technology (IT) Remote-Work Jobs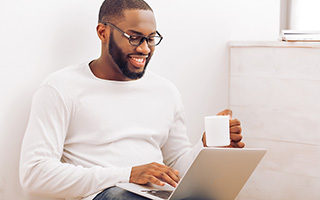 Who understands how to make telecommuting technologies work better than professionals in this sector? Their jobs, by nature, are heavily reliant on computers. So they are often a great fit for remote work. And computer technology helps drive nearly every modern industry, which means that IT-related job opportunities are widespread. With the right technology training, you can go after them like a pro. Here are just a few examples of good work from home computer jobs in this category:
Computer technology support specialist: Many computer users don't have the skills to troubleshoot their applications, operating systems, or hardware when things go wrong, let alone solve the problems. As a result, tech support representatives are essential for ensuring satisfying customer experiences. Plus, many companies even have their own in-house tech support for employees. And this role is often a match for telework since much of it can be done online or over the phone.
Average hourly wage: $27.19 ($56,550 yearly)
Expected job openings: 150,500
Web developer: Creating, testing, and maintaining websites can easily be done from home if you have the right skills and a good Internet connection. And this role continues to be vitally important for helping nearly every type of organization succeed in today's online-driven marketplace.
Average hourly wage: $39.60 ($82,370 yearly)
Expected job openings: 58,600
IT project manager: Many companies have technology staff that are spread across multiple regions. As a result, some projects need to be kept on schedule and on budget while coordinating the work of other professionals who have various talents and may live in various locations. So, in a lot of cases, IT project managers get to telecommute from home since their teams might rarely, if ever, get together in one office.
Average yearly pay: $92,5871
Applications software developer: Like web developers, other types of programming specialists also frequently get to work at home. Professionals who design, code, and test computer software are among them. And their jobs continue to offer fresh challenges as technology evolves and people's habits change. For instance, mobile app development is a major growth area thanks to the ongoing spread and improvement of smartphones, tablets, and wearable devices.
Average hourly wage: $53.66 ($111,620 yearly)
Expected job openings: 238,000
---
Financial and Administrative Telecommuting Jobs
The world is full of white-collar vocations that offer opportunities to work at home on a full- or part-time basis. Almost any job that is done in an office with a computer qualifies as a possibility for remote work. But many financial and administrative occupations are particularly well suited for telecommuting. Some examples include:
Data entry specialist: This occupation is a fairly common option for people who want to work from home. Data entry jobs are available through a lot of organizations that need extra help typing information into their computerized databases, including government agencies. Just be aware that legitimate data entry work from home jobs are sometimes advertised alongside scams, so it pays to check out any potential employer thoroughly before applying. In addition to fast and accurate typing skills, some employers also look for people who've completed basic office skills courses that cover commonly used computer software.
Average hourly wage: $16.74 ($34,820 yearly)
Expected job openings: 27,600
Virtual assistant: A lot of companies, especially during the early startup phase, can't justify hiring permanent administrative assistants or other office professionals since their routines and revenues may not be stable enough yet. But they can hire virtual assistants who work from home to take on specific projects. It's a concept that is growing more and more popular. In fact, with administrative assistance training, you can qualify to find work through a virtual assisting agency. And projects exist for people with many other kinds of skills as well.
Average hourly wage: $15.79 ($46,452 yearly)1
Employment recruiter: The Internet has become the go-to place for people to find job leads, post their resumes, and network with other professionals. So a lot of organizations hire recruiters to scan through various online listings and profiles in order to discover potential employees that have the talents they need. Recruiters then make contact with prospects that fit specific criteria and conduct initial interviews with them. So an education in human resources could qualify you to work remotely in this kind of role.
Average hourly wage: $22.89 ($59,541 yearly)1
Expected job openings (for human resources specialists): 139,300
Accountant: Accurately preparing tax returns and other financial records is critical for maintaining good standing with the government and other stakeholders. But it's also essential for knowing exactly how much money is being made versus how much is going toward expenses. So most organizations—and many individuals—require the expert guidance and abilities of accounting professionals. Plus, this field is known for having a lot of work from home accounting jobs, especially since it is well suited for telecommuting and self-employment.
Average hourly wage: $38.23 ($79,520 yearly)
Expected job openings (for accountants and auditors): 498,000
Financial analyst: You don't necessarily have to work in a traditional office in order to make recommendations about stocks, bonds, insurance products, or other investments. Some financial analysts get to track industry trends or manage investment portfolios or mutual funds from their own home offices. To qualify for such jobs, you definitely need some training related to financial planning, and some jobs require a Master of Business Administration (MBA) degree or a graduate degree related to finance.
Average hourly wage: $45.27 ($94,160 yearly)
Expected job openings: 89,400
Financial manager: This role is often a little different in each organization, but it generally involves analyzing data, preparing financial statements, and advising senior managers and executives on potential ways to increase profits. Since a lot of the work is performed on a computer, it can often be carried out at home. The education requirements are similar to those of a financial analyst.
Average hourly wage: $70.93 ($147,530 yearly)
Expected job openings: 169,300
---
Education and Training Remote-Work Jobs
Thanks to technologies like video conferencing and online apps, more and more learning is happening outside of traditional classrooms and workshop settings. And that's offering greater variety and more flexibility for professionals in many education careers. For example, consider these two occupations:
Virtual adult-education teacher: A lot of adults, in America and around the world, have less than high-school-level academic abilities. But they are often too busy with work and family commitments to attend traditional classes that would help them improve their literacy and other basic skills. So a lot of schools now offer programs in which teachers work from home and help students learn over the Internet.
Average hourly wage: $28.36 ($58,980 yearly)
Expected job openings (for all teachers of adult basic education and literacy): 20,100
Online corporate trainer: Ongoing employee development is important to a lot of companies. Many organizations regularly pay for training workshops that help employees become better in their roles or enhance their productivity or professional relationships. And a growing number of corporate training organizations now offer virtual workshops that are conducted online and through video conferencing. So trainers can often host virtual workshops from their own homes.
Average hourly wage: $31.56 ($65,640 yearly)
Expected job openings (for all training and development specialists): 80,400
---
Art- and Design-Related Jobs That Can Often Be Done From Home
Creative professionals often have access to remote-work opportunities. And many artists and designers are self-employed, which means that they can work from wherever they choose and also set their own hours. So if you have a budding creative streak and your goal is to work at home, then you may want to consider getting some formal art and design training. That way, you might qualify for vocations like these two examples:
Graphic designer: Visual communication is often a key element in the spread of important information, inspiring ideas, and thought-provoking messages. By becoming a creative pro who designs logos, illustrations, and various layouts using images and text, you could make a significant impact through your work. And since you only need some basic drawing tools and a computer with professional design software, you may be able to work from home full- or part-time.
Average hourly wage: $27.17 ($56,510 yearly)
Expected job openings: 65,800
Interior designer: Making interior spaces feel inviting while also making them safe and functional is a widely sought-after ability. Plus, professionals in this field are often able to use their talents in an extensive variety of ways since they select items like lighting, wall colors, furniture, flooring, and many other decorative and functional materials and fixtures. Although they frequently need to conduct on-site visits to their clients' spaces, much of their work can be performed from a design studio, which, for many interior designers, is at home.
Average hourly wage: $29.32 ($60,990 yearly)
Expected job openings: 16,200
---
Small Business Ownership
When you're the boss, you get to decide where to spend each workday. That's why a lot of self-employed people choose to work from home. In fact, Global Workforce Analytics reports that in 2014, more than 20 percent of America's self-employed people worked primarily in their own places of residence. And the number of incorporated home-based businesses has been growing. For instance, between 2005 and 2014, the number of self-employed people who operated such businesses increased by nearly 19 percent.
So if you're serious about working at home, then it might pay to take some entrepreneurship courses. (On average, small business owners draw annual salaries of more than $71,500). Two of the most popular work from home jobs for entrepreneurs include:
Franchise owner: By investing in a ready-made business with an established brand, you can avoid many of the challenges that are normally associated with starting a new company. And many franchises don't require any kind of brick-and-mortar location other than your own home. You will likely have to pay some fees and maybe share some of your profits with the main franchisor, but many people have a lot of success through this arrangement. Plus, a wide variety of franchises exist, each targeting a different market. So, for example, you can choose from businesses that serve popular markets like electronics, environmentally friendly products, health and wellness services, or products and services for aging baby boomers.
Online reseller: Many people have created successful small businesses by reselling products on major websites like eBay and Amazon. In this category, jobs that can be done from home are often self-created by people who know how to find great deals on physical items at places like retail stores, antique shops, flea markets, or garage sales. Many of those items can then be marketed online at a higher price. This type of business often works particularly well for people who specialize in niche areas that have avid collectors.
---
Companies and Websites That Offer Legitimate Work From Home Opportunities
Every year, it gets easier to find legit telecommuting jobs. In fact, many of the world's top organizations now offer remote jobs, and countless smaller companies provide good-paying opportunities that involve working from home. You just need to know where to look.
Start by checking out the freelance opportunities and remote work postings on some of the top online job boards. Many of the best work from home jobs are posted on sites such as:
According to Forbes, some of the top companies for remote jobs include:
ADP
Allergan
Amazon
Anthem, Inc.
Appen
BroadPath Healthcare Solutions
Cactus Communications
Convergys
CyberCoders
Dell
Hilton Worldwide
Humana
IBM
Intuit
IT Pros
K12
Kaplan
Kelly Services
LanguageLine Solutions
LiveOPS
Robert Half International
Salesforce
SAP
Sutherland Global Services
TeleTech
UnitedHealth Group
VIPKID
Wells Fargo
Working Solutions
Xerox
---
How to Avoid Work From Home Scams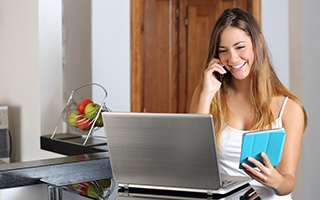 As you explore your options, it's worth remembering that a little caution now can help you avoid disappointment later. After all, some researchers have discovered that several phony home-based jobs are advertised for every one real work from home job. Although many ads for phony opportunities may seem legitimate at first, it is possible to protect yourself. Here are some of the best practices to employ when conducting your search:
Always look into the companies offering the opportunities that you are interested in. Check to see if they have bad ratings with the Better Business Bureau or a history of complaints on websites like Ripoff Report.
Find out whether the companies have staff that will answer your questions and provide you with references from former and current employees.
Make sure that a company is able to describe all job responsibilities and expectations in detail.
Remain skeptical, especially if you receive quick job offers without being interviewed or asked to provide a resume, references, or work samples.
Walk away if you feel pressured to accept a job immediately since that might be a sign that you're dealing with a scam artist who doesn't want you to have time to think rationally about the offer.
Don't make any upfront payments for a job until you've been able to confirm that both the company and the specific opportunity are legitimate.
---
Where to Find Training for Good Work-at-Home Careers
Many trade schools and vocational colleges offer programs in fields that support legitimate work from home jobs. And they are often close by. So discover a school within your own community right now by typing your zip code into the simple program finder below!
---