How to Become a Personal Trainer: 9 Key Steps to a Career in Fitness
By Publisher
| Last Updated December 5, 2023
Are you ready to learn how to become a personal trainer and help people get fit and improve their health? This is the guide you need. It outlines a step-by-step process you can follow to establish a fulfilling career in the fitness field.
You might be surprised to learn that, technically, you don't need any specific qualifications to become a personal trainer or fitness instructor. The fitness industry is largely unregulated, which means that anyone can call themselves a personal trainer. But if you want to be taken seriously, you need to become certified. That means meeting age and educational requirements, choosing a reputable certification program, and passing an exam. You can boost your odds of success by completing a training program at a college or vocational school first. After all, in order to succeed in this field, a personal trainer should have training in areas like anatomy, physiology, and nutrition. A post-secondary program can give you that kind of educational foundation.
The good news is that skilled trainers can find plenty of opportunities. Personal training is a $14-billion industry that has grown steadily over the past few years. Looking ahead, jobs for fitness professionals are expected to expand by 19 percent over the decade between 2021 and 2031, according to employment projections from the Bureau of Labor Statistics, Occupational Outlook Handbook. About 65,500 jobs for fitness trainers and aerobics instructors should open up each year during that time frame.*
So get all the details about what's involved in becoming a personal trainer by checking out the information below:
---
How to Become a Certified Personal Trainer
"What do I need to become a personal trainer?" is a common question. Fortunately, learning how to become a fitness instructor or personal trainer is a fairly straightforward process. Here are nine steps you can follow to become a certified fitness pro:
1. Assess your own attitude and abilities.
There are many types of personal trainer careers. Whether you want to become a fitness coach, aerobics instructor, wellness coordinator, or some other type of fitness professional, it's important to reflect on your personal qualities and motivations in order to ensure that sure you're prepared for what's ahead.
Persistence and flexibility are two key skills you need to be a fitness instructor. To be a truly successful personal trainer, you also need to be good with people. In order to determine whether this is the right path for you, ask yourself the following questions:
Am I in reasonably good physical condition?
Do I lead a healthy lifestyle?
Am I passionate about fitness?
Am I a good listener?
Can I motivate and inspire people to do their best?
Do I enjoy working one-on-one with many different kinds of people?
Can I deal with a non-traditional work schedule that may keep me busiest in the evenings and early mornings?
Can I be patient with clients who make excuses for not sticking to their routines or may place blame in the wrong areas when they don't reach their goals?
2. Think about where you'd like to work.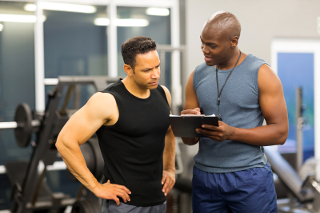 Personal trainers are employed in a diverse range of settings. Having an idea of where you'd like to work can help you focus your training and choose the appropriate certifications. Here are a few examples of places that hire personal trainers:
Commercial gyms
Health clubs
Corporate fitness facilities
Hospitals and wellness centers
Training studios
Cruise ships
Hotels and resorts
Retirement complexes
Community centers
Of course, many trainers also work in clients' private homes or open their own studios. Online fitness coaching is also becoming an increasingly popular option because it lets you connect with clients no matter where they live. Through online training, you can develop customized workouts without having to travel to clients' homes or schedule time in a gym.
3. Choose a certification program.
Some people believe that the fastest way to become a personal trainer is by going through an unaccredited online program. Many such programs can be completed in just a few hours. With this approach, you can become a personal trainer without a high school diploma. Keep in mind, however, that unaccredited certifications are not widely recognized and probably won't help you find a job in a commercial gym or fitness center. They might be alright if you plan to serve private clients who aren't concerned about the specific credentials you hold, but they will ultimately limit your employment prospects.
That's why it's wise to find out what certifications are accepted or required by the places where you want to work. Generally speaking, the best personal trainer certification is one that is accredited by the National Commission of Certifying Agencies (NCCA). The NCCA is considered the gold standard of fitness accreditations, and most gyms look for trainers with these certifications. Two of the most popular are from the NASM (which stands for the National Academy of Sports Medicine) and ACE (which stands for the American Council on Exercise). Some other organizations that offer NCCA-accredited personal trainer certifications include:
American College of Sports Medicine (ACSM)
National Strength and Conditioning Association (NSCA)
International Fitness Professionals Association (IFPA)
National Federation of Professional Trainers (NFPT)
National Council for Strength & Fitness (NCSF)
National Exercise & Sports Trainers Association (NESTA)
National Council for Certified Personal Trainers (NCCPT)
National Exercise Trainers Association (NETA)
Academy of Personal Training Education (APTE)
4. Consider post-secondary training.
You don't need to go to college to become a personal trainer, but post-secondary training can give you a great foundation of relevant knowledge for passing the certification exams. It can also help you advance in the fitness field, as many specialty certifications require college training.
Many vocational schools offer focused programs that are designed to prepare you for one or more personal trainer certifications. Some even include a certification exam as part of the curriculum. You'll likely learn about a range of topics such as anatomy, nutrition, biomechanics, and exercise physiology. You'll also be taught how to assess a client's fitness level and design a safe workout program that addresses specific goals. Plus, many programs can be completed in less than a year.
Another option is to get a bachelor's degree in an area like exercise science or kinesiology. These programs typically take four years to complete and include more general education courses such as English, art, and social science. A degree is not strictly necessary to become a personal trainer, but it can open the door to many niche specialties.
5. Meet basic personal trainer certification requirements.
While requirements vary somewhat between certifications, you'll likely need to:
Be at least 18 years old
Have a high school diploma or GED
Have current CPR and AED (automated external defibrillator) certification
Note that many programs will not accept CPR certification from an online-only provider. They want to know that you have had your skills assessed in person. Check with your chosen program to find out which providers it prefers. Acceptable options may include the American Red Cross, the American Heart Association, the National Safety Council, or the Health & Safety Institute.
6. Develop a study plan.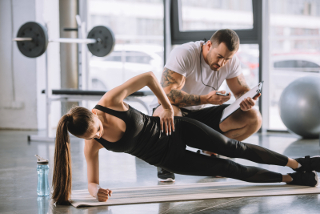 Most certification programs give you a set amount of time to prepare once you have registered for the exam. Three to six months is fairly standard, but some programs let you take up to one or two years. The amount of study time needed will vary from person to person, but a general guideline is to allow for 80 to 150 hours. Following good study tips can be helpful.
You may also want to consider investing in materials like study guides, textbooks, flash cards, and practice tests. Each certification program offers study packages that include varying levels of instruction and support. Be aware that you are not required to purchase any of these materials in order to take the exams. The price of such packages ranges from about $100 to $2,400, depending on the certifying organization and what's included. (In many cases, package costs include the certification exam fee.)
Of course, there are also plenty of free resources that can help you prepare. Read blogs, watch relevant online videos, and talk to experienced certified trainers to learn what they recommend.
7. Pass a certification exam.
Most exams consist of 100 to 300 multiple-choice questions related to anatomy, physiology, nutrition, client assessment, program development, and ethics. Depending on the certification you choose, you will have between two and three hours to complete the exam.
There is a cost to get certified as a personal trainer if you forgo a study package and just sign up for a certification exam. Keep in mind that some vocational schools include these fees in their tuition rates. Also, some employers are willing to cover the certification costs for their trainers, so be sure to look into the available options.
Pass rates vary between different exams. If you don't pass the first time, most programs let you retake the test, but you may have to wait a certain amount of time between attempts. In most cases, there are retake fees.
Once you pass the exam, you receive your certification and can officially call yourself a certified personal trainer. You will have to recertify every so often, usually every two or three years. Recertifying requires completing a designated amount of continuing education credits and paying a fee.
8. Begin your career.
Most personal trainers get their start in gyms. This lets you acquire experience and build a reputation in the industry without having to find your own clients or invest in costly equipment. Plus, as an employee, you might receive benefits and may be covered by the gym's liability insurance (but it's worth looking into getting some for yourself).
As you gain knowledge and confidence, you can branch out on your own. Just bear in mind that you probably won't be able to take your clients with you. Most gyms require you to sign a non-compete agreement that prevents you from doing exactly that.
Here are a few things you can do to get started in the personal training field:
Ask gyms in your area about the possibility of job shadowing a trainer. Some gyms offer internship programs that combine job shadowing and supervised coaching. However, the internship may be unpaid.
Hire a personal trainer and explain that you are looking to break into the field and will be asking plenty of questions. It can cost $60 or more an hour to get a personal trainer, so you will want to make the most of this opportunity. Take note of how your trainer interacts with you and think about the approach you would use.
Offer to provide a few free training sessions at a gym in order to get client feedback. A lot of fitness centers are happy to accept free labor. Focus on making a positive impression on your clients so that they not only come back but also recommend you to their friends.
9. Consider a specialty.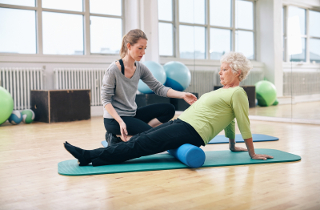 Getting additional training in a specific area can help you expand your client base and let you charge higher fees for your services. A wide variety of specialty certifications are available. Some prepare you to work with clients who have medical issues such as cancer, heart problems, asthma, or arthritis. Others let you specialize in weight management, sports conditioning, nutrition, or programs for young people or older adults. Note that many of these specialty certifications require you to be a certified trainer or have a college degree in a fitness-related field.
A 2013 American Council on Exercise (ACE) survey of fitness professionals found that these were the most common types of clients that personal trainers worked with:
Healthy adults: 76 percent
Seniors: 70 percent
Overweight or obese adults: 69 percent
Post-rehabilitation clients (i.e., those recovering from injury or surgery): 34 percent
Special populations (i.e., those with medical limitations): 29 percent
Athletes: 26 percent
Youth: 22 percent
You could also develop a niche in a particular activity. Some of the top fitness trends of 2023 include strength training with free weights, body weight training (i.e., when people use their own weight for resistance), fitness programs for older adults, functional fitness training, and outdoor activities (such as hiking, cycling, or kayaking).
---
What You Could Earn as a Personal Trainer
The amount you can earn as a personal trainer greatly depends on whether you work full- or part-time and whether you are on staff somewhere or running your own business. Other factors that come into play are the amount of experience you have, the certification(s) you hold, and even where you live.
According to the Occupational Outlook Handbook, the median wage for a personal trainer is $19.57 per hour.*
In addition, the 2013 ACE survey showed that part-time personal trainers earned an average hourly wage of $26 and that full-time trainers made $52,537 per year. Those with advanced certifications earned about $3 to $5 more per hour, which translates into an additional $6,240 to $10,400 per year.
---
How to Start Your Own Personal Training Business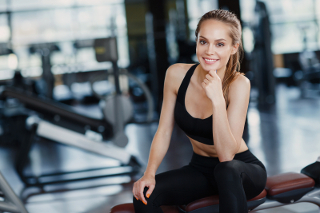 Many personal trainers dream of being their own boss. You can start your own fitness business by following these five steps:
1. Learn the basics of business management.
You need to be clear about what's involved in tracking expenses, paying taxes, maintaining client records, and so on. Taking a business course or two at a local college or online could be highly beneficial before you dive into your new venture. You may also want to consider hiring a bookkeeper to handle the financial aspects of your business so that you can concentrate on serving clients.
2. Set up your business.
Establishing a sole proprietorship is the simplest way to get started. A sole proprietorship is a business that is owned and operated by a single person. You and the business are legally the same; business income is reported on your personal tax return. This is the least complicated and most common business structure. Keep in mind, however, that you will be personally liable for the debts of the business. (If that's too risky for you, you may want to look at forming a limited liability company or LLC, which is more involved but will protect your personal assets.)
As a sole proprietor, you generally don't have to register your business if you're using your own legal name. If you want to use a different name, such as "John Smith Fitness Training," you will have to apply for a DBA (short for "doing business as") and register your business name with your county or state. Make sure that no one else in your area is using the same business name.
Be sure to apply for an Employer Identification Number (EIN) from the IRS for tax reporting purposes. You don't technically need an EIN if you are a single proprietor with no employees, since you can simply use your own Social Security number to report your taxes. However, some financial institutions require an EIN before they'll let you open a business account.
You have to have a business license to be a personal trainer and operate legally within a locale. But licenses are inexpensive and fairly easy to get from your city or county government. If you plan to sell products, you'll need to get a sales tax license as well.
3. Find a training space.
Working as an independent contractor at a gym is one option. This gives you access to a wide range of equipment as well as a more established client base. You rent space from the gym by paying either a flat monthly fee or a percentage of each training session. You are responsible for your own taxes, marketing costs, insurance coverage, and educational fees.
You may also choose to run your personal training business from your own home. If you go this route, be sure to do the following:
Check zoning regulations. Not all areas permit home-based businesses, and even those that do will likely place restrictions on how you can operate. For instance, you might be allowed to do one-on-one training with a single client, but you may not be permitted to lead a group aerobics class in your basement. Talk to your local zoning office to make sure you understand the rules.
Get your gear. You'll need to invest in basic stuff like mats, weights, jump ropes, exercise balls, body bars, and resistance bands. Depending on the amount of space you have and the type of training you want to do, you might also consider getting a stationary bike, treadmill, or leg extension machine. If you'll be training clients in their homes rather than yours, you likely won't have to buy as much equipment.
Separate work and play. If clients are coming to your home, you need to think about how to accommodate them while maintaining your (or your family's) privacy. Where will clients park? Will they have a separate entrance? Is there a bathroom that can be dedicated for their use? Be clear about which areas are for training and which are off limits.
4. Buy insurance.
In a business that incurs as much risk for injury as personal training, it's essential to get the right insurance. In most cases, gym employees are covered under the facility's policy, but if you are an independent contractor or you train clients outside of a gym, you will need to get your own coverage. In fact, most gyms won't hire independent contractors without proof of liability insurance.
At a minimum, you should get both general and professional liability insurance. General insurance protects you in case of accidents at your place of work. So if a client falls off your treadmill and sprains his or her ankle, you would be covered. Professional liability insurance (also known as errors and omissions insurance) covers your legal costs arising from property damage or bodily injury caused by you giving a client improper instruction. So if your client sues you because he or she pulled a muscle doing an exercise that you recommended, professional liability insurance would cover you.
To find a reputable insurance provider, check with the organization where you got your personal trainer certification. It may offer discounts on liability insurance to trainers who achieve its designation.
5. Market your services.
In order to attract clients, you have to spread the word about the value that you offer. Here are a few tips to help you: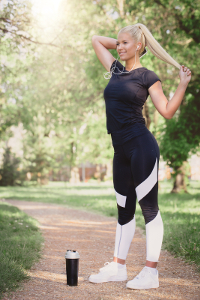 Define your audience. It's important to understand who you are trying to reach and what they are trying to achieve so that you can target your messaging appropriately. For instance, if you're hoping to work with retirees, try leaving a stack of business cards at social gathering places like coffee shops. If you'd like to help new mothers get back in shape, put up notices at pediatricians' offices and daycare centers.
Set up a website—and maybe a blog. Make sure your site is professional-looking and easy to navigate. Including a blog that is regularly updated with useful content can be a great way to showcase your expertise. Once you have a collection of articles, consider reaching out to other fitness sites to see if they'll accept a guest post.
Establish a social media presence. Share fitness tips or celebrate client successes on platforms that are popular with your target market, such as Facebook or Instagram.
Get friendly with influencers. Word of mouth is the best form of advertising, so make an effort to cultivate relationships with people who could potentially send a bunch of clients your way: Baristas, hairdressers, doctors, and physical therapists are just a few examples.
Give away free stuff. People love to get something for nothing. Host a fee-free nutrition seminar or sponsor a friendly competition between you and your clients. Offer free initial sessions or discount deals for people who purchase multiple sessions. These are all great ways to gain exposure and new clients.
---
Put Your Ambitions in High Gear
Now that you have a complete picture of how to become a personal trainer, you can start exploring training options that will get you moving toward your goal. Why not begin by checking out the streamlined personal training programs available from trade schools and vocational colleges? Discover convenient nearby options by putting your zip code into the search tool below!
---
* Bureau of Labor Statistics, U.S. Department of Labor, Occupational Outlook Handbook, https://www.bls.gov/ooh/. Some careers listed may be part of a combined occupation profile (visited August 1, 2023).