How to Become a Physical Therapist: 12 Steps to Make It Happen
By Publisher
| Last Updated August 15, 2023
Do you feel energized? You're about to learn how to become a physical therapist (PT), one of today's most important, well-paid, and in-demand types of healthcare professionals. If you have the drive to make a difference in people's lives and the commitment to expand your knowledge and abilities, then you owe it to yourself to get better acquainted with the path into this amazing career.
You'll find many more details below, but here's a simplified overview of what it takes to become a physical therapist (also commonly known outside the US as physiotherapist): First, spend a little time around some actual physical therapists so that you understand what their jobs are like. Then, earn a bachelor's degree in the major of your choice, making sure to take all of the courses that are required for entry into a Doctor of Physical Therapy (DPT) program. Next, get accepted into one of your preferred DPT programs and earn your doctorate degree. Finally, pass the National Physical Therapy Examination (NPTE) and meet your state's other requirements to get your PT license.
In most cases, it takes about seven years to become a physical therapist from the time you enter college to the time you get your license to practice. However, as you'll learn below, not everyone follows the same path. For example, some people become physical therapist assistants (PTAs) before eventually deciding to pursue the additional education that's necessary to become a PT.
However you get there, being a PT definitely has its rewards. For instance, the Occupational Outlook Handbook says that the median physical therapist salary in the U.S. is $95,620.* And some PTs make over $127,110 a year, especially if they run their own clinics. Plus, employment projections show that this field is expected to grow 17 percent between 2021 and 2031, with about 40,400 additional PT jobs projected to open up during that period.*
So learn much more about everything that's involved in becoming a physical therapist. Check out these 12 steps:
---
1. Job Shadow a Few Physical Therapists
Does your perception of a physical therapy career match reality? That's what you should aim to find out before getting too far into this process. While observing PTs and PTAs as they help various kinds of patients, you may develop even greater enthusiasm for the field. Or you might come to the conclusion that you should explore other kinds of healthcare careers in order to find one that suits you a little better.
Try to connect with a variety of physical therapists who specialize in different areas of the field. For example, maybe you can find three PTs with very different specialties (such as sports medicine, geriatrics, or women's health). That kind of variety will allow you to have different experiences so that you get a broader view of the field. (Observing just one physical therapist on the job may not necessarily give you a full picture of what to expect.) By the same token, it's also a good idea to job shadow PTs in various kinds of clinical settings. After all, PTs can work in:
Outpatient clinics
Rehabilitation centers
Skilled nursing facilities
Athletic training facilities
Home health environments
Hospitals
Always be polite and respectful when contacting physical therapists about potential job shadowing opportunities. Indicate your strong enthusiasm for the field and your willingness to volunteer your labor in exchange for the chance to learn more about what they do. Remember that if all goes well, they may serve as outstanding references, which you'll need later on.
During your job shadowing experiences, maintain a written log that includes the dates and times you volunteered as well as what you observed or helped out with on those days. At the end of each experience, get the supervising PT to sign and date your log.
As part of your experiences, you may get to observe PTs doing things such as:
Evaluating patients' strength, balance, flexibility, range of motion, and pain tolerances
Designing therapeutic treatment plans for patients who need help managing their pain, improving their ability to move, or healing their bodies due to surgeries, muscle strains, fractures, whiplash, sports-related injuries, back injuries, pelvic injuries, arthritis, cancer, fibromyalgia, obesity, cerebral palsy, cystic fibrosis, multiple sclerosis, and many other health conditions that cause physical discomfort or decreased mobility
Carrying out or showing PTAs and individual patients how to perform focused exercises, stretching movements, and other therapeutic techniques
Assessing patients' progress and adjusting treatment plans when necessary
---
2. Decide Whether You Want to Start Your Career as a PTA First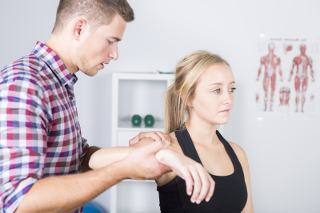 After spending some time in real physical therapy settings, you may decide that you want to become a physical therapist assistant before pursuing PT credentials. Think about it: PTAs often get to do more physical, hands-on work and spend more of their time directly helping patients than PTs. (Although PTs also get to do those things, much of their time is spent doing consultations, evaluations, and reports.) Plus, you might enjoy working in this field for a while without the extra responsibilities that come with being a PT.
Another benefit of becoming a PTA is that the post-secondary training generally only takes about two years (compared to a total of about seven for becoming a PT). However, if you decide to become a PT later on, your associate degree may or may not count toward the education that's required. In fact, there's a good chance you'll need to complete a four-year bachelor's degree and take a lot of courses that weren't part of your PTA program in order to qualify for a DPT program. Plus, different schools have different credit-transfer policies, so there are no guarantees that you'll receive credit for all of your previous education.
Ultimately, starting your career as a PTA can work out as long as you do enough advance planning and choose the right schools and programs. When the time comes to pursue a career as a PT, you may even be able to complete most of your additional education online. And your time spent as a PTA will probably give you a greater depth of understanding about the field and make it easier to learn everything else you'll need to know.
That said, becoming a physical therapist assistant is generally seen as its own path, separate and apart from becoming a physical therapist. It isn't necessarily seen as a stepping stone. In fact, according to the American Physical Therapy Association, only about one in 10 PTAs ever choose to pursue additional education for future careers as PTs. (But that doesn't mean you can't be part of that 10 percent.)
---
3. Research DPT Programs (and Their Requirements)
Even if you haven't started attending a college or university yet as an undergraduate, it's a good idea to look ahead at what you'll need for entry into a Doctor of Physical Therapy graduate program. That way, you can make a streamlined plan that incorporates all of the necessary course prerequisites and minimizes any extra time in school that you may otherwise have to complete.
DPT programs vary in their requirements, but applicants typically need to have completed courses in areas such as:
Anatomy
Physiology
Chemistry
Physics
Biology
Psychology
Sociology
Statistics
Less commonly, prerequisites may include courses related to areas like:
Mathematics
English and communication
Medical terminology
Exercise physiology
Humanities
Nutrition
Ethics
Colleges and universities all over the country offer DPT programs, so you can probably find options in your region. Just make sure you look for physical therapy schools that are accredited by the Commission on Accreditation in Physical Therapy Education (CAPTE). Otherwise, you may run into trouble later on when it's time to get your PT license. There are currently more than 250 CAPTE-accredited programs throughout America for physical therapist training.
Other important factors to consider include:
Your preferences in regard to things like location and campus size
Your ultimate goals as they relate to specializing in a particular area of physical therapy
Potential opportunities for conducting research for publication as part of your graduate studies
The percentage of each program's graduates who pass the NPTE
The quality of the training facilities
The cost of tuition and fees (and the availability of financial aid)
Whenever possible, it's also smart to find people who've recently graduated from a particular program—as well as local employers who've hired them—and request their opinions about its strong and weak points.
---
4. Get a Bachelor's Degree
Some DPT programs are open to students at the college freshman level; they incorporate both an undergraduate and graduate post-secondary education (and they typically take just six years to complete). However, most DPT programs are designed for people who have already completed an undergraduate education by earning a bachelor's degree. So that might be where you need to start.
Here's the good thing: As long as you take the courses that are required for entry into your future DPT program, you can major in anything you want. Even if your major seems totally unrelated to physical therapy, you can still probably take the required courses as electives. Just make sure you get good grades in them.
According to the American Physical Therapy Association (APTA), these are the most common college majors of students who have been accepted into DPT programs that require a bachelor's degree:
Exercise science
Kinesiology
Biology
Psychology
---
5. Do More Job Shadowing (If Necessary)
As part of their prerequisites, a lot of DPT programs require applicants to have a certain amount of verified clinical experience under the supervision of one or more licensed physical therapists. That experience can be paid or voluntary, but it needs to include many hours of direct observation in a physical therapy setting. (In many cases, the requirement is more than 100 total hours of job shadowing, verified by supervising PTs.)
---
6. Gather Letters of Recommendation
Throughout your undergraduate education and job shadowing experiences, always keep in mind that you'll need to provide great references when you apply to DPT programs. Seek to establish good relationships with your professors, academic advisors, supervising physical therapists, club leaders, and any other people of stature who may be able to describe your best qualities.
Some physical therapy schools require as many as four letters of recommendation. They want to know that important people think highly of you, especially when it comes to qualities like compassion, reliability, leadership, commitment, critical-thinking skills, social intelligence, maturity, attention to detail, and communication abilities.
---
7. Take the GRE
Unless you've chosen the path of a freshman-entry DPT program, you'll probably need to take the Graduate Record Examination (also known as the GRE General Test). The GRE is a common standardized test that's used to measure a student's ability to succeed in a graduate-level degree program. Many physical therapy schools have minimum GRE scores that applicants must achieve before applying. So it's important to take the GRE well in advance of the deadlines for DPT program applications. (Depending on your scores, you may need to retake it.)
The GRE is offered as a paper test or computer-based test. If you take the computerized version, you're allowed to go back and forth between different questions and change your answers as necessary. The test includes three main sections:
Verbal reasoning: Uses multiple-choice questions to assess your reading comprehension and ability to analyze the relationships between different words, sentence fragments, full sentences, and communicated concepts
Quantitative reasoning: Tests your ability to solve or analyze math and data problems through a series of multiple-choice questions
Analytical writing: Consists of two timed writing assignments that test your ability to analyze issues and clearly communicate and support reasoned arguments (while adhering to specific instructions) in response to particular statements
When students receive their GRE scores, they get to see the percentage of test takers who scored lower than they did in each area. According to the Physical Therapist Centralized Application Service (PTCAS) report, among students who took the GRE, applied to DPT programs through the PTCAS, and were accepted during the 2021-2022 academic year, these were the average (but unofficial) percentile ranks:
Verbal: 46.81 percent for males; 42.38 percent for females
Quantitative: 39.40 percent for males; 33.07 percent for females
Analytical: 48.80 percent for males; 50.93 for females
---
8. Apply to Your Preferred DPT Programs
In addition to your GRE scores and letters of recommendation, you'll need to gather your official transcripts (from each post-secondary school you've attended) or request that they be sent directly to PTCAS or the physical therapy schools you're applying to. Most students use PTCAS when applying to DPT programs since it enables them to apply to multiple schools with just one Web-based application. It also allows them to track each aspect of their application in real time.
Each physical therapy school has its own admissions process, but it's usually better to apply as soon as possible rather than wait until closer to the deadline date. Along with your personal references and GRE scores, schools will weigh your grade point average (GPA). In order to be competitive with other applicants, you'll probably need an undergraduate GPA above 3.0. In fact, the PTCAS report shows that among PTCAS applicants who were accepted to DPT programs during the 2021-2022 academic year, the average GPA was 3.55.
Many physical therapy schools also request written essays and/or conduct pre-admissions interviews. You may also be asked to take a drug test and/or agree to a criminal background check. (Schools often want to make sure that you'll be able to meet your state's licensing requirements after graduation.) Having a criminal record won't necessarily cause your application to be rejected. It really just depends on the specific types of offenses and how long ago they took place. But if you fail to disclose any previous convictions, you may be kicked out of a program after you enroll.
---
9. Earn Your DPT Degree
Here's where you'll really start learning what it takes to be a physical therapist. Your Doctor of Physical Therapy program will probably provide plenty of interesting and exciting challenges along the way. In addition to coursework (which may include laboratory study), you'll have a clinical internship. Staying organized and following great study habits will be critical to your success.
Your courses will likely consist of subjects such as:
Biomechanics
Exercise physiology
Kinesiology
Functional anatomy
Functional biology
Pathology
Pharmacology
The musculoskeletal system
The endocrine system
The cardiovascular and respiratory systems
Neuroscience
Cellular histology
Life span development
Applied physical therapy
Clinical and evidence-based practice
Psychology
Sociology
Communication
Management
Ethics
During your clinical internship, you'll be supervised by a licensed PT as you start applying what you've learned in a real physical therapy setting. On average, the clinical component of a DPT program lasts around three months, according to the American Physical Therapy Association. This is when you'll get to assist actual patients and test your skills of empathy, observation, evaluation, decision making, and adaptability as well as your physical stamina and dexterity.
---
10. Pass the NPTE
After earning your DPT degree, you'll need to pass the National Physical Therapy Examination in order to meet your state's requirements for becoming a licensed PT. The exam usually consists of about 250 multiple-choice questions that test your entry-level knowledge of physical therapy evaluations and interventions in relation to various systems of the human body, therapeutic devices and techniques, evidence-based practice, professional duties, and safety.
You're allowed to take the NPTE up to three times within a one-year period. But statistics show that between 2018 and 2022, more than 80 percent of all first-time takers of the exam have passed it. And when you narrow it down to just those who were graduates of accredited physical therapy programs in the U.S., the pass rate is over 85 percent each year.
Many people choose to prepare for the NPTE by taking timed practice exams such as the Practice Exam and Assessment Tool (PEAT). Other popular resources include flash cards and study guides (such as PTEXAM: The Complete Study Guide by Scott Giles).
---
11. Get Licensed in Your State
Every state in the U.S. regulates the practice of physical therapy. So you'll need to obtain a license from the appropriate licensing authority in your state. Aside from passing the NPTE, many states have additional requirements such as:
Being at least 18, 19, or 21 years old (depending on the state)
Having a Social Security number
Passing a criminal background check, which may include fingerprinting
Passing a jurisprudence exam that tests your knowledge of relevant state laws and regulations
Once you've received your license to practice, you can officially call yourself a physical therapist. Keep in mind that you might have to renew your license every so often, which may require completing a small amount of continuing education before each renewal.
---
12. Pursue Additional Training and Specialty Credentials (Optional)
Many PTs decide to become specialists in one or more areas of physical therapy practice. The first step in that process is usually to complete a one-year residency in a specialized area of clinical practice. It's a type of postgraduate training that combines additional theoretical education with supervised clinical work under the mentorship of an experienced specialist.
You can also pursue a fellowship for even more advanced training in a particular specialty or sub-specialty. Fellowships generally include longer, more intensive clinical mentoring than residencies.
And with enough clinical experience in a given specialty, you can become a board-certified specialist through the American Board of Physical Therapy Specialties (ABPTS). In addition to having the right experience, you'll need to pass an exam related to your chosen specialty. The ten specialty areas that you can become board-certified in are:
Orthopedics
Geriatrics
Neurology
Sports
Pediatrics
Women's health
Cardiovascular / pulmonary
Clinical electrophysiology
Oncology
Wound Management
Some PTs also get certified through other organizations that aren't focused solely on physical therapy. For example, you can become a certified strength and conditioning specialist (CSCS) through the National Strength and Conditioning Association.
---
Seize the Moment
You've just learned how to become a physical therapist. And you've discovered that getting there can be a little different for everyone. So why not plan your own path forward right now? If you're interested in becoming a PTA as part of your journey, then be sure to check out some options for physical therapist assistant training. Or explore other degree programs in your area by entering your zip code in the school finder at the top of the page!
---
* Bureau of Labor Statistics, U.S. Department of Labor, Occupational Outlook Handbook, https://www.bls.gov/ooh/ (visited July 25, 2023).