34 Reliable Overnight Jobs That Offer Alternative Schedules
By Publisher
| Last Updated April 25, 2022
Night owls, rejoice: Overnight jobs are available across a wide range of industries. For example, night shift jobs are common in emergency services, healthcare, and transportation, but there are also many careers in hospitality, entertainment, technology, and the skilled trades that allow you to work into the wee hours. So if you're looking for a career with a non-traditional schedule, you have plenty of options.
Graveyard shift jobs are not for everyone, but many people do prefer working after dark. According to MasterClass, about 30% of adults can be classified as "night owls"—feeling more alert and energetic in the evening. If your natural body clock has you feeling more awake later in the day, you'd be wise to look for a career that takes advantage of your most productive hours.
To help you get started, we've compiled a list of jobs that commonly involve working overnight (defined as any time between 10 p.m. and 6 a.m.) We've even broken the list down by industry sector so that you can quickly find the jobs that are more likely to appeal to you. And if you're just looking for ways to supplement your main income in the off hours, you might want to check out our list of part-time evening jobs that can easily fit around daytime commitments.
Salary estimates are based on 2019 data from the Occupational Employment and Wage Statistics program unless noted as being from another source such as (1) PayScale or (2) Salary.com.
---
Advantages of Working the Graveyard Shift
Working late into the evening or overnight isn't everyone's cup of tea, but there are benefits to being on the job when most people are at home. Here are a few key advantages of graveyard shift jobs:
Less traffic: You're not on the road for rush hour. Your commute is generally much easier and much quicker because you're headed in the opposite direction of most other vehicles.
More get-stuff-done time: You can run most of your errands during your off hours. Doctors' offices, banks, stores, and post offices are open when you're not working, so you can shop and get to appointments without having to take time away from your job.
More money: Night shifts often pay more than daytime shifts because they are harder to fill.
Fewer meetings: In many workplaces, most of the meetings happen during the day when the bulk of the staff can attend. At night, you often have fewer disruptions and a more relaxed work environment.
Less competition: A lot of people don't want to work nights, so there are fewer jobseekers jockeying for overnight positions. Those who are willing to work the night hours often find that they have more opportunities to take on new responsibilities and develop new skills.
---
Overnight Jobs in Protective Service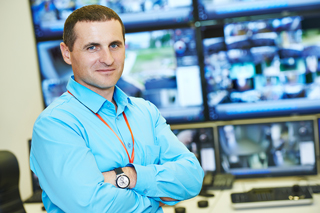 Emergencies don't only happen between 9 a.m. and 5 p.m. Keeping people safe is an around-the-clock task, so protective service professionals commonly work in rotating shifts to ensure that someone is always available to help out. If you're a night owl who feels called to serve and protect, you might want to consider one of these night shift jobs in protective service:
1. Police officer
Whether you're issuing traffic tickets, patrolling neighborhoods, or investigating crime scenes, you will likely spend some time on the graveyard shift. Police work is rewarding, but it can also be dangerous. It takes a certain mental toughness to deal with crime suspects and accident victims. You also need to be in good physical condition. Law enforcement training can give you a good foundation for this career.
Average salary: $67,600
High-end salary: $105,230 or more
2. Firefighter
Firefighters have some of the most unique schedules around. Most firefighters work 24-hour shifts, which means they report to work at 7 a.m. one day and stay on the job until 7 a.m. the following day. During that time, they might sleep, exercise, inspect their gear, or even perform housekeeping tasks like cooking and cleaning. But when the alarm goes off, they instantly spring into action. You have to pass written exams, physical tests, personal interviews, and fire academy training to get into this field.
Average salary: $54,650
High-end salary: $92,020 or more
3. Correctional officer
Maintaining security in jails and prisons commonly requires working late at night. Correctional officers are responsible for enforcing discipline, checking for contraband, and escorting inmates to and from their cells. You need good conflict management skills to make it in this career; it's also important to be both physically and mentally strong.
Average salary: $50,130
High-end salary: $78,090 or more
4. 911 dispatcher
Getting appropriate help to people in crisis is a rewarding way to spend your overnight hours. Your job is to assess the situation quickly and calmly and coordinate police, fire, and ambulance services as required. You could be advising a caller on how to stay safe from a possible intruder or talking someone through the process of providing first aid to an injured family member. You need top-notch listening and communication skills for this kind of work.
Average salary: $44,310
High-end salary: $64,950 or more
5. Security guard
Retail stores, office buildings, banks, hospitals, and other businesses rely on security guards to keep their property safe from thieves and vandals. These workers monitor surveillance systems, conduct patrols, and write reports about what they see. Guards who work the night shift often end up with long stretches of downtime, but it's important to always be alert in case something happens. You'll likely have to pass a background check as part of the hiring process.
Average salary: $33,030
High-end salary: $50,310 or more
---
Overnight Jobs in Health Care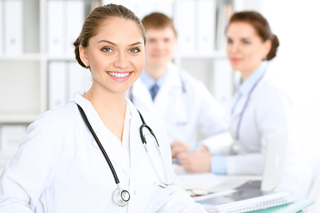 Shift work is the norm in many areas of health care. Hospitals, nursing homes, and care facilities operate 24/7, so there are plenty of opportunities if you enjoy helping people and want to work a non-traditional schedule. Many of the jobs in this field also have very bright employment outlooks. Check out some of the typical nighttime jobs in health services:
1. ER doctor
As an emergency room doctor, you have to be prepared to deal with anything from gunshot wounds and stabbing injuries to broken bones and heart attacks. Lives are literally in your hands: If you don't assess the situation and make decisions quickly and accurately, your patients could die. It takes many years of studying and training to get into this field, but getting paid to save lives can make it all worthwhile.
Average salary: $288,5642
High-end salary: $383,003 or more
2. Registered nurse
Nurses who work in hospitals and nursing homes often put in 12-hour shifts overnight. You could specialize in any number of areas, including obstetrics, oncology, geriatrics, or critical care. There's a huge demand for nurses all over the country: Employment in this area is expected to grow 15 percent between 2016 and 2026, according to the Occupational Outlook Handbook (OOH). All states require registered nurses to be licensed, which means you'll need to complete an approved nursing program and pass an exam.
Average salary: $77,460
High-end salary: $111,220 or more
3. Clinical lab technician
Analyzing blood and urine samples isn't restricted to daylight hours. Clinical lab technicians who serve hospitals that operate around the clock routinely work shifts that stretch into the wee hours. They use sophisticated equipment to study bodily fluids in order to detect signs of illness or disease. Their work gives doctors the information they need to make diagnoses and treat patients. Many employers look for certified technicians; some states require that technicians be licensed.
Average salary: $54,780
High-end salary: $81,530 or more
4. Paramedic
Accidents and emergencies can happen at any time of night, so paramedics need to be ready to respond. They bandage wounds, give medications, and prepare patients to be transported to hospital for further care. Most paramedics work for ambulance services, but some also serve as part of helicopter or airplane rescue teams. You'll need to complete CPR certification as well as a training program in emergency medical technology.
Average salary: $38,830
High-end salary: $59,860 or more
5. Psychiatric aide
Psychiatric facilities don't shut down overnight, so psychiatric aides commonly work night shifts helping people with mental illnesses and other disabilities. This career can involve monitoring vital signs, giving medications, or helping patients with daily living tasks such as eating or dressing. You could work in psychiatric hospitals, substance abuse facilities, or residential living centers. You need a compassionate nature and excellent interpersonal skills to succeed in this field.
Average salary: $32,590
High-end salary: $47,690 or more
6. Nursing assistant
Nursing assistants are important members of health care teams in nursing homes and assisted living facilities. They help patients with basic tasks like bathing, using the toilet, and combing their hair. They also perform basic housekeeping tasks like cleaning and changing linens. You'll need to complete a training program and pass a competency exam to get started in this career.
Average salary: $30,720
High-end salary: $40,620 or more
---
Overnight Jobs in Transportation and Material Moving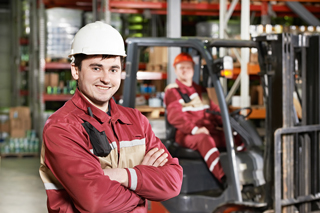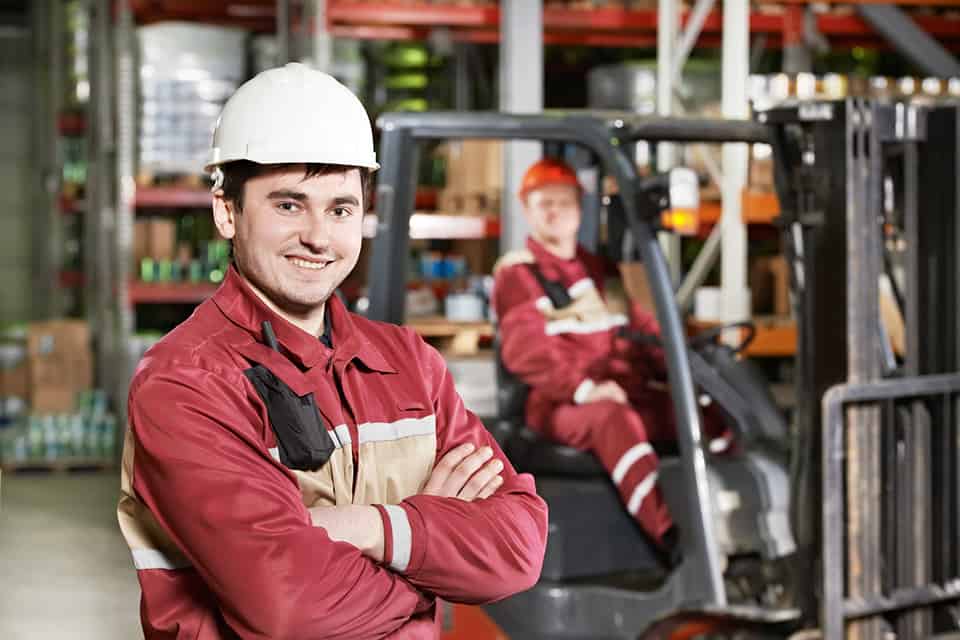 Getting people, cargo, and goods from where they are to where they need to be takes the efforts of many workers burning the midnight oil. Airlines, trucking companies, retail stores, and courier services all rely on overnight workers to keep their operations running smoothly. Here are a few examples of transportation and material moving jobs that commonly require working at night:
1. Air traffic controller
It takes a special blend of concentration, problem-solving, and multi-tasking skills to be a successful air traffic controller. These professionals are responsible for directing the movement of airplanes—both in the sky and on the ground. You have to be prepared to help pilots cope with bad weather, mechanical issues, and medical emergencies. Major airports stay busy around the clock, which means air traffic controllers often work overnight shifts.
Average salary: $120,140
High-end salary: $176,320 or more
2. Truck driver
Do you yearn for a career on the open road? It's common for long-haul truck drivers to be behind the wheel in the wee hours, though there are strict regulations about how long you can drive and how long you must rest. This job comes with a different sort of lifestyle: Many truck drivers are away from home for days or weeks at a time. You'll need special training to get your commercial driver's license; you'll also be required to undergo random drug tests.
Average salary: $46,850
High-end salary: $66,840 or more
3. Shipping and receiving clerk
When a delivery truck arrives at a warehouse in the middle of the night, it's up to the shipping and receiving clerk to check over the invoice and make sure that the correct items were delivered in the appropriate quantities. This role involves unloading trucks, opening boxes, and getting products ready to be placed on store shelves. You might also pack goods, weigh packages, and prepare shipping labels. It's important to have good organizational skills.
Average salary: $36,030
High-end salary: $51,560 or more
4. Taxi driver
You have to know the streets of your city like the back of your hand to be a good taxi driver. Your job is to choose the most efficient way of getting passengers from point A to point B—which is often much easier in the overnight hours than it is in the daytime. This job can be a good option for people who relish working with no supervision and setting their own schedules. Many states require taxi drivers to get a special license in order to operate.
Average salary: $33,210
High-end salary: $49,500 or more
5. Merchandise stocker
Grocery, department, and retail stores count on merchandise stockers to work through the night filling store shelves and racks with items from the stockroom or warehouse. These workers also mark prices on various products and set up special sales displays. They keep inventory records and often use hand-held scanners to track products. This job keeps you physically active; be prepared to do lots of heavy lifting.
Average salary: $29,660
High-end salary: $42,080 or more
---
Overnight Jobs in Food Service and Hospitality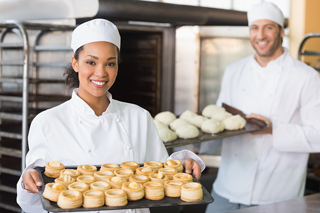 The food service and hospitality industries don't operate on a typical 9-to-5 schedule. People travel and eat at all hours of the day and night, so there are plenty of career possibilities for night owls who want to serve those needs. Check out the following options for overnight jobs in food service and hospitality:
1. Baker
Fresh-baked breads and pastries don't just magically appear in grocery stores, restaurants, and cafes first thing in the morning. Many bakers work through the night kneading, cutting, and shaping dough to ensure that their creations are ready to go when their customers wake up. Most bakers learn a lot of their craft through on-the-job training, but you can gain an edge by taking a formal program at a technical or culinary school.
Average salary: $29,630
High-end salary: $41,640 or more
2. Bartender
The late-night hours are often when bartenders are busiest. Mixing and pouring drinks quickly and accurately requires being familiar with a huge range of cocktail recipes. These workers are also responsible for keeping bar supplies stocked and denying service to underage or intoxicated customers. The OOH says that bartenders are projected to see the creation of more than 15,000 new jobs between 2016 and 2026. You need excellent interpersonal and customer service skills to succeed in this field.
Average salary: $28,000
High-end salary: $46,140 or more
3. Restaurant server
At some dining establishments, servers work well into the night taking food and drink orders, delivering meals to customers, and removing dirty plates. You have to know the menu well enough that you can provide details of each dish, make recommendations, and address allergy concerns. It's important to be personable and friendly so that you can give patrons a good dining experience.
Average salary: $26,800
High-end salary: $42,950 or more
4. Hotel front desk clerk
Travelers check in and out of hotels at all hours, so front desk clerks need to be on hand to assign rooms, issue key cards, and collect payments. These clerks must also be prepared to answer calls, handle guest requests, and act on their feedback. You are the face of the hotel, so it's important to dress neatly and act professionally. Hospitality training can help you stand out among other job applicants.
Average salary: $25,950
High-end salary: $35,550 or more
5. Fast food cook
Many fast food chains are open 24/7, so there are plenty of opportunities for fast food cooks to prepare and serve burgers, fries, pizza, and other foods in the overnight hours. Typical tasks include operating cooking equipment, restocking ingredients, and cleaning food preparation surfaces and utensils. Most training is done on the job; you'll need to learn and follow proper food handling procedures.
Average salary: $23,530
High-end salary: $30,490 or more
---
Overnight Jobs in Media and Entertainment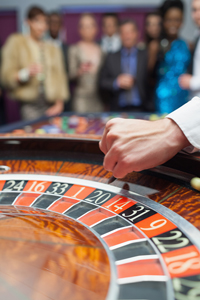 If your job involves filling people's leisure time, you can often expect to work at night. Whether you dream of a career on stage, on the air, or behind the scenes, there are lots of ways to make a living by keeping people entertained in the overnight hours. Here are a few examples of night jobs in this sector:
1. Journalist
In a world of 24-hour news channels and websites, journalists must be ready to cover breaking news at any time of day. This role involves conducting research, interviewing people, and creating compelling news stories for television, radio, print, and online media. Communication skills are paramount in this career, as is the ability to report the facts in an objective and balanced way. A degree in journalism is the usual requirement for this job.
Average salary: $62,400
High-end salary: $117,170 or more
2. Broadcast technician
Ensuring that television and radio signals are strong and clear is the main task of broadcast technicians. They set up and operate special electronic equipment to make sure broadcast transmissions look and sound the way they should. Most of the work is done at TV and radio stations, but technicians might also be responsible for setting up equipment on location at live events. Broadcasting is a 24-hour industry, so many technicians work the night shift.
Average salary: $46,800
High-end salary: $82,080 or more
3. Disc jockey
It takes more than a love of music to make it as a disc jockey. You also need an outgoing personality and an ability to adapt your musical selections to all kinds of different audiences. Besides playing tunes, you might also get to interview musicians or announce contests. Your ultimate goal is to create a fun musical experience for your listeners. You could work for radio stations, lounges, or nightclubs, or hire out your services for special events and wedding receptions.
4. Musician or singer
Many performing careers in music involve doing live shows in clubs, bars, lounges, and concert halls at all hours of the night. You could specialize in a particular musical style like rock, jazz, classical, or country, or broaden your employability by getting experience in a range of genres. It takes serious discipline and dedication to make it in this field; you'll spend much of your time marketing yourself and tracking down new gigs.
Average pay: $39.96 an hour
High-end pay: $80.70 an hour or more
5. Casino dealer
Do you know what it means to double down? Casinos are always open, and they need dealers to run table games like poker, blackjack, roulette, and craps throughout the night. You can get started in this field with as little as two weeks of training. You need good people skills for this job—a big part of your pay will be in the form of tips, which largely depend on how well players relate to you.
Average salary: $34,370
High-end salary: $51,860 or more
---
Overnight Jobs in Information Technology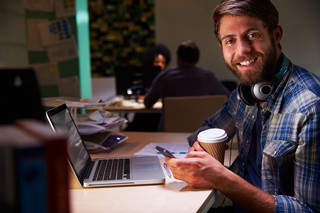 Computer technology is crucial to the functioning of most businesses. It's so crucial that many computer jobs require being on call at all hours, even though you might not be scheduled for an actual overnight shift. For some information technology jobs, though, working nights is pretty standard. Here are a few IT jobs that frequently require night work:
1. Database administrator
Tasks like provisioning databases, installing patches, and performing upgrades have to be done when most people aren't using the system, which means database administrators often end up working overnight. These professionals are also responsible for backing up data and making sure none of it gets lost during system upgrades or deployments. A degree in math or computer science is a good place to start; some companies may require additional certifications.
Average salary: $96,110
High-end salary: $148,060 or more
2. Network administrator
You need a cool head and a talent for problem solving to make it as a network administrator. These IT professionals are in charge of the daily operation of local area networks (LANs), wide area networks (WANs), and intranets. Most of their maintenance work must be done at night to minimize disruptions. And when a server goes down unexpectedly in the middle of the night, it's up to them to diagnose the problem and get the network up and running again as quickly as possible.
Average salary: $88,410
High-end salary: $132,520 or more
3. Computer support specialist
Also known as help desk technicians, these computer specialists field calls from users who are experiencing technical problems. They listen carefully and ask relevant questions to figure out what the problem is and what steps should be taken to fix it. In this job, communication and customer service skills are equally as important as technical abilities—you have to be able to explain the issue in easy-to-understand terms.
Average salary: $56,550
High-end salary: $88,470 or more
---
Overnight Jobs in the Skilled Trades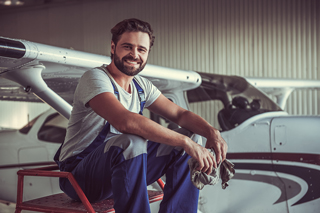 The manufacturing, construction, and maintenance industries routinely involve overnight work. A lot of factories operate continuously, and some building and repair projects can only be completed at times when most people are sleeping. Check out these examples of nighttime jobs in the skilled trades:
1. Aircraft mechanic
Every airline wants its planes in the air as much as possible, so routine maintenance is often saved for the overnight hours. That means some aircraft mechanics work through the night inspecting parts, testing systems, and making repairs. You could choose to specialize in avionics technology or airframe and powerplant (A&P) mechanics. You need excellent concentration and a keen eye for detail to do this kind of work. Getting FAA certification will boost your job prospects.
Average salary: $67,110
High-end salary: $101,070 or more
2. Manufacturing supervisor
Overseeing production workers like machine setters, fabricators, and assemblers is the main task of a manufacturing supervisor. Your job is to manage production levels, monitor quality, and solve any issues that arise with tools and machines. You could work in factories that produce anything from chemicals to cars—and since many of those factories run 24/7, you will likely end up working some overnight shifts.
Average salary: $65,220
High-end salary: $100,200 or more
3. Electrician
Maintenance on electrical equipment and systems in businesses and factories can often only be completed when those facilities are closed, so some electricians work into the night. Typical tasks for this type of electrician include installing alarm systems and maintaining electrical motors. Job prospects for all electricians are very good, with nine-percent employment growth expected between 2016 and 2026, according to the OOH. Pre-apprenticeship electrician training usually takes less than two years. Some programs can be completed in as little as eight months.
Average salary: $60,370
High-end salary: $96,580 or more
4. Highway construction laborer
It's common for highway construction and repair work to be done late at night to avoid causing huge traffic problems. Construction laborers are responsible for installing traffic barricades, digging trenches, clearing debris, and tending cement mixers. Be prepared to spend lots of time on your feet in all kinds of weather conditions. Most of the training for this career is done on the job.
Average salary: $47,480
High-end salary: $67,910 or more
5. Machinist
Precision is the name of the game for machinists. They use tools such as lathes and grinders to produce metal parts to extremely exacting standards of accuracy—sometimes within 0.0001 of an inch. To make the most use of expensive machinery, some factories operate around the clock, which means many machinists work overnight. Training is available through vocational colleges and technical institutes; you'll need excellent math skills and some computer experience.
Average salary: $46,120
High-end salary: $66,610 or more
---
Part-Time Evening Jobs
If you have school, family, or job commitments during the day but would still like to earn a little money in the evening, part-time jobs could offer what you need. You have a wide range of options. Many of the careers listed above can also be done as part-time night jobs, but here are a few more examples:
1. Tutor
If you have expertise in a particular academic area, you could draw on your knowledge to help students work through and understand challenging material. You could work with learners of any age, from the elementary to university levels. You can also set your own hours.
Average pay: $17.75 an hour1
2. Nanny
Caring for young children can be immensely rewarding. Many families hire part-time nannies to look after their kids in the evening hours, particularly if both parents work later in the day. You might prepare meals, help with homework, or chauffeur kids to scheduled activities.
Average pay: $15.05 an hour1
3. Library assistant
Sorting and shelving books in public and academic libraries can often be done in the evening on a part-time basis. This role might also involve organizing files or helping people find specific books or resources. Attention to detail is important in this job.
Average pay: $14.34 an hour
4. Call center agent
Do you have a pleasant phone manner and excellent customer service skills? Call center agents often handle customer complaints or pitch products or services to people over the phone. Many part-time shifts are available in the evening and overnight hours.
Average pay: $14.17 an hour (according to Indeed)
5. Retail salesperson
In addition to helping customers find items they want to buy, retail salespeople also arrange merchandise on shelves, mark prices, and take inventory. A high percentage of retail salespeople work part-time, and evening shifts are extremely common.
Average pay: $14.12 an hour
6. Pizza delivery driver
Bringing pizza to customers' doorsteps can be a good gig for people who enjoy working mostly alone and who like a frequent change of scenery. When you're not actively driving around, you might be folding pizza boxes or mopping up at the store. Many drivers earn more in tips than in actual wages.
Average pay: $12.20 an hour
7. Cashier
Many businesses that sell merchandise need cashiers to process payments, give change, and bag purchases. You could work for grocery stores, gas stations, clothing retailers, and more. Part-time evening shifts abound, and some places even need overnight workers.
Average pay: $11.72 an hour
---
7 Tips for Adapting to Night Shift Jobs
Even if you're naturally a night person, getting used to a nocturnal work schedule can take a bit of effort. Here are seven tips to help you succeed:
1. Ease into it.
If possible, try getting into the routine a couple days beforehand so that you can figure out when you need to wake up, hit the road, or take a meal break. Knowing what to expect can take some of the stress away.
2. Follow a consistent schedule.
To minimize the disruption to your body's internal clock, try to go to sleep at the same time each day if you can, even on days when you don't work. Otherwise, your system can get out of whack, making it difficult to adjust back to your work routine.
3. Get quality sleep.
Wear sunglasses on the drive home to cut down on your light exposure. Turn your phone off, cover your windows with blackout curtains, and turn the temperature down in your bedroom to encourage restful sleep. Ear plugs, a whirring fan, or a humming white noise machine can help block out the distracting daytime sounds of kids playing or lawnmowers running.
4. Eat right.
It can be easy to fall into the trap of eating nothing but junk food on the job since that is often the only thing available at 2 a.m. Bringing your own lunch will save you money and allow you to eat healthier options that will give you the fuel you need to power through your shift. Focus on well-balanced meals (including protein, fruits, and veggies) that provide energy without causing blood sugar levels to crash. It may also help to eat smaller, more frequent meals.
5. Choose your drinks carefully.
Drinking lots of water will keep you hydrated and help you stay alert. Caffeine can give you a quick boost to get going, but it can also mess with your sleep patterns, so consider limiting it to the first half of your shift.
6. Get some exercise.
Physical activity can lead to better quality sleep and numerous other health benefits. As an added bonus, gyms and fitness centers likely won't be crowded at the times you want to go. But don't do your workout right before you want to sleep; it's much more effective to get your body moving before you go to work, not when you need to wind down and rest.
7. Nurture your mental health.
It's not easy to always be at work when your friends or loved ones are out having fun. Try to connect with people who work similar hours as you so that you can avoid that feeling of missing out. Schedule family time or date nights for your off days so that you have pleasant events to look forward to.
---
Energize Your Ambitions
Countless overnight jobs are available in virtually every industry. So why not turn your attention to training for those opportunities? A vocational college, technical institute, or trade school might be just what you're looking for. These types of schools offer flexible, career-driven training that can put you on the path to success in a wide range of occupations. Discover convenient programs in your area by entering your zip code into the following search tool!
---