21 of the Highest-Paying Computer Jobs in America
By Publisher
| Last Updated December 4, 2020
It's no secret that technology workers often earn high salaries, but which careers rise to the ranks of the highest-paying computer jobs in the U.S.? The list of top-paying tech jobs includes positions in a vast range of areas, from applications development, database administration, and information security to hardware engineering, systems analysis, and web development. If you're looking for an information technology (IT) career with a stellar income, you have plenty of options.
Generally speaking, the highest-paying computer jobs go to C-level managers like chief information security officers and chief technology officers. But IT is one field where you don't have to be in the executive suite to earn big bucks. As you can see from the list of computer jobs below, there are plenty of high-paying positions at both the management and non-management levels. In many cases, average earnings are well into the six figures.
It's worth noting that IT professionals who continually update and refine their skill sets can often command higher earnings. Some employers offer premium salaries to technology workers with specialized certifications. In fact, one survey found that IT workers in North America who achieved such certifications earned about seven percent more than uncertified staff. Read more about which certifications can make the most difference below.
The salaries cited below are national median earnings, rounded to the nearest thousand. Salary information is based on data from the Occupational Employment and Wage Statistics (OEWS) program unless indicated as being from (1) PayScale.
---
7 of the Highest-Paying Computer Jobs at the Management Level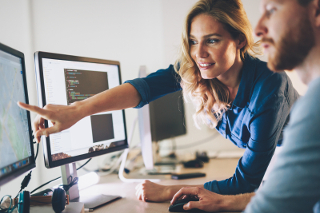 As you might expect, the top salaries in the technology field are often reserved for leadership or management positions. After all, rising through the ranks generally leads to higher incomes. Here are seven of the top-paying computer jobs in management:
1. Chief information security officer (CISO):
$162K
1
The senior executives responsible for keeping company data and assets safe from both internal and external threats are the highest-paid professionals on our list. CISOs focus on risk management and regulatory compliance. They develop policies for aligning enterprise security with the business goals of an organization. They also lead the corporate response to security incidents or breaches. Many have MBAs in addition to advanced training in cyber security.
2. Chief information officer (CIO) or chief technology officer (CTO):
$161K
1
These top-level executives formulate the information technology goals of an organization. They are big-picture professionals and are not generally involved in the day-to-day operations of an IT department. Broadly speaking, the CIO sets the overall technology strategy and makes sure that it supports the business strategy, whereas the CTO assesses new technology and recommends solutions that further business objectives. Some companies only have one or the other.
3. Data warehouse manager:
$121K
1
Leading a team of technical personnel who design, implement, and maintain the data systems used for analytics and reporting comes with a hefty paycheck. Data warehouse managers identify data storage risks and develop long-range plans for making sure systems remain stable and secure. You'll need plenty of experience with business intelligence tools and database architecture.
4. Applications development manager:
$117K
1
You can make a healthy income by directing the daily activities of those who create and support software applications. These managers develop project schedules, allocate resources, and monitor timelines. They also provide technical guidance to developers and ensure that all team members follow best practices. A thorough understanding of different software development processes is required.
5. Software product manager:
$96K
1
If you can translate business objectives into market-worthy software products, you can earn some serious money. Product managers analyze market data, set product strategy, prioritize features to be included, and plan implementation timelines. They coordinate with development, sales, marketing, and support teams to guide a product from conception right through to launch.
6. Information systems security manager:
$93K
1
Keeping an organization's information secure is critically important, so it's no wonder that security managers are paid so well. Managing an information security team involves creating security protocols, overseeing audits, and ensuring that the work gets done efficiently and effectively. Large companies often have several security managers who report to the CISO; in smaller organizations, these managers might be the top computer security professionals.
7. IT project manager:
$89K
1
Many companies pay big bucks for IT project managers who make sure goals are met on time and on budget. These managers set schedules, assign tasks, and monitor progress. They must be adept at estimating time and costs, assessing risks, solving problems, and motivating team members. Many work as consultants. A variety of specialized certifications are available.
---
14 of the Top-Paying Computer Jobs for Non-Managers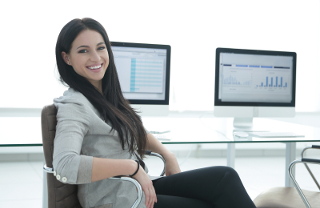 You don't necessarily have to be in charge of managing people to make a pile of money in the computer industry. Many staff positions also come with impressive incomes. Check out more than a dozen of the highest-paying options below:
1. Software architect:
$124K
1
Coming up with the framework of a software project and ensuring that it meets business goals can be lucrative work. Software architects analyze user and business requirements, consider the constraints, and define a plan for structuring the software. They take a high-level view of the design; for instance, they specify coding standards, but they may not write much actual code. Many software architects start out as developers and work their way up.
2. Data scientist:
$123K
With the massive amounts of data that are generated every day, skilled professionals who can derive useful insights from that data can make a pretty penny. Data scientists use their advanced quantitative skills to devise and apply new algorithms that mine complex sets of data. They aim to discover patterns and trends that can help solve business problems.
3. Hardware engineer:
$117K
Designing and developing computerized devices is one of the highest-paying jobs in technology. Hardware engineers create everything from circuit boards and servers to keyboards and routers. They design blueprints, make prototypes, and test their models to determine what improvements or adjustments need to be made. A degree in computer engineering, electrical engineering, or computer science is usually required.
4. Network architect:
$113K
Determining the best way to get computers to communicate with each other is the primary task of a network architect. These highly paid IT professionals develop the framework for a variety of data communication systems, such as Intranets, local area networks (LANs), and wide area networks (WANs). They ensure that their plans align with business objectives and support the long-term goals of an organization.
5. Systems architect:
$110K
1
Systems architects take a big-picture view of a computer system and define the structure and interactions of that system so that it meets business requirements. They are responsible for designing the overall technical infrastructure of a system, incorporating hardware, software, networks, firewalls, and security. It's important to be comfortable with a wide range of technologies, including cloud computing.
6. Applications or systems software developer:
$108K
Any device with a computer chip in it requires software to make it work properly. Systems software developers create the operating systems that power our computers, tablets, and phones. They also design and develop the embedded software that controls the functioning of electronics systems in things like cars, appliances, and televisions. Applications software developers build the software that consumers use, including mobile apps. That involves identifying required functionality and creating flowcharts as well as writing, testing, and debugging code.
7. Information security analyst:
$100K
Companies need to know where their security vulnerabilities lie, and they frequently offer large salaries to people who can find those weaknesses and recommend ways to fix or improve them. Information security analysts simulate cyberattacks and conduct security audits in order to ferret out flaws that could lead to breaches. They also develop and test disaster recovery plans. Many computer security certifications are available.
8. Database administrator:
$94K
Storing and safeguarding data is essential to the operation of most businesses. That's why skilled database administrators can command such high salaries. They install and configure database servers, manage access permissions, and make adjustments as necessary to optimize performance. They also back up data to ensure that it can be restored in the event of a security breach or other disaster.
9. Big-data engineer:
$92K
1
Without big-data engineers, data scientists would have nothing to analyze. These engineers use their programming expertise to design and build data pipelines and processing systems. While data scientists concentrate on mining the generated data, engineers focus on building and maintaining the actual data infrastructure and architecture.
10. Systems analyst:
$91K
Systems analysts evaluate an organization's computer systems with the aim of figuring out ways to increase performance and efficiency. They identify areas that could be changed or improved and prepare reports detailing the costs and benefits of technological upgrades. Many of them work as contractors or consultants.
11. Senior IT auditor:
$87K
1
The job of an IT auditor is to analyze a company's information systems in order to make sure those systems comply with all applicable laws and regulations. Auditors evaluate business operations and assess risk. They also check to see if effective controls are in place to safeguard the integrity and confidentiality of company data. Many employers look for professional certification.
12. Network administrator:
$84K
Keeping data communication systems functioning efficiently and effectively is well-paying work. Network administrators install and maintain equipment such as servers, routers, switches, and firewalls. They monitor network performance and make upgrades and repairs as needed to keep things running smoothly. They also connect new computers to a network and configure user access settings.
13. Software quality assurance engineer:
$76K
1
Many companies depend on software quality assurance engineers to monitor the development process and ensure that a final product works properly and meets established standards. This role involves reviewing technical specifications, developing and running tests, documenting bugs, and making sure that critical issues are addressed. It helps to be proficient in different programming languages and operating systems.
14. Web developer:
$74K
There's great demand for people who can bring websites and web applications to life, which is why these developers can earn handsome salaries. They are responsible for all the technical aspects of getting a site up and running. That means determining the features and functionality, designing the framework, and writing code. You'll need a strong portfolio to show potential employers.
---
Certifications That Can Boost Your Income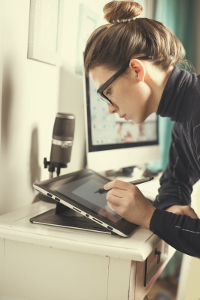 In the IT world, specialized certifications can lead to greater opportunities and higher earnings. Many employers look for such certifications as evidence of both your professional competence and your commitment to ongoing education.
There are dozens of different options for certifications that pay well, depending on your particular focus. Here are the top-paying certifications in the U.S. as noted in a 2020 survey by IT training company Global Knowledge. (The dollar figures represent the average salaries of the survey respondents who achieved that particular certification; figures are rounded to the nearest thousand.)
Google Certified Professional Cloud Architect: $176K
Amazon Web Services Certified Solutions Architect, Associate: $149K
Certified Information Security Manager (CISM): $149K
Certified in Risk and Information System Control (CRISC): $146K
Project Management Professional (PMP): $143K
Certified Information Systems Security Professional (CISSP): $141K
Certified Information Systems Auditor (CISA): $132K
Amazon Web Services Certified Cloud Practitioner: $131K
VMware Certified Professional 6 - Data Center Virtualization (VCP6-DCV): $130K
ITIL Foundation: $129K
Microsoft Certified Azure Fundamental: $127K
Microsoft Certified Azure Administrator Associate: $126K
Citrix Certified Associate - Networking (CCA-N): $125K
Cisco Certified Networking Professional (CCNP) Routing and Switching: $119K
Citrix Certified Professional-Virtualization (CCP-V): $117K
---
Boost Your Prospects
Are you angling for one of the highest-paying computer jobs? Do you have the skills you need to achieve your ambitions? It's worth checking out the job-focused training that's available from technical institutes and vocational colleges. These types of schools can help you expand your technical abilities and get you moving toward your goal. Discover convenient nearby programs by putting your zip code into the school finder at the top of the page!
---