How to Become a Truck Driver: 5 Steps to Your CDL
By Publisher
| Last Updated February 18, 2022
Learning how to become a truck driver can be your first step toward a career in one of today's most essential and fastest-growing industries. More people than ever rely on online shopping, which has been especially valuable throughout the pandemic. And with the truck driver shortage in recent years reaching a record high, it's no wonder so many trucking companies are hiring.
Worker shortages have also driven up truck driver salaries, and as companies scramble to find employees, many are offering higher pay as an incentive. May 2021 data from the U.S. Bureau of Labor Statistics states that the median pay for truck drivers was $48,310 per year.* However, the driver shortage has increased since this data was collected, and so have the reports of significantly increased salaries.
If you are interested in joining this essential industry, take a few minutes to learn how to become a truck driver. From enrolling in truck driving school to getting your commercial driver's license, here's what you need to know to get started.
---
Step 1: Make Sure You Meet the Basic Requirements to Become a Professional Truck Driver
Before you learn all the steps regarding how to become a truck driver, you should make sure you're eligible to learn to drive a commercial truck. First, you need to be the minimum age to become a truck driver. Technically, you can earn a commercial driver's license, or CDL, at age 18. But keep in mind that you must be at least 21 years old to drive a commercial vehicle across state lines—and that's why most truck driving jobs require you to do.
Long-haul truck drivers, who often cross state lines, have the most job opportunities and tend to get paid the most. In addition, most truck driving schools require you to be 21 to enroll, so it may be hard to get started on this job before this age. For this reason, it's recommended that you wait until age 21 to start thinking about how to become a truck driver.
If you're over 21, the next basic requirement you must fulfill is to have a high school diploma or equivalent, such as a GED. If you don't have proof of this yet, it's good to get it before you even start looking at truck driving schools, as they—and any future employers—will typically request it. You'll need a Social Security card to show you're a legal citizen of the U.S. as well.
Finally, make sure you have a regular driver's license. Truck driving schools and trucking companies alike will want to make sure you know how to handle a passenger vehicle before you try to drive a semi-truck. You'll also need to show you've upheld a clean driving record during the time you've had your regular driver's license. If you meet all these basic requirements, you should be ready for the next step toward a professional truck driving career.
Step 2: Look Into Trucking Schools
If you're an experienced driver with passenger vehicles but are wondering how you'll handle a much larger commercial truck, don't worry. The truck driver training program you select will teach you the driving skills you need to handle large commercial trucks safely and properly. They'll also help you learn the rules of the road that you'll need to know to pass the exam for a commercial driver's license.
If you're not sure where to go for a truck driver training program, note that most states have several options. One is the local community college, as many colleges feature programs that can teach you how to become a truck driver and pass the CDL exam. Look into the community colleges in your area to find out if any offer such a program. If they do, find out what the tuition costs are, how long the program lasts, and what percentage of the graduates have been able to start a career in truck driving soon after school.
There are also truck driving schools dedicated to teaching students how to handle commercial vehicles safely. You should find out if there are any in or near your city and then compare tuition costs and program features with those of the local community college. Trade and vocational schools that focus on trucking will offer programs that are optimized to help students graduate and secure employment as quickly and efficiently as possible.
The average truck driver training program lasts six to eight weeks, which means you could be getting ready to take the CDL exam within a couple of months.
In addition, note that the cost to become a truck driver is between $3,000 and $10,000, with tuition costs of truck driving school making up the bulk of those expenses. Many schools have scholarships and tuition payment plans, and many truck driving companies offer tuition reimbursement once they hire you. Make a note to investigate this once you're ready to find a job as a commercial truck driver.
Step 3: Pass the Test for Your Commercial Driver's License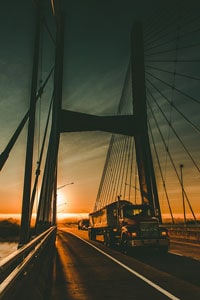 After completing a truck driver training program, you should feel ready to pass the CDL exam. You'll need to reach out to your state's Department of Motor Vehicles to find out the exact fees and testing locations for the CDL exam. But first, make sure you know the difference between the three main types of commercial driver licenses, based on Federal Motor Carrier Safety Administration (FMCSA) information. Here is a quick overview of the three types:
Class A:

This is the most popular option.
Class A allows you to drive a commercial truck with a weight of 26,000 pounds or more, including a trailer that weighs over 10,000 pounds (the largest tractor-trailers, tanker trucks, flatbeds, and triple trailers).
Class A CDL lets you drive commercial motor vehicles across state lines, so you need this class of license to become a long-haul driver.
Having a Class A license provides the best chance of getting hired by truck driving companies.
Class B:

Class B lets you drive a commercial vehicle that weighs 26,000 pounds or more if the trailer weighs less than 10,000 pounds. This usually includes box trucks, straight trucks, school and city buses, and dump trucks.
A Class B CDL allows you to work as a local delivery driver or bus driver who stays within state lines.
Class C:

Class C lets you drive a commercial vehicle that transports 16-25 people, such as a large passenger van.
You can also use a Class C license to drive small vehicles transporting hazardous materials, though you'll have to earn a HazMat endorsement by passing an exam first.
Once you decide which class of CDL to get, depending on your career aspirations in the trucking industry, you'll need to contact your local Department of Motor Vehicles to arrange to take the written exam. You can typically download a study guide from your state's DMV website if you want to feel as prepared as possible for this test.
You'll also need to take a road/skills test in the class of commercial vehicles you plan to drive once you get your CDL. Once you pass both the written and driving tests and pay the fees for the license, you'll have the CDL you need to start applying for truck driving jobs.
Step 4: Find Companies Hiring Truck Drivers
If you go through a truck driver training program, you should find out what resources are available to help you find an entry-level position as a professional driver. Most programs offer job placement assistance. This may mean they've partnered with one or more major trucking companies that hire new graduates of the program, making it easy for them to get some experience in this career.
To make the most of your tuition costs at the truck driving school you choose, be sure to find out about job placement help once you're ready to become a commercial driver. At the very least, most truck driving schools have job boards that list the latest job opportunities in the trucking industry. They may also offer other assistance, such as helping you with resume and interviewing skills.
You should also reach out to the major trucking companies, as most are constantly hiring new truck drivers. Some of the biggest trucking companies you may have heard of include Werner Enterprises, Knight-Swift Transportation, and Schneider National Inc. Keep an eye on their job listings open to professional drivers.
Step 5: Consider What Kind of Truck Driving Job You Want
Now that you know how to become a truck driver, you should think about what kind of truck driving job you want. First, think about how long you want to be out on the road. If you want to come home every night after work, you'll need to look at local trucking jobs.
For example, you can drive a city bus or a school bus using your CDL, or you might choose to drive box or straight trucks to make deliveries for a local retailer. These jobs don't require you to leave your state, so they're ideal for anyone who wants to stay near their home. You can typically get these jobs with a Class B CDL, though you'll need a Class A license if there's a chance you might want to drive a larger tractor-trailer in the future.
A Class A CDL will offer you the best chance of finding a job as a professional truck driver with the highest annual salary possible.
Of course, you don't have to choose your truck driving job based on salary alone. You can also consider what kind of freight you want to haul, which will determine the type of commercial vehicle you drive. For example, you can become a dry van hauler, where you drive a rectangular truck containing items that don't need to be temperature controlled. Dry van hauling is among the most common types of truck driving jobs available.
You might also choose to become a freight hauler, in which you're driving liquids or oversized items across the country. Another option is to be a tanker hauler or a flatbed hauler transporting large equipment or vehicles on your truck. Note that some of these jobs require you to unload the truck and reload it at your destination, so be sure to specify if you can't or don't want to do anything other than drive.
If you are interested in mechanics, it can also be worth looking into diesel technology programs near you to see if they include CDL training as a component. This combined approach can be very beneficial to those seeking self-employment or entrepreneurship. Being qualified to take care of your vehicle's maintenance, repair, and diagnostics can save many expenses.
Once you start getting experience as a truck driver, keep in mind that you'll have to complete a few tasks to keep your CDL in good standing. For instance, you will need to pass a physical exam every two years to ensure you're still in good health. You'll also be tested for drug or alcohol use at random. You can get your CDL revoked if you test positive for illegal drugs, get a DUI, or get convicted of reckless driving and other serious charges. So be prepared to do your part to maintain a spotless driving record and remain drug-free if you want to excel in this career.
Find Out Where You Can Get Truck Driver Training
If you think you're cut out for this career, take a minute to find truck driving training programs near you so you can get your CDL and start earning good money on the road.
---
* Unless otherwise noted, salary information is based on May 2021 data from the Occupational Employment and Wage Statistics (OEWS) program.