Penn Foster
Online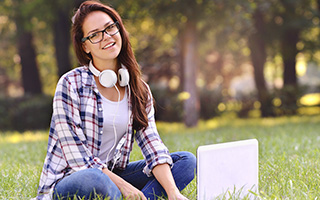 You would love to go back to school, but you just can't squeeze the class time and commutes into your day.
As one of the world's largest and most respected online schools, Penn Foster offers you the perfect solution. Their distance education programs are job-focused and designed to meet the needs of the busy adult learner.
Attending Penn Foster is the perfect choice for the adult learner, whether you are looking for new skills, a career change, or want to advance your current career. You can attend Penn Foster without having to rearrange or adjust your schedule.
You study at home and learn at a speed that is comfortable for you. Through flexible online study options, you get to choose when, how, and what you want to learn. Whether you want to accelerate through the program quickly or take your time, the choice is up to you.
Advance your skills or prepare for a career change. At Penn Foster, you will gain the skills to help you take the first step toward a career in the fast-growing fields of business, healthcare, technology, criminal justice, skilled trades, or education. No matter what area you choose to study, Penn Foster ensures that you receive current training. The programs are written by experts in the field and include the latest techniques and information.
As you learn and familiarize yourself with new skills and abilities, feel free to contact an instructor at any time. They are there to continually support you, offering help and advice whenever you may need it. Everything is at your fingertips; you control your education.
As one of the most affordable online schools, Penn Foster can offer approved students 0% interest, as well as customized payment plans.
The next class starts when you enroll! Take the first step by contacting Penn Foster today.
---
Penn Foster Programs
---
Automotive & Engine Repair
Get rolling toward a career in automotive service. With Penn Foster's automotive training, you can begin developing the technical and mechanical expertise to keep vehicles functioning safely. Experienced instructors will show you how to repair and maintain everything from engines and brakes to tires and suspension systems.
Auto Repair Technician
Diesel Mechanics/Heavy Truck Maintenance
Motorcycle Repair Technician
Small Engine Repair
---
Business
Start gaining the skills to help businesses and other organizations thrive in today's global economy. These convenient programs can teach you a large variety of fundamental concepts related to vital areas of business.
Accounting
Administrative Assistant
Bookkeeping
Human Resources
Payroll Clerk
Retail Supervisor
Small Business Management
Tax Preparation
Virtual Assistant
---
Child Care & Education
Follow your interest in helping children receive a good head start. Penn Foster can help you learn practical skills related to making lesson plans, fostering literacy, promoting the development of social and language skills, and more. You'll even get a chance to gain real-world experience in a licensed childcare facility.
Child Care Professional
General Studies
---
Computers & Electronics
Do you want a career that allows you to work closely with computers or electronics? Penn Foster's convenient technology programs can teach you skills that are transferable to a variety of industries.
Electronics Technician
Foundation Skills for Technology
---
Criminal Justice & Legal
Are you motivated by a sense of justice or a desire to make your community safer? Or do you like the thought of assisting attorneys with legal research and the filing of court documents? These flexible programs can help you gain the foundational knowledge to pursue opportunities related to areas like public safety, law enforcement, or legal assistance.
Legal Secretary
Paralegal
Private Investigator
Security Guard
---
Design & Creative Services
Find out what it takes to transform your clients' vision into reality. These fun programs can give you the guidance and educational foundation you need to train for an in-demand job. They offer a convenient opportunity to discover how to turn your ideas into professional results that clients or employers will thank you for.
ABC® Certified Wedding Planner
Computer Graphic Artist
Desktop Publishing and Design
Dressmaking and Design
Event Planning
Floral Design
Furniture and Cabinet Maker
Graphic Design
Interior Decorator
Interior Design
---
Healthcare
Discover what it's like to channel your natural compassion into a field that really matters. Penn Foster offers programs that can help you prepare for gratifying opportunities in the healthcare sector. As part of your program, you can even practice what you learn in a real work setting.
Dental Assistant
Home Health Aide
Medical Administrative Assistant
Medical Billing and Coding
Medical Transcriptionist
Occupational Therapy Aide
Optician
Pharmacy Technician
Pharmacy Technician Professional
Physical Therapy Aide
Sterile Processing
---
Skilled Trades & Industrial
Start developing a new set of skills that are truly practical. This school's wide range of online trades programs is intended to help you build a foundation for a future that satisfies your hands-on and helpful nature. Choose a path in the skilled trades so that you can learn about fixing, inspecting, modifying, or creating physical objects or systems used in our everyday lives. Or select a path related to a service trade that lets you work outdoors or interact with clients seeking specific settings or experiences.
Appliance Repair
Construction Technology
Construction Trades
Drafting with AutoCAD®
Engineering Technology
Gunsmith
Home Remodeling and Repair
HVACR Technician
Industrial Electronics and Electrical Maintenance Technology
Industrial Supervision
Jewelry Design and Repair
Landscaping Technology
Locksmith & Home Security Technician
Manufacturing
Plumber
Residential Electrician
---
Travel & Hospitality
You could turn your passion for travel and hospitality into a career with one of Penn Foster's travel and hospitality programs. Whether you're interested in becoming a travel and tourism specialist, or a hotel or restaurant manager, Penn Foster has a program for you! These career diploma programs are all offered online and can be completed at your own pace.
Caterer
Guest Service Agent
Hotel/Restaurant Management
Travel and Tourism Specialist
---
Veterinary & Animals
If you want to work with animals, Penn Foster's affordable programs are offered online and can be taken at your own pace. From accredited college degree programs to career diplomas and undergraduate certificates, you can find the veterinary training option that is right for you.
Dog Obedience Trainer/Instructor
Veterinary Assistant
Veterinary Technician
Wildlife/Forestry Conservation
---
High School Diploma & Career Pathways
Unlock a lot more of your potential by earning your high school diploma online. With Penn Foster High School, you can achieve that goal affordably, at your own pace, and on a schedule that's convenient for you. Plus, this is the real deal. You'll have the chance to earn an actual high school diploma, not a GED. Penn Foster High School is both regionally and nationally accredited. (Accreditors include the Middle States Association of Colleges and Schools, the Distance Education Accrediting Commission, and Cognia.)
With a high school diploma, you could pursue a college education, apply for new jobs, or get additional career training.* Many thousands of students have earned a diploma through this online school. They've taken advantage of features like interactive courses, short lessons, live webinars, and a mobile-friendly learning platform for studying on the go.
Plus, while earning your high school diploma, you can get a head start on joining a great career field or making the transition to college. By choosing one of the career pathways below, you'll have the opportunity to learn practical, in-demand skills that can help you pursue employment in an interesting vocational area. And in most situations, your career-driven courses can be transferred into one of Penn Foster's post-secondary programs so that you can continue your training.
This is your chance to complete your high school diploma from home or wherever else you can get online with your computer or mobile device. And you only need one dollar to get started since Penn Foster offers affordable plans with zero-percent interest and low monthly payments.
High School Diploma
High School Diploma with Career Pathways in:

Automotive Repair Technician: Kick-start your future in this important trade by learning about vehicle engines and the tools and equipment used to repair them.
Carpentry: Start exploring this construction trade by learning how to read blueprints, frame residential structures, and follow building codes.
Child Care Professional: Build upon your love of kids by learning how to keep them safe, healthy, and well-nourished in a professional care environment.
Culinary Arts: Take the first step toward a career as a chef by learning fundamental cooking techniques and recipes.
Early College Courses: Get the preparation you need to make your transition from high school to college as smooth as possible.
Electrical: Move toward a future as an electrician by becoming familiar with the basics of wiring, conductors, lighting, and other electrical components.
Healthcare: Start taking advantage of your interest in helping people by learning about a variety of fundamental areas like medical office tasks, medical terminology, pharmacology, and more.
Information Technology: Activate your high-tech potential by learning about various computer applications as well as the basics of coding and database creation.
Pharmacy Technician: See what people get to do in this expanding field by learning about pharmacy-related terminology, procedures, policies, and more.
Plumbing: Get a practical introduction to one of the most essential skilled trades by learning what goes into planning and servicing plumbing and HVAC systems.
Veterinary Assistant: Follow your curiosity in animal care by learning about animal anatomy, nutrition, signs of illness, and much more, including how to help veterinarians with common procedures.
---