Your Comprehensive Guide on How to Become a Plumber
By Publisher
| Last Updated September 10, 2021
According to the Bureau of Labor Statistics, plumbers made a median yearly wage of $56,330 in 2020. Job growth in the plumbing industry is expected to increase by 5% over the next decade.
Becoming a plumber brings a host of benefits. The economic rewards and plentiful job opportunities are just a few.
To enjoy these benefits, you need to know how to become a plumber. This guide details that process.
---
How to Become a Plumber
Many people begin considering a plumber career as early as high school. A high school diploma or GED is generally required to pursue the next steps on this path. As early as high school, however, you can start evaluating your skills.
---
Evaluate and Strengthen Your Skills
As you prepare to become a plumber, assess yourself for the following essential skills, and work to strengthen and polish these skills as needed.
Dexterity
Plumbers work with their hands to use tools and connect pipes and other parts. They often must do so, moreover, within tight spaces. Skill and precision in using the hands are essential.
Physical Strength
Besides strong and agile hands, plumbers benefit from having a strong and agile body. Plumbers need to be able to lift heavy tools and other materials. They also need to bend and perform much of their work on the ground and within small spaces.
Mechanical Skills
Plumbers need an understanding of how the parts of a pipe system work together. They also need to use tools to construct, maintain, and repair plumbing systems.
Math and Science Skills
An affinity for science and math can be helpful if you pursue a career in plumbing.
Basic knowledge of addition, subtraction, multiplication, and division is essential. Being able to work with decimals and fractions is also important.
You'll use basic algebra, geometry, and physics skills to calculate water pressure, volume, and capacity.
Problem Solving and Troubleshooting Skills
A plumber's job is to solve problems. Daily, plumbers must identify, diagnose, and fix pipe systems that aren't working. They also need to solve problems when installing and testing new plumbing systems. Problem-solving skills, including creative and analytical thinking, are thus essential.
Communication Skills
Plumbers work with pipes, but they may also work with people. Plumbers regularly interact with clients. Good people skills are a must in these interactions.
Strong communication skills are also helpful if plumbers pursue leadership positions. Supervisors need to manage their workers effectively.
Business Skills
Some plumbers work as self-employed contractors. They must use business skills to bid for jobs and manage schedules.
---
Complete a Pre-Apprenticeship Program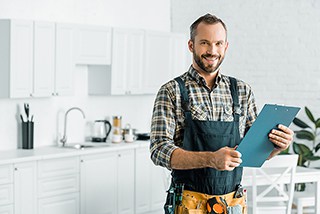 Some aspiring plumbers choose to enter an apprenticeship program directly after high school. However, completing a pre-apprenticeship program brings several benefits.
Vocational or trade schools offer these programs. These programs help you acquire and refine the skills you'll need to succeed as a plumber.
Trade school programs teach basic plumbing terminology, including parts and tools. You'll learn how to use these parts and tools to design pipe systems. You'll also learn how to stay safe on the job.
Welding is a specific technical skill that plumbers use regularly. Trade school programs often include welding courses. Some apprenticeship programs require applicants to complete these courses before applying.
Types of Pre-Apprenticeship Plumbing Programs
Pre-apprenticeship plumbing programs fall into two general categories. You can choose between certificate or diploma programs and associate degree programs.
Certificate or diploma programs are a quicker and more basic option. They generally take a year or less to complete. Certificate or diploma programs teach basic plumbing knowledge and skills.
Associate degree programs provide a broader education. In addition to plumbing-specific courses, you'll also take general education courses. These include math and science.
Associate degree programs can take up to two years to complete. Many aspiring plumbers consider this time well spent.
The Cost and Benefits of Trade School
The costs of trade school programs can vary depending on the type of program. In general, tuition can cost between $3,600 and $14,500 per year.
While trade school involves an investment of time and money, it offers many benefits. Completing a trade school program can make you stand out when you apply for an apprenticeship. Associate degree programs are also helpful for individuals who may later pursue leadership positions.
---
Complete an Apprenticeship Program
You must complete an apprenticeship program to become a licensed plumber. An apprenticeship program involves four to five years of work under an experienced plumber.
In some cases, though, you'll need to become licensed even before working as an apprentice. It's crucial to check these requirements early in the process.
Apprenticeship programs combine some classroom instruction with extensive on-the-job training. Most apprenticeship programs involve 2,000 hours of hands-on training.
In the classroom, you'll learn how to stay safe and how to follow plumbing codes and building regulations. You'll also learn how to read blueprints. You'll learn about gas, water, drainage systems, pipes, fittings, and valves these systems use. You'll learn brazing and soldering techniques. Finally, you'll learn to apply math, physics, and chemistry to your work.
You'll spend the majority of your apprenticeship program working under an experienced plumber. Importantly, you can expect to be paid for this work.
During your on-the-job training, you'll learn to design, install, and repair plumbing systems. During your apprenticeship, you'll install and diagnose problems in pipes, plumbing fixtures, and appliances. You'll also learn to assess plumbing jobs and estimate their cost.
Finding Apprenticeship Programs
Trade unions, contractors' associations, and individual businesses sponsor apprenticeship programs. The Bureau of Labor Statistics offers a comprehensive apprenticeship search tool. You can also check with local chapters of plumbers' unions and contractors' associations. The longest-standing plumbers' union is the United Association (UA). It also boasts the longest-running nationally recognized apprenticeship program.
The Plumbing-Heating-Cooling Contractors' Association (PHCC) offers another option. The PHCC advocates for the plumbing and HVAC industries as professions. They uphold and promote professional standards through education and training. This training includes apprenticeship programs.
---
Become Licensed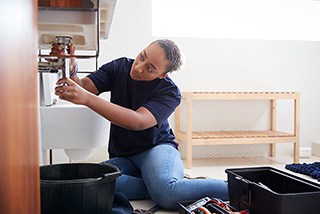 After completing your apprenticeship, you'll be ready to take the licensing exam for your trade. To work as a plumber, you need to pass this exam and complete other requirements of licensing.
Depending on the regulations where you live, you may need to become licensed even as an apprentice. And you'll still need to obtain a different level of licensing to work as a professional plumber.
Most licensing includes different levels for apprentices, journeymen, and master plumbers. If you intend to work as a self-employed plumbing contractor, you may need to become licensed as a master plumber.
Some states also require specialized licenses for specialized plumbing work. Plumbers who work with medical, propane, or natural gas piping systems often need specialized licenses.
Many states oversee the licensing of plumbers and other tradespeople. However, in some areas, local or county offices handle this responsibility. The U.S. Department of Labor provides a tool to find the licensing requirements that apply to you.
Most licensing procedures involve the following requirements:
A high school diploma or GED
A clean criminal record free of any felony convictions
A completed application
A passing score on an exam
You'll also need to be at least 18 years of age to begin the licensing process.
Besides professional licensing, some apprenticeship programs and employers require you to have a driver's license to make getting to job sites easier.
---
Opportunities for Advancement and Continuing Education
Successful plumbers know that completing an apprenticeship and becoming licensed are significant achievements. Yet, they also understand that the work—and learning—of the best plumbers never ends.
The best plumbers, including the best master plumbers, continue learning throughout their careers. Many of the same organizations that offer apprenticeship programs also provide continuing education. Pursuing these opportunities can keep you up-to-date on best practices in the industry.
Plumbers with specialized interests can pursue additional education and certifications, as discussed above. Areas of specialization can include:
Residential plumbing
Commercial plumbing
Gas fitting
Medical gas pipefitting
Pipefitting or steamfitting
Sprinkler fitting
Plumbing inspection
The jobs of plumbers and pipefitters involve some overlap, but they are distinct.
Plumbers tend to focus on water, gas, and drainage pipe systems. They also work extensively with appliances related to these systems. In contrast, pipefitters design and install piping systems on a larger scale. They also tend to work in more industrial settings. These can include piping systems at oil refineries, power plants, and factories.
If you train as a plumber, you'll find that your knowledge and skills may transfer well to pipefitting and other specialties.
Besides specializing, experienced plumbers sometimes choose to pursue leadership or management positions. These positions include supervisory roles and project management.
Finally, some plumbers work as self-employed contractors, which can involve additional education and licensing requirements.
---
Your Career in Plumbing Starts Right Here
A career in plumbing offers substantial compensation. It also provides varied, active, and interesting work.
Now that you have learned the steps you need to take to become a plumber, you can start moving forward.
Check out our school search tool to find the best plumbing trade school program for you.