---
---
Top Reasons to Get an Education in Houston
There are many reasons why getting your education in Houston is not only a viable option, but also a convenient one. Of these, the most important (and logical) one is that you live in the area. But there is much more that makes this city a great place to learn, so let's take a look at why Houston is the place to be.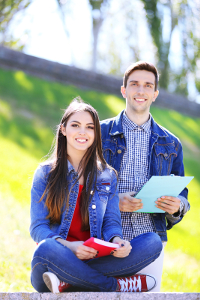 A solid economy—Houston's economy is growing at a steady pace, and the most recent statistics show that over 81,200 new jobs were created in 2015 alone.* This means that the possibility of finding new and better employment is more of a reality than in some other parts of the country.
Affordability—Even with a growing economy, the cost of living in Houston remains lower than the U.S. average. And it's also lower than in some of Texas' other major cities such as Dallas and Austin.*** In fact, in 2013, Houston's cost of living was rated as the third lowest in a survey of the 20 most populous metro areas.*
Inexpensive housing—Looking to improve your lifestyle? It's possible to find a wide range of affordable real estate in Houston, especially since the city's median housing costs are lower than those in some of the state's other big cities.*** As a matter of fact, housing in Houston has been shown to be over 36 percent less expensive than the average cost in other metropolitan areas with similar characteristics.*
An education destination—For many years, Houston has been known as one of the prime destinations for those seeking a higher education, and because of this, the workforce is better educated than in other areas.* This is especially true in fields such as engineering, science, and business, as well as for other areas like skilled trades and health care.
Aside from these facts, Houston is also renowned for its health care system, which is considered to be extremely well-organized and patient-oriented.* Transportation is not only lower in cost, but also effective and efficient, making it a viable alternative for those who would rather not make use of a vehicle. And, Houston is home to some of the most beautiful parks and recreational areas in Texas, together with a good selection of cultural activities to keep you busy during your free time.
When you take all of this into account along with an average annual salary of $65,000**, it's easy to see how Houston could be the perfect place to begin working toward your future today. Don't wait any longer, get ahead and request information from a school in Houston right now!
---
---
* Greater Houston Partnership, web site last accessed June 16, 2016.
** Indeed.com, Salary in Houston, TX, web site last accessed June 16, 2016.
*** Sperling's Best Places, website last accessed on June 4, 2018.