Academic Credentials and Degree Types Explained
By Publisher
| Last Updated July 15, 2021
If the career you want requires specialized training, understanding different academic credentials and degree types is essential. What's the difference between a bachelor's degree and an associate degree or between a master's degree and a doctorate? And what's a certificate or diploma good for? Read on for a simple breakdown of each education level and how they could relate to your future.
---
Certificates and Diplomas
How are diploma and certificate programs similar?
Certificate and diploma programs are both designed to give you entry-level, ready-to-use skills for a single occupation in under two years. The most significant upside to certificates and diplomas is that they can often qualify you for work much more quickly than other options. And with the right networking strategies and career preparation skills, you could get into a career a lot faster than you might have thought possible.
Both types of programs tend to offer tremendous convenience and scheduling flexibility. Some programs introduce many related areas within a particular field. Students who are undecided on a specific career area find this especially useful.
Certificate and diploma programs usually are open admission, which means just about anyone can enroll. For working professionals who already hold a more advanced degree, earning a certificate or diploma can enable them to break into a new field quickly or update their skills as part of their continuing education.
One of the main factors to consider in making a certificate or diploma your only credential is that the credits you earn may not be transferable to a more advanced program of study. These programs exist primarily to give you highly targeted skills training.
What are the differences between certificate and diploma programs?
Diploma programs are generally a bit longer than certificate programs. Certificates often can be earned in a matter of months, whereas diplomas may take up to two years (though many programs are shorter).
Diploma programs are generally for training people for a specific career or vocational field. Credits earned may be transferable to a degree program, but this will vary from school to school. Some employers will require a diploma in place of a certain amount of relevant work experience. College diplomas are not as standardized in length and structure as degree programs, but most diploma programs are:
under one to two years in length
focused on very specific practical skills and knowledge versus broad theoretical concepts
less expensive than a degree
often flexible in class scheduling and online options
Certificate programs tend to be short and focused on building a set of vocational skills. Some trade schools and colleges offer certificate programs that are very similar to diploma programs that prepare you to enter a specific vocation. Certificate programs are:
often only months long, and generally under a year to complete
one of the most affordable academic credentials
likely to offer flexible class schedules and learning formats
Some occupations require a certificate to meet state or provincial licensing requirements, so there are programs designed specifically to prepare you for the necessary exams.
Certificate programs can also include those meant to expand training in a specific area for those who already hold a degree. For example, a software engineer with a bachelor's degree might take a certificate program in mobile application development to further specialize their training. Certificate programs are available for graduate degree holders as well.
---
Undergraduate Degree Types
Associate Degree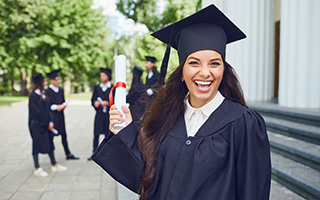 While the bachelor's degree has long been considered the minimum default choice in higher learning, associate degree programs have, for many students, quietly provided advantages over their more celebrated undergraduate counterparts. In the right circumstances, pursuing an associate degree offers significant cost savings, greater flexibility, and the chance to start your career sooner. Many of the jobs that pay well in North America require only an associate degree to get started.
Associate degrees generally require about two years of full-time study, but most schools offering them provide the option of attending part-time and in the evenings. And many programs are open admission, meaning that if you didn't excel in high school, you still have a chance to earn a respected college degree.
There are two fundamental types of associate degrees:
those which prepare you to enter a trade or other occupation immediately after graduation (without the ability to transfer your credits to pursue a more advanced degree)
those which exist primarily as the first two years of a bachelor's degree—a "pre-bachelor's," if you will
An Associate of Applied Science (AAS) degree will qualify you to enter a particular field upon successful program completion because the courses will have been more tailored for that purpose. But even though you will have taken a few general courses like English and Math, the credits you earned will, in many circumstances, not be transferable to a higher program of study. If you should choose to pursue a bachelor's degree in the same—or different—field of study, you might have to start from the beginning.
An Associate of Science (AS) or Associate of Art (AA) degree will provide you the option of continuing your studies. If you should choose to stop attending school after graduation, you'll still have a college degree. And if you want to get a bachelor's degree, you'll be halfway there, and likely for a lot less financial investment than students who went right into a bachelor's degree program from the start. This type of associate degree program consists primarily of general liberal arts courses, with fewer credits targeted at your major.
There are exceptions to everything. But it's important to do your research. Since every institution will have its own standards for admission and credit transfers, it's best to inquire about them ahead of time.
Read our detailed article about associate degrees
Bachelor's Degree
Many prospective college students believe getting at least a bachelor's degree is required before landing a job that provides a good salary and solid benefits. In many instances, they're right. Some professional fields like accounting and mechanical engineering do typically have such a minimum standard for entry. But in other cases, such as people majoring in one of the liberal arts like philosophy, holding a bachelor's degree may be worth more as a step toward grad school than as a ticket to a great job.
A large proportion of employers today do still prefer job applicants with at least this level of education. So, depending on your major, a bachelor's degree may get you into more interviews. And some organizations require at least a bachelor's degree before you can take advantage of advancement opportunities.
If you choose to pursue a bachelor's degree immediately after high school, you will generally need to meet the admission requirements of your desired school. This usually means having a minimum high school grade point average (GPA) and minimum scores from standardized tests such as the SAT Reasoning Test or the ACT. Some schools will also require you to write a personal essay as part of your application and may even give a lot of weight to your participation in extracurricular activities. Generally, the more prestigious the school, the higher the standards for admission (and the more challenging the competition for the limited seats available).
There are plenty of vocational and trade schools with lower admission requirements that offer bachelor's degree programs. These schools are primarily geared toward providing opportunities to students who might not otherwise have them and working professionals who need more flexibility. But regardless of the type of school you opt for, you must make sure that the institution and program you want to enroll in is properly accredited.
Most bachelor's degree programs take four or five years to complete. However, some trade schools offer alternative schedules that can make it possible to graduate sooner than four years. Additionally, some students may take longer than average to complete their programs, depending on personal circumstances.
---
Graduate Degree Types
Many people who've been through graduate school to earn a master's degree or doctorate will tell you to get some non-academic work experience before going. They say taking a year or more after earning your bachelor's degree to get some real-world perspective can make all the difference in what you're able to take away from your graduate studies, should you decide to pursue them.
Whether or not you choose to acquire work experience before grad school, you can still make the most of your studies with the proper education.
Master's Degree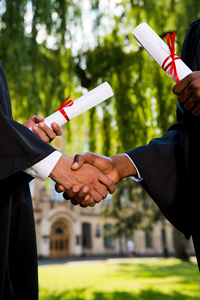 Having a master's degree makes it more likely that you'll be able to command a high salary. However, the salary you can earn may or may not offset the extra costs of your advanced education. Managing your money effectively while you are in school can help lessen the potential debt once you've graduated.
Admission standards for most master's degree programs at traditional graduate schools are very steep. Many require that you take the Graduate Record Examination (GRE), which measures your analytical writing skills, critical thinking, and verbal and quantitative reasoning.
Along with your scores from the GRE, graduate schools are likely to consider factors such as:
the quality of your bachelor's degree
transcripts from any college-level studies
a written statement of purpose
relevant work experience
academic and professional references
Depending on your field of study, you may also be required to take an additional standardized test such as the GMAT (for business and management school) or LSAT (for law school).
If your undergraduate major was in the same field of study as the master's degree program you plan on taking, then expect to spend about two to three years earning your new degree. A few programs are set up to enable very ambitious students to complete their courses of study in just one year. If, on the other hand, you majored in something unrelated to your master's degree program, then you will most likely have to take supplementary coursework, adding one or more years to the process.
Master's degrees are also sometimes awarded as an intermediate milestone to people who've chosen to pursue a doctorate directly after their bachelor's degree.
Read our full article about master's degrees
Doctorate
The most well-known type of doctorate is the PhD (Doctor of Philosophy), which can be granted for several disciplines within the arts, sciences, and humanities (not just philosophy). Other than the research, academic, and government sectors, job market demand for people with PhDs is relatively low. However, there are professions like psychology in which state or provincial licensing requirements may call for a doctoral degree. And the highest-paid positions within some companies also require a PhD.
Admission into a traditional graduate school for a doctorate is much like that for a master's degree—but even more competitive. You'll still need at least:
a bachelor's degree from a well-respected institution
all the transcripts from your college years
good test scores
references
You'll also need to make the case that your research interests line up well with those of the department you're applying to. Research professors tend to look for grad students who are interested, knowledgeable, and motivated to assist them.
The time it takes to achieve a doctorate varies significantly from student to student and program to program. If you already hold a master's degree, it should take less time than if you're starting with a bachelor's. Most graduate schools will give you a time limit to complete the necessary work—usually no more than seven to 10 years. But you can realistically expect to spend about three to six years working towards a doctoral degree.
No matter where you get it from, earning a doctorate requires extreme commitment and passion for the subject matter you intend to study. So do your homework, talk to current and former grad students and speak with potential employers to make sure that pursuing a doctoral degree makes sense for you.
---
Start Your Journey Now
There are trade schools across America that offer degrees and certifications for a massive variety of programs. It's worth it to see what's near you. Get customized results based on your location by entering your zip code below!