---
---
3 Key Reasons to Get Career Training in Dallas
With its unique mix of big-city bustle and laid-back Southern style, Dallas is a cosmopolitan center that has a lot to offer. And more and more people are discovering the benefits of life in this part of Texas. Between 2010 and 2016, more Americans moved to Dallas than to any other major metro area in the country. That growth is expected to continue: The population of Dallas County is projected to increase by 40 percent between 2010 and 2050.
This is a region that is bursting with opportunity. The "Big D" has one of the fastest-growing labor markets in the country. In fact, the Bureau of Labor Statistics noted that, of the nation's 12 largest metro areas, Dallas-Fort Worth-Arlington was first in the country for job growth between November 2018 and November 2019. And projections from the Texas Workforce Commission show that the Dallas area is expected to see more than 297,500 new jobs between 2016 and 2026. That makes it a fantastic place for anyone looking to get training and begin a career.
Here are three compelling reasons to study and work in Dallas:
1. Rapidly Expanding Industries
A wide range of industries in the Dallas area are experiencing very strong growth and will likely continue to expand in the years ahead. Some of the sectors with the most promising outlooks include technology, health care, and business services.
The percentages below represent projected growth between 2016 and 2026. Salary figures represent the average annual wage in 2018. All data is based on information from the Texas Workforce Commission.
Technology
Dallas has long been a leader in high-tech manufacturing and services. Computer and electronics manufacturers, wireless and broadband telecommunications companies, and engineering services firms employ tens of thousands of people throughout the region. And the opportunities continue to multiply. Consider the projected job growth and average annual wages of the following technology-related occupations in the Dallas area.
Web developers—21.5 percent / $79,703
Computer systems analysts—19.2 percent / $95,293
Applications software developers—37.4 percent / $111,730
Computer user support specialists—20.6 percent / $52,533
Database administrators—18.6 percent / $95,651
Network and computer systems administrators—14.8 percent / $92,637
Electrical and electronics drafters—15.5 percent / $61,525
Health Care
Health services and life science research are key elements of the Dallas-Fort Worth economy. The region is known for its work in cancer research, children's care, neurology, and dental health. Plus, according to the Texas Workforce Commission, employment in Dallas-area medical laboratories and hospitals set to grow by 30.5 percent and 22 percent, respectively, between 2016 and 2026. So there will be countless opportunities for those with the right training to make their mark. Here are just a few examples of health-related careers with strong employment outlooks in the Dallas area, along with their average annual wages.
Diagnostic medical sonographers—36.7 percent / $78,126
Licensed vocational nurses—29.2 percent / $50,939
Medical assistants—39.5 percent / $32,835
Medical and clinical lab technicians—22 percent / $55,908
Medical records and health information technicians—24.7 percent / $45,535
Pharmacy technicians—20.5 percent / $35,607
Dental assistants—24.3 percent / $40,909
Business Services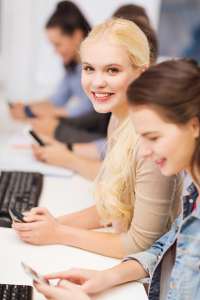 Home to thousands of finance, insurance, and technical services companies as well as the Federal Reserve Bank of the 11th District, Dallas is a major U.S. center for business and professional services. In fact, BLS data shows that between November 2018 and November 2019, this sector experienced a growth rate of 3.5 percent in the Dallas-Fort Worth-Arlington area—significantly higher than the nationwide rate of two percent. Looking ahead, the picture is just as bright. The following is a sample of business-related occupations with high projected employment growth in the Dallas area between 2016 and 2026:
Marketing specialists—30.4 percent / $83,660
Accountants and auditors—19.6 percent / $83,522
Paralegals and legal assistants—23.6 percent / $69,967
Management analysts—23.1 percent / $91,439
Event planners—22.4 percent / $55,465
2. Affordable Big-City Living
Studying and living in Dallas means having access to big-city amenities like a vibrant arts scene, abundant shopping and dining options, and countless sports and entertainment opportunities. Yet even with all these perks, the area's cost of living is still lower than many other major cities. Dallas housing costs, in particular, are lower than the national average.
Plus, in spite of its large size, Dallas has a fairly low population density. That means it feels a lot less crowded than some other big urban centers. And the city is also a major transportation hub, so when it's time for a break, it's easy to get out and explore the state, country, or other parts of the globe.
3. A Diverse Community
The Dallas area features an eclectic mix of cultures, languages, lifestyles, and religions. In fact, the city has been recognized as one of the most diverse in the country. Students and career builders alike can benefit from living and working in a community that's enriched by a broad array of fascinating people with unique perspectives.
---
Take Aim at Your Aspirations
Take the first step toward the future you envision for yourself. Dallas trade schools, vocational colleges, and technical institutes are ready to help you put your career goals into motion. And they're easy to find. Just put your zip code into the following school finder to discover nearby training options!
---