3 Hot Industries in New York City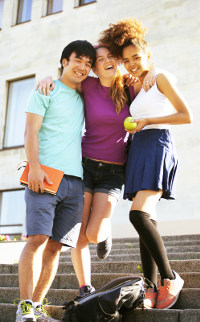 Why not study and learn in the heart of America's biggest job market? According to the Bureau of Labor Statistics, between July 2017 and July 2018, New York added more jobs than any other major metro area in the country. And projections from the New York State Department of Labor show that employment in NYC is expected to grow 12 percent between 2016 and 2026. That means almost 122,000 jobs in a huge range of career sectors are expected to become available each year during that time period. Clearly, there will be plenty of opportunities for talented professionals with the right training to make a contribution in this exciting and dynamic region.
Here are three industries showing strong signs of growth in New York City:
1. Construction
There's a building boom going on in NYC. Construction in the city is at its highest level in more than 40 years. In fact, the New York Building Congress expects spending on both residential and non-residential construction to reach a staggering $56.4 billion in 2020.
According to the New York State Department of Labor, the construction sector is projected to grow almost 14 percent between 2016 and 2026. That means more than 51,400 jobs for qualified tradespeople could open up during that time period.
Here are some examples of construction-related occupations that are projected to see faster-than-average growth in NYC over the next few years. (Data is from the New York State Department of Labor. Percentages are and indicate the rate of job growth between 2016 and 2026; earnings figures are median annual wages from 2019).
Plumbers, pipefitters, and steamfitters—20.5 percent / $68,280
Elevator installers and repairers—16.9 percent / $86,290
Structural iron and steel workers—15.9 percent / $91,330
Stonemasons—15.5 percent / $33,330
Electricians—13.1 percent / $72,220
Brickmasons and blockmasons—12.9 percent / $72,910
2. Entertainment
New York has long been the center of the American theater industry, and television production in the area has been on the rise in recent years. More than 55 TV series were shot in NYC in one season alone. And according to one report, the Big Apple also features a thriving independent film scene as well as the highest concentration of documentary productions in the country.
Looking ahead, the opportunities should be plentiful. The New York State Department of Labor predicts that the arts, entertainment, and recreation industries will grow by almost 20 percent over the coming years. Have a look at the projected job growth for the following entertainment-related careers, along with their median annual salaries:
Hairdressers, hairstylists, and cosmetologists—17.6 percent / $25,800
Audio and video equipment technicians—15.5 percent / $52,750
Film and video editors—14.1 percent / $77,910
Set and exhibit designers—13.1 percent / $69,080
Theatrical makeup artists—12.8 percent / $66,830
3. Health Services
It's only natural that the country's largest city would require a huge number of health care professionals to take care of its residents. The population of NYC is both expanding and aging. In fact, by 2040, there are expected to be more than 1.4 million seniors in the region, many of whom will require extra help to stay healthy.
That's a major reason why health care support occupations are expected to see a dramatic 35.3-percent increase between 2016 and 2026. Here is a sample of careers in this sector that should see significant job growth during that time:
Home health aides—52.4 percent / $25,720
Medical assistants—35.1 percent / $37,810
Physical therapist assistants—34 percent / $55,840
Occupational therapy assistants—29.7 percent / $61,980
Massage therapists—28.1 percent / $49,900
Diagnostic medical sonographers—26.9 percent / $76,130